David Cassidy, he of Partridge Family fame and once teenage idol, passed away last November. The official cause of death was "organ failure". He apparently was awaiting a liver transplant at the time of death. Earlier that year, Cassidy informed his fans that he was suffering from dementia which would curtail his career. Cassidy witnessed his mother, the actress Evelyn Ward, suffer from the same disease. But Cassidy had a long history with alcohol abuse, and that more than anything led to his death. His father, the great character actor Jack Cassidy had his own battles with alcohol. But to simply say alcoholism was the driving force behind Cassidy's death or any other alcoholic's death leaves a lot to be resolved. What causes alcoholism? An easy answer would be to say that it runs in families. Yes, it does, but could it be said that insecurity, unfulfillment, stress, anxiety, addiction, daddy/mommy issues and other contributive factors are simply passed from one generation to the next? Alcohol simply being the coping mechanism to deal with such problems.
At the height of his fame, Cassidy commanded the largest fan club in the world. And this was at a time when you had to snail mail a form that included a club fee to join. There were no easy email signups. But at a certain point in his career, he felt he wasn't being taken seriously by those high brow rock critics. Even a Rolling Stone magazine feature did little to change attitudes concerning his music. He was a man of immense talent, but unfortunately had to embrace a past that led him to sing for blue haired grandmas at the end of his career. But also at the end, Cassidy was trying to reconcile with the ghost of his father with whom he had a tortuous relationship. Jack Cassidy died in a bizarre apartment fire in Hollywood in 1976. David Cassidy's Songs My Father Taught Me was released posthumously. What killed David Cassidy is what gets a lot of us in the end. To say he died from "organ failure" doesn't really tell the entire story.
Folks of a certain age perhaps remember the heyday of Tiger Beat magazine… or might choose to forget it. From the mid 1960's to the mid 70's, the magazine profiled the likes of The Monkees, David Cassidy, Bobby Sherman, and Donny Osmond, just to name a few. The magazine was light on articles and heavy on photo spreads. The girls went crazy, and guys like me considered them and the music they represented a big joke.
And it wasn't that these performers were more or less from my parent's generation that irked me. It was their cheery, bright eyed optimism on one hand along with their immature warbling about lost love on the other hand that held no appeal for me as a teenager. I was drawn to the more poetic, introspective, witty and wise beyond their years singer-songwriters of my parents' generation - performers such as James Taylor, Randy Newman, Warren Zevon, Leonard Cohen, Rod Mcuen and Gordon Lightfoot. These guys never made the cover of Tiger Beat.
It's hard to believe that in the era of Vietnam, political assassination, Nixon, Watergate, and social turmoil we still had singers like David Cassidy singing songs like C'mon Get Happy! Perhaps it was a return to an innocence that never was. So when Cassidy writes an autobiography as he has done with Could It Be Forever?, I'm inclined to yawn and not to care. What do I find so offensive about Cassidy's music? Nothing. That's the problem. He described it himself as a "…kind of sweet, lightweight, mainstream pop music". However, to be totally dismissive of that particular brand of pop music would be a disservice. A closer examination of some of these performers and the songs they performed might reveal that they shouldn't necessarily be relegated to the dustbin of pop music history.
The Monkees – America's answer to the Beatles, was one of the first big acts showcased by Tiger Beat. The group consisting of Michael "Wool Hat" Nesmith, Davy Jones, Peter Tork, and Mickey Dolenz was assembled strictly for an NBC television show of the same name that premiered in 1966. Musical numbers were a big part of the show and the boys proved to be able singers. However, they weren't allowed to play their own instruments on recordings. Those duties were handed over to session players. The Monkees being the rebellious lads that they were bristled at this treatment. They soon demanded and were given the ok to not only play their own instruments, but also the green light to write original material. This battle for creative control led music producer Don Kirchner to work with a more amenable group for his next project – The Archies. Remember the ultimate bubblegum pop song Sugar Sugar? Songwriting duties were gladly accepted by Nesmith who turned out to be one of the more prominent songwriters of that era. But it wasn't like the group suffered from a dearth of material. Brill Building writers Carole King, Gerry Goffin, Barry Mann, Neil Diamond as well as the songwriting team of Tommy Boyce and Bobby Hart provided the group with its strongest material.
While the group is best known for hits such as Last Train To Clarksville and Daydream Believer, songs such as Pleasant Valley Sunday and (I'm Not Your) Stepping Stone provide a disturbing look at suburbia and the downside of success. At the height of their fame in a bit of irony, guitar hero and counter culture figure Jimi Hendrix used to open concerts for them. In 1968, The Monkees tried to change their squeaky clean image by appearing in the movie Head which was produced and written by a young Jack Nicholson.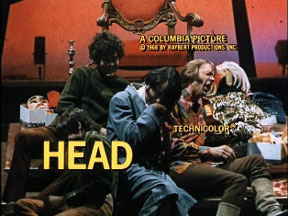 Head was a psychedelic, stream of consciousness effort that poked fun at the group's image. It was a box office flop but has developed a huge cult following down through the years. The group disbanded in 1971 but has reunited at various times during the last four decades. Nesmith went on to become the godfather of the modern music video while founding the Pacific Arts video production company. Trivia buffs may be interested to know that Nesmith's mother was the inventor of Liquid Paper.
If The Monkees were good for Tiger Beat, David Cassidy was even better according to publisher Charles Laufer. Cassidy first hit the big time as the star of The Partridge Family which debuted on ABC in 1970. Every week, millions of teenage girls watched as Keith Partridge (Cassidy) boarded a psychedelic tour bus driven by Shirley Partridge (Cassidy's real life step-mom, academy award winner Shirley Jones). They and other cast members which included Danny Bonaduce and Susan Dey would travel to various venues and sing their bubblegum pop songs. Cassidy would later catapult himself to a hugely successful solo career.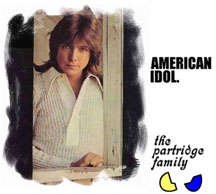 At the peak of his fame, he was the world's highest paid live performer. Just like The Monkees, Cassidy would try to change the public's wholesome image of him. In his case, he did it by posing nude for Rolling Stone photographer Annie Leibovitz. However this did little to dissuade the public or record producers in their belief that he was a performer with limited depth. But this "flavor of the month" managed to last four years on The Partridge Family. He has had numerous ups and downs through the course of his career, including a love-hate relationship with his father – late stage and screen actor Jack Cassidy. He has made peace with himself and his music, performing extensively around the world.
Another perennial Tiger Beat favorite was singer/actor Bobby Sherman. You've got to love this guy. He was pushing 30 and still considered a teen idol.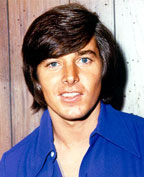 In 1964, Sherman first gained national attention as a house singer for the ABC show Shindig!. He later went on to appear in television's Here Come The Brides. In 1969, Sherman would achieve his first gold single with Little Woman. Other hits included Easy Come, Easy Go, Julie Do You Love Me, and Jennifer. Sherman harks back to an era where scandal was considered a bad thing for one's career. A genuinely nice man, Sherman decided to change careers in the 80's by becoming a paramedic and a San Bernardino County deputy sheriff. He still commands a huge following even though his last solo concert was back in 2001.
After further examination of the lives and music, I've grown to have a deeper level of respect for some of these guys. Teenage idols come and go. Some grow up, some don't. Some take ambulance trips to Cedar Sinai with paparazzi in tow. And of course what therapy session would be complete without the appearance of Dr. Phil. And who would have thought that the bubblegum pop era of the late 60's to mid 70's would be looked upon with fondness? While you'll never hear me singing Donny Osmond's Puppy Love; who knows, you just might catch me humming a few bars of C'mon Get Happy! That might not be such a bad thing in this overstressed, anxiety ridden nation of ours.