If you fly into Cape Town, then drive north through the sparsely populated Northwest corner of South Africa for about 425 miles, you will cross into Namibia and one of the most stunning natural shows on earth. The magnificent Fish River Canyon (Africa's largest) performs under the continent's most beautiful night sky. But if you want to attend a theatrical performance in a playhouse, you will need to travel another 536 miles north to the capitol city of Windhoek. If Windhoek isn't one of the places you can name in Africa, and you need to pause for a moment and open Google Maps, go right ahead. Frankly, if not for Angelina Jolie's baby, or President Trump calling it Nambia, most Americans would have never heard of this Texas-size nation with its sparse population of just over 2 million people. Namibia is a former German colony that was, after a brief period of colonial genocide, handed to South Africa to control for the better part of the 20th century. Namibia's black population was subjugated under the ruthless South African apartheid system for about 70 years until the nation achieved independence in a 1990 revolution backed by the communist governments of Cuba and North Korea. The vestiges of this historical connection can be seen on street signs throughout downtown, most especially at the ironically paired intersection of Independence Ave and Fidel Castro Street.
Yet Namibia is one of Africa's success stories, with a growing economy, political stability, abundant wildlife and an ethnically diverse population that lives in (relative) harmony in a way that the United States might find enviable. Namibia has recently made a push to grow its' fledgling theatre and film industry. At the center of this push is the National Theatre of Namibia. At the center of the National Theatre is Senga Brockerhoff.
She stands barely 5 feet tall, curly crimson hair, a wry smile and a sharp biting laugh. Standing outside the stage door, I meet Senga for a personal tour of the National Theatre. Upon entering the stage door, I notice the walls of the long hallway are covered in vintage show posters dating back to the theatre's early apartheid past. I couldn't help but wonder what it would be like if the Kennedy Center had Jim Crow-era playbills displayed for all to see? But this is southern Africa, and race has its own complicated dimensions here. We make our way down a large steel-railed staircase three floors to the basement, stopping to visit various rehearsal halls and shops along the way. But the attraction on this tour is Senga (She is known in Windhoek's entertainment community by a single name, much in the way Brazilian soccer players don't require last names). Within a few moments, I am inspired by her energy, her passion for her art, and her quick tongue, which conveys the fiery thoughts of an artist desperately yearning for Namibia to grow into a vital theatrical nation.
Her title is Production Coordinator of The National Theatre of Namibia (NTN), and as such, she is the nation's only full-time professional producer of theatre. That's not to say there are no other professional Theatre artists in Namibia. There is a small but fiercely dedicated cadre of artists worthy of note. Dr. Aldo Behrens and Dr. Olivier Sampson are pioneers in Namibian Theatre while David Ndjavera, Tanya Terblanche, and Blessing Mbonambi sporadically direct and produce some excellent daring work. Nor is NTN the only theatre in the country, but it is close. Namibia has a few other companies of varying levels of professionalism but NTN functions as the single full-time professional theatre company with a mandate to guide and promote the nation's artistic growth.
The National Theatre of Namibia was founded as the SWAPAC (South West Africa Performing Arts Council), a name representative of its German colonial past. It is a 470-seat proscenium arch theatre architecturally reminiscent of a municipal hall built more with an eye towards function than grand design. However, for what it may lack in aesthetic beauty, the National Theatre is a testament to the Namibian government's dedication to building and promoting arts and culture as a centerpiece of its capital city.
Senga proudly guides me through the National Theatre's catacombs and back hallways, rattling off stories about the building, apologizing for a broken door, always conscious to show her theatre in the best light possible. But it is once the door opens to main hall that Senga seems truly at home. Senga is, by her own admission, an actress first and an administrator second. When we reach the impressively large main stage, the talking briefly stops and Senga stares out at the empty seats as if she is hoping an audience might suddenly appear.
We leave the main hall and sit down in the theatre's lobby restaurant to discuss the nature of theatre, and how a woman from a small, mixed-race community of farmers in southern Namibia found herself at the focal point of arts development for an entire country.
"I fell into it when I was 15," she says. "I saw a notice on the board. My parents were very upset. My father was a teacher and my mom an accountant and they felt like I was being corrupted by the guy who was teaching us drama. I was completely enamored by this new thing that I had never heard of before, and I couldn't help myself. I tried running away from it loads of times since then, but it keeps sucking me back in."
Senga is from a town as complicated as the country's history. She is from Rehoboth (pronounced REY-hoe-both), an hour south of the capital. "Not even a town," she laughs, "but more like a farm with infrastructure. I am what is known as a Baster." In Namibia, Baster refers to a small ethnic subsect (less than 30,000 people), who are the offspring of Dutch settlers who traveled from the Northern Cape in 1868. The word Baster is derived from the Dutch word for colored. Senga 's lineage is representative: "My paternal great grandfather was a German who married a Baster woman, their son then married a Nama/Griqua woman , my grandmother." If it sounds complicated, it is. They are a mixed race ethnicity and, as such, have historically found themselves navigating a tenuous racial middle ground.
As we sit in the hot afternoon sun, I struggle for a place to begin and land on the always safe, "How did you get to this position?" Senga's face scrunches up for a moment. "I think it was divine almost... I went to university to study accounting, and I did everything except study accounting. I did amateur drama society, and when I came back I was a bit of a black sheep for the family. I knew of the national theatre because I had won the Best Actor award, and the theatre sent us to a theatre festival in Finland to network and learn, so.…"
At that moment, a waiter interrupts to take our order but Senga is quicker than the young man: "What took so long?" Her question wasn't aggressive or mean-spirited in any way, but it was assertive. Senga is no pushover, and very much the dominant force in a room, and yet there is an awkward humility to her. After a moment, she continues. The National Theatre called her for one day and now she produces nearly every show that is on NTN stage. Many of the productions are rentals from community groups or amateur productions as part of NTN's mandate to develop incoming theatre practitioners. "Now, we don't just take these newcomers off the and let them fail," Senga says with pride. "We assign them a mentor to guide them to a finished product. We are trying to empower people through art." As she begins to address the challenges of producing theatre in Namibia, Senga's voice gets louder, she shifts forward in her seat and words start to fly out of her mouth. This is the question that keeps her up a night. "When I look at a script I ask, can I sell seats? My biggest challenge is the funding. There is simply not enough. People don't understand that it is expensive to produce theatre. The smallest minimum little production is a 140,000 Namibian dollars ($11,000 USD) with the potential to make 20,000ND ($1,500 USD)at the door, so I am running this production at a loss."
These numbers may not seem large by American standards, but keep in mind that the annual per capita income of Namibia is about $10,000 USD, compared to more than $56,000 USD in the United States. Namibia still has a quarter of its population living under the poverty line, and significant challenges in literacy and public health. A publicly-funded National Theatre of any kind is not a given.
"It's disappointing to know that we are not anywhere near substantial enough in the theatre, and yet we are not working hard enough or splashing about enough." There is a growing frustration in her voice that Namibian theatre is not growing as fast as it should, "Maybe [we should be] investigating finding alternatives to producing theatre outside of conventional theatre spaces…don't book a space, have it under a tree or something. But then again, we still need to get our traditional theatre right as well."
I can't help but wonder aloud what traditional theatre even means in a Namibian context? Namibia has multiple ethnic communities that live hundreds of miles from the capital city in small towns with no formal theatres. The best plays in the region still come from South Africa and are written in English, which only a fraction of the population speaks. On the one hand, the nation wants high level theatre (comparable to South Africa) but on the other hand, to achieve its mission NTN must develop the mostly unwritten plays of its unique Namibian storytellers. The result is a complicated puzzle.
I ask Senga if the puzzle ever feels impossible to solve. Senga shakes her head and lets out a breathy sigh, "I have more defeats than victories, to be honest, It gets to me. But then you win one and you win big and that sucks you back!"
Excited, Senga knocks over her soda, ending her brief victory celebration. After frantically searching for napkins, we have time for two more questions. I ask her if she finds any particular challenges or feels pressure as a woman producer in Namibia. "I don't know. I am highly sensitive to patriarchy. I'm always on the lookout for who's trying to put me down, or go over me as a woman, but I haven't had that yet at NTN. But that may be because" - and here, she smiles proudly- "at NTN the general manager is a woman, the operations manager is a woman – this organization is literally run by females!" Senga straightens up in her chair, adding a few inches to her stature. "I find it sometimes with a client that you get a man who tries to be very assertive because they think I'm a short woman who they can bully…but it never works." Then she laughs in a way that hints that she may have just remembered one or two men who tried.
We joke about families and personal lives. Senga is not married and not eager to conform to societal pressure, "I do have a 'person' who has been my 'person' for a few years now. I don't buy into the whole happily ever after trope. I hope to marry somebody who will live in their own house and leave me alone most of the time!"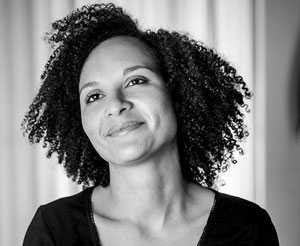 Senga is an actress through and through, and when I question if that is where her heart truly lies, she barely lets me finish the sentence. "Oh hell yes!" She likes gritty stuff. Her favorite stories are about the awkwardness between humans. "I'm very weirded out by humans a lot of the time, so I like telling those stories. I just played Veronica in God of Carnage. So much fun to be that unhinged."
I try to sneak in one more question about where she sees herself five years from now, but Senga is an artist who prefers to live in the moment. "Oh, I get so panicked every time I try to think about that question for myself," she says, fidgeting with her empty soda can. "I always feel like my life is like a runaway horse. Pulling on the reins would just be stupid, and so I just sit on the horse and see where it goes." Would you sit on that horse and leave Namibia? "I have, for a while," she answers without a blink, "But I'll always come back."
With that, Senga's phone rings, and we say our goodbyes. I offer a respectful handshake that she snickers at, "I'm sorry, are we bankers?" We exchange a warm hug goodbye, and with that, she disappears to her office and continues the work of pulling Namibian theatre towards relevance. The challenges for theatre are not overly difficult to spot: Not enough playwrights yet, culturally overshadowed by South Africa, not enough paying work to attract and keep talented young artists in the country, and access to theatre in many communities will take some time. But the burden of building the theatrical future of Namibian lies at the door of NTN and at the feet of Senga Brockerhoff.