Maybe it's the first warm night in the city or maybe it's an evening of blessed relief from weeks of stifling humidity, but people have their windows open. A series of trumpet notes, soulful and sure, languidly drops from an apartment three or four floors above. It ain't some kid practicing scales for high school band; this guy can play.
He sure can, he's Randy Brecker adorning Bruce Springsteen's "Meeting Across the River" with brass inlay. That achingly sweet, cinematic sketch of a loser's desperate plan for redemption comes as quiet prelude to "Jungleland," last track on Born to Run. And Brecker's sublime trumpet gives the song such atmosphere, such elegance, such . . . Jazz.
Brecker's astonishing recording credits span the greatest acts in Jazz, Rock, and Rhythm and Blues, but I'll highlight his telling start: after his work on the debut album of Blood, Sweat & Tears, Brecker left the band to join first the Horace Silver Quintet and then Art Blakey's Jazz Messengers.
There's a beautiful intersection between Rock and Jazz, especially when New York-centric artists make the music. Take Bronx-born, Long Island-raised Billy Joel.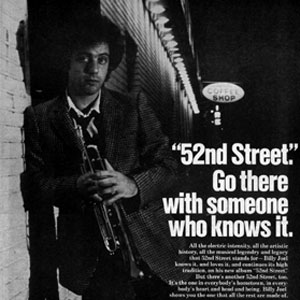 He names a record 52nd Street. Sure, he recorded it in a building on 52nd, but with Joel holding a trumpet on the cover, there's no doubt that the LP's title pays tribute to the bygone stretch of Manhattan street between Fifth and Seventh Avenues which hosted the greatest array of Jazz clubs anywhere. (Jazz originated in New Orleans, but its capital sat in Midtown.) Batting clean-up after Side A's 1-2-3 of Top 40 all-stars–"Big Shot," "Honesty," and "My Life"–is a song about a joint called "Zanzibar." While Springsteen's "Meeting Across the River" moves like the steady circles traced by slow-dancing couples lost in each other, Billy Joel's "Zanzibar" attacks at once in an unmistakable tango.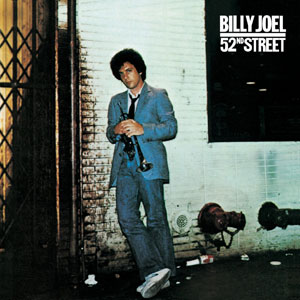 Joel drops you at the bar in media res. You didn't know it when the song started and you were being thrown this way and that, but you're looking up at a TV:
Ali dances and the audience applauds –

Though he's bathed in sweat he hasn't lost his style.

Ali don't you go downtown,

You gave a way another round

For free.
Then Joel introduces himself: "Me I'm just another face at Zanzibar / but the waitress always serves a secret smile." In the chorus he reveals three aces in his hand . . . and his musical preference:
I got the old man's car,

I've got a Jazz guitar,

I've got a tab a Zan-zi-bar

Tonight

That's where I'll be,

I'll be.
After another scene-setting stanza and chorus, the song unexpectedly turns, quieting down as Joel plies the keys in melancholy meditation. And then, suddenly, the tango motif returns on piano and . . . the song leaps into the air and soars! Over a super up-tempo Jazz rhythm of pulsing bass notes and brush-stroked snare drum, Freddie Hubbard, a Bop trumpeter extraordinaire, flies effortlessly. It's wonderful!
Seamlessly morphing back into tango staccato, Joel adds one more stanza/chorus loop before Hubbard returns gliding on shiny brass wings over ride cymbal rain and thumping double bass. The song trails off in an exquisite Jazz flourish I always want to last forever.
While Bruce Springsteen and Billy Joel pass through the intersection of Rock and Jazz, Steely Dan occupies it. At its heart, Steely Dan was Donald Fagen and the recently deceased Walter Becker. It's worth noting that all these guys–Joel, Springsteen, Fagen, Becker–are contemporaries and released their first albums within a three-year span. And they all grew up in New York's orbit: Springsteen and Fagen in New Jersey; Becker in Queens; Joel, as mentioned, in the Bronx and Long Island. Heck, they all have songs in which they refer to the Daily News (can you name them?)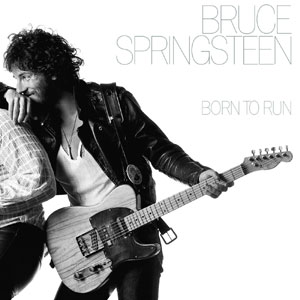 Ultimately, The Boss owes more to Woody Guthrie, Pete Seeger, and America's Folk tradition than anything else. He's far more harmonica than trumpet ("Thunder Road" anyone?) And The Piano Man has a lot of Broadway show tune in him. But as Rock musicians, Steely Dan take Jazz and make it an organic component of their music.
With Donald Fagen it goes back to childhood. He knows his Jazz piano precursors. Born in 1948, he makes the pilgrimage to the Newport Jazz Festival at a worldly eleven years of age. As he recounts in his memoir, Eminent Hipsters, even before his bar mitzvah he was regularly going to the Village Vanguard and Birdland, the legendary Jazz club originally located on Broadway just north of–you guessed it–West 52 Street, to see and hear such titans as Count Basie, John Coltrane, Miles Davis, Coleman Hawkins, Charles Mingus, and Sonny Rollins. He even got to see two piano legends of yore: Earl Hines, right hand man in Louis Armstrong's Hot Five, and Willie "The Lion" Smith, one of the great Harlem stride style masters.
As if following an ancient path of Metropolitan music-making, Becker and Fagen briefly worked as songwriters in that famed hive, the Brill Building, a Midtown satellite of the original Tin Pan Alley. But their fortunes changed forever when they decided to split for the West Coast to work as staff songwriters for their pal, producer Gary Katz, at ABC Records. That's when they started their own band, Steely Dan.
Much the same way James Joyce lived in self-imposed exile from his native Ireland in Trieste, Paris, and Zurich but wrote exclusively of his "dear, dirty Dublin," Becker and Fagen head to L.A. but write and sing of nothing but the seedy, gritty Gotham world they left behind. In their hearts they're always "stompin' on the avenue by Radio City."
And if Steely Dan occupies the center of that happy intersection of Jazz and Rock (and New York), then their album Pretzel Logic from 1974 is the traffic cop with a whistle.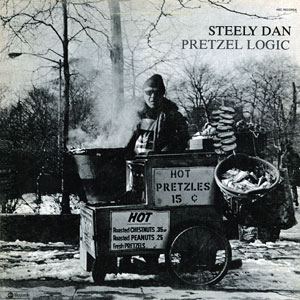 There's a straight-up cover of Duke Ellington's "East Louis Toodle-Oo" with Fagen belting out a stride piano solo that must have delighted the then-living master.
"Parker's Band," opening track on Side 2, is a full-on celebration of that glorious partnership between Charlie Parker and Dizzy Gillespie. As Fagen joyfully croons: "Suddenly the music hits you / It's a bird in flight that just can't quit you." And where can you hear all this action? "Either way you're bound to function / Fifty-Second Street's the junction." And the song ends with a note-for-note nod to "Bird Feathers," a Parker-Gillespie classic worth checking out!
And after you've wiped the tears from your eyes, listen again to Fagen's piano work at the end of "Charlie Freak" then cue up the end of "In Your Own Sweet Way" by Dave Brubeck. (Fagen's reverence for Brubeck can also be heard in the stately piano concluding "Throw Back the Little Ones," last track on Steely Dan's 1975 LP Katy Lied.)
But if you really want to hear uncanny homage, play the beginning of Jazz pianist Horace Silver's "Song For My Father" and then play the opening of "Rikki Don't Lose That Number," the biggest hit on Pretzel Logic (and, chart-wise, of the band's career.)
Steely Dan, Bruce Springsteen, Billy Joel–we're talking Rock icons, we're talking guys who are always "in a New York state of mind," we're talking artists who know there's a special place where 52nd Street intersects Thunder Road.