A

tsadet Khommarat is a Thai artist from the south who came to study in the north of Thailand. He was the student of Rajamangala University of Technology Lanna, Payap campus in Chiang Mai. One of his art lecturers was Srijai Kuntawang whom I wrote about in Scene4 (September 2013 and December 2014). As I mentioned before, Srijai was a printmaking artist who set up the Srijai Art Studio in Mae Taeng District, Chiang Mai. This establishment is used as an art gallery, workshop and fusion food restaurant where travelers and their families can look at fine prints while enjoying good food.
Beginning as a student-assistant of Srijai, Atsadet believes that Srijai was so kind and helpful towards all his students. He also inspires the students who selected to study at the faculty of fine arts and printmaking of Rajamangala University of Technology Lanna. After the end of probationary training, Atsadet set up local exhibitions for Lanna artists and invited Srijai to be guest of honor at the grand opening ceremony for the Jatawasilp Group that Atsadet and friends were the members of. This group of artists specialized in Silk Screen printmaking and set up exhibitions many times at the Art Bridge Gallery, Chiang Rai and Jai Yong Art Gallery, Chiang Mai. Recently, the group sent their Silk Screen shirts to sell to help raise more funds for Phatthalung Hospital. Furthermore, Atsadet and his group design garments for merchandise such as shirts, bags, hats and banners using Silk Screen printmaking.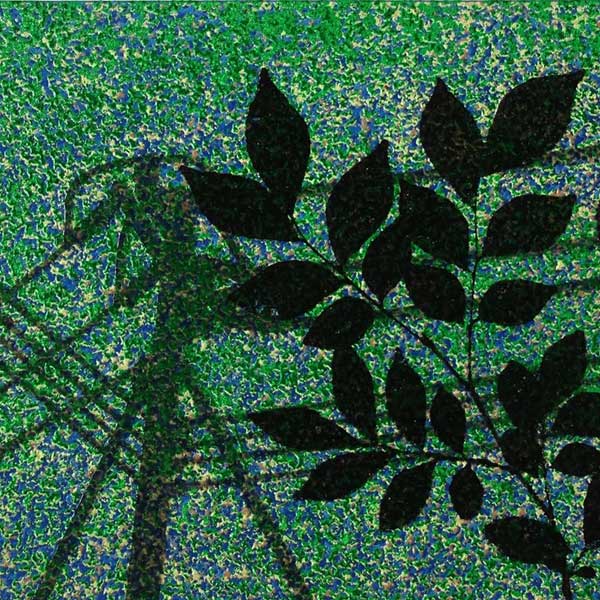 Regarding His Majesty the King Bhumibhol Adulyadej's passing in 2016, Atsadet wrote a letter of condolence to the King and gifted a limited number of Silk Screen prints. He visited me two times in 2017. Each time he gave me one of the prints from that collection. Upon face-to-face meeting last year, he talked about a project to make prints from nine memorable photos of His Majesty the King Bhumibhol Adulyadej. Our conversation went so smoothly that I found that he was indeed a very interesting individual. This year our talk covered his background and latest project.
Here is the content from the letter Atsadet gave me last year
"In remembrance and my deepest condolence on the passing of the King.

This set of artworks collects the portraits of His Majesty the King Bhumibhol Adulyadej (Rama IX) in the form of printmaking "Silk Screen" to commemorate his kindness and to publicize his remarkable aptitudes. The nine portraits are used here and they illustrate his different outstanding talents. The color scheme used for this artwork set stand for the King's reign.

Blue stands for the monarchy.
Yellow stands for the king's personal color
Cream stands for the soil color as he is the power of land.

In this set, each print will have three editions and a shirt in M size only. Two of these editions will be given to two interested people while the remaining one and a shirt are kept as my personal belongings. There are no more copies to be made after each copy is given out. Anyone who receives this print will be so proud because for each print there will be only three owners.

The King will be in my heart and the hearts of the Thai people
for eternity.
Nine prints from nine portraits made during 13 October to 5 December 2017
Thank you very much for anyone who is interested in the art
of printmaking.

I am so glad to give this piece of printmaking to you.
Atsadet Khommarat : Freelance Artist, Chiang Mai Thailand"
Here is the interview
JY: Tell us about your art education and career.
AK: I was born in Phatthalung Province in the south of Thailand. Then I moved northwards to study Fine Arts at Lampang Vocational College. For my advanced diploma, I went to study at Rajamangala University of Technology Lanna in Chiang Mai. There my subject of interest was printmaking with Silk Screen. After graduation, I worked as a Silk Screen Printmaking specialist with several companies in Thailand. For years, I've been interested in practicing various branches of art especially drawing, mixed-media and printmaking to find efficient methods of working which depend on time and my preferences. I've never submitted my works to art competitions but my works usually can be seen in exhibitions.
JY: What is the concept of your latest work?
AK: My latest work is called "black and white in my deep aspect". This set of prints tells us about many topics such as my aspects about life to many things around me in the past, the present and likely future. Harmony and conflict of various shapes and forms as well as the turbulence of time might affect the mental condition and imagination of people. My true intention is to use black and white as I believe that both colors are the representative of good and evil actions. Besides black and white, I also want to add that gray is also important in classifying types of people. So I intend to use these three colors to create distinctive dimensions, thickness, thinness and depth of shapes in my imagination.