Van Morrison's Astral Weeks is enjoying its 50th anniversary, Over time, it has achieved legendary status in the pantheon of pop music. The recording has inspired an acclaimed book called "Astral Weeks: A Secret History of 1968" by Ryan Walsh. It is an exhaustive researched account of the album's origins. The following details Morrison's revisiting arguably his most famous work almost a decade ago.
Call him the Belfast Cowboy, call him Van The Man, call him the chief purveyor of blue eyed soul, call him what you will. But after 40 plus years in the music business, George Ivan Morrison continues to astound, entertain, and perplex his legion of loyal fans. And his fans never know what to expect from him.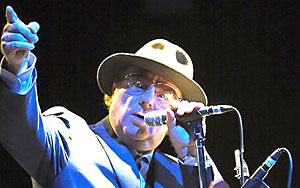 Recording projects range from classic country music (Pay The Devil), traditional Celtic (Irish Heartbeat), big band/jazz (How Long Has This Been Going On), to blues (What's Wrong With This Picture?). More than one person has stated that they would pay good money just to hear Morrison sing from a phone book. But his latest effort revisits one of the most revered recordings in the history of rock/pop – 1968's Astral Weeks. Although not a commercial success at the time of its release, it has remained a touchstone from which artists such as Bruce Springsteen, U2's Bono, and Elvis Costello have drawn inspiration.
After a brief stint with Bang Records which produced the catchy pop hit Brown Eyed Girl, Morrison moved on to Warner Brothers in 1968. It was with Warner that Morrison began crafting/channeling the songs which would become Astral Weeks, although the songs Madame George and Beside You were actually given perfunctory treatment at Bang. It was clear with the new album, Morrison wanted to distance himself from the lighthearted fluff of Brown Eyed Girl in dramatic fashion. It's an album that produces a mood as all great "concept" albums do. It's hard to believe that Morrison was only twenty-two when he conceived this work – a work that is spiritually lyrical, meditative, contemplative, an articulation of complex and conflicted emotions. A group of songs that were far removed from the previous year's Summer of Love feel good pop ditties. The album also produced imagery that Morrison would return to in subsequent recordings such as "high flying clouds", "slipstream", "backstreets", and "gardens misty wet with rain". We have Morrison's then-wife, Janet Planet, to thank for the inspiration behind such Astral Weeks songs as Beside You, Ballerina, and Sweet Thing.
While Warner didn't provide a huge budget for the project, they did provide first class session players who were versed not in rock 'n' roll but jazz. It has mystified some, including Morrison, that this groundbreaking record has been labeled and tagged "rock". Recorded in three sessions (one in September and two in October 1968), Astral Weeks has components of soul, rhythm&blues, and improvisational jazz. The songs were infused with upright bass, flutes, saxophones, and other woodwind instruments. There was nothing quite like it then and still nothing quite like it today.
So if Astral Weeks is such a great masterpiece, why should Morrison feel the need to "re-do" it? Why tinker with greatness? Well, it's complicated. This sort of thing does have precedents: punk goddess Patti Smith – Horses, Lou Reed – Berlin, Roger Waters – Dark Side of the Moon, and Brian Wilson – Pet Sounds. But as great as those albums are, they are not Astral Weeks. Morrison has made statements to the effect that since he doesn't own the original masters, this is his way of taking control of a valuable possession. (The new live version appears on Morrison's own Listen To The Lion label.) He also feels that Warner Brothers didn't adequately promote the record at the time and he didn't have the opportunity to perform the songs to his liking. And performing the songs to his liking requires a live audience. Since Morrison is one of the most bootlegged and pirated artist in the history of recorded music it only makes sense to beat the bootleggers to the punch by releasing it himself.
So some 40 years later Van chose the storied Hollywood Bowl to "reinterpret" his greatest work. Astral Weeks: Live at the Hollywood Bowl, November 7th, and 8th,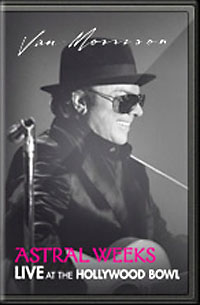 Van was joined by some of the surviving members of the original recording sessions which included prominent guitarist Jay Berliner and bassist Richard Davis. And while the final product contains all of the original Astral Weeks songs, Morrison has added live versions of Listen To The Lion, Common One, and the old Them classic Gloria. Listen To The Lion fits in nicely, but the call and response of Common One and the rock anthem Gloria are odd additions. Nevertheless, Van is in fine form and having fun. Forty years later his marvelous voice has only gotten richer and fuller. And gasp! the once prevalent Morrison snarl has turned into an impish grin on the album's cover. While I would pay good money to hear Van sing from the phonebook, this is a whole lot better. Not the original, but better than anything Coldplay or Radiohead can put out. Morrison movingly sings at the end of the title track that he believes he's transcended.
Yes indeed.
For a clip of Morrison's Hollywood Bowl performance visit:
www.vanmorrison.com