Guillermo del Toro is one of the great triumvirate of Mexican directors, along with Alfonso Cuaron and Alejandro Gonzalez Inarritu, who burst onto the international cinematic scene at the turn of the 21st century. Del Toro's films, such as Pan's Labyrinth (his masterpiece to date) and The Devil's Backbone, have tended to be dark fantasies about innocents in peril, each complete with its own elaborate mythology. His latest film, The Shape of Water, is of equal strangeness and ferocity to his earlier movies, but with a somewhat happier outlook. The Shape of Water is nothing less than the love story between a woman and a humanoid sea creature.
Elisa Esposito (Sally Hawkins), rendered mute by a catastrophic injury as a child, lives in Baltimore in 1962. She works as a cleaning woman in a secret government laboratory where the amphibious creature (Doug Jones) is kept in a tank. Elisa is fascinated by the creature, and surreptitiously begins to befriend it, talking soothingly to it and bringing it hard-boiled eggs.
However, the creature is already in danger. Gen. Frank Hoyt (Nick Searcy) has given orders to have it vivisected, an order that laboratory director Strickland (Michael Shannon at his most malevolent) is only too happy to carry out. Meanwhile, the Russians have given their orders to Hoffstetter (Michael Stuhlbarg), a scientist at the laboratory who is also a sleeper Soviet agent: the creature must meet with a fatal accident.
Elisa gets wind of the danger, and—with the help of her friends Zelda (Octavia Spencer) and Giles (Richard Jenkins)—smuggles it out of the laboratory to her apartment. She keeps it in her bathtub, dosing the water with salt. Slowly, she and the creature become friends, then more than friends. But Strickland is determined to find the creature, contorting himself into ever greater paroxysms of murderous rage in the process. And Hoffstetter, who is sympathetic to the creature, is facing increasing pressure from his handlers to find and assassinate it.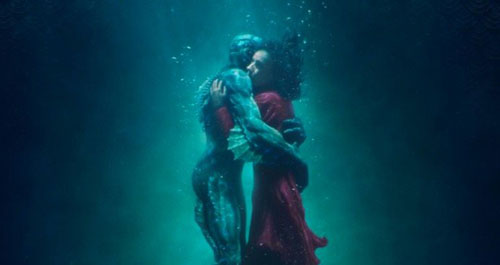 A simple synopsis does not do justice to the visual and aural glories ofThe Shape of Water. Del Toro—with the help of cinematographer Dan Laustsen, production designer Paul D. Austerberry and composer Alexandre Desplat—has created an experience that is both awe-inspiring and (pardon the pun) immersive. The entire film exists in a green, aqueous glow. The acting is superb, especially that of Hawkins, who recalls the great actresses of silent films as well as later masters such as Giulietta Masina. Jones, a Del Toro regular, also deserves credit for making the creature relatable and touching in its own right. Jones was responsible for the terrifying homunculi in Pan's Labyrinth, which makes it doubly impressive that he created a lovable one here.
Del Toro references old movies throughout, both monster movies and classic musicals; one of the most striking set pieces in the movie is a black-and-white fantasy sequence in which Elisa and the creature dance like Fred and Ginger.
The Shape of Water is completely under the influence of Hollywood, so that the end—ambiguous yet hopeful—can best be described as an amalgam of The Creature from the Black Lagoon, Ron Howard's Splash and the Peter Jackson version of King Kong. The last-cited movie, unfortunately, points out the problem with The Shape of Water. There was something insurmountably off-putting about the romance between Naomi Watts and Kong, and the same is true of the romance between Elisa and the creature. Del Toro makes sure we root for them, but the basic disconnect remains. The Shape of Water is one of those movies, all too prevalent in cinematic history, which is a brilliant achievement, but not entirely a success.
Sally Hawkins appeared in another movie released (barely) in 2017 that was far more modest than The Shape of Water, but to my mind more moving. Aisling Walsh's Maudie is the true story of Maud Lewis, a woman disabled by arthritis who became a beloved folk painter, a Canadian equivalent to Grandma Moses.
Living in rural Nova Scotia (the film was actually shot in Newfoundland) in the 1930s, Maud Dowley (Hawkins) is mistreated by her selfish, disapproving family and yearns to live independently. Seeing an advertisement in the general store for a housekeeper, she walks slowly and painfully to the address on the ad, which turns out to be the tiny hovel of Everett Lewis (Ethan Hawke), the local fish peddler and a notoriously taciturn, unsociable man.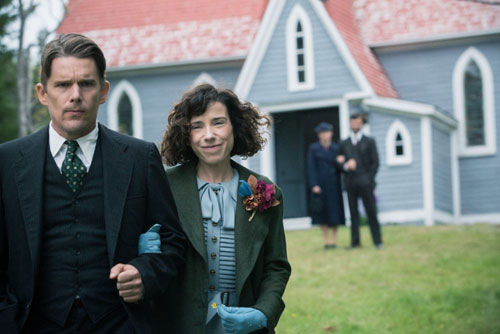 Because the house is so small, there is no room for a second bed. Maud must share Everett's, platonically at first, though the local gossips of course have a field day. Maud's life is hard, mainly because Everett is, to put it bluntly, a mean son of a bitch. There are many scenes in Maudie in which Everett is downright hateful. That you eventually come to sympathize with him is a great testimony to Hawke's performance; playing a character almost completely opposite from his usual, hyper-verbal roles, he slowly reveals the good, loving heart beating beneath a forbidding exterior.
The real treasure in Maudie, however, is Hawkins. In her portrayal, Maud is never a figure of pity; her arthritis is simply a fact of her life, along with her cigarettes and her painting. Eternally optimistic, Maud beautifies her little shack by painting first a shelf, then a wall, then the windows with bright flowers. One day one of Everett's customers, a wealthy woman from New York, notices the flowers, and soon people are flocking to the tiny house to buy Maud's paintings, for which she never charges more than five or six dollars each.
In some ways, Hawkins' performance in Maudie is a variation of her Oscar-nominated role in Mike Leigh's Happy-Go-Lucky, but here she transcends even that. Maud Lewis, despite her physical frailty, had a backbone of tempered steel, and Hawkins shows us the strength along with the pathos, avoiding mawkishness entirely.
Walsh and screenwriter Sherry White stress the lyricism of the story, even when a melodramatic but historically accurate plot twist appears late in the movie. Graced with beautiful photography by Guy Godfree and a poignant score by Michael Timmins, Maudie is a heart-wrenching story of two people who fell and stayed in love despite poverty and their disparate personalities. The Shape of Water is the more impressive cinematic achievement, but Maudie is the better movie.
The Shape of Water and Maudie, despite their obvious differences, both depict love thriving under the most extreme and forbidding circumstances. In contrast, Luca Guadagnino's Call Me by Your Name is a sun-drenched, ecstatically romantic movie about the joy and pain of first love.
Call Me by Your Name is set in the early 1980s. Elio (Timothee Chalamet), a 17-year-old Italian-American boy, is with his archeologist father, Prof. Perlman (Michael Stuhlbarg), and mother Annelia (Amira Casar) in their villa in northern Italy. At the film's beginning, a sulky Elio is moving out of his room to accommodate a graduate student who will spend the summer as Prof. Perlman's assistant. That assistant turns out to be Oliver (Armie Hammer), an astonishingly handsome, outgoing young man who bowls over the household, especially Elio.
Though Elio has a girlfriend, Marzia (Esther Garrel), he is almost instantaneously attracted to Oliver, but hasn't the slightest idea what to do about it. Oliver himself sends a lot of mixed messages, rubbing Elio's shoulders during a volleyball game yet enthusiastically chasing the local girls. Elio begins surreptitiously inspecting Oliver's room and the bathroom they share, at one point draping Oliver's wet bathing suit across his face. In the meantime, Prof. Perlman takes them on an excursion to Lake Garda, where they excavate ancient statues from the lake's bottom—the limbs and torsos of perfectly formed young men.
This event marks a quiet turning point in the relationship between Elio and Oliver, whose friendly bike rides and swims gradually become something more meaningful. Guadagnino and Ivory make it apparent throughout that Elio is the pursuer, and that Oliver has more to impart to Elio than simply sex, or even love.
Call Me by Your Name is the perfect collaboration between Guadagnino and Ivory. Guadagnino is best known for his films I Am Love and A Bigger Splash, two films in which eroticism and tragedy are inextricable. Ivory is renowned for his screen adaptations of E.M. Forster, and among them is Maurice, the most romantic of all gay-themed films. Call Me by Your Name is something of an amalgam between I Am Love and Maurice, poignant but not tragic, combining the ebullience of the first with the delicacy of the second.
Guadagnino filmed Call Me by Your Name in and around the Lombardian town of Crema, where he lives, and seldom has a director been a more effective press agent for his home town. Prof. Perlman's villa, an ancient stone edifice surrounded by meadows, orchards, and swimming pools, is as wonderful a setting for a screen romance as has ever existed, and the pristine, sunny town serves as an adjunct to it. With the help of cinematographer Sayombhu Mukdeeprom and production designer Samuel Deshors, Guadagnino makes Crema a garden of earthly delights, in which the glowingly colored flowers and fruit compete for beauty with the gorgeous, scantily clad young people who populate the town.
Some of the sex in Call Me by Your Name might be too forthright for some viewers, especially one scene involving Elio, Oliver, and a peach. Nevertheless, the eroticism in Call Me by Your Name combines the ethereal and the earthy, making the film an unusually immersive experience. Chalamet has a soulful-eyed, aquiline face recalling the teenage Chopin, and Hammer has a golden beauty in the tradition of Paul Newman, Robert Redford, and Brad Pitt. Together they make a couple that gains our complete sympathy, all the more because of our foreknowledge that their time together will be brief.
There are two scenes toward the end of Call Me by Your Name that make you want to watch the movie all over again, from the beginning, and as many times as possible in the future. One is Prof. Perlman's fireside advice to Elio, after Oliver has left; this is one of the best screen monologues of the past decade, and one of the greatest depictions of fatherly love and wisdom in cinematic history. That Michael Stuhlbarg did not get an Oscar nomination for it will be counted from now on as one of the greatest injustices ever perpetrated by the Academy.
Fortunately, the Academy did not slip up with Chalamet. The second of the scenes is simply a close-up of Chalamet's face as the closing credits roll. Seeing the emotions playing across that face, you will think that Elio has become a man. You will also think that Chalamet has become a star.