For this month I would like to introduce another unpretentious artist from Chiang Saen District, Chiang Rai Province. Although he was from Bangkok, Narongdej decided to settle down in Chieng Saen for over 30 years. He has a small home gallery "Opium art by Narongdej" near the Opium Gallery. Chiang Saen District, Chiang Rai Province.
I met him three years ago at the Opium Gallery near the Mekong River. From there, we could see the the border of Laos, Myanmar and Thailand as well as a golden roof casino in Laos which is like a mosque. Fishing boats constantly moved to and fro.
The news of the Wild Boars soccer team lost in the cave in Chiang Rai encouraged artists to do activities for them. I wanted Narongdej Sudjai, who has been living in Chiang Rai for over 30 years, to talk about Chiang Rai province which is the city of art in the North of Thailand as well as harmony and cooperation of artists at the Mekong River.
Here is the interview
JY: Please tell me about the history of the Artist Road, Chiang Rai Province and the rapid progress of the province regarding collaborations and public relations.
NS: Some may wonder that the gathering of artists in Chiang Rai might be an unexpected occurrence. It might begin from the time when Professor Thawan Duchanee and Chalermchai Kositpipat, two famous national artists, came back to develop their hometown after their successes in Bangkok. After that, many new generations of artists have opportunities to closely exhibit their works alongside these two venerable artists. This might be the origin of several Chiang Rai artist groups. Moreover, the next generation of Chiang Rai artists graduated and some of them began to gain fame. They decided to return to their hometown and became full-time professional artists like their senior artists in the universities. In my view, Chiang Rai artists are very fortunate to have Chalermchai Kositpipat who understands the context of art-making from the new generations of artists. He is a knowledgeable artist who teaches artistic techniques and public relations. He used to teach us that younger artists should be respectful towards older artists according to level of seniority. Older artists help younger ones to be harmonious.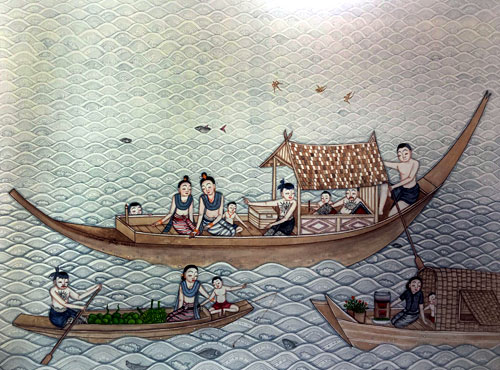 JY: What kind of creative projects would you like to highlight?
NS: There are many interesting projects that I would like to talk about. The first one happened on the day of the greatest grief of Thailand when we Thai people lost our Father of the land. Artists from the Art Bridge Gallery united to create piece of painting "Father of the land" together to honor the king. The painting is very huge at about 9m x 19m. We worked and cried at the same time but our loyalty to him had no bound. We finished our work in little time and were proud with the result of our work. After finishing the work in Chiang Rai, the artists went to Bangkok to paint statues of Himapan mythical creatures around the Royal Crematorium. For us artists, this was the last time we served the Father of the land. Another work worth mentioning here was "The Heroes" project from the idea of Chalermchai Kositpipat. This was made into a painting 9m x 13m. This was the collaboration of 100 artists and it was finished within two weeks. This proves that Chiang Rai artists use love and harmony to work together with happiness.
JY: What is your opinion about the national collaborations among you and other artist groups?
NS: Regarding the past national collaborations, we think these are responsibilities we should do and should not refuse at all costs. To work for others or change something better are things we should hurry to act on because we can not know if in the future whether we have a chance to do it or not. Thus, I believe good artists are born to serve not only themselves, but they are also supposed to serve others.
JY: What about yourself and your decision to move from Bangkok to Chiang Saen as a full-time artist?
NS: I was born in Bangkok and lived with my family at a house in the coconut grove. In my childhood, I was a normal kid with no artistic ambition. I grew up to be quite a naughty child. My way of life was so simple back then. When I was a teenager, I spent my time to learn many things with enthusiasm. After I started working to earn money seriously by selling rice and curry for a while, I turned to sell Hainanese chicken rice. Then I became a seafood cook. One day, when I was sitting casually near the waterfront in Petchaboon Palace (now it is Central World Department Store), I saw a dragonfly clinging on a wood branch in the water. I saw this breathtaking picture before me so I rushed back to find pencil and paper. However, what I drew on paper was so different from what I saw that day. I got a question in my mind and I wished to find the answer to it. At that time there was no internet technology, it was very difficult to receive information and news about arts. I tried to find the knowledge of arts everywhere. All pieces paper with arts information were regarded as my teacher.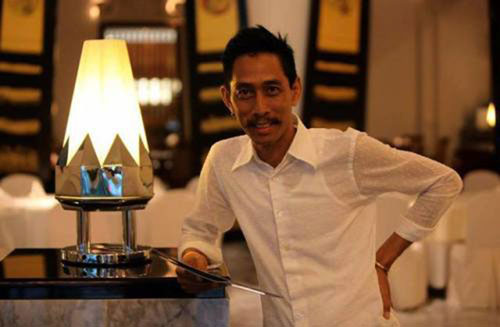 Later, in a newspaper I saw an advertisement of an arts and performance school. This was definitely the place to fulfill my dream. I went there to apply for an art course and finally found the answer to that question. I met two outstanding art teachers there. The first one was Prayuth Fackphol and the second one was Chuang Mulphinit. However, after a while the school had problems and had to be closed down. I was very shocked and sad about this. Fortunately, Prayuth Fackphol invited me and other students to his home. This was the perfect time for me to see senior students working on art. It was so exciting for me who knew only a little bit about art. Living at the house of Prayuth Fackphol taught me so many things apart from art knowledge. I learned about gardening, cooking, buying food from the market, art presenting, cheque collecting, going to the bank, etc. All of these were skills for living.
Finally, the waiting reached an end. I proved my art knowledge by submitting my work to the Bualuang Art Competition. The final verdict I got was disqualification. The defeat could not discourage me because I still worked constantly. The next one was the National Art Exhibition. This was the great event for me who had no degree in art. It was so rewarding to know that my work was chosen to be in the exhibition. No question to be asked for my delight. It was like my graduation in Art was complete. I was confident that art was the best way for me.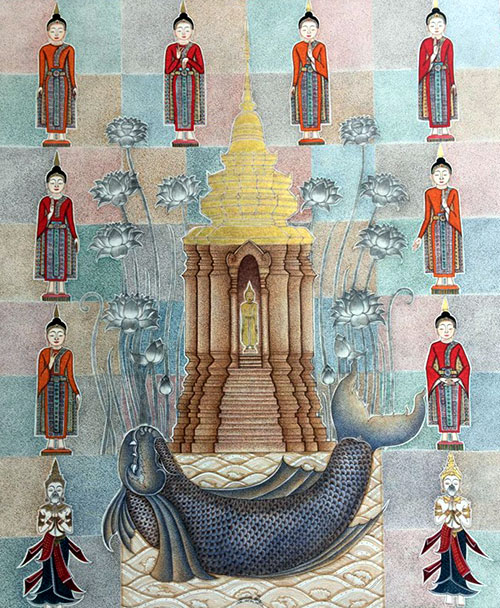 Year 1986 was the big decision for me to move out of my hometown permanently. I loved traveling to almost every region of the country to find my new home. I had been to many provinces but I had not found the most suitable place for me yet. A friend of mine who was also an artist invited me to paint some pictures for a hospital in Chiang Rai with him. I decided to go there immediately because I had never been to Chiang Rai before. I traveled by bus. My accommodation was an old wooden hotel with a beautiful view of the city. I worked at the hospital for almost a year until I finished my work. The hospital owner hired me to work for him as a teaching media creator and I accepted his proposal. I extended my time at the hospital for about two years. After the working contract ended, I prepared to return to Bangkok. Another friend contacted me to design the interior for a museum. Coming to the museum, we talked about the details and I accepted the offer. I chose not to receive wages but I wanted three meals a day and an accommodation. After finishing the interior design work, the museum owner built me a house. From then on, I lived and worked on my art there. The total time for me in Chiang Saen was over 30 years.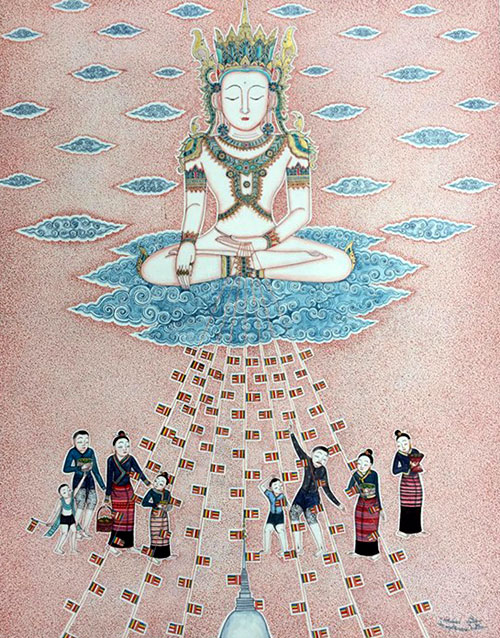 JY: Why have you not had a solo exhibition and what is the most important award for the life of artist?
NS: My reason not having a solo exhibition is simple. I didn't have enough works for a solo exhibition because almost all of them were sold but I have many group exhibitions within and outside the country. As art is my main career, the rewards I receive are happiness and rich thoughts. I have my freedom to work for myself, society and the world. This is the ultimate reward I receive every day.
JY: Talk about your role with the present works with the Art Bridge and artist groups at the Mekong River.
NS: At the present, all my present works are tested heavily in the working process. I would like them to be diversified and I want to do everything about art. For the Art Bridge, we expect this place to create a new generation of artists to look after the city of art in Thailand. We wish to see growth in the international type for the better model in the future. To be honest, we, as the artists, are still lacking in manpower to coordinate with others but we still organize the exchange with artists in nearby countries around the Mekong River. We usually invite artists from Laos, Myanmar and China to do some art workshops with universities and colleges. I hope we will have good things in the future.