(2010)
Part Two: Environmental Theater
"The only safe thing is to take a chance"
—Elaine May, comic, playwright, film director
In Part One, I focused on the use of improvisation and its impact on my initial efforts to develop theatre events. As you grow older, and hopefully wiser, giving credit where credit is due is not simply a rite of passage, an academic ritual, or a notation in a program. It is an honest recognition that work in the theatre is collaborative, a source of creative energy, and the soul of effective theater events.
The Loft Theater, Dowling College, Long Island (1968-86)
of students, by students, for students
Dowling College is a liberal arts educational institution set in a bucolic environment. The Connecquat River runs alongside the west side of the campus, and on the east side the town of Oakdale unfolds into a flourish of trees, with an abundant weeping willow in the middle of the campus hanging down to the ground. A perfect place for students to duck into for romance. The college is named after Robert Dowling, the first person to swim around Manhattan. Dowling endowed the college with enough money to name the college after him. Which all goes to show you what money can buy if you know where to swim. Recently the college celebrated its fortieth anniversary and highlighted the establishment of the Loft Theatre. I was interviewed by the chief librarian in a pod cast, and the interview brought back a slew of memories.

In 1968 a group of students and myself went over to the Carriage House, a large white building where Vanderbilt had kept a stable of horses. We climbed a stairwell up to the top floor, and discovered a huge loft. We took over the loft and established a theater. Rather than oppose the idea, the college administration wisely accepted the premise of our take over, and gave us money to start the ball rolling. Students felt at home and audiences eventually felt that way as well. The Loft Theatre built a reputation as a theater with a fresh perspective. Theater and musical events were reviewed by Newsday and other Long Island newspapers, and even the New York Times.

To keep the Loft warm during the cold months, heaters were turned on with big fans and a roar, and shut off during a performance, and back on during intermission. The lobby adjacent to "The Loft", as it was popularly known, flashed slides of productions, and a second loft next door displayed student paintings and sculpture from the classes of the gifted and humane art teacher Anthony Giordano, and sculptor Neil Pepper, who established the Art Loft. It was the best of times, and the worst of times, for the Vietnam war appeared to be going on forever. Sound familiar?

"The Loft", as it was popularly known, was a woody environment with criss-crossing beams and overhead cat walks built by tech director James Hardy, who was also a jazz musician. Hardy established the "Blu Doctor" group, an off shoot of The Loft, that combined exploratory theater movement with abstract music. In short, the Loft Theatre grew into an environmental theater, with a changing milieu of theater events. We produced about 60 plays, covering a wide range of playwrights, from the contemporary to the classical, as well as mixed media events, improvisational scenes, poetry readings, and jazz concerts.

Some highlights....

British playwright David Halliwell's "Hail Scrawdyke!", subtitled "Little Malcolm and His Struggle Against the Eunuchs" was our first hit. A clever, high energy work about Malcolm Scrawdyke, a character with a bulldozing grandiose opinion of himself, played full throttle by actor Michael Alsen, the central action of the comedy was Scrawdyke's plan to kidnap the arts professor who failed him. When Scrawdyke declares a "Party of Dynamic Erection" to get revenge on his professor, his side kicks follow obligingly. During their planning sessions on how to go about kidnapping the professor, Irwin Ingham (Rick Marino) kept himself occupied by decorating a tall wooden phallus with a British flag painted on its tip. A symbol of growing power not to be dismissed easily. John "Wick" Blagden (David Casiano) fumbled about with blind allegiance to Scrawdyke, constantly putting his foot in his mouth, and Dennis Charles Nipple (Chuck Cobb) added flamboyant humor to the proceedings with sexual fantasies. Ann Stockdale (Virginia Giordano), the lone female character in the play, added low key honesty, good sense, and a touching vulnerability to this comedy of errors. She later went on to produce folk music festivals in New York city. Although "Hail Scrawdyke!" was a flop on Broadway, it succeeded at the Loft with spirited comic repartee, social commentary, and misfired objectives. Nothing establishes a theater better than hard won success.




R. D. Laing's "Knots", the influential British psychiatrist's poetic mapping of the ways we fool ourselves by managing to keep the often damaging politics of family relationships intact, from one generation to the next, was a challenge. Laing's soliloquies and penetrating off beat poems filled up every available space in the Loft. A "cage" built out of the ornate gates of the original Vanderbilt estate was transformed into an iron prison for one confessional soliloquy. The Loft delivery elevator, bumping and grinding its way from the ground floor up, its door suddenly opening in a blaze of light, revealed yet another psychologically linked episode. These wildly varied happenings culminated in the central space of the Loft with Laing's "Do You Love Me?". Two large puppets dropped down from the eaves, like jingled jangled skeletons of romance, wrapped their arms around each other, swore undying allegiance, and then fell apart at the seams. A much needed comic effect in that intense confessional environment.




Max Frisch's "The Firebugs", a politically ironic dissection of a middle class German couple refusing to face the fact, that the two guests they invited into their home are firebugs, planning to burn their house down. Utilizing a chorus of fire fighters, commenting with wit on the couple's blindsided dilemma to believe what they need to believe, in order to keep things in place and normal, the play offered ironic opportunities. The Biedermans (Marianne Accardi and Frank Kennedy) ate dinner with the firebugs (George Dillworth and Terry Sullivan) with nervous and undigested panic, frantically licking and nibbling their fingers from plates where there was no food. This choreography of undigested fear captured the atmosphere of their situation succinctly.

Cuban playwright Jose Triana's "The Criminals", staged on a bed of white sand, hauled over from a nearby state park, also had an arresting effect. "The Criminals" is an example of what Augusto Boal called "theater of the oppressed". Three young people plotting to kill their parents. In reality the plot is a theatrical disguise for the rise of the Cuban revolution, and the overthrow of oppression. Marianne Accardi, Gene Monteleone, and Linda Selman, a professional performer brought in for the occasion, developed integrated characterizations; the personal and political combined. In an era of conflicting views of what's real and what isn't, the Loft Theater at times reflected that division. Theater at is best has a capacity to do that.

"Laughter is the sun that drives winter from the human face"
Victor Hugo, French novelist

Humor is found in all sorts of places, and in all matters of theater events. Julie Bovasso's "Schubert's Last Serenade", staged at the time of hard hat clashes with young Vietnam protestors in Manhattan, offered a lively source of ironic humor.




A hard hat laborer and a female protestor, wearing a large bandage around her head, land up after a protest rally at a dinner table together,. And of all things, fall in love. Laughter timed out with plates full of food delivered by a waiter who wouldn't say no for an answer. Jean Girardeau's, "The Apollo of Belloc", a lovely play on the power of a young woman to beguile corporative executives into acting human, stretched humor into areas unknown. Anton Chekhov's, "The Boor", Eugene Ionesco's, "The Chairs" and "The Bald Soprano", Rosalyn Drexler's, "The Line of Least Existence" and "Skywriting" combined absurd comedy with physical vitality. Murray Shisgal's crystallized bite on office romance and politics in "The Typist" and "The Tiger"; Ann Jellico's flamboyant "The Knack"; Edward Albee's scathing "The American Dream"; Harold Pinter's "Revue Sketches" and "A Slight Ache", and a host of plays from the likes of Terrance McNally, Clifford Odets, Woody Allen, Thorton Wilder, Langford Wilson, David Mamet, Sam Shepard, Luigi Pirandello, Israel Horovitz, Robert Montgomery, Julies Feiffer, and Woody Allen, filled out the space between humor, irony and dark realities.




And then there was "Hamlet":

"Denmark is a prison" became the working stage metaphor for the Loft Theater environmental production of this classic challenge. Hamlet's grief at the death of his father turned Elsinore into a prison. The Attica prison break and its violent repression by Governor Nelson Rockefeller, in the news at the time, contributed to the sense of repression. We set up the Loft like a prison: gates clanging, muffled voices, the sullen anxiety of moving from one place to the next, the ghostly appearance of Hamlet's father wearing rattling chains, established confinement as the essential tone of the production. The respected poet, scholar and dedicated teacher of Shakespeare's plays, Dr. Aaron Kramer helped in our efforts to bring home this tough assignment. Three performers were selected to portray Hamlet (John Casey, Eugene Monteleone, and Terry Sullivan). Each actor focused on a different aspect of Hamlet's character from scene to scene. You never knew who would step out next from behind a gate, or the Loft beams. I joined the production performing Claudius, and tech director Jim Hardy took on Polonius. How would you have reacted with three Hamlets nearly sitting on your lap?

The monologues of Peter Handke's "Self Accusation" and Samuel Beckett's "Krapp's Last Tape" were two of a kind. Handke's monologue dealt with the nature of self identity. Owing a lot to Beckett's approach to theater, his energy was directed into a "break on through to the other side" urgency, rather than the "dying of the light" implicit in Beckett's work.




We expanded on the monologues by mixing live performances with pre-recorded electronically painted imagery, developed with a video synthesizer. In Handke's "Self Accusation" dancer Linda Cox, and actor David Casiano, mixed live performance with the imagery of their work together.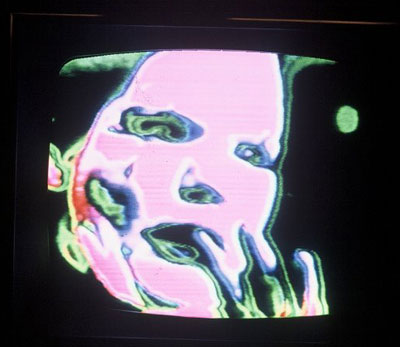 In Beckett's confessional monologue, Jack Trapp, rather than using a tape recorder, switched on and off video feedback images of Krapp commenting on the ennui of his life. Such is the nature of a compound, fractured approach to staging the two plays, that the astonishing foliage of words, ripening into a framework that curled the visual around the verbal, together created a ritualistic state of mind. The plays later toured community centers and libraries on Long Island.

The Loft Theater eventually moved to a new Performing Arts Center that utilized the Vanderbilt estate's original "power house" by turning it into a theater at the corner of the campus. The Performing Arts Center was shared with Dowling College's music department, chaired by classical pianist Carlo Lombardi, who created a Gilbert and Sullivan troupe successfully. Arthur Kopit's "Oh Dad, Poor Dad, Momma's Hung You In The Closet and I'm Feeling So Sad", tossed around characters with farcical discontent: Madame Rosepettle, on the war path to keep her son innocent, played in drag with coruscating wit by Barry Wilkenson; Johnathan (Tom Hart), her hard-put-upon son, wearing cowboy boots and short pants, bristled with rage under his mother's tight grip; Rosalie (Rhonda Lewis), a Goldilocks with sexual tigress appeal; and James Mineo as the debonair Commodore, delivering bon mots Noel Coward style, as well as two lively Venus Fly Traps, all had a life of their own. Also effective creating laughter was John Jory's "University" highlighting the idiosyncrasies of college life in the 1980's; and Albert Innaurato's satirical "Gemini" adding bite to situational comedy family life.

Eugene O'Neil's explosive, expressionistic play "The Hairy Ape" (1921), with "Yank", the lead character, a "stoker" shoveling coal into the furnace of a transatlantic ocean liner, was portrayed with robust muscularity, energy, and sensitivity by John Monteleone. When Mildred, the daughter of the man who owns the ship, comes down from the promenade deck to observe the men shoveling coal, she is shocked by Yank's sweating, blackened appearance. And she tells him so in no uncertain terms. O'Neil uses Yank falling into the pose of Rodin's "The Thinker"; a startling image that sets up his eventual death in the arms of an ape at the Zoo. The most powerful scene occurred when Yank, and his side kick Long (Julian Lombardi), mimed stoking coal into the fiery furnace of the ocean liner. Red flashes shot up beneath the seats of the audience with resonating booms. Eugene O'Neil had brought the Performing Arts Center back to its roots as a power house - with a heads up.

"Hey somebody, don't you want to hear, the story of my life?"

So begins Stud's Terkel's "Working". Based on a collection of interviews with working people about their jobs, "Working" boasted a cast of students, community people and alumni performers. Many of them had been through jobs similar to the ones portrayed in Terkel's insightful book. For example, the dedication of a young African American woman with a fine singing voice, who portrayed a cleaning woman doing her job to raise her daughter as a single mother, hustled every night from her job as a waitress to get to the theater on time.

The environmental element that worked at the Performing Arts Center was a multilayered iron structure on wheels, used to hang lighting instruments, now transformed into a movable jumping off place for characters to switch roles from scene to scene. With the help of the Dowling College music department, songs by the likes of Stephen Schwartz, James Taylor, Micki Grant, Craig Carnelia, and Mary Rodgers, captured the audience's heart in its hands. The New York Times gave us a review comparing "Working" favorably to the failed Broadway show. We were thrilled.

If dreams are what memory is made of, I can testify, with considerable warmth, to the power of an exercised dream, not only my dream, but the dreams of all the people who put the Loft on the map. The Loft Theater continues till this day, under the direction of Professor Andrew Karp, with a full scale of annual theater offerings, and a history all its own.
Read Part One of this memoir Here.