From 1952-1970 photographer Richard Avedon created a series of stunning celebrity portraits for his Minnneapolis Portfolio, fifteen of which are currently on exhibition at the Portland Museum of Art. Known up until that point primarily for his work as a fashion photographer, these portraits took the artist in a new direction and garnered both acclaim and notoriety for his work. Avedon described these images as "recognizable, yet foreign" containing "qualities that exceed the sitter's likeness."
Born in New York City in 1923 into a Russian-Jewish immigrant family, Avedon grew up in the world of retail fashion. His father owned a successful dress shop, Avedon's Fifth Avenue, and his mother's family owned a dress manufacturing business, and it was she who encouraged her son's love of fashion and art. His interest in photography began at the age of twelve, and his affinity for portraiture started with the likenesses he made of his sister Louise, whose struggles with schizophrenia made her a subject of tragic beauty. Avedon attended De Witt Clinton High School in the Bronx where James Baldwin, who remained a lifelong friend, was his classmate, and he studied poetry and philosophy at Columbia University for one year before dropping out. He finished his education under the tutelage of Alexy Brodovitch at the New School for Social Research's Design Laboratory.
In 1944 he began his career as a department store photographer and went on to work for Harper's Bazaar. Two years later he opened his own studio working for other magazines as well, among them Vogue, Life, Look, and Theatre Arts Magazine. He went on to become staff photographer at Vogue where he worked until 1988, creating memorable images for Gianni Versace, Calvin Klein, and Revlon. In addition to his fashion and celebrity portrait work, he also depicted Civil Rights workers, politicians, and cultural dissidents in studio settings. In 1992 when he became the staff photographer for the New Yorker, he continued to create memorable images of prominent people. The final period of his career centered on a project entitled The American West in which he photographed working class, often down-at-the-heels subjects.
Yet, while Avedon's subjects may have changed over the years, his approach to portraiture remained constant. He favored large black and white prints, minimalist compositions with no props, and realistic lighting that focused on the inner worlds of the sitters. He was known to engage his subjects in provocative conversation to elicit the emotions which give each portrait such personality and soulfulness.
That vulnerability and riveting openness is visible in every one of the portraits in the exhibition. Taking center stage is a large dual portrait of the Duke and Duchess of Windsor. Elegantly dressed, their heads incline against each other's they stare directly at the camera. They are clearly aged and wrinkled, yet proud and handsome in their own manner. But it is their eyes which speak volumes – sad, a little weary and made wise. This is the portrait of a couple who wear their struggles as a badge of honor. It is again the eyes that speak so eloquently in Avedon's image of actor Humphrey Bogart. There is a puppy-dog melancholy in them at the same time that there is an inscrutability despite the fact that Bogart, too, stares provocatively at the viewer.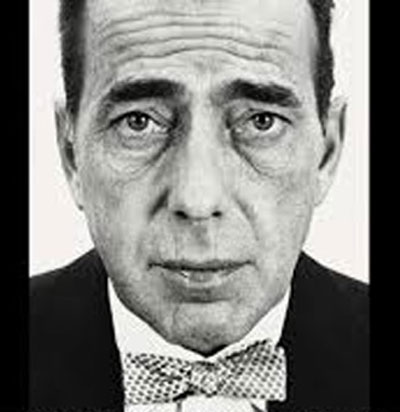 In one of the most powerful and unusual images in the exhibit, Avedon portrays Marilyn Monroe in an uncharacteristically forlorn manner. Though she wears a glamorous, plunging neckline black sequined gown, there is none of her signature dazzling smile or sex goddess pose. Instead, she appears almost sad, staring past the camera to an unseen and unknown place. Lost in thought, she is utterly vulnerable and human – not at all the Hollywood bombshell.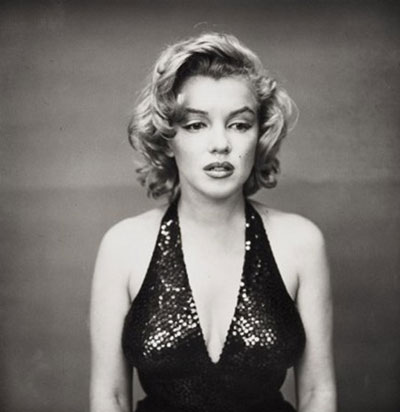 Other large scale single portraits include a sedate, dignified close-up of Dwight Eisenhower from 1964, which depicts not the General or the President, but a man aged by politics and war, yet with keen and luminous eyes that celebrate his inner spirit. Or there are the more animated portraits of Charles Chaplin, Buster Keaton, and Jimmy Durante. The first two of which have captured the subjects in motion and keep the blurred effect as part of the concept. Chaplin wears a tux and teases by putting his fingers to his forehead like horns. Keaton appears with both arms raised positioning his straw boater on his head. And finally, there is the image of an affable Jimmy Durante with his signature smile and cigar, in a jaunty plaid jacket with a gray silk handkerchief cascading from his pocket, raising his right hand to put on his hat.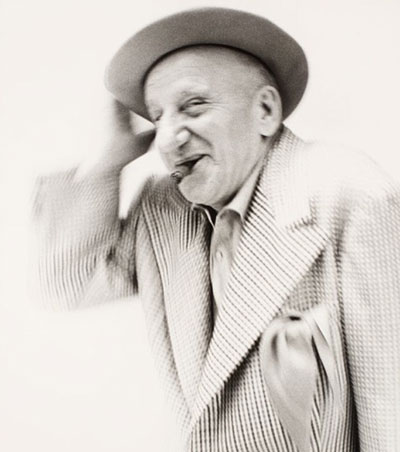 Avedon celebrates his fondness for poets and literary masters with the evocative portrait of Marianne Moore, whom he depicts in her favorite attire of a black tri-corner hat and cape, eyes closed in meditation or recitation or in communicating with her Muse. The powerfully simple triangular composition is almost hieratic here, just as it is in Avedon's dramatic likeness of author Isak Dinesen whose oversized black fur coat and hood frame the writer's strong features and piercing eyes.
The photograph of poet Ezra Pound chooses instead to focus on the face alone; it is leathery, lined, with bushy gray eyebrows and a wiry beard, and he, too, confronts the camera with closed eyes – Avedon's iconography for poetic inspiration.
Another striking image in this group is the portrait of French New Wave director René Clair. Dressed elegantly in a black jacket with prominent ascot, Clair's chiseled features, receding hairline, and aristocratic air combine subtly with deep, liquid eyes that look up and out of the frame into the far beyond. It is the most visionary portrayal in the exhibition.
Also included are three group portraits from the 1960s which flirt with controversy, not only in their subjects, but also in the provocative compositions.
The triptych of pop artist Andy Warhol and fellow members of The Factory, a hip hangout for the avant garde, separates the standing full figures into three groups some dressed and some completely and frontally nude. Also included in this group portrait is Avedon's portrait of transgender artist Candy Darling.
A second triptych depicts the Chicago Seven, the anti-Vietnam activists, Lee Weiner, John Froines, Abbie Hoffman, Rennie Davis,Jerry Rubin, Tom Hayden, and David Dellinger, who were tried by the federal government for conspiracy to incite riot at the 1968 Democratic National Convention. Avedon poses them in three groups each separated by the frame of the photographs. They look off into the distance, solemn, seemingly stressed, and strangfely separate, despite their shared plight.
The third group portrait composed as a diptych is a depiction of Allen Ginsberg and his family. The poet dominates the center of the grouping, his figure partially repeated as the frame slices through the composition.
He is surrounded by a large multi-generational family all wearing their best clothes and holding drinks and plates of food. There is the almost whimsical feeling of having caught them all at a wedding reception or other intimate family gathering, In all three of these group images there is an uncanny sense of familiarity and down-to-earthiness despite the fame of the subjects.
These group portraits, as well as the individual ones, are potent examples of Richard Avedon's desire to make his photographs "recognizable, yet foreign" and to find qualities that "exceed the likeness." To do that the artist stripped away everything inessential and engaged directly with his subjects. Actress Brooke Shields, whom he famously photographed at age fifteen for the Calvin Klein jeans ads, said of the experience of working with Avedon: "There is a mutual vulnerability and a moment of fusion when he clicks the shutter." This sense of oneness between photographer and subject is what gives these portraits their profound eloquence, just as it reaches out to the viewer to enter the inner world of both.
Richard Avedon Portraits is on view at the Portland Museum of Art until June 16, 2019.