This piece is my first column in what I hope will be a long and mutually fruitful association with Scene4. I thank the editors for inviting me to become a regular contributor.
I was prompted by Karren Alenier's fascinating article on poets laureate (June 2019) to relate the tale of a recent struggle to hold onto such a position where I live. I reside in Arlington, VA, an urban county bordering Washington, DC. From July 2016 until July 2018, Arlington had its first (and so far, only) Poet Laureate, a position ably filled by esteemed poet Katherine Young. Arlington is a wealthy community with great diversity and a large number of highly educated citizens. Thus the appointment of a Poet Laureate, through a competitive process, was a very welcome development. Among its many assets, Arlington is the home of many writers and artists, including a good number of poets. So it seemed only appropriate that such a literary and artistic center should be represented by a Poet Laureate.
Sadly however, the post was beset with difficulties and conflict almost from the beginning. According to Katherine, "In many ways the position was marginalized barely a year into my term when FY2018 budget cuts eliminated the staff position within the Arlington County Cultural Affairs Division that was responsible for the laureateship. As laureate, I had no independent budgetary access or programming authority, and no other representation within the County bureaucracy—thus, the loss of that staff position was debilitating to the laureate program."
The Laureate's term was set at two years, with an option to extend for two more. However, a further—and crippling—blow fell as Katherine's term neared its end. As Katherine told me, "After the staff support position was eliminated in FY2018, I was assured by officials in the Cultural Affairs Division that the laureateship, which was a two-year appointment, would continue. It was only at the end of my term, when I inquired about serving a second term and proposed changes to the program to address the loss of staff support, that I was told the laureateship would not continue. Apparently, the tiny amount of program funding for the position (under $10,000) was eliminated during budget cuts in FY2019."
These cuts threatened to be still more devastating, not just for the Laureate post but for all literary art—indeed, all arts—in Arlington County. The County Manager's proposed budget for FY 2019 eliminated virtually all funding for the arts, even though the amount of money involved actually represents a very small part of the County's budget. At a time when neighboring jurisdictions are increasing and broadening their arts offerings, Arlington was in danger of losing all support for the arts, artists, and lovers of the arts.
The proposed budget eliminated all funding for the County's four literary arts programs, three of which had been in place and serving countless Arlingtonians and visitors for many years: In addition to the Laureateship, Moving Words, the program that placed poems on County transit buses (which honored me with such recognition in 2016); Pick-a-Poet, the County's poet in the schools program, which has served several thousand students over the course of its existence; and The Poet Is In, a "pop-up" program in which poets appeared at various community gatherings and wrote poems on demand were all on the chopping block.
Fortunately, the arts community in Arlington was not prepared to simply stand aside and watch the destruction of years of work and community building. Katherine sounded the alarm to poets. I sent out a number of e-mail blasts to the listserv of Arlington poets that I administer, as well as to others in the community who love and support the arts. Several poets, myself included, met individually with County Board Members. Poets and literary consumers sent numerous e-mails to the Board and County Manager. Public meetings were held that united representatives from all arts disciplines. Theatre people were notably very well represented: Their ability to offer productions and theatre education would have been severely impacted by the elimination of much of their funding.
With the artistic troops mobilized, a large number of us attended a public budget hearing and spoke of our devotion as both citizens and artists to the arts and the benefits, spiritual and material, that they provide to the County. Afterwards, meetings with individual Board members continued. We literary artists offered a proposal that would fund only the Laureateship at a much smaller level and Pick-a-Poet, both together at a fraction of what the County had previously spent on literary arts.
These efforts succeeded beyond our wildest hopes. As a result of such well-organized and well articulated activism, the Board voted to restore all literary arts funding at previous levels, in addition to that for other arts.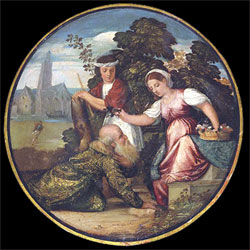 However, the struggle continues. Many questions still remain concerning the Poet Laureate's role and what will be expected of her or him. As noted above, the original position description provided a two-year term for the Laureate with the option for a second. But even though the funding was restored for the Laureateship, Katherine points out "that since funding was restored I have not been contacted about serving another term. However, I have been in correspondence with relevant parties at the Cultural Affairs Division about their understanding of how succession ought to work for an incumbent laureate; our perceptions differ on this issue. Most unfortunately, all but one of the parties who chose me as laureate and were closest to the laureate program have left Arlington County and cannot be consulted on this or other issues related to the laureateship." Despite the remarkable victory we achieved, we literary artists and our supporters cannot yet afford to—pardon the pun—rest on our laurels.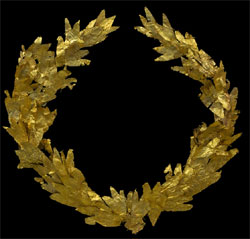 Art: The Poet -Stefano Cernotto (fl. 1530-1548)

Golden Laurel Wreath, Jebulon - CCO