Roongroj Piamyossak is an artist who graduated from Silpakorn University in Bangkok. His works are distinctly involved in approaching his old familiar community. In other words, he creates arts and develops his community at the same time. I've known him since an installation exhibition many years ago. He was also the village chief of a village in San Pathong District, Chiang Mai Thailand and cooperated with 120 villages.
As a village chief, his main aims were to help local artists, promote arts in the community and preserve old buildings. He attempted to find financial supporters from the government and private organizations. He started his research using his own money to use a model from the Siam Association to provide knowledge about the San Pathong model and he sketched his work in every step. He believes the art will reach people easily. It is the thought process for the community to take part in caring for their own environment.
His latest exhibition was held at Lhong1919 in Bangkok during 15 - 30 August 2019.
Here is the interview:
JY:Tell us about the project "101 Historic Houses San Pathong"?
RP : I was born and raised in San Pathong District, Chiang Mai. I've seen a great number of successes and failures of several projects established here for many years. In my view, the most significant factors for any project to succeed are not only the participation between private and government sectors but also the sincerity among them which is the essential basis used during the operation by each party. Art is the gentle force to connect things together. It has the profound side to unite people as one.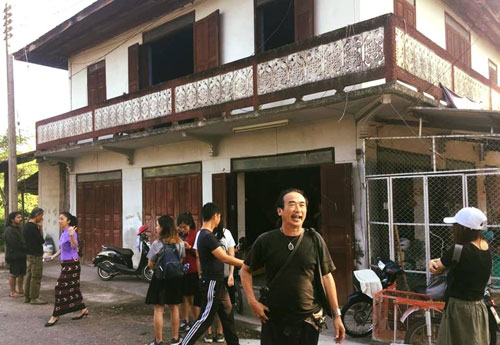 101 Historic Houses San Pathong is the community art project that is not from the thought of a certain individual but it is the collective thought from the descendants of historic house owners for several households and families. Various feelings in the community reflect the dimensions of family relationship, family founders and ancestors. This helps to clearly see the guidelines that predecessors made for their descendants, understand causes and problems regarding the dismantling of historic houses for sale and then acknowledge the deeper feelings of the descendants who tried to preserve these houses.
The issue of destroying cultural environments in the present becomes like the epidemic spreading to the entire world. Finally, this should not be the sole responsibility of one person but all of us should be united and cooperate before it is too late.
For many years, I and many others in San Pathong community used to observe the dismantling of historic houses for sale. We felt such sorrow about this situation. Knowing we could not prevent this, we still tried our best in every possible way. Many times, we felt really hopeless with the turbulent current of the period whenever historic houses were dismantled for sale. Until one day I could not bear the burden of my inner feeling any longer as I felt like I could even touch the life and spirit of the historic houses. This was also like being molded in the meticulousness within the houses made of the focus from things our ancestors created. Dismantling them is like butchering for parts and organs. This is something I saw and could not stand anymore.
JY: What were you going to do next?
RP : As an artist, I did something I was able to do and proficient in. It is drawing to imitate Intaglio printmaking. I started from the historic house of Somsri Pairatchakul as the first one. I did not want just the drawing of the house. In addition, I used several types of media to show the inner feeling of the heirs of those historic houses by recording historical texts and history of each historic house to portray the lifelike image of the house.
Documents, photographs and video clips were collected to enhance the viewing experience of visitors. I went to each historic house one by one and visited all villages with patience. I gradually did all of 101 historic houses located in 120 villages of San Pathong District. For a timespan of one year, I went to talk to the heirs of those historic houses to ask for their permission. At first many of them did not want to cooperate with me. Once these heirs started to better understand my intention, they were ready to cooperate with me in many ways
JY: How did you publicize your work to the public?
RP: I began to publicize the 101 Historic Houses San Pathong project by using a book to imitate a gallery. Each page was like a wall to arrange images and texts. The readers gradually turned their pages and moved their eyes freely with focus to remind them about those historic houses and to recall their past consciousness, memory and experience of each person. These books will be given to the public areas of the community. I also received the cooperation from various organizations such as Ban Thung Siao community, Thai-Koen Historic House Museum and the building of Payer Textile Gallery at Siam Square Bangkok. We also had a workshop conference at Chiang Mai University for cooperation in enforcing the law to protect historic houses. The workshop conference was held by the Faculty of Law, Chiang Mai University, Chiang Mai Center Museums, The Siam Society under Royal Patronage and Civil Society Network Chiang Mai. All of these happened during the previous operation. This shows the partial reception from people in our society. I also hope in the near future support will be much higher so all historic houses could stay with us forever.
Biography and Notable Works
Roongroj Piamyossak was born in 1964 in Chiang Mai. He finished his secondary school from San Pathong Wittayakom school. He started art education at Sirikorn Art School, Chiang Mai, Chang Sin College in Bangkok and graduated from the faculty of Paintings, Sculptures and Graphic Arts, Silpakorn University in Bangkok (1987). After that he went to study with the local artisan at Ban Tawai Chiang Mai and learned about community way of life. This was the start of his art career.
- In the core of heart (1995)
- Non-collapsing sensitivity (1995)
- Born in Chiang Mai (1997)
As a determined person, Roongroj worked hard and fell ill. During his recovery he studied more about Buddhism and the concept of Artwork Installation that encourages the participation of audiences and the process of outdoor exhibition outside the art gallery area. The art exhibition during this period provided him fame and recognition.
- Phuttanussati 50 (Thinking about the Buddha's benevolence) (2000)
- Anatta (Non-self) (2002)
- Autta (Self) – Anatta (Non-self) (2003)
- People's Santuary (2004)
- Sangkhanussati (Thinking about monks' benevolence) (2005)
- Eyes closed, ears closed … closed (2005)
Later, Roongroj frequently worked with villagers and he became a village chief (2007-2012). Roongroj was known and adept in art projects with participation from the people. He designed the Viharn building and paintings for Wat Maesapok Temple in Mae Wang District Chiang Mai in (2006 - 2010), for Wat Pangmaoh in Chiang Dao District (2011-2013), and San Pathong Art Center (2013 - 2017) to be used as knowledge base and to publicize art in broader society. 101 Historic Houses San Pathong (2018) was his latest project to use art to create the concept for intelligent working in the way of life for the society of hometown community.
Awards and Honors
1979 - Excellent youth award for 1979 in Art from National Youth Bureau, Prime Minister's office
1986 - King Bhumibhol Adulyadej's Scholarship, Excellent Grade from faculty of Paintings, Sculptures and Graphic Arts, Silpakorn University. Wang Tha Pra, Bangkok
2007 - 2017 Vice president of Cultural Council, San Pathong District Chiang Mai
2008 - Phet Ratchabjat – Phet Lanna Awards in Fine Arts from Rajabjat University Chiang Mai
2010 – Person making merits awards from Ministry of Culture, District level in Fine Arts Chiang Mai
2011 - Excellent artist in mixed media in Chiang Mai from the Cultural Office Chiang Mai
2011 – 7th generation of Teacher and Wisdom Award in Fine Arts from The Secretariat of the Council of Education, Ministry of Education
2016 - Teacher and Wisdom Award Chiang Mai in Fine Arts from Chiang Mai from Chiang Mai Party for Educational Reformation, Chiang Mai