For the past 18 years, there has been constant activity at Viharn Wannee in the area of Wat Chet Yod Temple in Chiang Mai. I continued to follow the mural painting project that Kriengkrai Mueangmoon and his team initiated on 11 September 2001. This reminded me of the tragic incident when 19 terrorists hijacked four planes and two of them destroyed the twin World Trade Center buildings.
At the small corner in one of the two mural paintings in Viharn Wannee, a small painting of a plane crash and the decimated twin World Trade Center buildings is a symbol to remind the artists about the start of the project. After receiving awards seven times in seven years consecutively, I would say that Kriengkrai is really a determined person. In the beginning of August 2019, I had a chance to revisit Viharn Wannee in Wat Chet Yod temple again, and I found that the mural painting project there already finished successfully this year but no official delivery date yet.
In the interview, Kriengkrai also mentioned another project he started in October 2018. The project is called "Study and Analysis of Dust Color Techniques - Ancient Painting Case Study: Wat Phra Sing and Wat Buak Krok Luang temples" I was very excited to hear about this because I was very familiar with both famous temples which are located in Chiang Mai city. Both temples have ancient and interesting mural paintings. This is a research project of the Faculty of Fine Arts and Architecture, Rajamankala University of Technology Lanna. We also talked about the reproduction of mural paintings from both temples that Kriengkrai and his team of students have been doing to preserve these ancient paintings created by previous generations of master artisans.
Here is the interview
JY: Please tell us about your working team that continues to reproduce mural paintings of Wat Phra Sing and Wat Buak Krok Luang temples in Chiang Mai.
KM: After finishing the mural painting project at Viharn Wannee in Wat Chet Yod temple, I thought further about existing mural paintings at Wat Phra Sing and Wat Buak Krok Luang temples. This time my aim is to preserve mural paintings made by artists many centuries ago.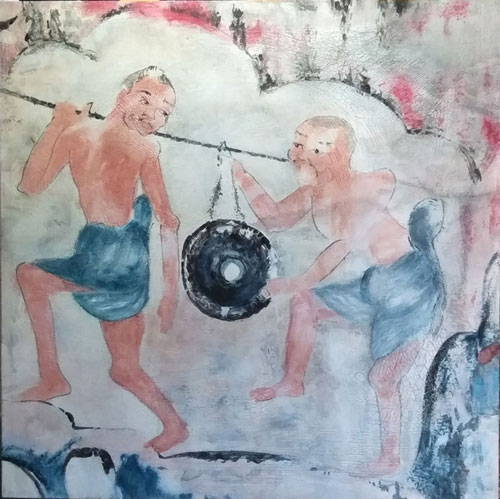 First, I would like to talk about Wat Phra Sing temple. Within Viharn Lai Kham where Phra Sihing Buddha Image is currently enshrined, there are some notable mural paintings from the central-region tales of the Prince Sang Thong (Golden Conch) in the northern Wall and Golden Swan in the southern wall. Instead of the biography of the Buddha or Jataka which can be found in almost every temple in Thailand, Jataka is the tales of the Buddha's previous lives. It can be assumed that mural paintings in Viharn Lai Kham were created during the reign of Chiang Mai king Chao Thammalangka (1813 – 1821 AD). Judging from the style, master artisans who made mural paintings of Prince Sang Thong were the Chinese while master artisans who made mural paintings of the Golden Swan were Tai Yai people. Apart from studying colors used at that time, we also took photos of mural paintings in Viharn Lai Kham and reproduced them on 50x50 cm wooden canvas frames since there was a major restoration decades ago. It would be a pity if we let such beautiful artworks to be lost with passing time.
Second, another temple in this research project is Wat Buak Krok Luang. Unlike Wat Phra Sing temple. The origin of these mural paintings was quite different because Lanna master artisans were responsible for painting murals there. Mural paintings in this temple were inspired by the Jataka especially the ten previous lives of the Buddha. Out of ten, six stories were chosen and portrayed nicely in the temple's building. After analyzing colors and drawing technique, we can see that the technique is quite the same as we use today. Most of the colors are Indigo, Brown, Crimson Red, Black, White and Gold. Moreover, the scenes of nature are really picturesque.
JY: What about your method of operation for this project?
KM: In this study, we employ similar methods for both temples. In the initial step, we looked at the old photos of the mural paintings. Then we compared some artistic elements such as structures, color weights, drawing lines, colors and compositions. In the practical step, each of us used mobile phones to take some photos of mural paintings from both temples as references, print those images on stock photograph paper 4x6" (10x15cm) using a color inkjet printer with appropriate resolution and tabulate those photographs with pencil with a 1x1cm per square grid. After that, we prepared some wooden canvas frames in size of 50x50cm using the ancient method. For precise size, 1cm in the photograph can be scaled up to 5cm in the canvas frame in a ratio of 1:5. The reproduction step began from here until all photos and canvas frames were used completely. In the finalizing step, all of these prior steps were photographed and recorded in video clips for research purposes as well as a complete report from the beginning to the end was written for later publishing as a book.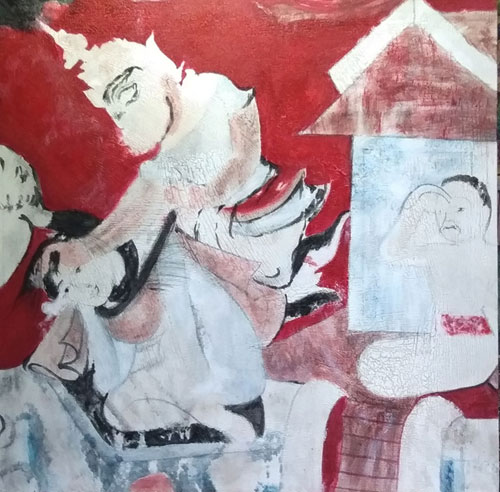 JY: What else?
KM: The importance and value of mural paintings from both temples are not only for the preservation of ancient art and techniques, but the team also wants to preserve the spirit of ancestors portrayed in the mural paintings. Looking at those paintings carefully, we can see the creativeness, beliefs, Buddhism, cultures, traditions and the way of life from Thai Lanna people in the past as well as some hidden intents in the paintings. Moreover, the artistic concepts of space, color weight, surface, structure, painting, sculpting and architecture can be clearly seen. At the present, all of these values are disappearing at a rapid rate. Modern technology is the way we can preserve such precious arts. In the past, most colors came from natural substances which are not ideal for preservation since bad weather can damage the surface of mural paintings. To rectify this, we need to take some photos and make reproduction as references, as soon as possible. To prevent some inconsistencies and incorrectness due to misunderstanding, when mural paintings are to be restored, the art restorers will see the reference before attempting to restore damaged mural paintings to the former state.