Is Santa Fe Opera trending in the modernist, "fashionist" direction that hopes to attract younger audiences? Not since John Adams's world premiere Doctor Atomic in San Francisco have I seen so many audience members flee a Santa Fe performance at intermission. The reason: newcomer director R.B. Schlather's postmodern slaying of Mozart's Cosi fan tutte.
Cosi fan tutte
"How dare they do this to us?" was the question I heard repeatedly at intermission, not just from the throng of people who abandoned their $250 seats and headed to their cars. Santa Fe had its crisis of divided opinions, as the press representative informed me: "Half the audience love it and half hates it."
Mozart's and his librettist Da Ponte's story about two sisters tricked by their disguised fiancés into betrayal of their marriage promises, maintains that good seduction breaks down anyone's resistance, which is also a perfect metaphor for a successful show. So what's a young director going to do with the brilliance of centuries staring him in the face? Strip Mozart bare of all seductive qualities and see what you get?
Schlather's production delivers one absurdity after another. The bare, ugly stage is no better than an empty cardboard box with a few square holes cut out. The lighting doesn't go where it's needed, on the singers, but in some empty corner of the box so the singers are frequent silhouettes or otherwise in the shadows. The director gives the sisters the air of giggly tennis girls who arrange and rearrange their naked legs. Their fiancés are silly frat boys in sports attire. Then he lets these deceitful guys don cowboy hats and jeans to confuse the girls about who is who and who is with whom.
To think of today's teenagers as innocent fools is well, bizarre, to say it mildly. These girls would initiate a partner swap in a snap if they were so inclined. Mozart's Cosi fan tutte from 1790 surely has something to say to a young generation, but one thing is clear: it's not ABOUT today's teenagers. So who is this teenage parade for, unless it's just for the director himself ? Is it his confession that his own teen age was insufferable? If he really is an artist, he will know at some point that denying Mozart his charm, his emotional relevance, his bittersweet realism, reduces the opera to irrelevance. Who cares?
Who even cares to debate this postmodern stance that is already passé as it happens? I don't envy the singers who all did a fine job (outstanding: mezzo Emily D'Angelo as Dorabella and tenor Ben Bliss as Ferrando) but were unable to save Mozart's music from the flatness and emptiness of the show.
Does a critic not have the same right the director claims when he strips a work naked? The less said then, the better.
The Thirteenth Child
Nobody left during Poul Rudner's The Thirteenth Child, Santa Fe's 16th world premiere, a fairytale opera of only an hour and twenty minutes length. Rudner is known for his surprising topics and works of uneven length. He based a 20-minute opera on the misbegotten film Dancing in the Dark by Lars van Trier and next accorded Margaret Atwood's horror story The Handmaids Tale the full operatic treatment. For The Thirteenth Child he and two librettists worked for a whole year to complicate the Grimm fairytale, "The Twelve Brothers," mixing their own ideas together with several versions of the same tale about an innocent maiden who sacrifices herself in order to free her (seven, eleven or twelve) brothers from a spell that has turned them into swans or ravens.
The Danish composer was better served than Mozart by his production team under Darko Tresnjak, although I would call their efforts minimal. There was an Esher-like stage set of a fallen tower. Some nice video effects of an enchanted forest and fairy dust supported the composer's intent. But the otherwise uninspired direction, the static protagonists and the explanatory rather than evocative libretto (by Becky and David Starobin) weighed the opera down in spite of Rudner's rich, mostly harmonious and engagingly lyrical music (under British conductor Paul Daniel in his Santa Fe Opera debut).
It took the whole first act before the heroine of the story even appeared. In the long, unnecessary preamble of 40 minutes, a King (bass David Leigh) intends to kill his twelve sons as soon as his pregnant wife gives birth to a girl, his thirteenth child, who is destined to be his successor. He is surely going mad, as he hits his pregnant wife and suddenly, from a very low bass, squeaks out a few falsetto lines (which made some audience members giddy). Then he dies, but not before the Queen sends her twelve boys away into the forest and the baby girl is sent away too.
Next the Queen also dies, but not before sending her now 18 year-old daughter Lyra (newcomer Kirsten McKinnon) into the forest in Act II, to find the twelve brothers. Which Lyra does, like Snow White finding the seven dwarfs. Rudner gives us a hilarious scene when Lyra hands the brothers the keepsakes their mother made her take along. The twelve wild looking woodsmen hold their tiny baby shirts to their big chests to great comical effect.
Unfortunately Lyra has not been instructed well enough. She ruins the happy reunion with her eagerness to decorate the table and cuts down twelve magical lilies-- which turns the brothers into ravens. We see them vaguely fluttering on video, and then there is the next complication: the King's old rival for the throne (bass baritone Bradly Garvin) now pursues Lyra to get hold of the power, and Lyra has a hard time crying NO! because she has vowed silence for seven years to free her brothers from the spell.
It's always interesting to see what composers do with heroines who go mute Рlike Rusalka or Mélisande in Pelleas et Mélisande. Rudner does little (why not condemn the fair maiden to sing for seven years instead?) but Lyra has a brief struggle with her attacker (who is symbolized by snake projections and also by a few odd falsetto lines). Luckily her prince charming is quickly at hand just as the seven years are over and the brothers are freed from ravenhood. The old falsetto geezer dies and they all live happily ever after.
What's the point, you may wonder. Women's plight in a world of power-grabbing, molesting men? Having to be mute so twelve brothers can enjoy free speech? #MeToo in fairyland?
Apparently the composer didn't care. He wrote beautiful music to the confusing libretto and had fun with what he called "ear candy with chili peppers." His lyrical lines and interesting dissonances seemed to connect with Samuel Barber's neoromantic compositions (See Vanessa reviewed in these pages). And like Nico Muhly in the Met's recent world premiere of Marnie, Rudner is not afraid to go into "fairy" mode or movie score effects. He does it here with little dramatic effort or attempt to characterize the personae dramatis. The title figure, Lyra, remains a cypher throughout her forty minutes, and the other characters fare no better. But Lyra has the one surprising scene of truly grim fairytale violence: quite uncharacteristically she hacks the lilies off their stems one by one with great, shocking orchestral "chili" accompaniment. It's the one striking image that remains from this mise en scene. Musically, a few poignant moments belong to the Queen, sung with arresting emotional power by mezzo Tamara Mumford, when she is telling her daughter about her pain. Even dead, Mumford carries the second act when the Queen appears as a specter to her daughter, singing with amplification in a superbly eery voice that encapsulates all the magic in this otherwise lukewarm tale.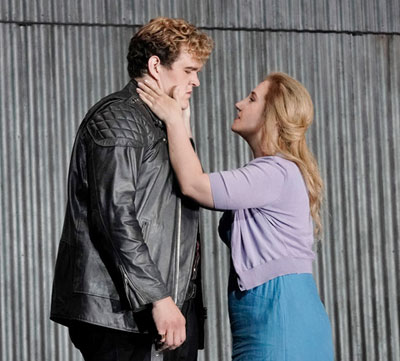 Jenufa
After these first two performances, it seemed a miracle to see a production where everything comes together: a superb direction by New Yorker David Alden, great orchestral playing, and a superb cast, honoring a great composer's work and giving it a modern slant that supports—instead of fighting or trying to "better"— the work.
Czech composer Janacek's Jenufa (1904) is based on a libretto by the composer himself, inspired by a play by the Czech writer Gabriela Preissovà. A village girl, Jenufa, waits for her lover at the front of the stage. With the first strong chords of the orchestra she runs to the back wall which flies open with a bang to let in the huge New Mexican sky, bringing the house down. What a way to show that everything in this young girl's life depends on him, the lover, that his arrival is as big and high as the sky. The orchestra, forcefully conducted by German Johannes Debus, pulsates in a tense 3/6 meter of great urgency and suspense that will reappear like a leitmotiv: Jenufa, beautifully sung and acted by young American soprano Laura Wilde, is pregnant and fears her fiancé Steva will not marry her in time to save her and her stepmother from shame and devastation.
It doesn't matter to her that her beau is a drunkard and womanizer who barely notices her any more. But it matters to his less attractive brother, Laca, who loves Jenufa and looks on with jealous fury. It matters to Jenufa's stepmother, Kostelnicka, who is the powerful guardian of the moral code of the place and knows first-hand what a marriage to a man like Steva would mean for Jenufa.
The force of fury in this explosive entanglement of jealousy and pride, family and village, is the central force of Adler's production. (He won a prestigious Olivier Award for Best Production with the English National Opera, in 2006, and has since reworked the piece.) When Steva arrives with a drunken cohort of revelers and several girls at his neck, Alden fills the stage with screaming, stomping youngsters ready to break everything into pieces if only they could break through this oppressive fist of village morality. Steva, sung and acted with brutal conviction by American tenor Richard Trey Smagur (a former Santa Fe apprentice), is the most dangerous of the men because he is a coward who feels entitled by his wealth to literally stomp everyone out of his way. It is an unusual, interesting interpretation of a role that usually accords Steva some boyish, seductive charm. Lewis is a giant and his drunken dancing and carousing with his huge limbs is a constant threat of violence. And yet, Jenufa stands up to him with her quiet, unwavering demand that he do the right thing by her and save her.
Laca, impressively sung and acted by Australian tenor Alexander Lewis (in his Santa Fe debut), observes how Jenufa won't let go of his callous brother who is after every pretty face, and in his impotent outrage he ruins Jenufa for Steva by slashing her face. Smagur plays Laca with a whiplike, explosive physicality, but his bronze-edged voice also reveals a shyness and tenderness beneath his rage. Will Jenufa finally see that Steva doesn't love her? Jenufa does not see it. But now that she is disfigured and her marriage is less likely than ever, her stepmother Kostelnicka takes over. The ruinous pregnancy has to be hidden. She has to save her stepdaughter and herself at any cost from the shame of condemnation.
Alden moves the story from a Moravian village in the 19th century to a Czech hinterland of the fifties, a place where time and poverty never change and the Christian principles of good and evil, heaven and hell, can't be escaped. At the forefront of his brilliant cast is soprano Patricia Racette, a star of the Met, who used to sing Jenufa and now brings her powerfully emotional voice to a both steely and vulnerable Kostelnicka. The role is usually played with the coldness and stiffness of pride, but Alden and Racette let one feel for her as a woman and stepmother. The stark reflection of her silhouette on the walls, however, is a reminder of her dominant and also dangerous presence. When she kills Jenufa's baby so that Laca can agree to marry Jenufa, Racette sings and plays her gradual descent into guilty paranoia with incredible intensity.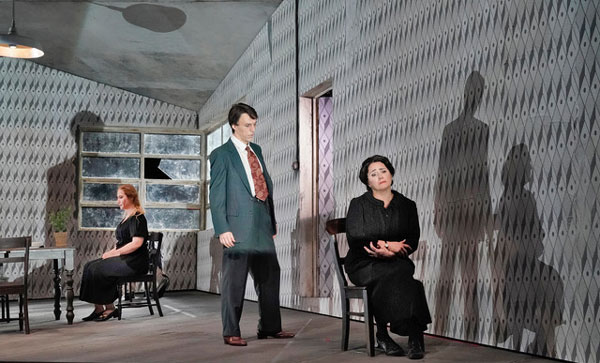 In former Santa Fe Opera apprentice Laura Wilde, Alden has found a touching Jenufa with a beautiful, expressive voice. Her stage presence and acting reminded me of the gentle acceptance and quiet authority of Gundula Janowitz in the role of Strauss's Arabella. Wilde rendered Jenufa¬īs honest way of sticking to her feelings convincingly, and she made us believe in her capacity, when everything is in the balance, to understand her stepmother, to forgive, and embrace her life with Laca.
Several apprentices of Santa Fe Opera got to shine in this production, especially Jana McIntyre as a shepherd boy and former apprentice Will Liverman as the mill foreman—two more names to remember.
Briefly Noted
The two last productions of this season, Bizet's The Pearl Fishers and Puccini's La Bohème, were enthusiastically applauded by everyone, moderns, post-moderns, classicists and romantics: . They were examples of Santa Fe's exceptional stagings of operas in historically correct style and setting, creatively fresh and perfectly cast. The September deadline did not permit me to go into detail, but each of these productions revealed young singers who must be mentioned today, as you may hear them tomorrow at the Met, in Houston, Chicago or Los Angeles.
In La Bohème, soprano Vanessa Vasquez as Mimi blew everyone away by singing as if gold and silver were pouring effortlessly from her throat.
The revelations of Bizet's The Pearl Fishers (according to The Washington News "the best of the season") were Corinne Winters
a young, reed-like soprano embodying the divine priestess Leila with a clear, touching voice full of arresting color and emotion, while her lover, Nadir, was sung with haunting lyricism by Turkish-born, Austrian tenor Ilker Arcay√ľrek.