"You know what I think? I think that we're all in our private traps, clamped in them, and none of us can ever get out. We scratch and we claw, but only at the air, only at each other, and for all of it, we never budge an inch."
Norman Bates (Anthony Perkins in Joseph Stefano's screenplay for
Alfred Hitchcock's Psycho)

Alfred Hitchcock told the story in interviews: As a boy of five, he was taken by his father, William Hitchcock, to the local jail. William handed a note to a policeman. The policeman looked at the note, took Alfred to a cell, and locked him in for five minutes. "This is what we do to naughty boys," the policeman said.

This incident, Hitchcock said, left him with two incurable phobias, both of which are apparent in almost all his films. The first was a fear of police. There are a few sympathetic lawmen in Hitchcock's movies—Macdonald Carey in Shadow of a Doubt, John Williams in Dial M for Murder, and Michael Wilding in Stage Fright come to mind. But most are stupid, cruel, and arbitrary. A representative example is the plainclothesman who fires at an unarmed Farley Granger and a merry-go-round full of children, setting off the disaster that ends Strangers on a Train.
The second phobia is especially relevant now, at a time when we are all forced to huddle in our homes against an invisible, deadly menace. To be sure, Hitchcock is not the only director to explore enforced confinement as a theme. There are, of course, any number of prison movies (Birdman of Alcatraz, Caged, The Shawshank Redemption) and movies about people trapped in close quarters (Das Boot, Panic Room, 10 Cloverfield Lane). The entire oeuvre of such directors as Ingmar Bergman and Robert Bresson treated life as an existential prison, while the protagonists of Roman Polanski's films are caught in various traps, whether by actual circumstance (Rosemary's Baby, The Pianist) or the malfunctioning of their own minds (Repulsion, The Tenant).
However, more than any other director, Hitchcock explored the various ways, outward and inward, in which human beings can feel isolated, trapped, threatened. Billed as "the Master of Suspense," Hitchcock specialized in the delineation of claustrophobia, of the mind as well as of the body, and how people react when confronted by it.
Hitchcock was at least as brilliant as Agatha Christie in exploring how to use the constricted setting of a train as a vector for suspense. His career is replete with examples—The 39 Steps, The Lady Vanishes, Strangers on a Train, North by Northwest. (North by Northwest also contains one of Hitchcock's greatest triumphs, in which he transformed a vast Midwestern prairie into an inescapable trap.) One Hitchcock film—1940's Foreign Correspondent—strands Joel McCrea, Laraine Day, and Herbert Marshall in a mid-ocean plane crash that has lost none of its horror after eight decades.
However, Hitchcock made even more radical experiments in claustrophobia. One of the most striking was 1944's Lifeboat.
Based on a story by John Steinbeck, Lifeboat was a Stagecoach-like World War II drama, casting a group of disparate characters adrift after their ship is sunk by a German U-boat which also went down. The characters include a brittle, sophisticated journalist (Tallulah Bankhead); an angry, politically left-leaning crewman (John Hodiak); a cynical millionaire (Henry Hull); and an easygoing sailor with a wounded leg (William Bendix). The tensions between these characters, exacerbated by the twin threats of drowning and starvation, are made exponentially worse by the German sailor (Walter Slezak) the others pull out of the water. Who is this sailor, and what are his intentions? The answers to those questions eventually unite the other passengers. Hitchcock's direction is equally effective as an exercise in claustrophobic terror and in rousing wartime propaganda.
A more urbane study of constricted space, and in a way a more daring one, is 1948's Rope, with story by Hume Cronyn and screenplay by Arthur Laurents.
Hitchcock's version of the Leopold and Loeb murder, Rope begins with Brandon (John Dall) and Phillip (Farley Granger) strangling an old Harvard classmate. Seeing themselves as Nietzschean Ubermenschen,Brandon and Phillip imagine this the "perfect murder" demonstrating their superiority to bourgeois morals. They will celebrate their triumph by hosting their friends at a party, in which they will serve the buffet supper off the trunk where the body is hidden.
Rope is famous for being edited to appear as one long take in a three-room set representing Brandon and Phillip's Greenwich Village apartment. The audience's knowledge of the body in the trunk, while the various guests are ignorant of it, imprisons the audience in queasy suspense. Eventually, the apartment itself, with its elegant furnishings and panoramic views, becomes a prison, snaring Brandon and Phillip in the inevitable outcome of their murderous delusion.
Rope is also notable for featuring one of Hitchcock's favorite actors, James Stewart, in the sort of role he rarely played—Rupert Cadell, a supercilious professor who enjoys bearding listeners with his intellectual defense of murder. Rupert was Brandon and Phillip's main inspiration for committing their own murder, and Rupert's horror at seeing his intellectual games come true is one of Stewart's greatest moments on screen.
Stewart also has great moments—a lot of them—in another movie set in a cramped Greenwich Village apartment, Rear Window. With its theme of forced confinement in one's own home, Rear Window has special resonance for COVID-19 shut-ins.
In John Michael Hayes' screenplay based on a story by Cornell Woolrich, photographer L.B. "Jeff" Jefferies (Stewart) is stir-crazy, laid up for weeks with a broken leg. To pass the time, he trains his zoom lens at the windows of his neighbors. One of the most interesting is Lars Thorwald (Raymond Burr), a lumpen traveling salesman afflicted with a shrewish invalid wife. One night Jeff hears a scream, followed by the sound of broken glass; the next morning, Thorwald is alone in his apartment. Jeff immediately suspects the worst, and slowly he draws his girlfriend Lisa (Grace Kelly) and physical therapist Stella (Thelma Ritter) into sharing his suspicions. (Jeff's police detective friend Doyle, played by Wendell Corey, remains skeptical. In Hitchcock, the police are always behind the curve.)
Rear Window is one of Hitchcock's most studied films, not least for the ingenious set design that allowed him to place cameras on multiple levels.
Even more, however, it is one of Hitchcock's most trenchant explorations of human nature and ethics. How much right do we have to poke our noses into the affairs of our neighbors? To what extent does idleness create monsters in our minds? And do the ends ever justify the means? Jeff has some scintillating arguments with Lisa, Stella, and Doyle on this subject on the way to the climax, one of Hitchcock's most suspenseful, with Jeff listening helplessly in his wheelchair to Thorwald climbing the stairs.
As brilliant as these films were, Hitchcock's greatest achievements were those films in which his characters were imprisoned by their own minds. The most spectacular of these was 1958's Vertigo, which is now justly regarded as one of the greatest films ever made. (It topped the 2012 Sight & Sound poll by the British Film Institute, beating the longtime champion, Citizen Kane.)
The circumlocutionary genius of this film leads John "Scotty" Ferguson (James Stewart once again) and Judy Barton (Kim Novak) inevitably to the top of that bell tower, bound together by overlapping layers of obsession, longing, grief, and guilt.
Something similar happens between Marion Crane (Janet Leigh) and Norman Bates (Anthony Perkins) in their chance meeting toward the middle of Psycho. Hitchcock exploits to the hilt the claustrophobic potential of a motel shower, but the conversation before that, as scripted by Joseph Stefano, captures brilliantly the self-constructed traps Marion and Norman inhabit. Marion's trap, built from outward circumstance, is one she plans to escape, seeking absolution in the process; Norman's, a product of years of inner torment, captures and engulfs Marion forever.
For a high-water mark for the portrayal of both outward and inward claustrophobia, we may look no further than a film that is especially pertinent as a metaphor for the COVID-19 pandemic: The Birds, which Hitchcock released in 1963.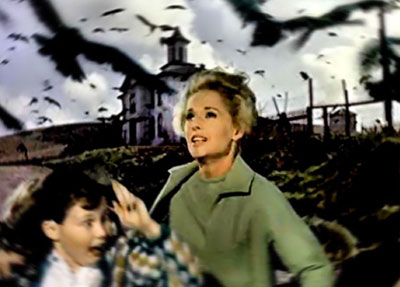 The Birds doesn't quite reach the heights achieved by the trio of masterpieces—Vertigo, North by Northwest, and Psycho—that immediately preceded it. The meet-cute beginning between madcap heiress Melanie Daniels (Tippi Hedren) and attorney Mitch Brenner (Rod Taylor) goes on too long, and the performances of neither Hedren nor Taylor are especially interesting. (Jessica Tandy as Mitch's neurotic mother is much better, as is Suzanne Pleshette as Bodega Bay's worldly-wise schoolteacher.) Nevertheless, when the birds start to attack—and attack, and attack—The Birds becomes a unique and important entry in Hitchcock's filmography. Occasionally in previous films, Hitchcock touched on the indifference of nature to mankind: the Muir Woods scene in Vertigo, with Kim Novak counting the rings on a section of a felled tree, is an example. The Birds, however, is an essay not only on nature's indifference, but its malevolence. From the first seagull biting Hedren's forehead, to the final scene with the survivors driving slowly away in a landscape crowded with sinister, staring birds, nature is sending a message: You don't belong here. Get out.
Between those two events, the world of Melanie Daniels and the Brenner family constricts from the magnificent expanse of the Sonoma coastline to the Brenners' house, rendered squalid and uninhabitable by repeated bird attacks. In parallel fashion, the character of Melanie Daniels degenerates from free-wheeling citizen of the world to pathetic, nearly catatonic victim, at home nowhere. The trivial passions that drove her at the film's beginning are smashed and mocked. Inside and out, the trap is sprung.
The police, naturally in Hitchcock, are no help, but for once in a Hitchcock film the main voice of disbelief is given to someone who isn't a policeman. This is Mrs. Bundy, the chain-smoking, beret-wearing amateur ornithologist played by Ethel Griffies. Snapping out facts about bird populations, she loftily tells Melanie and the other patrons of The Tides restaurant that it is unimaginable for birds of different species to flock together. If they did, "we wouldn't have a chance!" she exclaims. Ten minutes later, after millions of birds have transformed Bodega Bay into an inferno, Mrs. Bundy is cowering in the back with the others, unable even to lift her head. No chance, indeed.
Mrs. Bundy reacts the way most people do to sudden chaos. She never saw the trap, even as she walked straight into it. In her reaction, she is the exact opposite of Norman Bates, a child of chaos. In the penultimate scene of Psycho, imprisoned forever in his crazed image of his mother, Norman looks straight into the camera and smiles—a smile of gleeful, malignant insanity.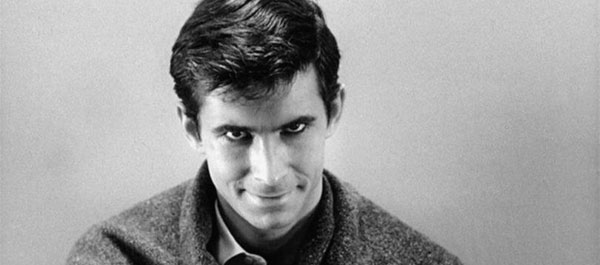 He has embraced his trap—no more scratching or clawing—and, in doing so, exhorts his viewers to embrace theirs.
There is nothing left except to dredge Marion's car from the swamp.
This is what they do to naughty boys and girls.