Call no man happy until he is dead, but only lucky.
—Solon, c. 630-530 BCE
Back in March of 2012, a 58 year-old ultrarunner named Micah True went missing in New Mexico. A few years earlier, True, whose original name was Michael Hickman, had achieved notoriety as the most colorful and endearing personality in a best-selling 2009 book by writer and runner Christopher McDougall called Born to Run: A Hidden Tribe, Superathletes, and the Greatest Race the World Has Never Seen.
McDougall's book has several threads. Its title alludes to evolutionary biology and the physiological adaptations which make humans—by far—the world's best distance-running animals. As a corollary to the structure of the human foot and its biomechanics as Nature intended, McDougall takes modern running shoes to task, positing that most running-related injuries stem from how this footwear turns us into heel-strikers.
The other threads of McDougall's book concern the Rarámuri tribe (called the Tarahumara by the Spaniards), Micah True, and the race formerly known as the Copper Canyon Ultramarathon.
The Rarámuri, renowned for their ability to run upwards of a hundred miles in a day, inhabit the rugged mountains of Chihuahua, Mexico. Theirs is a culture predicated on distance-running: in their language their name means "those who run fast."
Micah True had already led a colorful life when he first met the Rarámuri in 1993. Born in Oakland in 1953, he studied Eastern religion and Native American history amidst redwoods and Pacific vistas at Humboldt State University. Uncharacteristically, he boxed professionally as a middleweight from 1974 to 1982 under the name Mike "True" Hickman (nicknamed "The Gypsy Cowboy") to earn money. Somewhere along the line a woman broke his heart and in response he took up distance running. It was also then that he changed his name.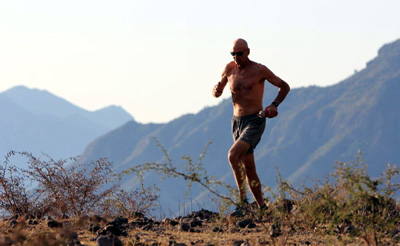 In 1982, True, now a self-proclaimed "trail-running bum," moved to the endurance athlete mecca of Boulder, Colorado, working summers there to save up for trail-running excursions to Mexico and Guatemala in winters. With his his pale skin and a mane of long blond hair atop his lanky 6-foot frame, he earned another name; Mexican and Guatemalan villagers dubbed him El Caballo Blanco, "the white horse."
After encountering the Rarámuri's running culture in 1993, True headed exclusively to Chihuahua to run Copper Canyon and further his friendships with its native inhabitants. Ten years later, he organized the first Copper Canyon Ultramarathon, a tortuous 50-miler to support the Rarámuri. In 2006 he invited top American ultra-marathoners, most notably Scott Jurek, as well as Men's Health writer Christopher McDougall, to compete in the race, a kind of ancients-versus-moderns match-up (Jurek ran a close second to native runner Arnulfo Quimare but returned to win in 2007.)
McDougall's experience with the race, Micah True, and the Rarámuri was transformative. By abandoning conventional running shoes and learning to run with proper biomechanics, i.e. the Rarámuri way, he put an end to years of injuries. Born to Run, the book he'd write about it all, would go on to sell three million copies.
And the book transformed Micah True as well. El Caballo Blanco became a minor celebrity, a hero of the running cult (especially in Boulder, his home for half the year.) He wasn't just a trail-running bum, he was a dharma bum, living in a hut without electricity, his path to enlightenment the Zen of running. And, like the given name he chose for himself, Micah True was now seen as a kind of prophet, preaching simplicity, admonishing greed: "Running is not supposed to be about getting people to buy stuff."
But Micah True had already been transformed. By all accounts, when he met the Rarámuri people and started living and running in Copper Canyon, he found his joy. True joy. When he organized the Copper Canyon Ultramarathon he wasn't looking for fame let alone fortune. He did it solely to help the people he loved.
*****
Like many others, I read Born to Run when it made the rounds in my circle of longtime running friends. I've been a distance runner most of my life, running cross-country in grammar school then getting serious about it in high school. I ran my first marathon, Honolulu, in 1991 when I was stationed on Oahu. Since then I've run 23 more. I'm proudest of my 290th-place finish at Boston in 2004 and an ongoing streak of 18 consecutive Boston Marathons since 2002.
A key to any success I've enjoyed has been to run with guys much faster than me; there have been many of them over the 26 years I've lived in Princeton. One of those is Jon Luff, a Colorado native who ran at Princeton then returned to collect a doctorate. He's a bit of a legendary runner himself, both for his formidable achievements and a few celebrated teammates he had as an undergrad.
It was Jon who told me about reading a small piece in the paper which reported Micah True missing in New Mexico's Gila Wilderness. I remember we speculated about what might have happened. Jon worried that perhaps True had suffered from depression and, with the disruption of his quiet, literally off-the beaten-path lifestyle, had committed suicide.
Then one Sunday in May I opened up the New York Times sports section to find a multi-page feature, "Caballo Blanco's Last Run: The Micah True Story" by a writer named Barry Bearak. It artfully wove the extensive search for True with his biography.
True's body had been found, supine, alongside Little Creek at the bottom of a narrow canyon. He had abrasions on his legs and the backs of his arms. His left middle finger appeared to be broken. The White Horse looked to be resting, his feet dangling in 10 inches of water. Next to him was one of his shoes and his water bottle.
He had been out on a short training run, a 12-miler—short for him, at least.
The authorities ruled out foul play. Forensics indicated that he took a fall. I'd guess he was running the steep downhill to Little Creek and his leg slipped out from under him on the dry, scrabbly trail. Reflexively he put his hands back to arrest his fall, thus the jammed finger. And he slid a little, which explains the scratches on the backs of his arms. So he stopped to splash some water on his cuts, cool off a bit, and regroup.
And then he died. A subsequent autopsy could not conclude the precise cause of death but stated: "the best determination is that of unclassified cardiomyopathy…."
He had an enlarged heart, probably thickened with scar tissue from years of sustained extreme exertion. Some cardiologists deem this rare endurance-athlete pathology Phidippides cardiomyopathy, named for the Greek messenger who ran from Marathon to Athens to bring word of Athenian victory in battle and who, upon delivering his message, promptly died.
I remember being very saddened by the news, but I kept turning over the details in my mind when, a few days later, it hit me: Wow, what a lucky son of a bitch!
Apropos the ancient Greeks, I thought of one of their wisest lessons, a cherished touchstone I first encountered reading Plutarch in college: the story of Solon and Croesus. Solon, known as The Lawgiver, was a much-honored statesman and poet, later deemed one of the Seven Sages of ancient Greece.
After being appointed archon, or magistrate of Athens, Solon left his city for 10 years so that his reforms couldn't be repealed. During his decade of travels around the ancient world he visited Sardis, capital of the kingdom of Lydia in what is modern-day Turkey.
The king of Lydia was Croesus, renowned in his own lifetime as the world's wealthiest man. When Solon visited him, Croesus paraded all manner of gold and wealth before the Athenian dignitary. As Plutarch relates, Solon "neither showed any astonishment at what he saw, nor made any such comments on it as Croesus expected, but actually made it clear to all discerning eyes that he despised such vulgarity and pettiness."
Croesus, growing frustrated, asked Solon, seemingly rhetorically, if he knew a man luckier than him. Croesus cited an Athenian named Tellus who had led an honest life, "had left reputable sons behind him," and had died valorously in defense of his city. Not expecting that one, Croesus asked if besides Tellus he knew a luckier man. Solon named two brothers, Cleobis and Bito, who had shown great fidelity to their mother.
An exasperated Croesus asked in anger if Solon counted him among any of the lucky men. And Solon told him:

O king of Lydia, as the Deity has given us Greeks all other blessings in moderation, so our moderation gives us a kind of wisdom which is timid, in all likelihood, and fit for common people, not one which is kingly and splendid. This wisdom, such as it is, observing that human life is ever subject to all sorts of vicissitudes, forbids us to be puffed up by the good things we have, or to admire a man's felicity while there is still time for it to change. For the future which is advancing upon every one is varied and uncertain, but when the Deity bestows prosperity on a man up to the end, that man we consider happy; to pronounce any one happy, however, while he is still living and running the risks of life, is like proclaiming an athlete victorious and crowning him while he is still contending for the prize; the verdict is insecure and without authority.
As Plutarch adds, Solon then departed, "leaving Croesus vexed, but none the wiser for it."
Then, down the line, the Persian king Cyrus conquered Lydia, commandeered Croesus' fine possessions, and condemned the ex-plutocrat to death. Some versions of the story say that since the avarice of Croesus was so well known, the Persians decided to pour molten gold down his throat. Just before he was about to be killed, Croesus cried out three times: "O Solon!" Wondering who or what "Solon" was, Cyrus halted the execution and, on hearing what Croesus related, ordered the man set free. As Plutarch concludes: "And thus Solon had the reputation of saving one king and instructing another by means of a single saying."
*****
What a lucky son of a bitch. And a happy one. For almost 20 years, Micah True had known fulfillment. His nickname, The White Horse, was a term of endearment. He helped many people, he inspired many people, he continues to do so. And for his last two years, True had a lovely woman in his life, Maria Walton. Pictures of them show a vibrant, happy couple. She continues to organize the race he started and which has since been renamed in his honor Ultra Maratón Caballo Blanco.
Towards the end of his article, New York Times writer Barry Bearak concludes: "His death was terribly sad, and yet there was also perfection about it." Initially I thought it was sad too. By modern standards, 58 is a little young. But I don't think there was anything sad about his death, it was all lucky perfection.
None of us like to think about it, but we all must die. We deploy most of our efforts on trying to live as well as we can—as it should be. I know Micah True didn't head out for his 12-mile run thinking, "today is the day I die and I'm going to do it well." No, he laced up his shoes, grabbed his water bottle, and hit the trails. Many of us will enjoy a good life, but how many of us get to die a good death?
We should all be so fortunate to die in such a lucky way, outside, in the daylight, doing the thing that brings us joy.