The obedient peoples go to war, disobedient people like peace, that is the reason that Italy did not really become a good Axis, the people were not obedient enough, the Japs and the Germans are the only really obedient people on earth and see what happens, teach them disobedience, confuse their minds, teach them disobedience, and the world can be peaceful. Gertrude Stein
Like Gertrude Stein, Myra Sklarew began her adult life as a scientist and then became deeply entrenched as a poet and writer.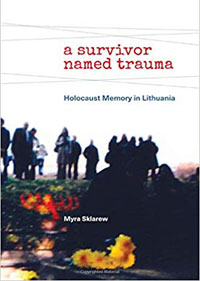 A Survivor Named Trauma: Holocaust Memory in Lithuania is Sklarew's new book that circles back to her scientific origins without diminishing her career in poetry and literature. As her preface states, A Survivor Named Trauma is an interdisciplinary work "using the tools of neuroscience and neuropsychology, alongside Holocaust studies, Jewish history, and personal memoir." This, and the poetic quotes flowing through the text, is what makes this slender volume of 186 pages (not including notes, bibliography, and index) a unique Holocaust work.
In the tradition of scientific and Jewish learning, many questions are raised from the outset.
How do we behave under threat? How do we remember extreme danger…? …Do we negate the testimony of a survivor if their words are inconsistent with known fact? …What do we make of competing versions of history? ..Is overwhelming experience processed differently than normal experience? What do you say about the child who, when liberated, screams to go back into the sewers where her family had been hiding?
Like Daniel Mendelsohn in The Lost, his 2006 Holocaust book centered in Poland, Sklarew's impetus for this research was family who made Lithuania home for centuries and generations. The need to know one's roots certainly drove both Mendelsohn and Sklarew to learn what happened to their relatives.
Early on, Sklarew establishes that Lithuania, a country only slightly larger than West Virginia, has been invaded and occupied many times—in the ninth to eleventh centuries by Vikings, in the twelfth century by Poles with other hostile exchanges with Germans and Swedes until the 1940-41 occupation by the Soviets, followed by the Germans 1941-44 and again (1944-1991) by the Soviets. Despite this unrest, Lithuania had been a center for Jewish spiritual learning until the Germans invaded and indirectly or directly killed most of the Jewish population.
Killing Pit
As in Poland in the early years of the World War II, thousands of Jews in Lithuania were marched to pits and killed there. However, because the killers were Lithuanians these murders were called a genocide and not counted as Holocaust victims despite that these Lithuanians were incited by the Nazis. All over Eastern Europe at that time, such violence happened. Sklarew quotes from a poem written days before his death by the Hungarian Jew Miklos Radnoti. The poet is beside his violinist friend who is already dead, however, the body moves and Radnoti hears a German say, "It jumps up." Then another shot rang out for the violinist:
I fell beside him; his body turned over,
already as taut as a string about to snap.
Shot in the back of the neck. "that's how you'll end too,
I whispered to myself; "just lie quietly.
Patience flowers into death."
"Der springt noch auf," a voice said above me.
The violin is an important image in this book and speaks to a dream/nightmare told to Sklarew by her relative David Wolpe who immigrated to Palestine before WWII but participated in a demonstration that eventually got him jailed and sent back to Lithuania during the Soviet occupation, leading thereafter to the Kovno Ghetto and Dachau Concentration Camp. With poetry and imagery like the violin, Sklarew manages to transition one subject to the next.
For a nine-year period, Sklarew developed a mostly phone relationship with another relative named Leiser Wolpe who as a teenager was shot and left to die by Lithuanians in a basement massacre in the apartment house where he lived with his family. His father died in that mass shooting that included other Jewish men. Leiser escaped but had a hard time finding someone to help him—everyone he knew in his apartment house was scared and wouldn't let him in until he pushed into the apartment of a sick man, cleaned himself up, and then made his way to the hospital where he was able to get care.
The story of Leiser's numerous horrific happenings unrolls chaotically as Sklarew reports on the period of time that she knew him. Yet, even with his huge repertoire of horror, he made time to laugh with Sklarew, who then reported his story about an elephant who learned how to express thank you by stamping his foot—once for danke and three times for Danke Schoen.
As to the science of trauma, one example Sklarew documents is Lithuanian Jews who lost the ability to speak Lithuanian because they were so terrorized by hearing that language which reminded them of those who were taken from the Kovno ghetto and marched to the Ninth Fort and shot there. And these were people who spoke many other languages and never lost their other language skills. A man named Sam Schalkowsky said while he lost the ability read, speak and understand Lithuanian, he never lost his ability to speak German. He offered, "being able to communicate with the Germans in concentration camps was essential to my survival. But knowing Lithuanian was, at least for me, not relevant to my survival efforts."
A Survivor Named Trauma is a compact Holocaust work with numerous low-resolution photographs that are, for the most part, snapshots. Again what is remarkable about this book is its emphasis on the science of trauma and how that theme is woven in with poetry and personal memoir—Myra Sklarew mapped the villages and towns of Lithuania that she wrote about with her feet. She said her feet contain that archive.