From as long ago as I can remember, as a student of medieval literature, the tale of Tristan and Isolde has always held a special place in my imagination. In Chrétien de Troyes, Gottfried von Strassburg, and Thomas Malory, it is a timeless story of impossible and transcendent love, but no where do the lovers and their passion live more vibrantly, seductively – even dangerously – than in Richard Wagner's opera.
The four-and-one-half hour opera premiered in 1865 with Ludwig and Malvina Schnorr von Carolsfeld in the title roles. As so often with Wagner's operas, his productions were beset with a variety of compromises and mishaps – in this case the most disastrous being the death of Schnorr seven days after the premiere. Though Wagner's beloved tenor succumbed to an apoplectic event brought on by a chill and complicated by his obesity, the myth was born about the killer nature of the role, a fiction based, as so many fictions are, on a partial truth. For in the entire heldentenor repertoire, there is probably not another role as demanding of vocal stamina, secure technique, heroic power as well as lyric line and passionate acting.
Over the years there have been few, but luminous interpreters of the role, among them Lauritz Melchior, Set Svanholm, Max Lorenz, Ludwig Suthaus, Wolfgang Windgassen, Jess Thomas. I had the opportunity to listen to these when I wrote my heldentenor study, We Need a Hero!, in 1988. But at that time and since, for me, there has been only one Tristan who completely captured Wagner's Gesamtkünstwerk (the complete work of art) ideal, and that is the late Peter Hofmann.
Hofmann first sang the role in concert in Munich in 1981 under the baton of Leonard Bernstein (these performances are preserved on a Phillips CD and were broadcast on television), and then he undertook the part again on stage at Bayreuth in 1986-1987. Those handful of live performances, which cannot compete in number of performances with someone like Melchior, shine with a radiance that is – to these eyes and ears – absolutely unforgettable.
The monumental Bernstein interpretation, made when Hofmann was thirty-seven and in his peak form, for me, stands at the pinnacle of all Tristan recordings. With Hildegard Behrens as a proud, regal, vulnerable Isolde, Yvonne Minton as a pure-voiced Brangaene, Hans Sotin as a lyrical and gut-wrenching Marke, and Bernd Weikl with his velvet baritone as a compellingly human Kurvenal, the cast could hardly be more ideal.
The Bayerischer Rundfunk Orchestra in the pristine acoustic of Munich's Herkulesaal plays with a transcendant and transparent luminosity that only Lenny could evoke. One of the longest Tristans on record at four hours twenty-six minutes, Bernstein sculpts the opera's line with aching, arching, orgasmic passion. From the first notes of the Prelude which begins so quietly and then stretches in yearning phrases toward the Sehnsucht (longing) of the Love Duet and then again on to the searing climax of Act III, this is a reading that enfolds, grips, and ultimately liberates its listeners.
In Act I Hofmann's Tristan is noble and courtly; one senses from the first his well-guarded attraction to the Irish princess. He captures Tristan's fatalism from the beginning; he expects to drink death, only to awaken ironically to love. In Act II he has abandoned himself to the ecstasy and turbulence of his passions, and he answers Marke for his betrayal with bitter self-reproach. In Act III, which is Tristan's Passion Play, Hofmann brings a fierce, biting intensity to his ravings. His terrifying, raging monologues scale the heights of ecstatic madness; his suffering and death are an all too real prelude to redemption.
Vocally, Hofmann has the power, the projection, the ping. His voice is by turns hauntingly baritonal and shimmeringly youthful, while his declamation – his way of nuancing words – is incisive and subtle. He manages to SING the part without ever, even in the most agonizing outbursts, to shout or bark. Thanks to the tenor's firm technique, he is able to bring dynamic subtlety, long line legato, and a sweetness or irony, as required. Challenged by Lenny, Hofmann makes breathtaking phrasing choices – witness the Act III Wie sie selig, hehr und mild wandelt durch die Meers Gefilde (How blessed, majestic, and sweet she changes like the sea's realms) taken in a single breath! There are too many exquisite moments to cite them all here; a few favorites include the piano legato O sink hernieder Nacht der Liebe, (O sink down upon us, night of love) the dark, virile Dem Land das Tristan meint, (To that land that Tristan means) and the last terrifying Oh diese Sonne(O this sun) which finishes on the suicidal, melting diminuendo of his last breath - Isolde.
Though the Bernstein project took place on the concert stage and though it was Peter Hofmann's first essay of the role, it was still possible to see what an unforgettably riveting Tristan he would be in a fully staged production. Hofmann was always a Buhnenmensch (creature of the stage); he could no more stand and sing without inner intensity than he could breathe!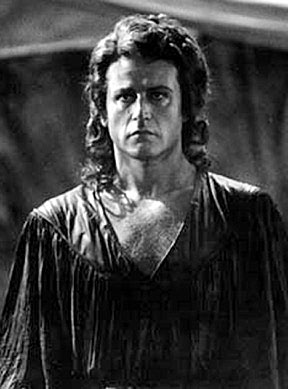 He finally got the opportunity to play Tristan on stage in 1986 at Bayreuth in the Jean Pierre Ponnelle production, conducted by Daniel Barenboim. The difference in conductors is, of course, significant in the overall effect of the interpretation. Barenboim comes to the opera with a more extroverted Romanticism than does Lenny. His tempi are faster; there is an imperative impulsiveness to his approach that sweeps actors and audience along with dangerous impetuosity. His Klangwelt (tonal world) is less transparent than Bernstein's; it is lush, sometimes loud, often competitive with the singers even in the nearly perfect Bayreuth acoustic. Barenboim demands a fiery heroism of his cast, and his contrasts between dark passion and bright ecstasy are more cataclysmic.
These challenges combined with the rigors of the fully staged Ponnelle conception demanded superhuman commitment from the cast. Jeannine Altmeyer and Caterina Ligendza shared Isolde, the former young and brash, the latter a wild and passionate princess; Matti Salminen was a virile, harsher Marke; Ekkehard Wlaschiha a loyal Kurvenal, and Waltraud Meier and later Hanna Schwarz both warm and womanly Brangaenes.
If Peter Hofmann ascended an almost metaphysical height with Bernstein, his Tristan for Barenboim is a darker fever fantasy; he is more martyred than transfigured. The first act has a kind of restrained fire – the Love Potion Duet already tinged with ominousness. The Act II Love Duet with Barenboim's frenetic pace becomes a racing of two hearts that sings of the lovers' madness, and the close of the act is its own Todesverkündigung(death narration) with the eerie Dem Land das Tristan meint. It is in Act III, however, that Peter Hofmann gets to pull out all the stops. His voice, ever darkening over the years, has a sepulchral hollowness from the first Die alte Weise to his account of his near-death experience, was ich sah. His anger is terrible, as in Verfluchter Tag, and he builds each successive monologue with a crazed intensity. His curse on the drink is filled with self-loathing and despair; his hallucinations about Isolde's ship are the cries of a man in the throes of a death wish. Yes, there are still some glorious lyric moments like wie sie selig hehr und milde and the caressing of his beloved's name, but this is a Tristan doing battle with death in such a relentlessly real way that neither artists nor audience is spared the pain. And in that abandon, there are a few rocky notes (Verloren, zu Ihr!) (Lost! To her!), but Hofmann's credibility is so strong as to transcend and transform these instances into dramatic truth.
The completely unsparing identification that Hofmann demonstrated for Tristan made these few performances historic. Sadly, the premiere on July 27,1987 was marred by the tenor's indisposition due to a severe intestinal ailment – an event which gave the press some fodder for uncharitable speculation. Yet, twenty-five years later when I return to listening to these performances that were broadcasts (July 25,1986 and August 2, 1987), with the sound and the fury of some of his critics (who resented his Rock singing) long since dissipated, and when I listen with fresh ears, it is the overall majesty of the interpretation that survives.
If Peter Hofmann's Tristan in Leonard Bernstein's Tristan und Isolde is, in this critic's opinion, the finest on disc, his fervent hero sung for Barenboim at Bayreuth is, nevertheless, one of his most powerful stage incarnations in a career replete with so many such successes. Over the course of the 1980s Hofmann, as he always did, explored new facets of Tristan, shaping it to the context and to the truths that resonated at that moment in his soul. It was, after all, his great gift as an artist to endow the present with an unforgettable perpetuity.