Except possibly for Game of Thrones, The Sopranos is the most renowned series (is it too ironic to say "beloved?") in the history of HBO. Show creator David Chase, aided by one of the best ensemble casts and writing teams ever, plunged into the darkness of the mob, achieving depths even Martin Scorsese could only dream of. Chase and his collaborators ripped the skin off Tony Soprano (James Gandolfini) and his crew, showing with almost surgical skill the damage that a life of untrammeled greed and violence inflicts on the human psyche. Part of the point, of course, was that you had to be a damaged person at the outset to want the sort of life Tony Soprano had. Tony and his gang—Christopher Moltisanti (Michael Imperioli), Silvio Dante (Steven Van Zandt), Paul "Paulie Walnuts" Gualtieri (Tony Sirico)—lived by one unspoken but constant rule: When in doubt, kill.
There have been multiple reports of a Sopranos movie in development since the series reached its enigmatic end in 2007. Those plans were made vastly more difficult by Gandolfini's untimely death in 2013, but now Chase, co-writer Lawrence Konner and director Alan Taylor have made a Sopranos prequel for HBO Max, The Many Saints of Newark.
The title is a clever pun on the name Moltisanti, for it is the Moltisantis—not the Sopranos—who are the protagonists of The Many Saints of Newark. The story begins in a cemetery, with the deceased Christopher (Imperioli in a voiceover) relating the story of the bond between the young Tony (Michael Gandolfini, James' son) and Christopher's father Dickie (Alessandro Nivola). The Many Saints of Newark begins in 1967, a particularly tense time for Newark and the New Jersey mob. A police attack on a Black cab driver sets off bloody race riots, and this in turn increases tensions between the city's Italian and Black gangsters—especially Dickie and Harold McBrayer (Leslie Odom Jr.), Dickie's former partner in crime.
Things are just as tough for Dickie at home. His father, Hollywood Dick (Ray Liotta), returns from a trip to Italy with a new young bride, Giuseppina (Michela De Rossi); Giuseppina's presence stirs both lust in Dickie and unhappy memories of how Hollywood Dick abused Dickie's late mother. Dickie's buddy Johnny Soprano (Jon Bernthal) gets sent to prison on a weapons charge, leaving Dickie to look after Johnny's family, including young Tony and the ever-unreasonable Livia (Vera Farmiga). Meanwhile, Johnny's brother Junior (Corey Stoll) casts a cold eye on Dickie, especially after Junior slips on some icy steps and Dickie responds by laughing in his face.
You probably already know not to get too attached to any of the characters in The Many Saints of Newark who didn't appear in The Sopranos. You also can probably guess that Dickie, as young Tony's mentor, sets a sterling example of kleptomania and compulsive murderousness. In any case, The Many Saints of Newark inevitably suffers in comparison to The Sopranos. It does not work as a stand-alone film; you must know the series. Even then, it is disappointing. Taylor, Chase, and Konner are at pains to show the young versions of all the Sopranos characters—Silvio, Paulie, Big Pussy, Carmela, Janice—but the running time confines most of them to walk-ons, making their presence more distracting than intriguing. (Christopher is still a baby at
this point.)
On the positive side, The Many Saints of Newark is as visually arresting as the series, thanks to cinematographer Kramer Morgenthau and production designer Bob Shaw. Also, the actors who have a chance to register are superb without exception. Nivola, long an impressive presence in movies as varied as Face/Off and Junebug, grabs the audience by the scruff of the neck and never lets go. He makes you regret that he wasn't around for the series. Liotta also scores big in a dual role as Hollywood Dick and his incarcerated twin brother Sal, the latter as sad and becalmed as his brother is flamboyant and brutal.
As part of their bonding ritual, Dickie and young Tony exchange dialogue from Dirty Harry. Fifty years later, the star of Dirty Harry is still making movies. At 91, Clint Eastwood is showing signs of mellowing, if not necessarily slowing down. This is demonstrated by his latest movie—Cry Macho, also on HBO Max—which is named after a chicken.
Macho, for the record, is a fighting rooster—the beloved pet of Rafo (Eduardo Minett), a semi-feral thirteen-year-old boy on the streets of Mexico City in 1980. Rafo, however, is not poor; he is the son of Howard (Dwight Yoakam) and Leta (Fernanda Urrejola), a very wealthy, very self-centered, very divorced couple living hundreds of miles apart. Howard hires Mike Milo (Eastwood), a retired rodeo star formerly in Howard's employ, to go to Mexico, find Rafo, and bring him to Texas.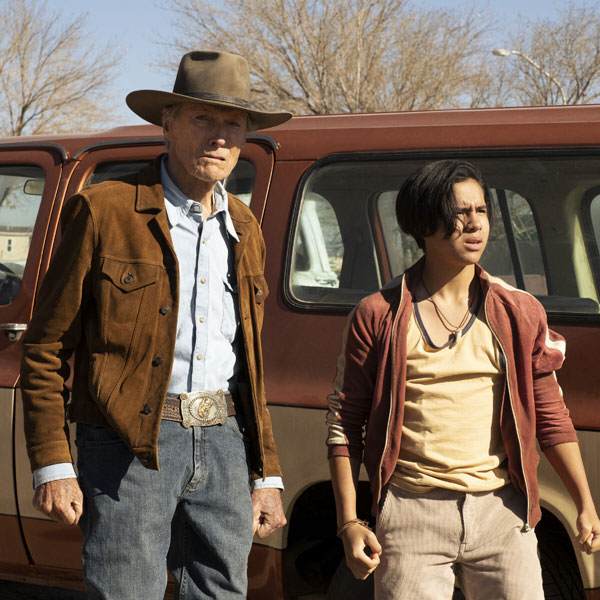 The screenplay—credited to Nick Schenk and the late N. Richard Nash, based on Nash's novel—makes it plain that Mike, despite his age, still has things to prove. A legendary saddle bronc rider, Mike was forced to retire after a serious injury. Most people—especially Howard—assume he is past it, which makes it unbelievable that Howard would hire Mike to retrieve his son. Nevertheless, he does. Howard warns Mike that Leta is the bitch from Hell, and indeed she is worse than Howard describes her—a drug-addled, capricious monster surrounded by bodyguards who serve her both sexually and as goons. Leta has dismissed her son as a worthless criminal, but that doesn't mean she will let Mike take Rafo to live with Howard. Mike and Rafo speed northward to the Rio Grande, tailed by Aurelio (Horacio Garcia Rojas), Leta's nastiest and most servile goon.
Cry Macho is a picaresque tale, common in the Western genre, of an old man and a boy bonding as they share a series of adventures. Frankly, not much happens in Cry Macho, and some plot threads are left dangling. But it's pleasant to watch, especially the section in which circumstances force Mike and Rafo to hang out with kindly café owner Marta (Natalia Traven). And yes, Macho ultimately plays a heroic role in the story.
Cry Macho boasts lovely music by Mark Mancina and breathtaking desert panoramas captured by photographer Ben Davis. However, the true cynosure of Cry Macho is its director-star. Weathered as an old saddle, Eastwood projects the same stoic toughness he always has, but in a gentler context. In the sunset of his career, Eastwood still rides off alone, but this time he doesn't stay that way. And that, in turbulent times, is enough to lift your spirits.