It is good fortune and a pleasure for Thailand that an art circle creates relationships, and that collaboration leads to confidence and exchange of knowledge, finding a joint way to distribute art by opening an online market, a continuing auction for Arts. It can be seen continuously at universities across the country and in private sectors which are more open to organizing community awareness festivals. There are many exchange events with foreigners and neighboring countries, as well as in 2018 the Bangkok Art Biennale International Art Festival was held in Thailand for the first time. It invited us to find the definition of happiness under the concept of "Beyond Bliss" or "Happy with the Power of Art" through the perspective of world-class artists. At the national level, Thailand Biennale, Krabi has the Office of Contemporary Art and Culture Ministry of Culture and Krabi Province. It hosted the 2020 Arrival Event, the return of the Bangkok Art Biennale (BAB) a biannual art festival set in the capital of Thailand.
BAB spans four months in which the bustling city of Bangkok is transformed into a lively hub that celebrates art, creativity, and culture.
Visitors can immerse themselves in an array of artworks and performances from a diverse range of artists, both local and international, throughout the heart of Bangkok, in galleries, public spaces, and iconic landmarks. They are accompanied by conferences, workshops, guided visits, and publications to ensure a memorable and holistic experience.
This year marks the second installment of BAB which commenced from 29 October 2020 through 31 January 2021. It is consistent with the Tourism Authority of Thailand, supporting tourism in Thailand as the top priority. With the pandemic Covid-19 crisis the arts still work continuously. It is a quiet movement of forces that creates jobs and educates interested people.
Yudthakit Prasomphol is an artist who paints and sculpts. Recently he directed the installation of a huge white Buddha statue outside Wat Khao Wong, Saraburi Province.
He also owns a factory named Oasis Art, located at Klong 7, Prathum Thani Province, not far from Bangkok. It is his private museum where he creates his art works and has used it as a source of knowledge to teach work to interested people and youth groups from various schools for decades
Here is my interview with him.
JY. What is your inspiration for your current work?
YP. My inspiration varies depending on the time of life: painting aspects and Universal sculpture I had seen in nature, life, philosophy, and beliefs of Asia. I studied the history of art and Buddhism. I was inspired to use the best parts of each era.
My routine as an artist is often a form of Buddhist sculptures and contemporary paintings of the Buddha. Someone asked me, for example, what was the era of Buddha I sculpted, I could not answer, because I would apply the good parts of each era and integrate it in my form. Sometimes I bring in the contemporary. It is to bring universal knowledge in anatomy, but rely on the constant lines and the reasons that cause peace.
My inspiration for most of my paintings sculptures often caused a fascination with the body, muscles, emotions, gestures, body language, facial expressions, the nature of the human being. Therefore, I often see my work in the form of portraits and figures, both spiritual and sculpture. I am interested in communicating language, emotion, power, movement, and peace. These are the passions that inspire me.
There are many periods of life. That changes according to motivation at that moment. Most of it is a matter of training and knowledge, acquisition of skills to support the inspiration in the future. There will be no limitations in the creation of work.
Initially, I was interested in classic art as a basis, with practice and study until saturated. I began to love color, study color psychology, using the brush strokes were so much fun that many people followed up in later generations. Forget the picture, remember the old-style realism work. One fine day I came back to draw again.
JY. Tell me about the important paintings you want to show our readers.
YP. My greatestwork of spirituality that I am proud of is to draw a picture of His Majesty King Rama IX, to spread his prestige. Communicating the royal side of the activities that His Majesty did for the creation of the Nation. All of them became illustrations for calendars of various organizations.
Another work that was honored was the painting of history at the royal palace. In the royal cremation ceremony for King Rama IX. I was honored to join the drawing of the history of the archives at Sanam Luang in the royal consecration of Her Royal Highness Princess Galyani Vadhana.
JY. Please tell me about yourself.
YP. I was a kid who grew up in the countryside. A small island in Phang Nga Province. Originally born in Nakhon Si Thammarat, my parents moved to KaoYao Island to do business in fabric and clothes. I finished junior high school there.
With a passion for art, I was selected for an academic contest. I was a representative always in art. My goal was clear at that time: the study of art.
When I finished high school, my goal was to go to Bangkok to take the art science entrance examination. The most famous in the country is the College of Fine Arts. I studied there for three years at the vocational level. Another two years in the Faculty of Sculpture.
Being a country boy you must rely on yourself. It made me know how to find any form to help many artists and teachers until one day I can create my works that have become evident to collectors in both painting and sculpture.
Before that, let me tell you about the past career path after coming out to fully walk the art path. Initially, I chose to work in the painting field: a tour to sell images at galleries in Bangkok. But it was not as successful as it should be since our skills and experiences were not good enough. Therefore I decided to embed drawing practice. My life was focused on the full spiritual path, but my sculpture frenzy never ceased. When we were ready, we began to come back to practice, increasing our skills in this area.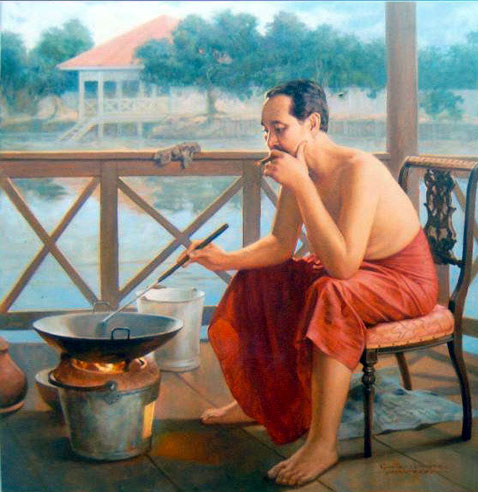 My paintings were in various publications. For this reason, it was not difficult to return to creating sculptures that are well known. After that, my intention was a project to open a sculpture factory. In full force to be successful, I went to visit people who create work in the form of the artisan family and workshop activities. To exchange experiences with friends, brothers and sisters, art and open for students to see internships as well as personal work on art education in the form of lecturers and volunteer teachers, which is the way I had spent my life from another angle to present.
JY. Tell me about Yudthakit Klong 7 OASIS ART, Pathum Thani
YP. I had done the factory for sculpture, not just my only studio for working. We have had many kinds of workshops for younger generations for many years.
My intention is to communicate and make people understand these practice skills. In this regard, we just speak and advise on what we know, expertly, from actual operations. Not according to the textbook. Understanding and accessing technical problems is the experience we have been through.
I was inspired by the dissemination of knowledge, with all my experiences of the past to be like instant food for people interested in training and study art.
Also, I believe in the way of Buddhism. I believe in the merit of giving, which makes me do anything about giving an education.
Teaching in our faith, giving knowledge of the Buddhist way to people. Wisdom is the source of success in all dimensions. I believe so.