Being able to eat at a favorite restaurant that against all odds has managed to stay open. But the ambience, the look, the feel, and the taste has been relegated to some far away memory. Your favorite table is there surrounded by other tables that are not there. A diminished staff, a diminished menu, a lowering of expectations that leaves you with a tuna fish sandwich instead of prime rib. The subdued lighting only illuminates the darkness. And a trip to the supermarket yielded a single roll of toilet paper which has become the coin of the realm. Who knew? The days grow longer for smaller prizes.
And just when you think you have it bad in the good old U.S. of A., consider The New York Times article which chronicled the daily life of an adolescent boy from India symbolic of many youths who are intelligent, articulate, hopeful of a bright future in a land not known for bright futures. You add the pandemic into the stew of economic uncertainty, abject poverty, and a history of the caste system and you get a boy searching through the detritus and garbage dumps of India looking for diamonds among the dung. Or as the story plays out, a boy whose school has shut down, a family with no income dependent upon his ability to find something recyclable…anything that can be monetized. Unfortunately, on this outing, the only thing salvageable was a pair of worn slippers that almost fit. The days grow longer for smaller prizes.
"The days grow longer for smaller prizes" is actually a line from a song by Phil Ochs called "Rehearsals for Retirement". Ochs is not well remembered today, and that's unfortunate because he was one of the best songwriters of the 60's. During that period only Bob Dylan rivaled Ochs in interpreting the mood of the country while at the same time encouraging change by inventive lyrics, keen insight, and caustic humor under the umbrella of the folk movement. And while Dylan had the ability and foresight to continually reinvent himself, Ochs found himself stuck in the 60's. And it was in the 70's that Ochs met his demise. This was a time when he should have been in a celebratory state of mind. Two things that Ochs wanted to see end had come to pass: The Vietnam War and the Richard Nixon presidency. He would succumb to alcoholism and manic depression eventually leading to him taking his own life in 1976. He was only 35. Ochs thought deeply, felt deeply, cared deeply but in the end couldn't accept the smaller prizes – the smaller stages, muted applause, diminished critical acclaim. The melancholy of "Rehearsals for Retirement" bears this out, "if I'd known the end would end in laughter, I'd tell my daughter it doesn't matter".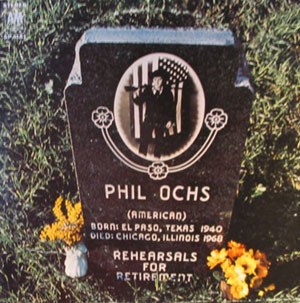 But Phil Ochs is not the only artist/musician/writer who had trouble accepting those smaller prizes. Age, infirmity, and/or mental illness caused the likes of Ernest Hemingway, Hunter Thompson, Robin Williams, Sylvia Plath, John Berryman, Kurt Cobain to disregard the simple joys and pleasures of life. And yes, I know from experience that telling a severely depressed person to "just snap out of it" won't work. Telling someone with Alzheimer's that their best days are ahead of them is cruel. Telling the young boy in India to have a good day after a fruitless scavenging expedition seems trite.
I am not a big fan of suicide, I'm just not. While it might relieve the physical and mental distress of those afflicted, it is ultimately a selfish act due to the grief it causes friends, loved ones, and fans. I don't believe fans should be given short shrift because they have supported and sustained the artist throughout their career. So, what's the alternative to lowered expectations and smaller prizes? One should ask actor Michael J. Fox whose promising acting career was impacted by Parkinson's disease at the age of 29. Fox did slide into depression soon after his diagnosis, but gradually channeled his frustrations into a movement and a foundation battling Parkinson's. For Fox, what changed everything was a quote from his father-in-law Stephen Pollan, "With gratitude, optimism becomes sustainable". Perhaps a positive outlook can't save you but a strong will to live can help us appreciate the smaller prizes. The late Glen Campbell was another such artist who could have accepted the inevitable after his Alzheimer's diagnosis. But Campbell still had enough clarity of mind to consider the pros and cons of continued touring. With a supportive family (many of them band members) he decided to embark on the long goodbye – a string of dates lasting over a year culminating in 2012 in Napa, California. I have watched some of these concerts and wondered aloud if it was such a good idea to subject audiences and family to a literal fading legend who often forgot where he was as well as the lyrics of the songs he was singing. But in watching these last performances, occasionally something brilliant would happen. Campbell would perform a majestic guitar solo and propel a song I've heard hundreds of times to a new level. And he elevated Alzheimer's to a new level of awareness.
So, in the end, what to do? I don't look forward to smaller prizes, but I will accept them come what may. In the meantime, I'll read Mr. Fox's new book "No Time Like the Future: An Optimist Considers Mortality".