The archetype of orphans cast alone into the world has been a powerful trope in fiction from Oliver Twist to Harry Potter. Three recent movies—one a remake of a world-famous novel and film—present variations of that story.
As often happens, the remake is the least satisfying of the three. Rebecca, an instant bestseller when Daphne du Maurier published it in 1938, became one of Alfred Hitchcock's most honored and beloved films. It has been remade several times, including two separate British TV miniseries in 1979 and 1997. Now director Ben Wheatley and screenwriters Jane Goldman, Joe Shrapnel and Anna Waterhouse have made a new version of Rebecca for Netflix. Those who have never read the novel or seen any of the previous versions—especially Hitchcock's 1940 film—will think they have seen a fairly good Gothic TV-movie. Those familiar with previous versions will be severely disappointed.
The Wheatley Rebecca stays close to the outlines of the original story. The na茂ve, never-named orphan (Lily James), acting as maid-companion to the odious Mrs. Van Hopper (Ann Dowd) in Monte Carlo, is swept off her feet by dashing widower Maxim de Winter (Armie Hammer), becomes the second Mrs. de Winter, and is taken to Manderley, Maxim's palatial estate on the Cornish coast.
The second Mrs. de Winter's life at Manderley, however, is less an idyll than a nightmare. Maxim becomes peremptory and withdrawn, while Mrs. Danvers (Kristin Scott Thomas), the sinister housekeeper of Manderley, rubs the new wife's nose in the myriad reminders of Rebecca, the first Mrs. de Winter. Mrs. Danvers has closed off an entire wing of the house as a shrine to Rebecca, whose superiority to the second Mrs. de Winter she insinuates at every opportunity. The story culminates in a shipwreck that leads to a murder investigation and a final, literal conflagration.
Wheatley's film looks magnificent, thanks to the photography of Laurie Rose and the production design of Sarah Greenwood. Fans of Hitchcock's version, however, might be forgiven for preferring the eerie black-and-white ambience he created in collaboration with cinematographer George Barnes. As for the rest, Hitchcock's film is indisputably superior. Modern filmgoers complain about the meekness of the second Mrs. de Winter as played by Joan Fontaine, but the attempts of Lily James and the new version's screenwriters to make the character spunkier are mostly just annoying. Similarly, the screenwriters go soft on the character of Mrs. Danvers, creating clumsy scenes intended to make her more sympathetic. Judith Anderson in the Hitchcock version is bone-chilling, and that is the only way the character works. The worst damage is inflicted on the character of Maxim. Armie Hammer is an excellent actor, as he proved in The Social Network and Call Me by Your Name, and he did not have an enviable task in playing a role created by Laurence Olivier. Nevertheless, Hammer is badly miscast here. Your most vivid memory of his performance is likely to be the horrible mustard-colored suit he wears in his first scenes.
Ann Dowd, another fine performer, isn't allowed to register as Mrs. Van Hopper the way Florence Bates did in the Hitchcock version, and Sam Riley as Rebecca's cousin Jack Favell is a pale reflection of George Sanders in the first film. Wheatley and the screenwriters tweak the details of the story in ways that diminish it, though critical ethics prevent me from saying exactly how. The new Rebecca is a ravishing travelogue of Cornwall and the South of France, but otherwise lacking.
A much more lowdown, but much more effective, version of an orphan's plight is presented in Judd Apatow's The King of Staten Island, a film Apatow co-wrote with Dave Sirus and Saturday Night Live regular Pete Davidson. The film opened briefly in theaters before the shutdown, and now is available on Amazon Prime.
Davidson plays Scott Carlin, a 24-year-old manchild who cannot get over the death of his father, a firefighter killed in the line of duty when Scott was seven. We first meet Scott driving down the highway with his eyes closed. He barely escapes a multiple-car pileup he causes, and mutters, "Sorry, sorry" as he drives off. This scene is a handy metaphor for virtually everything that occurs in the film.
Scott lives with his mother, Margie (Marisa Tomei); he hangs around her basement all day playing video games with his deadbeat friends and discussing his plans to open a combined tattoo parlor-restaurant. Everything Scott does reeks of emotional upheaval and poor impulse control. "You are so crazy that you make everyone around you feel fucking crazy," says Scott's girlfriend Kelsey (Bel Powley) at a crucial point in the story. "The people meet you and they're normal people, and then they hang out with you and they're fucking Jack Nicholson in The Shining or something!"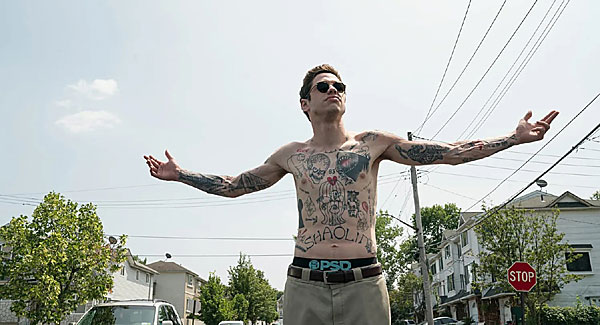 One of Scott's more harebrained actions—attempting to give a tattoo to a ten-year-old boy—leads to an angry visit by the boy's father, Ray Bishop (Bill Burr). Ray, it turns out, is a local firefighter who served with Scott's father, and soon he and Margie—to Scott's complete consternation—begin a relationship. Complications ensue, but so does Scott's getting to know his father's former brethren at the firehouse.
The King of Staten Island is a funny, profane and ultimately moving story of a man damaged by tragedy who learns incrementally to take responsibility for his own life. As the above-quoted dialogue indicates, it is just as in-your-face as any Apatow movie, so people of delicate sensibilities are advised to stay away. But it is often hilarious, and toward its end it builds considerable power as a reminder that no man is an island. It represents a true act of courage on the part of Davidson, whose firefighter father was killed in the collapse of the World Trade Center when Davidson was seven. (Scott was his father's first name.) Scott's crazed actions reflect the real turmoil Davidson suffered during his youth, and it took guts for him to re-enact that turmoil. The supporting cast, meanwhile, is excellent; it includes Apatow's daughter Maude as Scott's sister and Steve Buscemi, the world's most famous firefighter-turned-actor, as the grand old man of the firehouse. The scenes in the firehouse are the best in the movie; as a tribute to the courage and camaraderie of firefighters, The King of Staten Island is what Backdraft should have been.
The best of the three films considered in this column is The Queen's Gambit, Scott Frank's thrilling seven-part miniseries on Netflix. An adaptation of Walter Tevis' 1983 novel, The Queen's Gambit excels equally as a character study, an evocation of the 1960s, and above all a presentation of an esoteric and exclusive world—the world of professional chess.
We first meet nine-year-old Beth Harmon (Isla Johnston) as she is consigned to an orphanage near Lexington, Ky., after the death of her mother in an auto accident. (Flashbacks suggest that Beth's mother caused the crash herself and intended Beth to die with her.) Orphanages in the 1950s regularly gave tranquilizers to their charges to keep them calm, and Beth quickly becomes an addict. Her only friends are Jolene (Moses Ingram), the only black orphan, and Mr. Shaibel (Bill Camp), the orphanage's reclusive janitor. It is Mr. Shaibel who, noting Beth's fascination with his basement chessboard, teaches her the rudiments of the game.
A few years later, teenage Beth (now played by Anya Taylor-Joy) is adopted by Allston Wheatley (Patrick Kennedy), a traveling salesman, and his wife Alma (Marielle Heller). It is soon evident that Wheatley adopted Beth as a companion for his wife to give him an excuse to stay away. Alma, a gifted pianist, is drowning in gin and loneliness. Meanwhile, Beth seeks out opportunities to play chess at local high schools and colleges, and almost without trying is soon the Kentucky state champion. Alma sees an opportunity to earn some money, and soon she and Beth are attending tournaments across North America, Beth dispatching her opponents within minutes while Alma becomes the star customer of every hotel bar.
From this point, The Queen's Gambit becomes the story of how Beth advances in the chess world, facing various tragedies and setbacks along the way, to face Vasily Borgov (Marcin Dorocinski), the steely-eyed world champion, in a one-on-one match in Moscow. Beth's great advantage over other players is that she can visualize the chessboard and map out strategies that way; her great obstacle is that she needs drugs and alcohol to accomplish that. (Real-life grandmasters including Judit Polgar and Garry Kasparov have called that last part unrealistic, but it works as a dramatic device.) Beth fights her addictions as she charts her way through a squad of potential suitors: worshipful hometown player Harry Baltik (Harry Melling); arrogant chess hotshot Benny Watts (Thomas Brodie-Sangster); and Townes (Jacob Fortune-Lloyd), the one she really loves, but who is forever unavailable to her.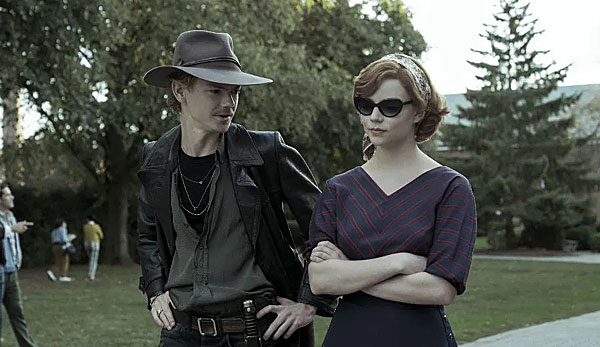 The Queen's Gambit is as sleek visually as Mad Men and The Marvelous Mrs. Maisel, thanks to cinematographer Steven Meizler, production designer Uli Hanisch and costume designer Gabriele Binder. The cast is a marvel. With her performance as Beth Harmon, Anya Taylor-Joy must now be ranked as one of the great actors of her generation. Her feline face deceptively impassive, Taylor-Joy's Beth takes in everything around her, expressing worlds of wisdom and sorrow with one flicker of her almond-shaped eyes. Among the supporting players, Heller—best known as the director of two superb films, Can You Ever Forgive Me? and A Beautiful Day in the Neighborhood—is the standout, her Mrs. Wheatley an intelligent and perceptive woman too frail to fight the sexism endemic in her society. Beth, seeing her example, will make sure she is strong enough.
However, the main triumph of The Queen's Gambit is Scott Frank's sure hand with story and dialogue. A veteran director-screenwriter whose credits include Dead Again, Get Shorty, Out of Sight, and The Lookout, Frank is masterful at capturing the excitement of Tevis' original novel. Tevis—whose other novels included The Hustler, The Color of Money, and The Man Who Fell to Earth—excelled at the portrayal of societal outsiders, and even more at presenting the intricacies of games of skill as they are played. In those respects, The Queen's Gambit is at least as successful as Robert Rossen's film version of The Hustler. Every chess match in the film is a matter of edge-of-your-seat suspense; Beth, an orphan, a woman in a traditionally masculine game, finds purpose and belonging in each strategy, each move.
"It's an entire world in just sixty-four squares," Beth says of the chessboard in the series' third episode. "I feel safe in it. I can control it, I can dominate it, and it's predictable. So if I get hurt, I only have myself to blame."
The Queen's Gambit has become the most-watched original program in the history of Netflix and has renewed public interest in chess. Even those bored silly by chess will be fascinated and engrossed by Beth Harmon and her lonely, obsessive quest.