I have never been much of a fan of Romance novels or Hallmark movies, but it is an obvious sign of my growing lunacy in this time of pandemic that I have found myself taking refuge in the Hallmark channel to while away hours of isolation. It all began after months of watching or rewatching important series like Downtown Abbey, Poldark, Schitt's Creek, The Marvelous Mrs. Maisel, and Dickinson. I was running out of meaty film creations, starved for the live theatre that is my lifeblood, and missing dreadfully all my artist friends marooned in various parts of the globe. I noticed two of my favorite Broadway actors, Aaron Tveit and Laura Osnes, headed a cast in a fluffy film called One Royal Holiday. I gave it a try.
Tveit, Osnes, Victoria Clark, and company were classy and fun in this flighty confection about a romance between a stuffy European prince and a warm, cheerful American nurse. It gave me an excuse to watch some more, and before long I was finding myself fascinated – but not for reasons of craft or content so much as by a perverse analytical desire to dissect, deconstruct, and demystify the appeal of these Romantic comedies.
I attacked this task as a writer, myself, looking for the formulae that shaped these predictable, yet somehow pleasing and reassuring tales. As a theatre person, I also tried to examine the rules of casting and production that give a comforting sameness to these shows. Call me a cynic or a closet fan, but here is what I have observed.
The plots are a series of variations on a single premise: the couple destined for romance usually is unaware oir unwilliing to give in to the attraction inititally; they must overcome hurdles of past history and present conflict to discover they these are truly "the one" each has been seeking. The central couple is always heterosexual, though some of the subplots do involve same sex couples; they are young adults from mid-twenties to mid-thirties, often single and driven by career or recently disappointed by a previous love affair, or widowed – never divorced. Sometimes there are children involved – be they the widow's or widower's offspring or relatives in the care of the main characters. In most cases the romantically destined pair meets by chance, often at a time and place outside of the purview of their usual routine – a writer interviewing a new subject, a corporate buyer falling for his "prey"; a visitor back home for the holidays or on a temporary visit, guests at a wedding. Always the meeting begins casually and - in a very short time – becomes transformative. Often the pair has diametrically opposing world views, backgrounds, careers, aspirations when they meet, and always each transforms the other. The climax of the story almost always involves a misunderstanding – a conflict that once explained and sorted out – leaves the pair able to rapturously declare their love. Not all end with wedding bells – though most do – but all have the lovers affirm their relationship and commitment and look forward to a rosy future together.
The characters in these romantic comedies are, in fact, for the most part, stock figures. There are the destined lovers – youthful, attractive, clean cut, decent and sensitive. These are men and women who love their parents, their siblings and children, are nurturing, caring, hardworking and creative. Often they are individuals seeking to realize their full potential or achieve a secret dream – all of which is brought to fruition through the love and faith of the significant other. They are graphic designers who long to be great painters, princes who would prefer to be artists, Wall Street executives yearning for a life on a ranch, athletes wanting to replace celebrity with a settled existence. Love proves the path to these dreams. They are, we must acknowledge, almost all, Caucasian, though various ethnicities like Italian, or Jewish or Greek provide the producers' sense of diversity.
As a theatre person, I envision these teams like repertory companies, and, indeed, names of actors repeat numerous times per season – multi-show contracts based, no doubt, on typecasting: the dark- haired beauty is the exotic Italian-American or Jewish daughter; the tall, husky hunk is the athlete…you get the gist…. The credits run by so fast, it gives you a palpable sense of how little Hallmark values the individuality of their players. And yet, because I have some experience in building theatre companies and repertoire, I see the practical success 9f this model and do not underestimate the talents of the hard-working actors. It's a model that the best repertoire theatres have used more creatively and imaginatively….but I digress…
Though ronly very occasionally the leading players, people of color are, however, reasonably well represented in roles other than the protagonist pair. A concerted effort appears to have been made to cast African-Americans, Latinx, and Asian actors as the friends of the primary couple, their high-powered employers, as well as making sure every crowd scene has a carefully orchestrated inclusiveness that often does not realistically match the story's setting. With the exception of the 2020 first-ever Hallmark movie starring a gay couple (The Christmas House), the same is largely true for including LGBTQ persons and causes in the narratives, but, these are almost always supporting characters. There are gay couples trying to become parents and siblings coming out ALWAYS to the accepting embrace of their families. Theirs is an harmonious, idealized world.
Among the other stock characters filling out the roster are parents – beloved and loving – who want the best for their children and are remarkably wise in giving romantic advice. There are children, sometimes bereft of a parent and often desperate for kind, warm, nurturing from the adults around them. There are successful business types – some obsessive and driven – and it is these who come the closest to being the "bad guys" of the stories.
Because in the underlying value system of these romantic comedies, there are some incontrovertible truths – which at some point in the narrative, a well-meaning friend or parent articulates to the protagonist. These seem remarkably out of tune with a real world that contradicts the delicious romantic fantasies, but in the context of the drama, they seem to make comforting sense. Work must never be all consuming; one must balance career with family and love. Creativity and self-expression mean more than economic success. Distance in a romance is not a desirable thing; the lovers must find a way to pursue their dreams and BE TOGETHER. Returning to one's roots – at the heart of which stand family and loved ones – is central to finding the good life.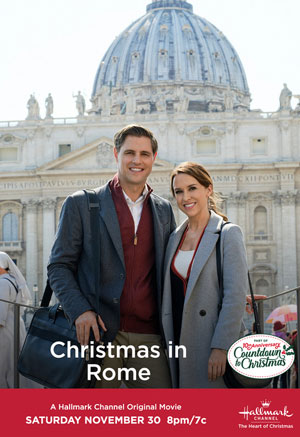 And so, these romantic comedies place a great deal of emphasis on setting. Home or finding the soul's home is a noble task. In the more than forty movies Hallmark alone makes each season, the locales are carefully chosen for their beauty, their variety, and their appeal to our senses and our heartstrings. Favorite locales include the Pacific Northwest, Napa wine country, sprawling Midwestern farms, and bustling, glamorous cities like New York, San Francisco, and Chicago. A significant number of narratives are set abroad in the Alps, in the south of France, in Rome, or Vienna, and in fictional royal states. The local color of these places is captured in vividly evocative cinematography that unabashedly looks like a glossy travelogue. Other props and set décor add to the image-making. The Christmas genre is always replete with pristine décor - snow, twinkling lights, horse-drawn carriages and sleds, and happy skaters. Adorable pets – mostly cuddly dogs – add to the coziness of the ambiance, as do food and drink. Many of the characters are chefs – cooking being seen as a creative pursuit and an avenue to romance. Fine wine and champagne abound – though rarely hard spirits – and for some quirky reason virtually every romantic pair drinbks an elixir of hot chocolate at some point in their story – almost like the obligatory love potion.
The overall look is casual, attractive, all-American for the plots set in the States and slightly more elegant in a classical way for the European tales. Women's hairstyles are almost all long, gently waved; men's are cropped and quite a few sport neatly trimmed beards – a nod to today's taste. There is almost always one scene which allows the heroine to make a Cinderella appearance in an haute couture dress that stops everyone in his tracks. And the moment of dizzying romantic epiphany is revealed in a series of familiar tropes – at a ball, in the moonlight, as the culmination of a creative effort or athletic event or unexpectedly when one of the lovers changes course, veers away from a life path that is seen as utterly mistaken and returns to the arms of the beloved. And as predictable as this outcome is, by the time the plot reaches this dénouement, the viewer is experiencing that sense of shared contentment.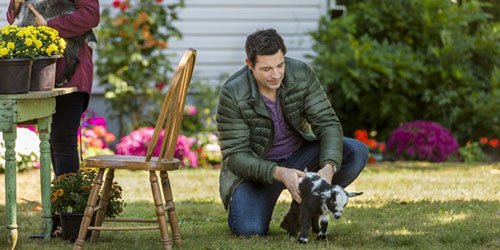 What then accounts for the appeal of these romantic comedies – even for viewers like myself who are excruciatingly aware of the mechanics of the illusion and nonplussed by their repetitive predictability. PREDICTABILITY – therein perhaps lies one of the biggest attractions of the genre. We know who will prevail and we know the hero and heroine are good folks – likeable and worthy. We know they live and operate in a universe that essentially wishes them well and buys into their faith in love. Moreover, we find the system of values surrounding the cast of characters and their stories is a tried and true, kind and compassionate, civilized and fair one. Does it matter that only in fairytales and myths does right prevail and goodness is inevitably rewarded. As Candide says in Voltaire's satire of optimism…"It must be so," and so we will it so in this fiction. But is there more to the appeal of this predictability? Especially in recent times when everything in our world from politics to climate and nature to global disaster turns the world on its head. Isn't it a relief to envision a world the way we would like it to be?
Dangerous, you may say…because the world – even without Donald Trump as President - and Life are not neatly packaged scripts about good and evil, reassuringly orchestrated accounts of existence which affirm kind and SAFE human values. To see life as such is to ignore suffering, need, challenge, the lure of the impossible, the devastating and soul building effect of disappointment and loss.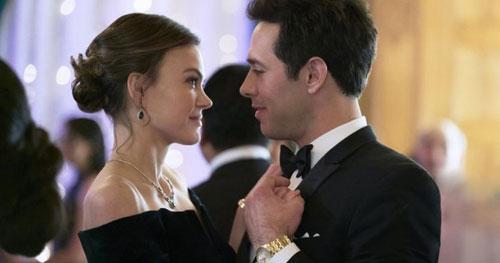 But still, in this time of plaque, of isolation, of unimaginable loneliness is there not an argument to be made for the consolation, reassurance, and hope of which these romantic comedies offer glimpses? When you are aching beyond words at not having seen close friends – in my case artists and actors scattered around the globe, each in his own lonely hell – is there not something to be said for the vision of a world before the pandemic that these romantic comedies offer?
People date; they hug; they kiss; they express affection without hesitation; they care for one another without a second's thought of proximity; they grieve and celebrate together; they pursue the arts and sports and family fun without restrictions. Disease and the fear of disease are not ugly specters that threaten to steal away our humanity…relationships, Life as we remember it – only a year ago. And more than memory, it is what we would wish Life to be – loving and expressive of love in its larger sense of caritas. It is a Life where we embrace each other and will into being a world where love does, indeed, conquer all! And that Love may be far more than flirty hearts and steamy passions. Rather it is the force that animates a universe in which Love binds, defines, glues together the human race.