If there's a silver lining to the global pandemic, it's that with a stable Internet connection, anyone around the world can enjoy inspired streamed performances from the comfort of home. The cost of admission to a live-streamed dance dreamland in The Hague was a reasonable €15.
After a creation with NDT2, Little song, French choreographer Yoann Bourgeois took his first piece for Nederlands Dans Theater's main company to literal new heights. His piece I wonder where the dreams I don't remember go is a gravity-defying poem that seeks to explore the world beyond reality.
With a background in circus arts, it was clear to see that Bourgeois played to his strengths. The dancers adventurously investigated gravity on a specially designed set that acted as a slide, stage, and climbing wall. And while dance in its traditional sense was minimally used, the artists danced with the set as if it were a partner. The wooden set supported, directed, and connected with each artist.
One was left wondering how the dancers were able to slide down the tilted angle of one of the walls head first at a snail's pace unaided by movement. While this in itself was interesting, the flipped projection of this action on an opposing vertical wall gave a dreamlike quality that was unexpected but relatable and vivid. Those projections successfully captured the feeling of floating from our dreams in an upside-down universe.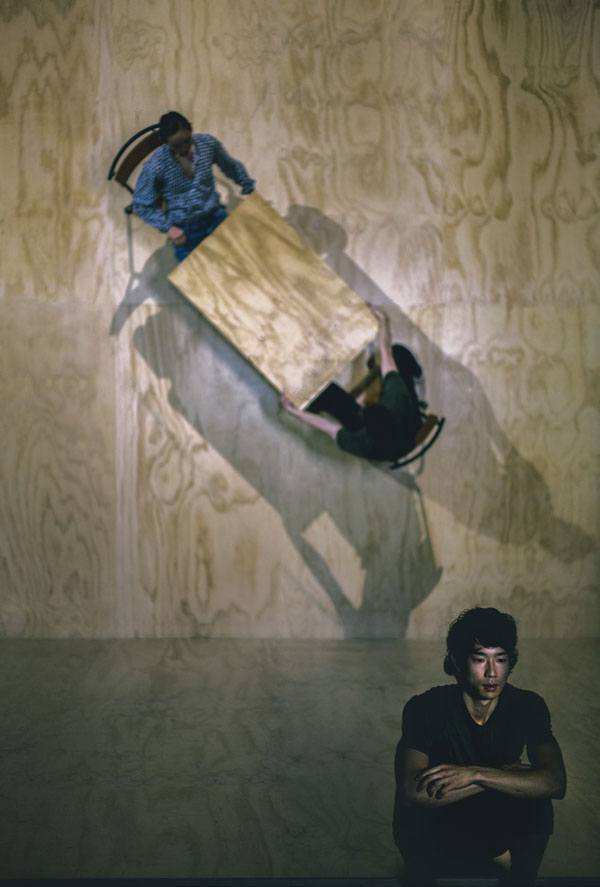 The live capture projections of the artists flipped to the standard view occur throughout the piece to effective use. What starts out as one performer beginning on a vertical wall, develops on the same wall slightly angled, and then on the second, at times, inverted wall. The two pas de deux sequences danced on the inverted wall, in stark contrast to one another in tone, vocabulary, and movement, captured not only those random terrifying moments one experiences in dreams, but also those unexpected precious ones. Bourgeois seems to understand how upside-down our dreams can feel and distills the emotional potency of them.
The dancers should also be commended for how they responded to the poetic passages of music while climbing and then balancing upside down for periods of time. Their profound control and precise holds aided their fluidity in slow seamless transitions up and down the walls, making the impossibility of dreams seem possible. Some of the women did this in heels.
The music, primarily by Max Richter, lingers in mind. Like the constant switching of dreams, the music overall spoke to the randomness of the dream landscape. The twitches of intermittent static, not unlike those full-body ones you experience when asleep, were particularly effective in breaking up the poetic passages. One was left wanting a few more of those insightful moments.
Ultimately, in a small frame where dancers challenge what is real in a perfect poem of movement, perhaps this is the place where those unremembered dreams arrive. It leaves one with a clear memory of a beautiful dream sequence, one that will be remembered for its creative and artful exploration. The question is, do any of us have to wake up?