The World Is Ours
1945. Still looking wide-eyed and freshly scrubbed, the "boys" began to return home from overseas. The determined set of their youthful chins and the fierce optimism they brought back belied the fears they had braved, the horrors they had witnessed, and the scars they left locked inside. They emerged from that second "war to end all wars" unshaken believers in the future. Unspeakable evil had been overthrown; they had survived, and the world which waited for them was theirs to shape into a paradise of naïve idealism. Behind them were the years of deprivation, the ethnic injustice, the struggle to lay down roots. War, the great assimilator, had eroded the boundaries of nationality and class and made them full-fledged Americans, members of a fellowship of victorious liberators who had every reason to look forward to lasting peace and prosperity in a "world they had made safe for democracy."
The tiny military bands which greeted John Capezzutto, John Verdino, and Frank Pucciani on the New York pier where they each disembarked at dawn seemed curiously dwarfed by their own elation and expectation. The shrill brass hollow clang could not measure up to the resonance of their hope or the reserves of ambition they brought with them. Adult life was just beginning. Loved ones – family and sweethearts – awaited; jobs were plentiful, and opportunity seemed unlimited. It was time to embark on a career, a life, a family of their own.
Rosina was the first of the Pucciani children to marry. On April 14, 1945, Carlo gave her away to John Verdino in the parish church with her sister as Maid of Honor. It was a relatively subdued affair made somber by the national mourning following the death of Franklin Delano Roosevelt, with the bride in a simple white chiffon gown and the groom still in his dress Marine uniform enlivened only by his infectiously embracing smile. The couple spent their honeymoon in Atlantic City boarded shut in deference to the dead President before driving back to the North Carolina base where John still had a tour of duty to complete. The warm southern summer, the gentle waves on Morehead City Beach, new friends and romantic solitude – Rosina's first real taste of freedom away from parental authority – all contributed to the halcyon glow. It was not long, however, before John obtained his discharge, and the pair decided to move back to New Jersey so he could pursue his studies and a career in knitwear and fashion design. They took a small cottage in South Hackensack where on June 29, 1947, they were joined by an 8 lb. 10 oz. baby girl named Carla Giuseppina Maria in honor of an entire pantheon of Pucciani-Apa forebears.
Maria and her John Eugene had wed on February 10, 1946, and moved into the second floor apartment of Carlo and Peppina's house on 59th Street, where they would live for the next twenty-five years until the senior Puccianis' deaths. Childless, the couple pursued their respective careers – Maria as an executive secretary in New York and John, first as an optical technician at the local firm of Reiner Brothers, and later as a postal supervisor and freelance photographer. Together, they enjoyed a busy social life with friends, bowling, dancing, and partying; they played surrogate parents to their six nieces, and they sometimes slipped away for weekends skiing in Vermont, swimming on Cape Cod or at Wildwood Crest, and sightseeing in Canada and Florida.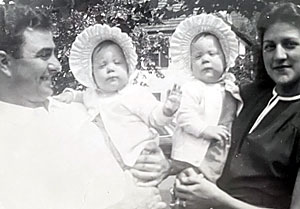 Frank, released from his military obligations, established himself in a series of upwardly mobile jobs that ultimately made him Comptroller of United Cigar Company in New York. Shortly after his return to civilian life, he married his belle, Lucy, on April 30, 1947, and brought her to live in Washington, D.C. where they stayed for a brief time before moving to Detroit and then in 1953 back to Hudson County, New Jersey, blocks from his parents and both sisters (Rosina, having moved again to West New York in 1948). While Carlo and Peppina had met and screened their daughters' beaux, they had not had a chance to give the parental seal of approval to Frank's courtship, so it was with a mixture of trepidation and old world gallantry that Carlo welcomed his new daughter-in-law to his home, escorted her into the garden, and with the flourish of a courtly troubadour, presented her with a homegrown pink rose. Not long after, Peppina, who already doted on her granddaughter Carla, had occasion to find her joy tripled when, on July 30, 1948, Frank and Lucile became proud parents to identical twin girls, Linda and Donna. Giuseppina, who hated traveling more than an hour from her home, hastened by train to Washington, D.C. to help the struggling mother.
Little by little the first generation of Apas and Puccianis began to settle themselves into new directions. Vincent, Jr., who was graduated from the University of Texas in Houston as a pharmacist, met and married an ambitious, attractive bank clerk, Ann, who not only became the mother of their four children, but also the driving force behind his rapid rise to financial prosperity and civic recognition. Louis, Raphaele's second son, after serving as the favorite family babysitter during his school years, drifted from job to job and marriage to marriage, dabbling in a spectrum of secretive activities and finally, sadly, disappearing completely from family circles. Marietta became an elementary school teacher and married her high school sweetheart, Joseph Sottosanti, as soon as he returned from Korea in 1952. At their wedding, five-year-old Carla, dressed in a pert yellow tulle gown her father had created for her, cried and refused to walk down the aisle with the ring bearer because he was a member of that alien species – boys! Joe and Marietta and their three girls lived in West New York for almost a decade before joining Vincent in his business in Houston and eventually bringing Maria Apa to live there in her retirement.
The fifties promised security and contentment to Americans, and the Puccianis, Apas, Verdinos, Capezzutos, and Sottosantis were not alone in believing that they were well on their way to fulfillment.
*****
The 8 millimeter projector clicks along in the darkened apartment documenting that promise and those visions. The tiny 8x10 image, veined with age, bounces energetically across the screen. The antique technology adds a dimension of acceleration as the camera mandates an exuberance that may sometimes be less than natural. But the core of the emotions and the dancing off the white surface is not contrived. It springs from a deep-seated, youthful joy, an irrepressible wonder, gusto, and liberated feeling of discovery.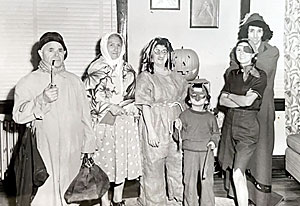 Faces long since vanished come to life and speak eloquently with the silence of their gestures. Old friends spark timeless recognition; former selves dart in and out of focus. Clips of experience tumble forth in Proustian profusion, defying, at least for the present, the disciplined thread of autobiographical narrative: the entire clan in forties beach chic at Maplecrest Lake boiling pasta on a barbecue; a plump, dark, curly-haired baby in oversized pink bell bottoms toddling through North Hudson park, trailing a bedraggled, much-loved Polar Bear that she presents to a gruffly amused Grandpa; the same furrow-browed one-year-old mugging in sun glasses and a brimmed straw hat beneath a beach umbrella at Long Branch, then screaming in terror as Cousin Louis dunks her in the ocean "to get a fly off her nose"; the alert three-year-old in the new 61st Street apartment dressed as Peter Pan in a bed-quilt cloak, trying to fly off the kitchen table by means of a broom handle harness supported by her dad and ending up in tears on the floor with Dad painfully removing splinters of the broken broom from his chin; the tom boy dreamer at five on a miniature toy horse, sword in hand, riding over her mother's immaculately waxed floor, proclaiming herself Sir Roland en route to the Crusades; Aunt Re and Uncle john hoisting their reluctant seven-year-old niece onto Santa's lap at the Post office party. The years whirl by with the revolving tinsel tree and its annually increasing landscape of Lionel trains nestled among the soft cotton bunting and miniature houses. There are the repeated Christmases of opening packages en famille, each year wearing a dress more and more grown up, each season opening more challenging gifts from Monopoly and Mr.Potato sets to books, opera recordings, and paints. Then there is the New Year's Eve masquerade with Uncle John and Dad in grass skirts, or images of Aunt Re as Howdy Doody, the twins as clowns, and a gangly eight-year-old a red-pajamaed devil; next summer's bicycle-built-for-two with Uncle John in Wildwood and strolling down Memory Lane with Aunt Re, or winters with Dad's digging out the walkway in front of the new Palisades Park home after the blizzard of 1958, pausing to mark prints left by a sable and cream colored feline ball of fur on a leash called Koko Sin. Time momentarily stands still as images of lifelong friends flash by: a clumsy game of backyard badminton with best friend Christine, a romp through a trunk filled with Victorian antiques with Mark, a New year's Eve of charades with the Migliettas. The decade advances: Peppina holds her granddaughter by the hand beneath the marquee of the Park Lane Movie Theatre which announces an Elvis Presley flick; a gawky teenager in a white confirmation dress sporting heels and stockings for first time.
The screen goes dark The film thrashes around angrily in the unlit room. A ribbon of celluloid, deprived of its sequel, refuses to record the imperfection of adolescence and the rebellion of adulthood or the inevitable and universal fall from innocence.
Whispered Footsteps
With age comes a growing presence of the past. The flash of regret over an incompletely filmed catalog of childhood is more pro forma than real to me, as the years seem to unleash memories more vivid and mythically scaled than those on the small screen.
Sitting at my desk, my glance wanders to the panoramic window overlooking the Hudson, twenty-one stories below the steel and glass skyscraper stands on a dramatic bluff which thrusts rakishly into the bend of the river, defying the buffeting cross currents of winds and challenging the maze of Manhattan towers with a raw energy of its own. Just beyond rolls a narrow strip of parkland winding along an esplanade with children playing, adults jogging, or strolling with a canine friend. In the distance two white maritime specks crisscross the Hudson ferrying the rush hour traffic.
On this same wind-swept bluff, I stood as a child my hand tucked firmly into my mother's, our gaze directed at the harbor of luxury liners sailing the port. There was high grass, not concrete, and one single, magical house belonging to the mayor. rather than the 180-unit dwelling of today. The park seemed more verdant, less populated, but the hobbyhorse swings, each of which I had lovingly named in my youth, appear to have survived, though the children who ride then now may call them Diabolo or Bandito rather than Trigger and Black Beauty. The skyline has also been transformed, and in the orange-pink glow of sunset, I try to keep current my skill at naming each edifice. The Empire State Building still soars regally and there are the Marriott and City Spire. It is 1990 and to the south there are the silhouettes of the World trade Towers. At one time one could see the Statue of Liberty from this very spot, her beacon glowing in the ink night. Now she stands obscured by the steel gridwork of an office building.
And yet, for all the restless flux, the site also resonates with a delicious aura of permanence. In the core of this cityscape resides an unalterable kernel of continuity for me, just as in my transformed self remains the triumphantly tenuous seed of the immutable past. I have been here at so many crossings in my life that as I watch the first yellow light twinkle across the water, I feel myself to be the hub of a cyclical wheel.
****
The shiny black hearse winds its way from Our Lady of Libera through the narrow, crowded streets. Old men in gray vests, their caps in their hands and women in black dresses stand in doorways of neighboring houses, their heads bowed in respect as the cortege turns into 59th Street for the last time and stops before the red brick building that Peppina and Carlo called home for four decades. Then with an inexorable silence, the procession moves on, wriggling out of the maze of West New York noonday traffic toward the sleepy little Fort Lee churchyard, where in the shadow of a slate spire of the Madonna Chapel, beside a towering linden tree, Giuseppina Apa Pucciani has chosen her final resting place.
A soft, gray rain smooths the harsh edges of the gravesite and mutes the scream of negation from the red clay soil which has been wrenched from the grassy knoll. Our footsteps, stilled as they sink into the sodden earth, find their voice in the throbbing echo of the heart. Whispered footsteps…departing….going forward, returning….Whispered footsteps softly echoing: all leave-takings are gradual and incomplete.
Epilogue
The sixties brought a series of passings. First Rafaele, then Felicia far away in Italy, and finally Carlo, who died on November 14, 1967, after suffering a heart attack while dining at his cousins' home. For me, the oldest grandchild, his funeral, which reunited all the far-flung branches of the family, proved a grim coming of age - the first terrifying confrontation at close range with mortality that rocked forever the religious tenets of my youth.
At twenty years of age, an aspiring writer and painter, a student of theatre, music, literatures and languages at Sarah Lawrence College, I had already begun to move out of the traditional family mold. As I grew from teenager to adult during the turbulence of the sixties, I exchanged Catholicism for Camus, Cinderella for feminism, and gradually electoral politics for protest. In the summer of 1969, I met Gregory, a Penn State University student and conscientious objector, while we were handing out anti-Vietnam War literature at the local draft board. We fell in love, and in a mad race against his 1-A status, we married in a Quaker ceremony just four months after being introduced. A spate of sit-ins, a brief sojourn in Canada, a return home at the height of Nixon's infamy at Kent State all marked the early days of our marriage before we settled into the developmental stages of our respective careers: Greg's going from chemistry to accounting and finance; mine from teaching and arts administration into theatre and ultimately into journalism.
October 3, 1973 - the date of Giuseppina's death at ninety-three remains indelible in our memori. My grandmother had continued to be a strong presence in our married life, just as she had been for me in childhood. When Greg and I came back from Canada determined to beat the draft board, it was she who took us into her home and gave us a place to live for several months until we were able to establish ourselves in our own home and jobs. And she had been a frequent, if critical, visitor to the string of tiny apartments we found –(always saying they were too small and dark) -, always bringing a black valigia from which she produced tins of caponata, espresso, and pickled mushrooms to stock our shelves.
It was in her white-tiled kitchen, scrubbed spotlessly clean, that Greg and I first learned to toss the dough for a Calabrian pizza or make friselli or aglio -oglio. It was there in the darkened living room of her house, lit by a single 15-watt bulb, that we initiated her into the mysteries of James Bond movies on TV or sat together listening to an opera broadcast with Renata Tebaldi and Franco Corelli. And it was there on a stifling fall night that she gathered her family and their spouses around her to play out a well-rehearsed death scene, distributing two diamond earrings and one ruby ring with great ceremony to me and my cousins and asking us to drink a departing toast from a carefully preserved bottle of Marsala from Frank and Lucile's wedding. On that occasion she was cheated of the anticipated climax to her carefully constructed melodrama – reprieved blessedly but briefly. But a few months later it was there in that tiny bedroom, on a cold winter night, illuminated with the glow of flickering votive candles set before the Madonna and St. Anthony, that Giuseppina Apa Pucciani, as she long had prayed, slipped quietly into sleep and then peacefully into death.
Her funeral held none of the dark melancholy of Carlo's. In the five intervening years, the Catholic Church had replaced its solemn, black -draped requiem service with a white vested celebration of resurrection. But the self-consciously upbeat prayers and songs still had little impact on me. I felt myself beyond them, beyond the shock, guilt, rage, and rebellion which had accompanied Carlo's funeral, beyond both the false sense of hope and the danger of lingering despair, beyond the unalterable reality into a realm where loss could not obscure memory. In so many ways, Peppina's death signaled a watershed for me. With her passing, a spiritual, psychological, and historical era in my life seemed to draw to a close.
We witnessed the probation of the will. My mother, aunt and uncle sold the house on 59th Street and shared the modest inheritance. Linda, Donna, and I each received a bequest of $1000, a sum which, as impoverished newlyweds, Greg and I impetuously decided was too significant to waste, but too small to save. Adding to it some tiny savings of our own, we decided to invest Peppina's legacy in a month-long tour of Italy.
In our little navy blue Fiat filled with luggage, we traversed the azure beaches of the Riviera, wound through the treacherous autostrada of the Alps, explored the ochre hills of Tuscany, and navigated among the meandering canals of the Veneto; we gasped breathlessly at the treasures of Florence and Milan, trod the antique stones of Rome and Pompeii, and battled the irrationally unpredictable Sicilian motorists to arrive on dazzling Syracusan shores.
Then, finally, our weary, dusty trek took us to that forsaken spot high in the Apennines. Perhaps it was there – there on the rugged mountain top under the drenching cobalt darkening sky of San Donato where it was all to begin again.