Philip Gerstein, "Pancho Villa Reconsidered", 36 x 36 in. (91 x 91 cm),
Oil stick, acrylic, & textural media on wood panel, 2021

Robert Motherwell, the youngest of the fabled First Generation of American Abstract Expressionists, rode into renown partly on the black and white impact of his long-running series, Elegy to the Spanish Republic. As a young student of art history, I vividly remember a darkened lecture hall, the huge projected images flickering behind the lectern… . The lecturer conjures up an earlier collage by Motherwell and contends the Elegy series has its origin in its very forms. Its title, "Pancho Villa Dead and Alive". Why the punchy title?! Now, that is worth a longer account and another way to engage us, lest we begin to nod off in the large lecture hall's darkness and quiet. The collage is divided into two parts, with each prominently featuring male anatomy – balls and a male member, erect when alive, and downturned when dead. These… he points… were the forms that Motherwell parlayed into a larger series.
Robert Motherwell, "Pancho Villa, Dead and Alive", 28 x 36" (72 x 91 cm),
Cut-and-pasted printed and painted papers, wood veneer, gouache,
oil, and ink on board, 1943, Coll. MoMA NY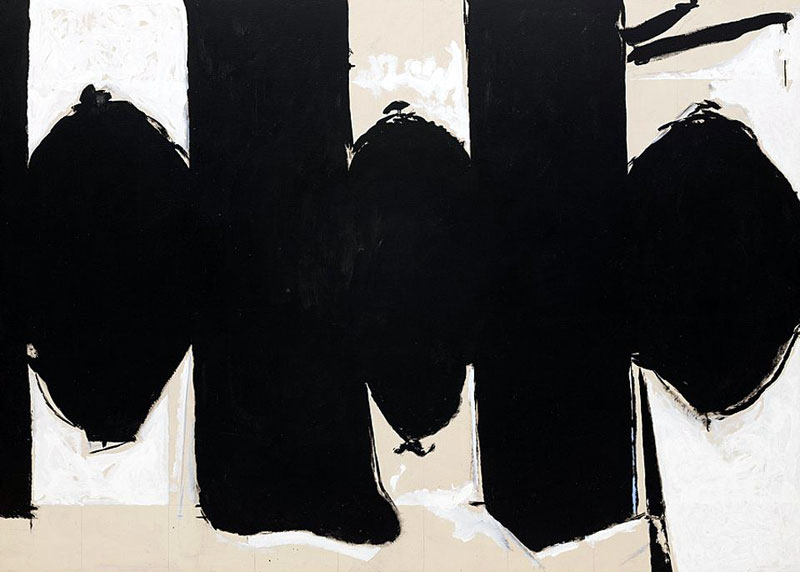 Robert Motherwell, "Elegy to the Spanish Republic No.110", 82 x 114 in. (208 x 290 cm), Acrylic with graphite and charcoal on canvas, 1971, Coll. Guggenheim Museum, NY
The merry company of Abstract Expressionists was (practically) an all-male club, and we were to partake of the associated visual humor, in the form of such a piquant object. But that was hardly the only point. The lecturer was gleefully celebrating the Ab/Ex paintings' ability to stay abstract while apparently referring to the real world -- in titles, if not in the ready recognition of the painted forms themselves. Well, to a young male student, given a Rorschach test and a bit of discretion, a pipe rarely remains a pipe… . And this collage and the apparently ensuing paintings -- almost too vivid a parallel -- was hard to forget.
Fast forward several decades. …I am in my studio, searching for a proper title for a recently completed painting (from this year's "Red" series)… when a friend viewing the painting for the first time points to a yellow form that is clearly not a pipe -- not in his imagination. Thus halted, I am suddenly taken aback, pulled back to the darkened lecture hall of long ago and the clever reference by one of the cleverest painters of his time. What title would do now – perhaps something to deflect from the 'offending' form?? I search listlessly for another week, intermittently storing and pulling the painting back out to look at again… I am finally forced, in defeat , to accept the apparently inevitable. In that case, one might as well be hanged for a sheep as a lamb..! and go with a racier, though not overly specific title. I briefly consider "Waiting for Godot" (why?.. because the yellow form stays 'erect', and as we are repeatedly told, Godot never comes…). No, such an obscured theatrical allusion will never be deciphered… so it might as well become an equally obscure but art historical allusion, available only to the initiated art lovers… . Yes, let it go out into the world as -- the one and only -- "Pancho Villa Reconsidered"..!