"The Fulton Theatre is the diamond of the City of Lancaster," enthuses philanthropist Jeanne Donlevy Arnold, as she and her husband Edward H. Arnold contemplate the mammoth new renovation and building project that will bear the couple's name, as it nears completion. "This [project] is definitely a homerun," she adds.
Her husband Ed feels that " Lancaster is the most dynamic city in Pennsylvania." With the restaurants, shops, and now this new Fulton complex, "it will become a true destination and the Fulton will be a major regional theatre."
The Ed and Jeannie Arnold Center for the Performing Arts represents a bold, brave, beautiful – and transformative – overhaul of an entire city block in downtown Lancaster to create a campus which will house the renovated Fulton Theatre, the Tell Studio Theatre, Castagna Hall, the Cuilliton Tower,, the Anne B.Barshinger Artists' Village, the Zorlan Hagelgans, Hagelgans & Veronis Lobby, and the Rodgers and Associates Lounge. The 29-million dollar project stretching along North Prince Street and Water Street and bordered by South King Street and West Grant Street will make the Fulton one of the most remarkable and dazzling performing arts complexes in the nation.
Once dubbed "the Bill and Melinda Gates of Lebanon Valley," the Arnolds have been generous benefactors to numerous local and national organizations, among them Penn State Hershey Children's Hospital, Lebanon Valley College, the Ronald MacDonald Charities of Central Pennsylvania, and the Boy Scouts Foundation, but, with the exception of an investment in a pre-Broadway tryout of the musical First Wives, there giving had not focused on the arts. Asked how they arrived at the decision to commit so fully to the Fulton Theatre's Breakthrough Campaign, both Arnolds reflect on the road that has brought them to this watershed moment.
The couple agrees that it was Jeannie who began the saga. As she tells it:
"I was a subscriber ten years before Ed and I got married. I lived in Lancaster at the time, and I used to go to all the shows with one of my girlfriends on Friday nights and even donated $2000 for a seat in my name during the earlier renovations. Then I met Ed in 1998 and when we married in 2000, we continued the subscription Since Marc [Robin] took over the helm, the shows have continued to get better and better. They were always good, but they are phenomenal now. In the beginning Ed wasn't inclined to donate to arts, but the Fulton and Marc and the beauty of all the productions turned that around."
Ed continues, " I look at philanthropy as an investment. For me this has been one of my greatest investments to have such fantastic theatre so close to home. The performances at the Fulton are as good as any we have ever seen. It has been rare that we have missed a single one in twenty years, and often we go twice."
Jeannie concurs, "I was so pleased he could join me in my appreciation and love for that theatre. We have been married twenty-one years now, and it is one of our favorite things. Marc Robin has been a phenomenal executive, director, and producer all rolled into one."
Ed echoes his wife's sentiment: "Marc is so talented and so enthusiastic, and entire team is so fantastic because he is such a good leader. Going to productions at the Fulton changed my whole attitude toward the arts."
Executive Artistic Producer Marc Robin says that meeting the Arnolds was one of those life-changing experiences. "They came into my life serendipitously, and they have been hugely inspirational to me. I am honored to call them friends and so very grateful to them for allowing me to realize my dreams."
Jeannie Arnold recalls how this serendipity began. "We were invited to a campaign kickoff meeting at Fulton. I went up to Marc afterwards and mentioned our involvement with First Wives Club in Chicago." A friendship between the Arnolds and Robin and his spouse, Curt Dale Clark, grew, and the Arnolds began participating in the fundraising meetings. "When we learned the plans, we decided it was something we wanted to commit to in a big way."
The Arnolds are cognizant of the sweeping changes this project will bring to the theatre and to the city. "The greatest is flexibility and the ability to do more things," say Ed. "I am a logistics person, and this project gives the theatre much needed space. The flexibility of this major expansion also allows the Fulton to grow. They can be rehearsing while productions are going on, and there can be more events happening simultaneously. And this new complex will be a beacon to attract more artists [for whom it will be a first choice] and more visitors."
They are also grateful that – despite the setback of the pandemic - the endeavor has gone forward, thanks to a giant leap of faith from everyone involved. With the Fulton's 2020-2021 season cancelled, the Arnolds, like everyone else involved with the theatre, wondered what the impact would be on fundraising. "But fortunately," Jeannie notes, "it has continued to go well. Marc has worked so hard, and the Board has been very supportive, as has the community. I know everyone will be happy when they can finally go there and enjoy events again."
And looking forward to that day in the hopefully not-too-distant future when the Ed and Jeannie Arnold Performing Arts Center will open fully to the public, what are the Arnolds, themselves, especially looking forward to? Jeannie Arnold says, "I will likely have tears in my eyes and feel kind of overwhelmed. This is probably one of the biggest charities we have ever donated to. I grew up in a small town in Rhode Island, and I would never have anticipated seeing my name on a marquee, but thanks to my husband, who is very philanthropic, this is a reality in our life." And she adds, "Every time you see a performance, it does touch your soul. It takes you out of the mundane and into something that is part fantasy, part spiritual."
Ed Arnold agrees that "theatre recharges your batteries." "I see [this gift] as part of our legacy. I am very proud we have been able to do what we have. I am proud to have contributed to the history of the Fulton. It has thrived for so long now, and the Fulton and [ the new performing arts complex] are part of the growing history of the area. And in a time when so many things are changing, you can say that the Fulton is one of the stable, positive constants. It is changing, but only for the better."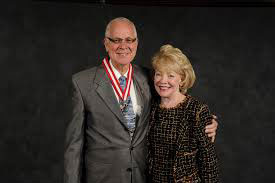 Photos courtesy Fulton Theatre
For more information visit www.fultontheatre.org