This is a story of good memories, of a time when the return of activities, traditions, and performances of Lanna folklore came back to prosper before the Covid-19 crisis. It's been a pleasure for the almost two decades that I've been back to live in Chiang Mai and interested in arts and culture, the familiar North of my childhood. Many universities were launching conservation shows. Events were organized in conjunction with the local university's art galleries. They were created for teachers and students' exhibitions for outsiders and travelers from upcountry. Nothing can happen without the cooperation of local organizations and the faculty who work together to create people, create jobs, bring knowledge to exchange. From the university to the village artisan for the event and the implementation of traditions, singing, dancing, and acting with support from the district, from the province, from the universities as well as the Tourism Authority of Thailand and private sectors.
In the North, the ancient Lanna society was centered like the King's Institute. The king had the supreme power to rule. The Lanna monarchy was simple. The king didn't have a role as a deity. The name of the king was native according to the locality which was one reason there was no royal word in the Lanna kingdom.
Jerng or Fon Jerng ( Fon means dance) is the ancient Lanna boxing dance in Northern Thailand and the prototype of Lanna Thai boxing. Fon Jerng is a drama that reflects a form of art and culture of northern Thai people revealing the story of martial arts. In the past, Lanna men often sought to learn "Jerng" to use as a tool to protect themselves with forms and gestures that were both strong and elegant.
Saran Suwannachot took action to bring the ancient Lanna boxing dance in Northern Thailand as well as to preserve the tradition and culture of Wai Kru that everyone still wants to have. He organized Wai Kru Muay ceremonies at various schools and Kru Swords, which has been practiced all along. We saw him as a symbol of the work. He was outstanding with a light and sound show at the Loy Krathong Festival (Yipeng Lanna) Chiang Mai Culture Art and Design Festival 2017-2019.
Here's an interview with Saran Suwannachot:
JY. Please tell about the becoming of Hong Hian Inherits Lanna Wisdom
SS. In early 1997, various organizations, including the government local government organizations, business sectors, academic institutions, writers, artists, arts and culture groups, NGOs, and community organizations consulted and agreed that they should coordinate with all groups of people to participate in activities to achieve succession arts and culture and local wisdom. By jointly organizing the "Suep-san Lanna" event at the beginning of April every year for five consecutive years, hoping to contribute to the participation in the development of the local culture based on culture and local wisdom together in the future.
With the efforts of organizations, communities, local groups, governments, and private businesses, there has been an ongoing promotion and support for the succession in some communities and organizing events. "Continuing Lanna" is in April every year since 1997 to inherit existing local wisdom for continuity and have diverse learning activities.
Phra Phutthapojanawaraphon (Phra Tham Dilok) Wat Chedi Luang, Chiang Mai Province, had given the idea that "To carry on the culture of Lanna wisdom to produce that effect by organizing the Lanna continuation event only once a year, cannot bring results. It must be continuous."
The Lanna Inheritance Organizing Committee came to consult and agreed that the project must be carried out continually. carry on the inheritance of Lanna folk wisdom. It is, therefore, the origin of the establishment "Hong Hian inherits Lanna wisdom" that was established in 2000 and has conducted activities to gather knowledge, parents, teachers, and local scholars to pass on knowledge and wisdom to children and local people interested. Students come to learn and inherit local wisdom in various fields. It was also the development of local knowledge that has a variety of forms. The new generation can continue to carry on in the first phase, the committee and the operator have coordinated with parents and teachers.
Local knowledgeable people teach various fields of wisdom and accept students and those interested in learning various fields of folk wisdom, such as weaving, paper cutting, tung-making, lantern making, folk music, folk dance, Lanna drawing,local food, carving, basketry, sculpture, etc.
JY. Please tell me the history. The history of your life, let me and the reader know that you came in as a leader and teacher of folk performance in Chiang Mai. and many provinces in the north.
SS. I was born on 6th March 1980.
Since my childhood, I lived with my parents at San Pong Village, Mae Rim District, Chiang Mai Province It's also typical of a country house, even though it was not far from Chiang Mai city just ten kilometers. There are rice fields as wide as the eye can see. There were oxen wagons. There were buffalo plowing fields. At that time, we had a car already. My mother was an agricultural officer, my father served as a civil servant, the headmaster of school under the Royal Patronage. His school was on a high mountain far from our house in Mae Rim District.
My student's life in kindergarten school. I came to study in the city,Dara Academy, a school under the Foundation of the Church in Thailand.
It was established for the first time in 1878 as a girls' school in Chiang Mai, but boys were allowed to study just for kindergarten only at my time.
My elementary school, upper elementary, and middle school transfer toPrince royal college under the Foundation of the Church in Thailand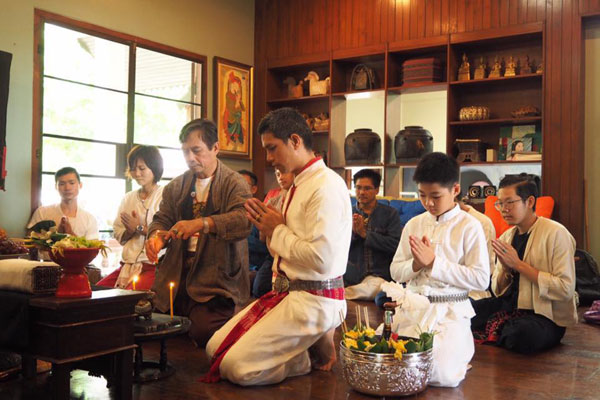 At that time, My family life and society began to shift from childhood to have the opportunity to accompany adults to temples during holidays and to go to temples with adults on Buddhist holy days and public holidays. Public holidays are important days. I had the opportunity to leave the house to meet with the teachers of various arts at the temple. Many organizing events. My worldview at that time became more and more clear about what I was interested in.
At the age of about 10-11 years old, I began to practice boxing at my uncle's house where he had a boxing camp. He trained hard and prepared me to be a boxer.
I'm interested in design and art, so I chose to continue my studies at the Faculty of Architectural Technician, at the Technical College which was later established as Rajamangala University of Technology Lanna (RMUTL)
Around 15 years old I had the opportunity to learn Muay Jerng, and Fon Jerng which is the origin of boxing in the north which began with training in hand-to-hand combat. It was very difficult to find a place to study. A teacher named Kham Kawai opened a place to teach. I went to learn with him. The nature of the study to me was not clear. Maybe because I was still a child, I was very patient. What I liked was Jerng dance.
But the fact is that I still want to study and want to continue researching. I had the basics of learning boxing a lot. During this time in college, there is a legacy of art, there is a parade which the knowledge gained from outside the college I took as a design to the show, which was a great opportunity. Art teachers always chose me to lead the team. Teachers: Ajarn Wiluck Sripasang had a lot of works in the literature, Thai language and Lanna arts and culture and transfers knowledge, Ajarn Lipikorn Makaew wisdom in Lanna arts and culture for students. At that time our best painting teacher was Ajarn Supawat Thonglamul.
At that time I started working as an exhibitor. It was a great job if you are good at it and make money for life without limitation. Someone suggested that you have to study Thai Art at the Faculty of Fine Arts Chiang Mai University. This was a field of study that I wanted. I was so excited
I graduated with a bachelor's and master's degree. I had the opportunity to study with Ajarn Withi Panichphan who was an academic expert on arts, culture, and Lanna traditions.
Associate Professor Dr. Woralun Bunyasurat, the current Dean nowadays, who was previously the head of the Department of Thai Arts. always supported the show at Chiang Mai University, brought me trips to show the dance.
That had allowed me to travel to perform at more international events such as in the United States and Japan. I went there more than ten times per country. I had a chance to go to France, China, India, Korea, Taiwan, Bali, Indonesia. I have been working on my dreams since my school days. When I graduated, I wanted to work in the arts. I hoped to raise my professional life. My dream came true!
I got married to an Essan girl from Chiang Mai University but in a different field, She graduated from the faculty of Social Sciences. I had one son.
In 1997, Lanna's performing arts were flourishing. Both music and string instruments There was a group of Contemporary Lanna music that calls itself, Chang Saton Orchestra, which had been gathered since my bachelor's degree. The performance of Lanna music and Lanna arts and culture, which each came from my old school The Prince Royal's College Chiang Mai Province, we met again at the Faculty of Fine Arts Chiang Mai University. The Chiang Saton band can be used in the opening ceremony. It can be used with a rock band or orchestra as well. It was a very prominent selling point at that time.
Jerng and sword dance are something that we cannot abandon. I have been teaching foreign students from Japan.
In 2014, I became a director of the school. Hong Hian inherits Lanna's wisdom, which has Ajarn Chatchawan Thongdeelert, President of the Sueb Lanna Foundation, and Ajarn Mala Khamchan, National Artist. The Department of Literature for the year 2013 invited me to join the event. The opening ceremony must come every summer because in the industry in the north from Chiang Mai, Lamphun, Lampang, Chiang Rai, Nan, Phayao, Mae Hong Son, and Bangkok and Phra Nakhon Si Ayutthaya Province Students are always sent to practice. There are documentaries, various shows, all on the ancient boxing of Lanna Thai.