I met Wanda Chaima through my uncle Wichai Wongsuwan who graduated from the Faculty of Archaeology, Silpakorn University and was a museum curator in many provinces including ChiangSean, Lamphun , Sukhothai and Nakhon Si Thammarat. His past work was about the design and installation of artifact rooms in many museums in Thailand. As a student from Thailand he visited dozens of museums in Europe, Asia and the United States. When I had the opportunity, I often consulted about art with him.
At that time, Wanda Chaima was a student at a vocational college in Chiang Mai. Her family was unique. At first, I met her father, Pornchai Chaima, and her younger brother, Mun Chaima.
In October 2012, I received a phone call from a relative. He went to the grand opening of an artist at Chiang Mai University Art Center . He told me that the artist was Pornchai Chaima and he was born in the Doi Saket district ChiangMai and finished Bachelor's and Master's degrees from Silpakorn University. He also was an exemplary youth at the university and 13 years ago his works were exhibited at AJAC 25, New Art in Tokyo, Japan and it was quite successful.
My caller told me that I have to go to see the exhibition and interview the artist if possible. The exhibition period was from 13 – 27 October 2012. When I heard his name, I was very excited because this was an artist whose work I had followed for so long and I was certain that he might come back to show his work for the Thai Lanna people.
Fortuitously, I met Pornchai Chaima at the Chiang Mai University Art Center when I went out to shoot photos in the gallery. His fifth solo exhibition was called "Fifth Step Lanna Artist Way"— it was marvelous and attractive with a narrative of Thai Lanna life. He said he collected and borrowed his old paintings during the last 25 years from collectors to show in this exhibition. People told me that he would travel to China and India and would be back around the 25th of October 2012. Pornchai Chaima looked the same as his portrait in the invitation booklet. This was rather amusing and his beard was longer than his hair. His skin was white and he also had a very friendly smile.
See my article on Pornchai Chaima
I found that Pornchai Chaima started to build the Chiang Mai Art Museum in San Kamphaeng District and later I took the opportunity to visit while the museum was under construction.
In January 2022 Chiang Mai Art Museum started up the 1st International Art Festival with Art Camp activities, a merit trip led by artists Prasong Luemuang and Pornchai Chaima, and Chiang Mai Art Museum joins the artist procession. Go up the mountain to paint the scenery at Ban Pong Pang, Mae Tha District, Lamphun Province 19-21 Jan. 2022 before bringing all the artworks to auction at the Chiang Mai Art Museum with proceeds to donate as a budget for building a bridge over the creek of the community. Due to being blown by the wild water, the wooden bridge is broken every year and with the lack of a phone signal the more difficult it is for the villagers on the high mountains to travel to the hospital in the city. So. in this era of Pandemic, art workers are still going to create beautiful things, giving back to society.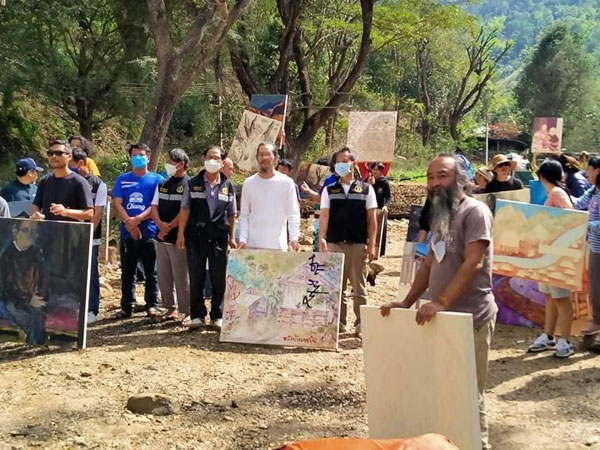 Year 2022 Wanda Chaima is in her 4th year at the university. Her paintings are awe-inspiring and fascinate art enthusiasts. Her work came out to have its trajectory: really contemporary art within a chaotic world. She enjoys the idea of taking a job that impacts Thai society. She told me her work was well-priced and sold well. Part of it comes from wanting to make and earn money by herself. She enjoys and is satisfied with the work she does. It may be a reflection of the idea for those interested in art to be aware of the audience. The old model looks at art that exemplifies the exquisite beauty at the museum level.
It can be seen Wanda Chaima is an example of a new generation in Thai society, coming from an artist family. At first, she encountered a lot of pressure from those who were ready to stand up and offer their own perspective. She is an artist who is quite successful and from a father who had an intention to help the society and this her family has always done.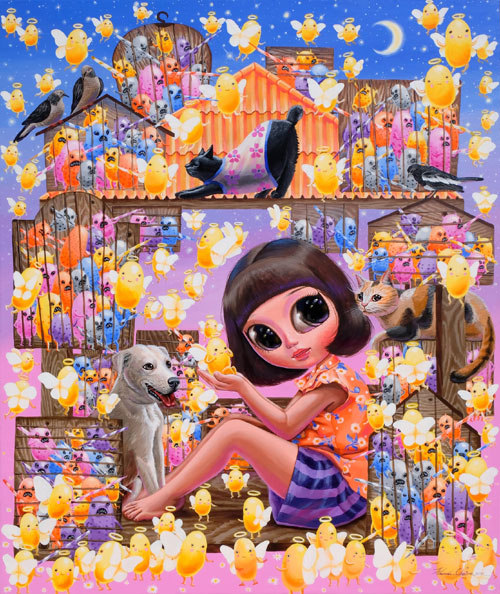 It is not only the preservation of religion to work on the construction of temples in the village society that used to be when he was young. His intention was to build the Chiang Mai Art Museum that seeks space to gather and support opportunities to give artists a chance to look after the new generation artists. Pornchai Chaima said he had seen the potential of Thailand's talented artists at least as a driving mechanism. He decided to become a beginner. Build faith together, work together, promote new artists who come to learn about being an artist and create work together. He has hopes to set clear goals that can progress in the future to be a valuable center of Asian art.
When I had the opportunity to interview Wanda Chaima, her work was selling well and in high demand in the art collectors' market. She herself still doubted herself whether being the daughter of a famous artist made her work sell well, or was it the different perspective of her work?
In my view, time will tell her about the truth of Art that can bring her dream to get along with the harmony in Art. After that she will bring her knowledge to run the museum and support her father's dream .
Here is my interview with Wanda Chaima
JY. Please tell me about your personal interest in art.
WC. Starting with our grandfather, he was a mechanic teacher who founded the school teaching wood carving and patterning. Causing his father to continue his education in painting, be recognized as an artist, and to be successful in many contests. When I was born I was in a society of people who worked in painting. Cultivated as an artist from childhood, which as a child understood that an artist is a person who paints. I keep drawing and face problems with the meaning of the word "art", both different opinions and judging that this work is art, not art from those around you. This made me start to draw a work that was famous in the first period, which was the work of the mouth of the dog.
But it pushes to sell, which had my father's customers as well. We had known customers through Facebook and some dealers. After that, there was a period when I stopped drawing because of many problems.
The work started to sell out and the price fell, the people around, no one understood, causing stress. So back to painting the same style again. Things gradually improved and I discovered that having a career was the first step towards reaching a happy life.
Currently, the key to Wanda Chaima's work is the teachings of the Lord Buddha. The chapters used are:
The first is the Eightfold Path.
The second thing is to be an excellent layperson.
Third, the four Dharmas lead to the attainment of the four Dharmas.
This is important for Wanda Chaima's work. It may not be perfect, but it will try to make it as consistent with the doctrine as possible. Anything other than this can be practiced or not, depending on the suitability and satisfaction. By using these three chapters, life has gradually improved and now Wanda is starting to paint a bit brighter, but not leaving the old style.
JY. Please tell us about the works that inspired your favorite artists.
WC. Inspiring works, favorite artists, achievements in other contests. I like artist Saki Masumoto, who works under the name Ozabu, is renowned for monochromatic drawings of young, nymph-like women, at one with the natural world.
The other one is Mark Ryden. He is an American painter who is considered to be part of the Lowbrow (or Pop Surrealist) art movement.
The contest is open to all levels to compete together. The work of primary school children was 1st, Wanda was 2nd while still studying for a Vocational Certificate, and had never won a prize, other than the first prize in the national drawing contest. The rumor said that it was because her father was an artist or not?
JY. What is there to be proud of when earning from your art? I heard you are coming out to help society.
WC. I used to bring the works out for auction for the example: Help Nepal (during the earthquake)
I used to hold an auction for my own sculptures, giving money to health departments and medical personnel, donate 100% after deducting the cost of casting, Sculpture art.
I submitted my work for the auction "Elephants Survive":100% of the proceeds from the auction donated to the Elephant Association in Chiang Mai.
JY.How do you think about Thai arts, artists compared with foreign artists?
WC. Nowadays, I use the meaning of the word art that means skill in one area, such as the art of painting, the art of country administration, culinary arts, performing arts, etc. I use art in this sense to create perspectives on one's own work and other people's work. This meaning is quite broad. It makes us look at art from a variety of angles.
Experience and work participation
in exhibitions or solo shows (in brief)
1.Show - Hoy Sala at Panisa Gallery
2. Participated in the exhibition at the National Vocational Education Fair
3. Participated in the auction for 2016 Community- Based Management of Acute Malnutrition (CMAM) UNICEF Thailand
4. Participated in the 2017 Annual Auction Community-Based Management of Acute Malnutrition (CMAM) UNICEF Thailand
5. Participated in the auction of the 2018 Community-Based Management of Acute Malnutrition (CMAM) UNICEF Thailand
6. Participated in the art auction to contribute to scholarships for children up the hill at the Chiang Rai Arts Center
7. Joined The Residence Style in Bangkok Design & Curatedby Francois Russo BITEC Bangkok International Trade & Exhibition Center Bitec Bangna in Bangkok Thailand
8. Joined the work in the 9th UOB art exhibition at BACC Gallery
9. Participated in the Divas Art Exhibition at River City
10. Participated in the submission of work Sculpture for the
Blind at Siam Paragon
11. Participated in submitting work at the New Hope exhibition at Show DC shopping center
12. Participated in the Divas Art Exhibition at RCB River city Bangkok
13. Joined the work in the exhibition like blooming flowers at RCB River city Bangkok
14. Participated in the What's Thai event at Siam Paragon Bangkok
15. Joined Heaven the 2at Pacific city club
16. Participated in the Roar Exhibition at River City Bangkok