June-July 2022 in Thailand.
It is the season of introducing the must-see trips in life. It is a large province in the lower northeastern region, Ubon Ratchathani Province. There is a place worth visiting, namely Sam Phan Bok and its amazing rock rapids.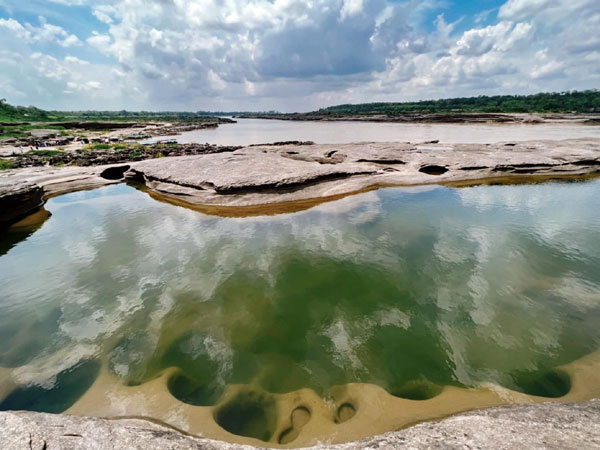 Northeastern artists Sriwanalai, a group gathers together to paint Sam Phan Bok, a valuable natural heritage and a geological source classified in the Phu Phan rock category. Korat Stone Group is composed of sandstone, a thick layer of gravel caused by the accumulation of sediments in waterways. The currents carry sand gravel erosion of the rock surface to a beautiful concave basin.
Suporn Kaewda was on the artist team to attend a painting event, to bring to the Art exhibition Drawing the Land of Isan Sam Phan Bok, I had the opportunity to interview him at this time.
JY . Please tell me about the inspiration for your current work. The work you have done, your studies, your family, your awards.
SK . My inspiration for work: First of all, I always see the structural patterns of various natural phenomena such as the structure of rippled water circles, sea waves, and clouds. The content used to convey the connotation of the work is the principles of teachings in Buddhism: the principle of the Trinity (Impermanent, Suffering, and Non-self) as the teachings of the Dharma teach the wisdom that only exists in Buddhism.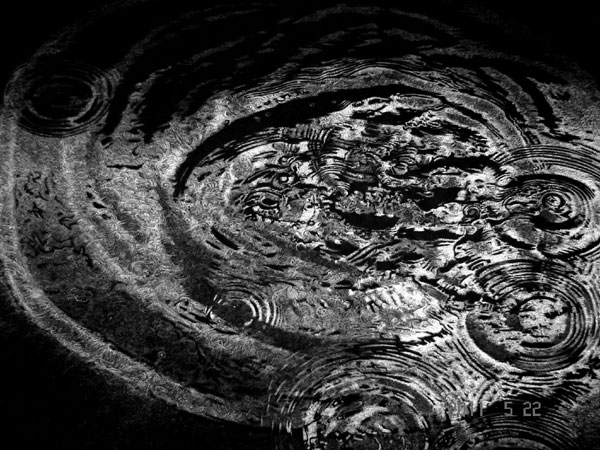 Thai patterns are detailed images of small animals with different beautiful details that live in the rivers and seas and some have come up through my own imagination because I was born and raised in Ubon Ratchathani Province. They have the candle procession during the Buddhist Lent every year, where I had the opportunity to become a sculptor, thus absorbing Thai patterns. Having an internship while studying for a vocational school at Ubon Vocational College to write a list called Lai Rod Nam, It was a Thai style pattern so I have a passion for writing. Thai patterns and drawing is a basic subject that I like to draw regularly.
I graduated with a vocational certificate in the field of art at the Ubon Ratchathani Vocational College and went to take the exam at Poh Chang at the vocational level of the National Arts Department. I had no money to pay tuition fees, so I decided to return to study at Ubon Vocational College at the vocational level. Two years after graduating from high vocational, I said to a friend that I would not continue my studies and would go to work to earn money, thinking that it would be enough to earn a living. I traveled to Pattaya to apply to be a painter. I walked to apply for jobs at various galleries in Pattaya. It appeared that there was no shop accepting because every shop had a full-time painter. So I decided to do portrait painting for tourists on the sidewalk by the sea or on the walking street in South Pattaya . I drew everyday at night using street lights or the light from some street shops. Each day I might make from 3,000 baht to 10,000 baht per day. If the customer liked it, I would get a good tip that day. It takes 15-20 minutes to draw per picture, starting to draw from 6 p.m. until 2:00 a.m. or 3 a.m.
When a gallery owner came to see me sitting and painting along the sidewalk, he invited me to sit and paint at his shop with an offer of 500 baht per picture. I agreed to paint at the shop during the day and at night I sat and painted on the sidewalk to draw for tourists and also create works in my spare time for consignment at the gallery. Other shops as well. And I accepted gallery work to do at home as well (for rent). I got bored because of the monotonous work that I did every day.
So I decided to go back to take the exam to study for a bachelor's degree again. I chose to take the exam and chose to study at Silpakorn University alone. Normally, a Bachelor's degree program at Silpakorn University takes five years. I'm a little special. I studied for six years.
I finished my bachelor's degree and went on to my master's degree. On the first day of the semester, Ajarn Chalood Nimsamer told me not to draw lotus leaves. So I went back to find new inspiration to see the phenomenon of water ripples. I drew it out and sent back to him again. It turned out to be great. I submitted that piece to the Toshiba contest and won the best prize. My friends in the industry call me "Wong Nam Din Sor Khai". It's the technique that I used first. Most of them say it's Tempera oil paint, gray paint.
JY. Please tell me more about the Important drawings you have made using techniques that are different from other artists.
SK . An important painting is a large water circle, size 2 meters 50 x 4 meters 20. It was a piece for the 56th National Gold Medal of Art Award 2010. I submitted a page for many awards in a row that year and the National Gold Medal Award. 2nd Medal 60th Grand prize 2nd International Graphic and Drawing Show. I have performed many solo and group events, 8 solo shows as follows:
2020 Pian Sattha Tham Laithong Hotel Ubon Ratchathani
2017 Singapore Art Stage by Number One Gallery
2016 Mindfulness Exhibition, Number One Gallery, Bangkok
2015 Exhibition return to the native land Ubon Ratchathani Siwanalai Art Gallery Ubon Ratchathani Province
2014 Exhibition "Follow the Knowledge" The Thai Art and restaurant ,Lancaster,CA,USA
2014 Exhibition "Nature of Mind" at DOB Hua Lamphong Gallery
2013 Exhibition "Bodhi Throne" at Pullman Bangkok Hotel G (Silom)
2012 "The Realm of Creation and Deterioration" exhibition at DOB Hua Lamphong Gallery
I also do sculptures, for example:
In the work "Internal Appearance (Tiger)", the concept is The truth within one's own moment by using the tiger structure and water waves to convey the inner power in each moment caused by the power of the mind to appear as a powerful and courageous figure according to imagination and manipulation. in person and sculpture "Internal Appearance (Bull)".
Imagination and inner feelings combine to create a look at each moment, the emotion that arises within the meaning is endless.
And the latest sculpture, currently, I intend to make a Buddha image, 3.50 meters high, 59 inches wide.
In America, Wat Phra That Thung Setthi at Lancaster with the name, meaning and concept of creation as follows:
Phra Phutthaphatcharachaiprathan
This work is an important and meaningful concept.
The realism of objects for the media to reflect the ordinary truths of nature. Even the Buddha's body is subject to the tri-laksa law, which is the nature of nature, what remains is the doctrine which is Agaliko (Timeless).
The base has a V-shape (V) from the word Victory, meaning victory.
The turtle on the left is a symbol of strength, endurance, and longevity.
The carp on the right is a sign of fertility.
The waves of water are like obstacles.
Four lotus flowers (Buddhist people).
1. A lotus flower that is out of the water - those who are wise are right when listening to the Dharma, one can know and understand in a short time.
2. The lotus flower that is in the water - people with average intelligence . After listening to the Dharma, consider it and receive additional training and practice. You will be able to know and understand in no time which will bloom the next day (wisdom)
3. Water lilies underwater - those with little intelligence. After listening to the Dharma, consider it and receive additional training and practice. with diligence, not giving up confidence, full of faith,
4. A lotus flower buried in the mud - the ignorant and also the hypocrite. Even listening to the Dharma cannot understand the meaning or know accordingly. and lack of faith without perseverance but will also become food for fish turtles There is no chance to rise out of the water to bloom.
At the end of life, one must have diligence. Having faith can overcome obstacles like a little turtle In the end you will find victory, find happiness and success in life.
Technique Use
First of all I started to draw with a white wooden pencil on paper. Then I developed to draw on canvas by making the floor itself with black acrylic paint. Later, I switched to using linen.
JY . All artwork was done and experience gained with those jobs. What would you like to tell the reader?
SK . My art, in addition to looking beautiful and aesthetic, also offers various ideas. Living life with the teachings of Buddhism hidden in the inner content that I have focused on. Artwork that when fully done will take care of us. If we don't leave art, art doesn't leave us. Nowadays, I believe that art is not only a career but also a path that I have to walk to do my work every day, to be happy every day. In the end, life is very valuable if you leave something before your last breath, that is a work of art.
JY . When working or teaching?
SK . My work and when I have to teach or advise, I will never say that I have to do it like this because studying art has to let my imagination run wild. My work, the more I work, the more I teach myself. I always recommend it. Make a lot of work and the work will teach us, we will see for ourselves and can advise if the work is lacking. I'm always sure that people who work in art must be diligent. The more diligent, the more we have an advantage over others. We work a lot and see a lot.
I recently performed at the NFT event at ICONSIAM. Probably not hoping for sales only (because we still can't sell, ), just our work, we have another opportunity to distribute, make you know us, know our work, maybe an inspiration to many people. Yes, when you look at my work, nowadays most of you are in the world of social media. NFT work has therefore become one of the media channels that are considered to be the closest to you. Just pick up your mobile phone to see work that makes the new generation access to art more easy.
Exhibitions
2005 - Participated in the 5th Thailand Stucco Art Exhibition
- Performances by students of the Faculty of Painting, Department of Thai Arts Silpakorn University
2006 - Participated in the exhibition of Thai embroidered fabric prototypes
- Participated in the 6th Thailand Stucco Art Exhibition
- Participated in the 23rd Contemporary Art Exhibition of Young Artists
2007 - Participated in the 29th Bua Luang Painting Exhibition
-Join the 7th Stucco Art of Thailand
- Participated in the art exhibition "Mong Sing Phan Sing" by Boon Rawd River Co., Ltd.
2008 - Participated in the 30th Bualuang Painting Exhibition
- Participated in the 10th Panasonic Contemporary Painting Exhibition
2010 - Art Exhibition Thai Spiritual Image Hua Hin
-Exhibit Thai artworks at Panisa Gallery, Chiang Mai Province
2011 - Participated in the 33rd Bua Luang Painting Exhibition
- Participated in the painting exhibition in honor of His Majesty the King on the auspicious occasion of the 7th Cycle Cycle 84th Cycle Birthday Anniversary of the Thammaracha Prachathipattri
-Participated in the painting exhibition in honor of His Majesty the King "Win the Golden Brush Award" on the occasion
The auspicious occasion of His Majesty the King's 84th birthday is December 5, 2011
- Participated in youth camp exhibitions Create contemporary artworks at the King's Gallery Her Majesty Queen Sirikit
- Selected to participate in the exhibition View and performing arts in the United States by the Office of Contemporary Art and Culture.
-Exhibited in Los Angeles Thai Consulate Building, Los Angeles, USA
- Joined as a speaker "Sanjai Rak Art Project in the Southern Lands at Songkhla
- Joined the project Thai artist (Lanna) pours generosity to help flood disaster of Thai PBS TV station
2012 -Brought the works to participate in the auction of the Thai Artists Unite to Rehabilitate Ancient Sites project by the Office of Contemporary Art and Culture
- Participated in Thai art exhibition From generation to generation by 36 artists at PSG Art Gallery
- Participated in the 1st White Elephant Art Exhibition
2013 - Donated works of art auction To bring all the proceeds to fund the gold clad crown of Phra Maha Bodhi Chedi, Bodhgaya, City of Gaya, Bihar State, India.
- Participated in the 27th Asian International Contemporary Art Exhibition
- Participated in 36 years of Thai art exhibition
2018 Art Exhibition of Legend Kochasarn (MOCA BANGKOK)
Manussanang Exhibition
The 1st Heaven Exhibition "Heaven Sawan" at Centr
2019 exhibition What is Thai art?
LIGHT FOR LIFE Exhibition, California, USA
2020The exhibition is clear when one thing is closed. one thing opened Foundation
Nude Exhibition at the Museum of Contemporary Thai Art (MOCA)
International Association of Visual Artists Exhibition of Thailand, the 13th time
Group Exhibition IN IN Inspiration, Queen Sirikit Art Gallery Her Majesty the Queen
25th Anniversary Exhibition, 2 Decades of Thai Painters Group, Queen Sirikit Art Gallery Her Majesty the Queen
2021 Heaven exhibition at Pacific City Club, 28th floor
2022 Thailand Digital Arts Festival 2022 exhibition