SF Ballet's new works in Program 4 and 6 make a generational statement: Alexei Ratmansky (The Seasons), Christopher Wheeldon (Finale Finale), and Dwight Rhoden (The Promised Land) all are in their mid-careers, age 49 to 52 respectively. SF Ballet director and choreographer Helgi Tomasson has championed their work for years and seems like the benevolent grandfather-dance-maker next to these "youngsters."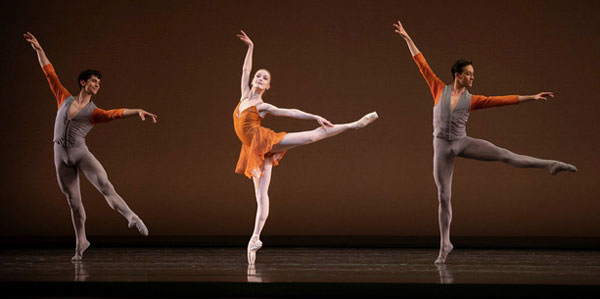 Prism
Helgi Tomasson's work Prism, reprised from 2000-2001 for Program 6, set to Beethoven's Piano Concerto no 1, is a fine classical ballet that lets everyone shine: principals, soloists and corps. A transparent architecture favors threesomes and any number of dancers dividable by three. Max Cauthorn, Sasha de Sola and Lonnie Weeks dazzle in the major trio of the First Movement. The Second Movement is focused on a languid pas de deux while six other couples remain shaded in the background – a well-known, effective element of Tomasson's work . The pas de deus was created for SF's Prima Ballerina Assoluta Yuan Yuan Tan (depicted in the photo with Tiit Helmets). The romantic pair, this time Wanting Zhao and Henry Sidford, danced with grace but without any apparent rapport with each other.
The Third Movement reveals Tomasson's struggles with Beethoven's long breath. One notices repetitive ideas and begins to tire of the heteronormative constellations.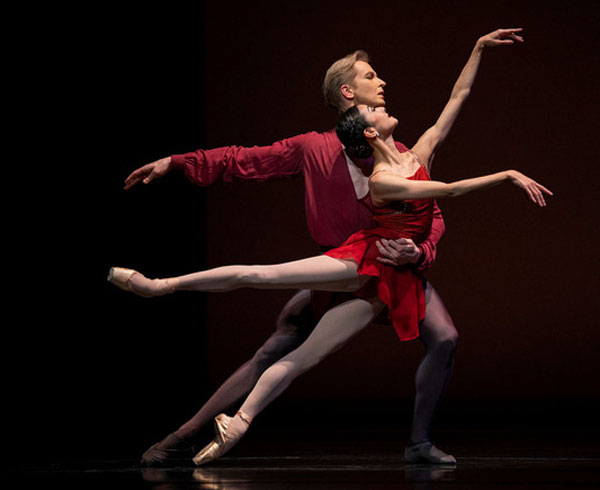 The Seasons
Well, one might think, that's classical ballet for you: not everyone can be a new Balanchine. But then there suddenly is one: Alexei Ratmansky, the Russian "Artist in Residence" at ABT (American Ballet Theater) demonstrates in The Seasons (Program 4) what is missing in fine classical works like Prism: continuous surprise, excitement, humor, pizzazz.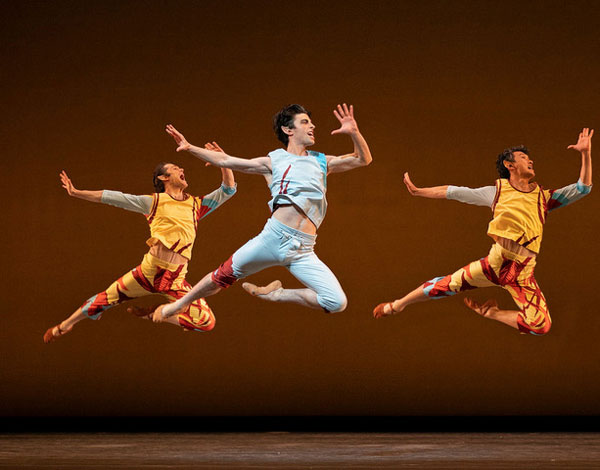 Ironically, it's another Russian who offers this revelation–a Russian who raised the Ukrainian flag after the triumphant opening of his new West Coast premiere. Trained at the Bolshoi, Ratmansky returned to Moscow's Theatre Square from abroad to direct the Bolshoi from 2004 to 2008. He did it to international acclaim. At the same time, he pursued his "Resurrection Project", an intense interest in the historical sources of classical ballet (shared with Balanchine) and, in particular, in the works of Marius Petipa. Petipa, coming from the French courtly ballet tradition, had given Russia the great classical story ballets of the late 19th century that Ratmansky reconstructed and reintroduced: Sleeping Beauty, Swan Lake, Don Quixote , Raymonda, Paquita, La Bayadère and others. Among them he discovered traces of The Seasons, a ballet Petipa had set to a score by Alexander Glazunov (who also composed Raymonda).
It starts with "Winter", personified by a danseur noble (Tiits Helimet) and four ballerinas embodying Frost, Ice, Hail and Snow. "Spring" and "Summer" offer Zephyr, roses, birds, flowers (a group of red poppies danced by ballet students), the Spirit of the Corn, cornflowers, Fauns and Naiads. The final segment is "Autumn" with Bacchus, Bacchante, and finally the whole group dancing a bacchanale together.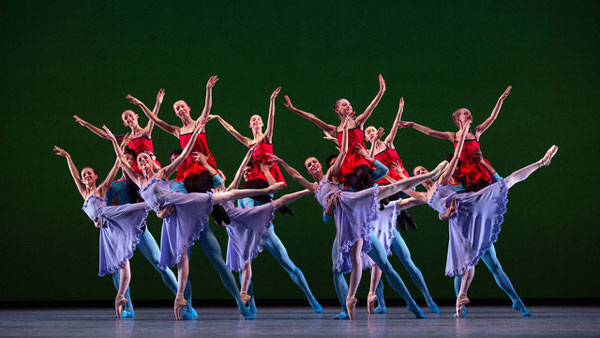 The whole forty minutes go by so fast that one has barely time to wonder who's who in the "story" that has no story. What charms and fascinates in Ratmansky's choreography is the exuberance of virtuoso dancing with a radiance of warmth, playfulness and daring. Throughout, the steps remind of the originality of Balanchine: this is neo-classical ballet as we know it and yet, the impression is that one has never quite seen these steps before. This deceptive "newness" seems to lie in the musical élan and extraordinary phrasing of syncopated and contrapuntal moves that Ratmansky gets out of his dancers. Already there is ballet talk about the "Ratmansky style" following in the footsteps of the "Balanchine style."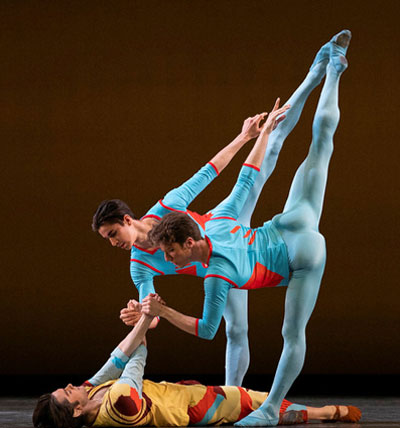 Another striking feature of The Seasons is the artful way the choreographer divides the ebullient score by Glazunov into short divertissements that end in a slightly comical, tenderly ironic comment on classical ballet. Often this comment is delivered through a chorus line in Busby Berkeley-style, everyone suddenly going down in a split. It can be a funny swan dive à la Swan Lake, or a quotation from Balanchine (his characteristic daisy chains, tendu lines or his famous fans of legs in arabesque). It is always unexpected, making the audience laugh with delight.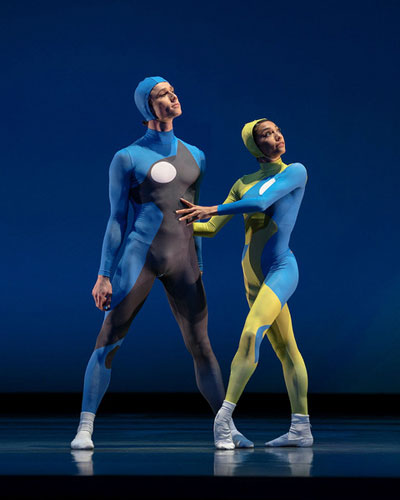 Finale Finale
Back to the two world premieres in Program 6.
Finale Finale was created by Christopher Wheeldon, a choreographer from the Royal Ballet who has enjoyed Tomasson's mentorship for the past two decades. His mostly abstract ballets that I've seen over the years have never got me to the edge of my seat. His recent story ballet Cinderella was a disappointment to me, lacking originality and invention. But Finale Finale, intended as a celebration of Tomasson's final season, worked as an unpretentious bit of frolicking fun.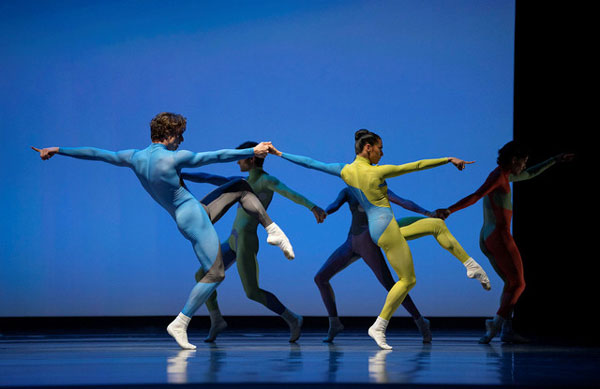 Wheeldon had chosen the perfect music, Darius Milhaud's Le Boeuf sur le toit (The Ox on the Roof) that originally served as a performance piece for clowns, devised by Jean Cocteau in 1920. It's a delightful fifteen-minute composition of South American dance rhythms based on a Brazilian popular song. Played like a brash, brassy circus parade, the song keeps returning again and again after each modulation of the theme in different moods and rhythms.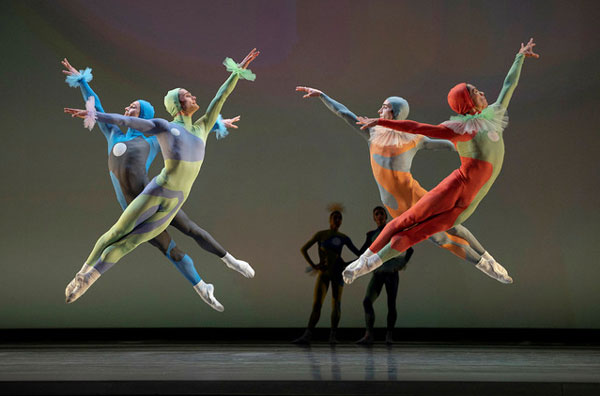 The dancers galavant with silly, sometimes chaplinesque steps, feet and elbows akimbo, in loose, quickly shifting formations that vacillate between kid party and clown parade. It's a pretty picture especially thanks to the festive striped and dotted costumes in candy colors with a touch of Milhaud's contemporary, painter Sonia Delaunay. One move brought the house down: a ballerina, hoisted onto her partner's shoulders, lies there facing the audience, head propped on hand, as if lying on a beach towel, contemplating the sunset. It only lasts two beats, but is later repeated a few times to diminishing effect. The whole celebration is festive and jolly, and yet, I missed more parody in the Samba, Bossa Nova, and Fado pastiches of Milhaud's charming composition.
The Promised Land
Dwight Rhoden's The Promised Land delivers a speedy, muscular dance piece in the choreographer's well-established style of modern dance. The movement is based on classical ballet but uses modern dance, jazz, and hip -hop techniques with their off-center upper body flexibility. It was a pleasure to see the company in this new creation, the third work Rhoden did for SF Ballet.
Rhoden has his own excellent company in New York, Complexions Contemporary Ballet, which he co-created with another dancer (Rhoden began as a "street dancer," he says). Seasoned by Broadway, film, video and pop concert commissions, he has a showman's gift of creating a ballet "mystique" – a powerful scenic atmosphere that adds emotional and spiritual gravitas to largely abstract ballets. His stage lighting often is a mixture of industrial, cathedral and nightclub. The Promised Land is supposed to convey "resilience" after the dark times of Covid pain and death. The dancers wear sexy costumes, some of them with a look of glittering body tattoos. Vast light panels at the back of the black stage and stark overhead projectors give the dancers a sculptural and muscular beauty recalling Maurice Béjart and his Ballet du 20ème Siècle. Like Béjart,
Rhoden likes male dancers with the same high leg extensions as the women achieve. The sometimes precise matching of male and female movements and the unisex leotards convey a certain gender-fluidity. Principals Angelo Greco and Dores Andre look like sci-fi heroes among fast-leaping and pirouetting groups. A particularly striking passage has a trio of two men and one woman circling and gliding across the stage in such close body contact that it looks like a sensuous melting of three bodies into one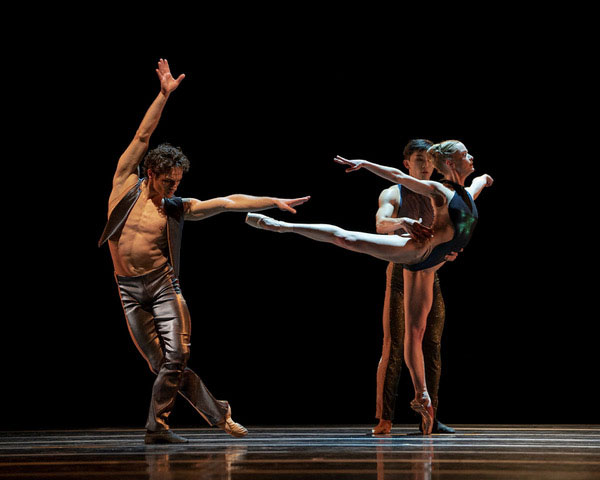 The Promised Land is driven by Phillip Glass's cadences that are seamlessly mixed with the pulse of several other contemporary composers. The music of all three ballets was superbly played by the SF Ballet Orchestra under Martin West.
As the 2022 season nears its ends (the curtain closer will be a reprisal of Tomasson's block buster Swan Lake) the impression remains that after the Covid hiatus of two years, Tomasson can be proud of his last season as Artistic Director: the company looks better than ever.
Photos - Erik Tomasson

Cover Photo - The Seasons Rehearsal b/w
San Francisco Ballet rehearsing Winter from
Ratmansky's The Seasons © Erik Tomasson