While Chicago has long bristled at being called "Second City," this Midwestern metropolis has reasserted its preeminence in many fields in recent decades, but perhaps none so delightfully visible as its cultural renaissance. Forty years ago when I lived in the Chicago metropolitan area for a decade, Chicago's arts institutions – most notably its theatres - were first quality, but many fewer than they are today. The Goodman Theatre reigned – and it still does today – but the theatrical landscape has grown in numbers and variety, with numerous larger and smaller companies springing up all over the sprawling city and its suburbs – making Chicago a mecca for artists and for audiences. Unlike New York and London which have a large number of theatres concentrated in single city districts – Broadway or the West End – Chicago's theatres are everywhere – from the Loop and downtown to the far-reaching borders of the city, embracing neighborhoods and a suburban population as well.
A recent visit to Chicago with Maine State Music Theatre allowed me to revisit old haunts and become acquainted with some new ones. Having the opportunity to share the experience with other theatre-lovers and see the city through the eyes of MSMT's Artistic Director, an award-winning actor who had made Chicago his artistic home for twenty-one years, and who now led the stimulating talkbacks. The four productions we sampled, two plays and two musicals, offered an impressive range of experiences.
Perhaps the most stunning in my estimation was the world premiere of the poignant, heart-wrenching new musical version of The Notebook, presented in a brilliant production by Chicago Shakespeare Theater. Mounted in the company's newer space on Navy Pier – an industrial looking building with a completely flexible interior whose performance area and seating can be
re-configured at will, this production, which is surely headed for Broadway and tour, chose an open proscenium look that still offered an appealing intimacy. David Zinn and Bret Banakis's multi-level scenic design, bathed in sometimes mysterious/sometimes coldly realistic lighting designed by Ben Stanton, creates the half-century flow of time, as do Paloma Young's period costumes. The eleven-piece orchestra sits atop a platform, high above the actors, mostly shrouded in darkness, and surrounded by shards of changing light that seem to signify the fragments of memory painstakingly collected in the story.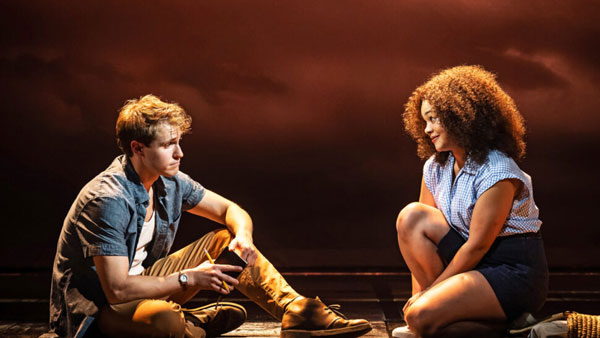 Bekah Brunstetter's book, based on Nicholas Sparks' popular novel about the lifelong love of a couple who now confront the devastation of age and
dementia, chooses to tell the story in a non-linear manner that gives it a whole new fresh facelift, while Ingrid Michaelson's music and lyrics create a moving throughline of emotional narrative, with piercing solos and exquisite ensembles. Directed by Michael Greif and Schele Williams and choreographed by Katie Spelman, the staging artfully mirrors the many layers of time and memory in the story. The central couple, Noah and Allie, is played by three sets of performers, whose appearances sometimes overlap and ultimately all fuse into the breathtaking finale.
Colorblind casting adds to the impact of this impressive ensemble of actors. John Beasley and Maryann Plunkett are heartrending as the older Noah and Allie; John Cardoza and Jordan Tyson are fresh-voiced and full of young love as the youthful pair, while Ryan Vasquez and Joy Woods as the middle incarnations of the protagonists get to deliver some powerhouse vocal and dramatic moments. The supporting cast is all excellent with Andrea Burns and Jonathan Butler-Duplessis as Allie's disapproving mother and father turning in memorable moments.
The Notebook already has set its sights on Broadway and seems destined to follow in the footsteps of other intimate musicals with serious themes like Next to Normal (which Greif also directed). When (not if) it moves on to New York, this will be another feather in Chicago Shakespeare's cap.
Not to be outdone, the Goodman Theatre, ranked as one of the nation's most prestigious regional companies, opened its 2022-2023 season with Pulitzer Prize-winner Lynn Nottage's relatively new play, Clyde's – the tale of four felons attempting to reclaim their lives while working in a greasy spoon sandwich joint. Raw, raunchy, darkly funny, yet dangerous, the ninety-five -minute script is vintage Nottage – laden with poetry, metaphor, and symbolism that is encased in brutal reality. Her vividly delineated characters all capture the audience's heart in unexpected ways.
Director Kate Whoriskey opts for a fast-paced staging that combines realism with occasionally surreal lighting ( Christopher Akerlind, lighting designer) and startling special effects (like the pyrotechnics) that take on symbolic meanings. Takeshi Kata's unit set – the kitchen of the restaurant - is tawdry, shabby, and depressingly dirty down to the last detail. Costume designer Jennifer Moeller colorfully contrasts the over-the-top outfits worn by the restaurant proprietor with the grungy wear of the workers.
All the roles call for a verbal fluidity and range of street accents. As Clyde, De'Andre Aziza is a glamorous, menacing, manipulating dominatrix; on opening night Maya Vinice Prentiss stepped into the role of Letitia, giving a heartfelt and brilliant performance. Reza Salazar is a wired bundle of fraught energy with hidden vulnerability as Rafael; Garrett Young plays the monosyllabic Jason with a suppressed anger and deeply wounded soul; while Kevin Kenerly offers the Zen contrast of Montrellous, whose love for his brother, inner optimism, and serenity prove inspirations to the group.
For eighty years the Goodman has offered the gold standard of theatrical production in Chicago, and it was wonderful to see that tradition continued, as well as to enjoy experiencing the expanded facilities in the heart of Chicago's loop.
Leaving the downtown area, we traveled west to visit the Drury Lane Oakbrook Terrace, a 971-seat theatre situated in an elegant complex that also houses a ballroom, restaurant, and wedding venue. The occasion was a delightful production of Agatha Christie's Murder on the Orient Express. The popular mystery with a tightly constructed book by Ken Ludwig holds its fascination even for those who know the outcome. Directed expertly by Jessica Fisch, it is given a stylish production with scenic designer Andrew Boyce's elegant train interiors, Paul Toben's evocative lighting, Anthony Churchill's clever projections and opening video that frames the production in a kind of film noir, and Jessica Pabst's chic costumes that complete period the ambiance.
The play very much relies on a strong ensemble of actors who play characters impersonating other characters, so the intricate layers of truth and deception must be maintained. The entire twelve-person cast rose to the occasion even with some understudy substitutions at this preview. Larry Yando as Hercule Poirot is outstanding - a commanding, deft, and debonair presence, credible and never a caricature. Among the others, Diane Coates plays a chameleon Countess Andrenyi; Janet Ulrich Brooks a no-nonsense Helen Hubbard; and Sean Blake a distressed Monsieur Bouc.
The entire experience of cocktails and a delicious in-house, pre-theatre dinner at Lucille's followed by the excellent performance in the large, comfortable auditorium gave the feeling of a magical evening.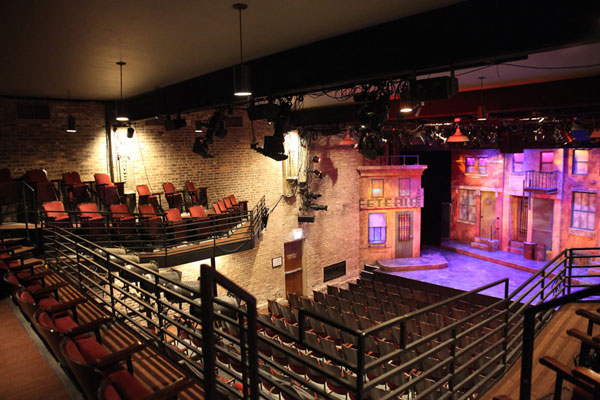 Also away from downtown is the renovated Mercury Theater, locatedin the heart of the Southport Corridor, a sophisticated neighborhood of restaurants and boutiques just steps from Wrigley Field. An intimate jewel box of a theatre with adjoining cabaret space, this space is dedicated to musical theatre featuring both Equity and non-Equity local talent. Their gutsy, heartfelt production of Priscilla Queen of the Desert, while less sophisticated than any of the other three, nonetheless offers an evening of warm emotion and laughter. Directed and choreographed by an inventive Christopher Chase Carter, this zany tale offers an hilarious and poignant look at the lives of three drag queens who traverse Australia in search of audiences and their own identities. While the budgetary constraints for this company limit what they could do production -wise, set designer Jonathan Berg-Einhorn, lighting designer G. "Max" Maxin IV , and costume designer Robert Kuhn came up with creative solutions for the space and resources. Music director Eugene Dizon ( and sound designer Carl Wahlstrom) presided over the tracked sound which worked remarkably well and was completely believable in the juke box score and divas' lip-synced moments.
The cast represents varying levels of experience, ranging from Chicago longtime legend Honey West as a touching Bernadette, and young actors Shaun White as a sweetly vulnerable Adam/Felicia, and Josh Houghton as a conflicted but endearing Tick/Mitzi. Among the supporting cast, Jason Richards gives a sympathetic performance as Bob; Darren Patin has the opportunity to shine in several drag numbers. Brittany D. Parker is winning as Tick's open-minded
wife, and Gabriel Solis' brief scene as Tick's son tugs at the heart strings.
What this production at the Mercury Theater may lack in polish, it amply compensates in energy and a visceral connection with the audience, many of whom seemed to be regulars. The level of enthusiasm and enjoyment was, in itself, a delight to experience.
Our four-day stay was far too brief to experience all the theatrical riches Chicago has to offer. There are so many more companies to visit – some 250 in all – as well as countless other performing arts attractions like the Lyric Opera and Chicago Symphony. But what the visit did impart was the vitality, diversity, and sheer exuberance of Chicago's theatre scene. I think of Anthony Bourdain's description: Chicago is a town, a city that doesn't ever have to measure itself against any other city. Other places have to measure themselves against it. It's big, it's outgoing, it's tough, it's opinionated, and everybody's got a story.
So many of those stories are told beautifully and brilliantly on Chicago's stages, in its many theatres.