[Epigraph]
"ART IS NOT A LIE! It is the only thing there is... . "
~ Philip Guston, 1973
"We are always at the beginning of seeing."
~ Philip Guston, 1964
This month's art feature marks the beginning of my third year of writing for our outstanding cultural publication, Scene4 Magazine. This feature promises to be different, but no less relevant, perhaps even entertaining.
It covers a just ended months' long exhibition in Boston, an important retrospective and rethinking of the work of Philip Guston (1913-80) -- whose artwork was not unfamiliar with controversy, reversals of fortune, major reevaluations by the critics and the general public. His work has also been increasingly embraced by contemporary artists, many of whom find much to admire and relate to, in one or more periods of his life's journey as a painter.
Philip Guston Now, the Museum of Fine Arts Boston exhibition, will make two more stops in the US and then alight at Tate Modern, while progressively swelling to almost double in size. (It's true, Boston, as the unexpected first stop, has been severely shortchanged!) But even in its initial truncated state I find it to be something of a revelation -- an often brilliant inter-hanging of his several styles/periods of work, inspiring entirely different ways of viewing the continuity vs the radical changes in his oeuvre. And for me, that which connects and binds together all of this artist's work, is his love of COLOR. His subtle and almost unerring feeling for color constantly asserts itself with unexpectedly fresh presence and radiating energy.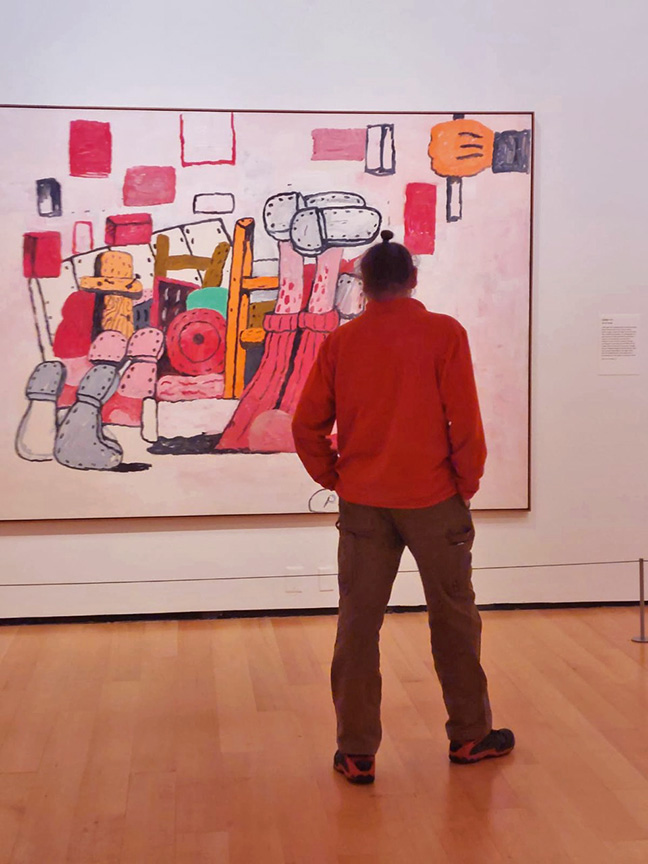 A friend's photo catches me in front of a Guston at the retrospective (photo: Mirjana Tomic)
The show itself comes to us wrapped in controversy, this time due exclusively to the presence of Ku Klux Klan-like figures in some of the paintings of the later period of Guston's work. So much typographical ink has already been spent on this subject, that I feel confident I do not need to revisit it save in passing. I am relieved instead to refer you to several reviews by local critics for that aspect of the show, such as an excellent unsparing Washington Post review by Sebastian Smee (https://www.washingtonpost .com/arts-entertainment/2022/05/06/philip-guston-national-gallery-woke-ku-klux-klan -postponed/), and a longer impassioned J'Accuse, from a historically conservative position, by Franklin Einspruch (The Arts Fuse, May 3, 2022 -- https://artsfuse .org/255444/visual-arts-commentary-philip-guston-and-the-impossibility-of-art -criticism/ ). This controversy can potentially provide another teaching moment -- towards a more historical understanding of the very concept of race as an artificial construct, and the intertwining of the practice of racial and antisemitic prejudices. (RACE: a pernicious construction designed to explicate, excuse & promote otherness, alienation, oppression and ultimately violence.)
About Guston
Born Phillip Goldstein, in a 1913 Montreal, and raised and schooled in Los Angeles, the artist felt it advantageous as a professional painter to change his name to a non-Jewish -sounding Philip Guston. He clearly understood the violent spirit of the times in which he found himself. Much later, in a letter to a friend, he confessed to being embarrassed by changing his given name. Personally though, I can fully empathize, in my case having been born and raised under the broadly antisemitic and oppressive Soviet regime. Both Guston's and my parents come from Odessa (which has been much in the news lately, for unfortunate reasons). We even have the same first names, similar sounding last names, and initials, PG and I, and I'm acutely sensitive to his dilemmas and his artistic evolution.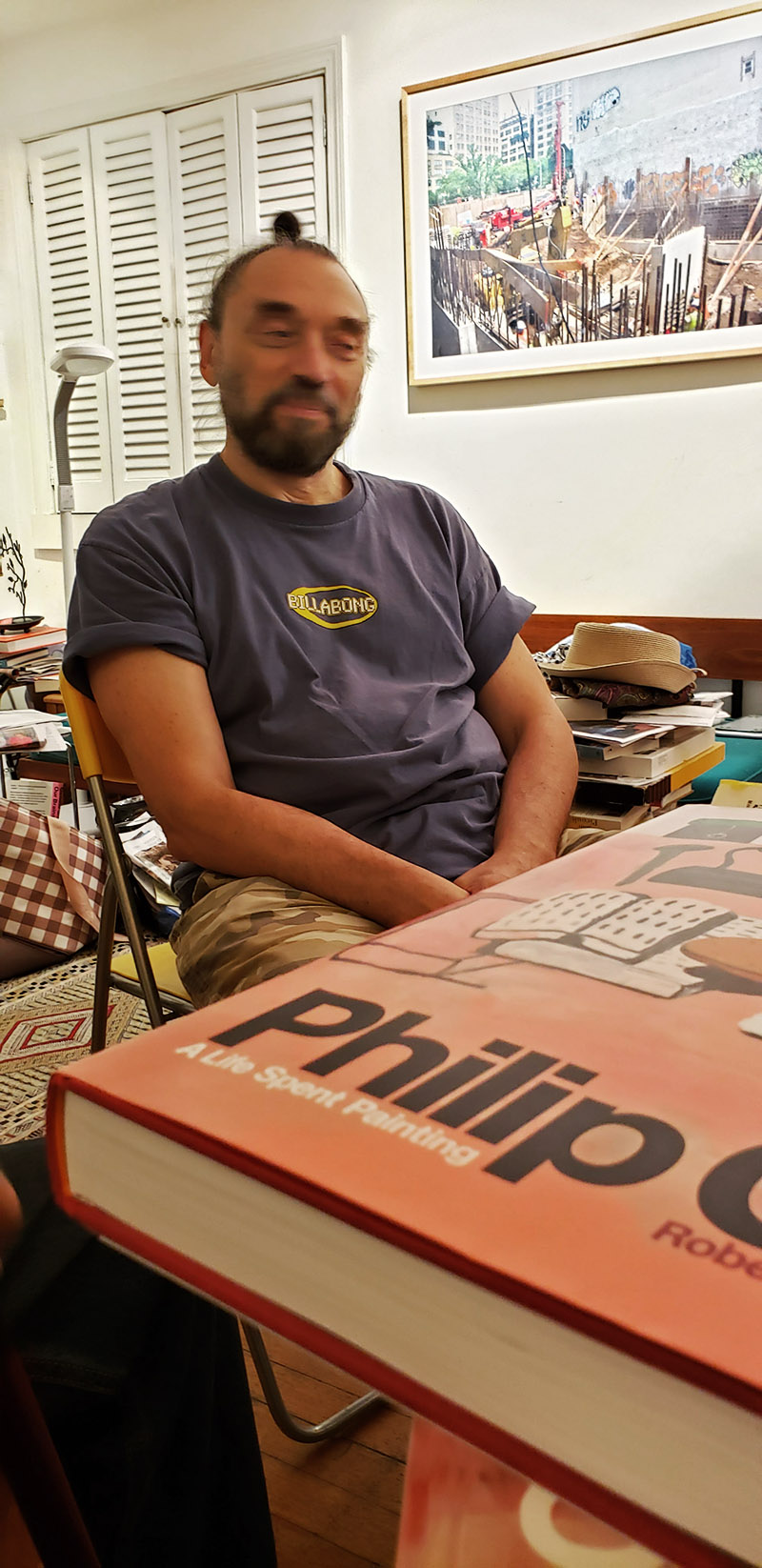 Discussing a Philip Guston catalog with friends at home (photo: Karen Norton)
Unlike most reviewers I've seen, I would divide his oeuvre into 3 phases somewhat differently:
-- his developing personal abstraction in the 1950's, in line with the First Generation Abstract Expressionists;
-- his 2nd abstract period of similar duration from the late 50's to late 60's;
-- and his now deservedly famous "cartoonish" period thereafter.
I would skip his 1930's figurative period as preceding his mature phase. His figuration is excellent technically and often interesting emotionally (and was wonderful and necessary to see in this exhibition). Nevertheless, it represents a derivative period of learning from a wide swath of painters from Italian Renaissance to Picasso and de Chirico. His gradual evolution in the 1940's, which brought him important critical and financial success, was cotemporaneous in subject and partially in style with the Boston Expressionists, and was clearly influenced by such European examples as Max Beckmann's.
In the Avant-Garde
Guston's artistic maturity, as he repeatedly acknowledged himself, came with the "white" paintings of early 1950's, placing him and his achievements in line with his fellow first generation Abstract Expressionists. And indeed, after exhibiting such accomplished draftsmanship and mastery of complex kinetic and emotive compositions in his realist paintings and frescos -- he had nothing to prove to himself in that genre! He had though much to discover about abstraction, symbolism, and indeed himself by following his long -time friend Jackson Pollock into this "undiscovered country", for it was first Pollock who "broke the ice" and carved a window into the unknown. (Or that is how de Kooning characterized the successful ascendance of the new American school of art.)
Guston and Rothko were the acknowledged colorists of that group of pioneers -- Rothko working with broader color areas, in an extension of the legacy of Matisse and Mondrian, and Guston earning acclaim for working with additive vivid color strokes, centralized on the canvas, in an extension of the legacy of Post-Impressionists, the Fauves, Delaunay,
etc. After being compared with the later work of Claude Monet, the critics dubbed this period of his work Abstract Impressionism. Later 1950's see the broadening of forms and the addition of prominent black forms in brushy strokes, with a gradual darkening of the palette as colors got intermixed with black, resulting in the introduction of resonant tinted greys.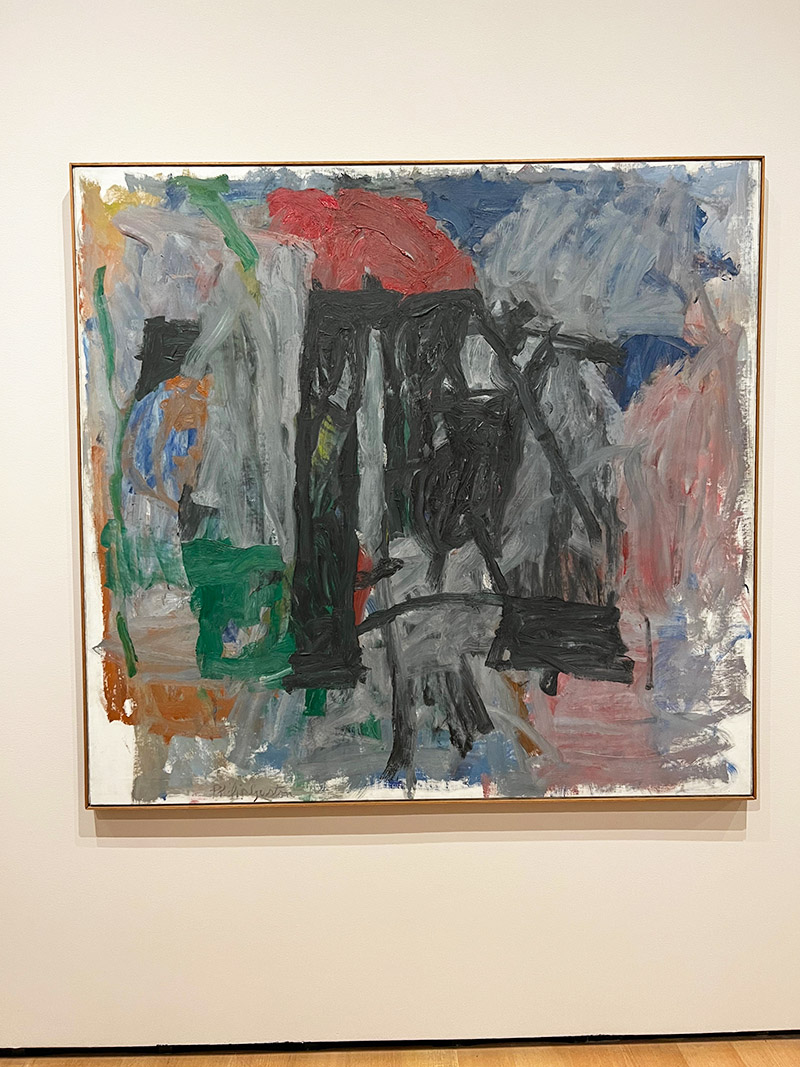 Philip Guston, "Painter", 1959, oil on canvas, 65 x 69 in. (165 x 175 cm),
High Mus. Art, Atlanta.(Installation photo by author)
This period's style was readily picked up by the succeeding artists practicing expressionist abstraction. However, it seems to fair poorly in the current reviews of this show. "The abstract paintings, beginning in 1950, have dated badly", writes Sebastian Smee in an otherwise excellent review. It would appear, the current promotion of figuration, and especially the current relevance of the racial controversy, swirling around the delayed opening of this show, has partially blinded too many reviewers to the evanescent pleasures of this artist's work and in particular his exploration of color as a transcendent element. To see the exhibition unencumbered, it may also be necessary to tune out the insistence of the curators and reviewers on correlating his biographical data alongside specific paintings, in a now practically obligatory dance -- as if these are needed to explain the impact, as if the paintings were not interesting, compelling, mysterious on their own. The verbiage floods out the paint, without nearly the same impact… .
But back to the abstract Guston not aging well?.. NOT to us, artists who work in color abstraction. My own journey into renewed appreciation of Guston was via a Hauser & Wirth Gallery's (NYC, 2016) comprehensive exhibition of the paintings from his next distinct period, 1960's prior to 1968.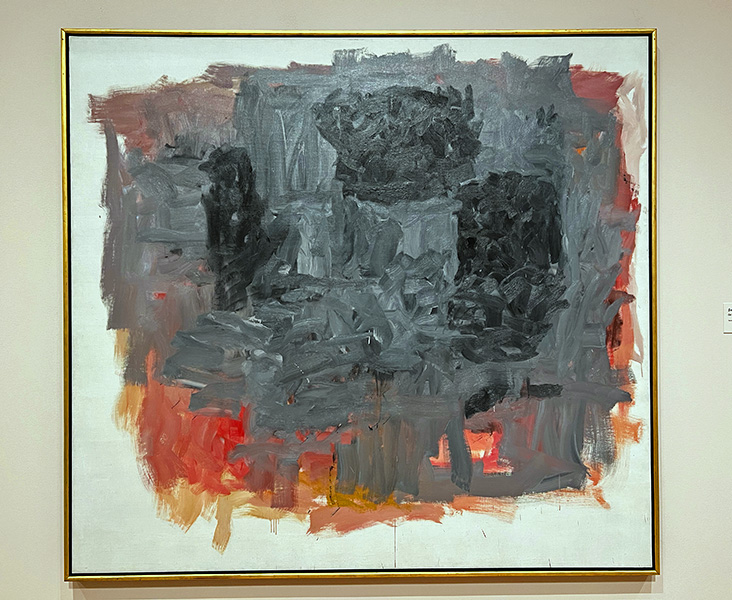 Philip Guston, "Smoker", 1963, oil on canvas, 70 x 76 in. (178 x 193 cm), Plaza Art Coll., Albany.
(Installation photo by author)
A centered image surrounded by unpainted edges was a device Guston developed in his previous period; somehow the artist manages to get away with that compositional arrangement every time!.. But the rich multi-color combinations now gave way to an expansively effective silvery grey field composed of densely packed strokes of wet-on-wet paint, with encroaching pinks, occasional ochres, and with even denser black forms floating over all, part of the grey field. This is Mars Black lightened into gray, functioning not as tone but as color. And then the pink! The impression of both solidity and fluency of these large canvases was overwhelming but not overbearing, energetic entities making their presence unmissable across the length of the exhibition hall, no less than up close, with each iteration of this series. Far from aged -- they were freshly alive! -- and so effectively resurrected from a purgatorial obscurity by that encyclopedic exhibition. This work had simply been overshadowed, temporarily, by the still resounding controversy of his next shift, away from abstraction.
A Figurative Plunge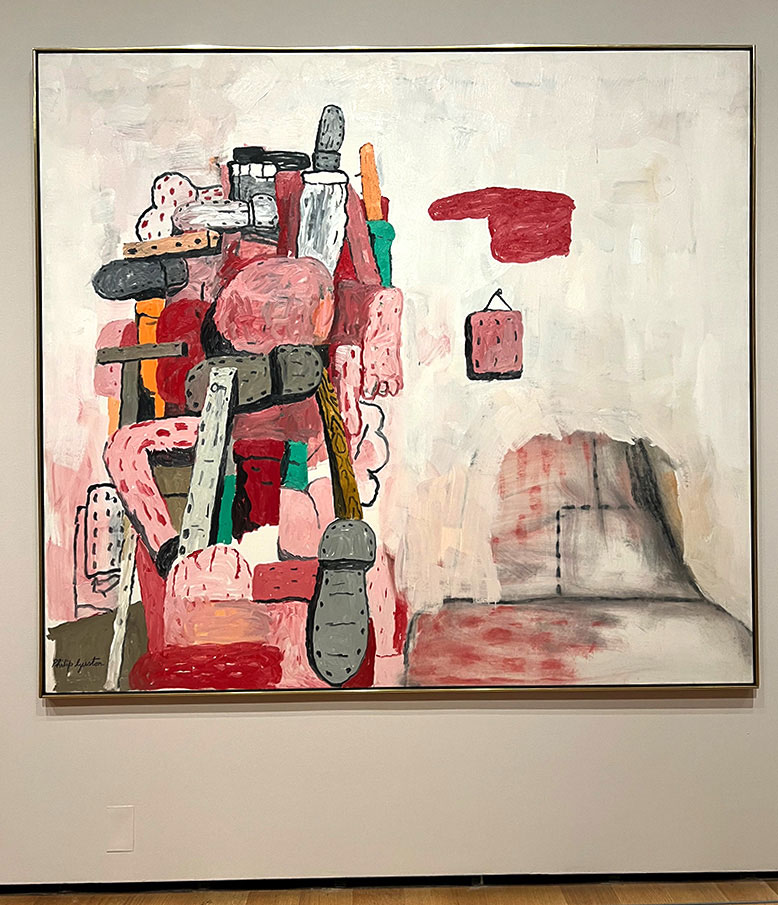 Philip Guston, "Tower", 1970, oil on canvas, 72 x 80 in. (183 x 205 cm), Priv. Coll.
(Installation photo by author)
Guston's period-defining 1970 exhibition at Marlborough Gallery premiered his next phase of work, and resulted in something close to a scandal. At the time, it was perceived as "betraying" abstraction -- and in an "insultingly" primitive, deliberately crude style at that -- the implied insult taken personally by the assembled lions of Modernism and their championing critics. The NYTimes' resident critic, Hilton Kramer, turned it into an unforgettably titled review, "Mandarin Masquerading as a Stumblebum". It was perceived as taking sides -- and taking the wrong, backward looking side. The reaction was swift and merciless. A single painting out of thirty sold from the show. Friendships were broken. Guston, as a temporary pariah, was forced by necessity to retreat to teaching -- and ultimately away from NYC, to the august classicizing classrooms of the Boston University art school.
Boston is where I met him once, surrounded by an admiring flock of art students. As a graduate student of Art History myself, at the time I was haunting the well-proportioned reverberating and usually empty halls of the Fogg Art Museum in Cambridge, devising labels for an Italian Renaissance teaching exhibition. A middle-aged man walked in, leading a group of students, and apparently trying to locate a painting by Philip Guston. "Ahh", said I, directing them to the appropriate room. "And there is another abstract Guston downstairs, hanging in the registrar's office", I volunteered helpfully -- at which point it turned out that I was looking at the painter himself. We chuckled about it, they headed downstairs, and I back to my labels. This was a couple of years before his untimely death from a heart stroke in 1980.
By the time of our accidental meeting, Guston had been developing his "cartoonish", "barbaric" style for a decade, in a fascinatingly personal evolution. His later paintings of that decade acquire additional weight and poignancy, often with larger expanses of dramatic black, as in "Wharf" (1976).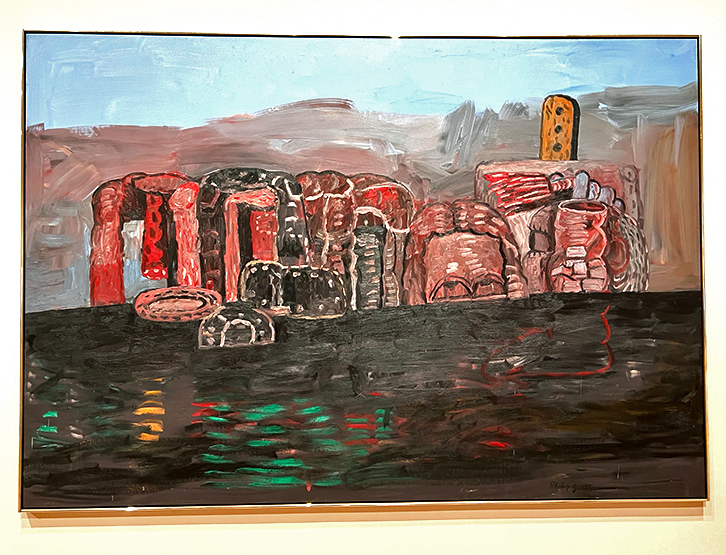 Philip Guston, "Wharf", 1976, oil on canvas, 80 x 116 in. (203 x 295 cm),
Mod. Art Mus. Fort Worth. (Installation photo by author)
A black river (of city asphalt?) extends from the crowded forms in mid-canvas, right to the viewer; and in it a "reflection" that turns vivid green, lighting on fire by contrast the complimentary red of the forms. This change of color changes the emotion of the whole painting, deepening it to a multi-colored pathos. Is it another scene of Deluge?.. It is the unfolding beauty of color that saves it from a quotidian literal and narrative interpretation.
Painted a few years earlier, another huge canvas, "Painting. Smoking. Eating." (1973, Stedelijk Museum) is a 104 inch (263 cm) wide tour-de force -- of reds and blacks, outlining forms, rising out of the pink background to become forms. It's practically irresistible in its masterful manipulation of symbolic, even hieroglific personal vocabulary, utterly recognizable as representing real objects at the same time -- color meets form meets autobiography! As draughtsman in traditional terms, Guston may have been the most accomplished among the first generation of Abstract Expressionists, as abundantly shown in his paintings of the 1930's into 40's. Here, as in the entire last period, he conjures his reverberating rude forms using outline with complete confidence, with aplomb -- finally marrying his facility with the exuberant color at the heart of his abstract work.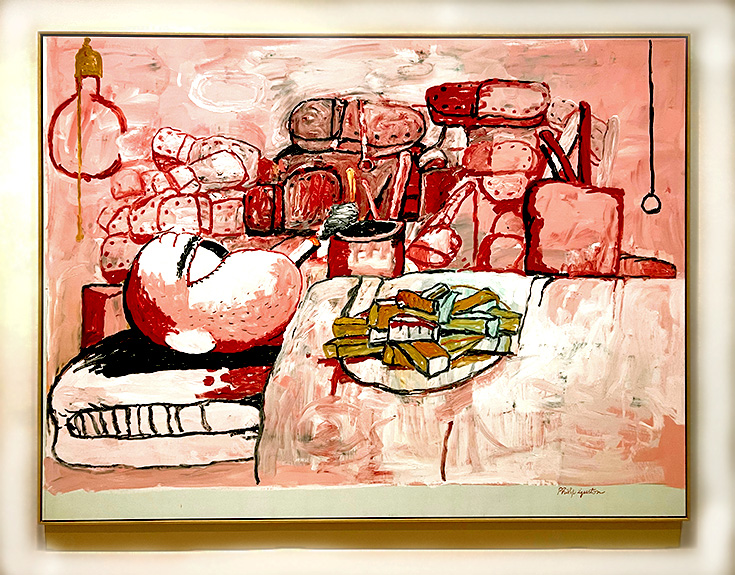 Philip Guston, "Painting. Smoking. Eating.", 1973, oil on canvas, 78 x 104 in. (197 x 263 cm),
Stedelijk Mus. (Installation photo by author)
Franklin Einspruch's (above-mentioned) review is dedicated to cleaving through the controversy swirling about the format of Guston's show. He however pauses in that task long enough to capture the artist's color-building process in a superbly insightful paragraph, worth quoting in full:
"Guston so magnificently employed Cadmium Red Medium that contemporary expressionists feel wary about putting it on their palettes. It is the only warm mid-tone color that operates like a dark one. Consequently, it was his go-to drawing color until more differentiation was needed, at which point he reached for black to get beneath the red. ... Dial (1956) and Painting, Smoking, Eating (1973) follow the same method of construction. Guston would develop a red drawing, correcting the lines with applications of pink. He then introduced other colors to fill out the chromatic range. With that accomplished, he would deploy lines and areas of black to prevent the composition from turning to mush."
Red being Guston's favorite go-to color certainly did not limit his palette through his abstract period, and beyond. Many of us, however, were surprised to see the curators of this exhibition singling out his quote (in a prominent label) concerning the color Blue -- which he once confessed he did not fully understand. I wonder if the curators took him a little too literally here. For an artist who did not fully understand blue, he sure kept using it a lot, until he obviously did. For assistance with this matter, one could turn to an exceptional review by Elizabeth Michelman in Boston's local art magazine ArtScope ( https://artscopemagazine.com/2022/08/philip-gustons-true-colors-at-the-museum-of -fine-arts-boston/ ). An artist herself, she has made an in-depth study of color theory and practice; Michelman's writing is wonderfully sensitive to Guston's palette. She took the artist's remark as a challenge, and in the second part of her review, looking closely at his paintings, she boldly traces Guston's utilization of color Blue over the span of his oeuvre. Lo and behold, blue is everywhere -- and well used! .. providing a counterpoint and cooling the warmer colors (usually reds and pinks), to keep the paintings' palette from overheating. In particular, Michelman noted the artist's manipulating his grays, by using an admixture of warm or cool colors to subtly affect a desired mood for a specific painting, the admixture acting like an undercurrent to the bold forms and their visible action.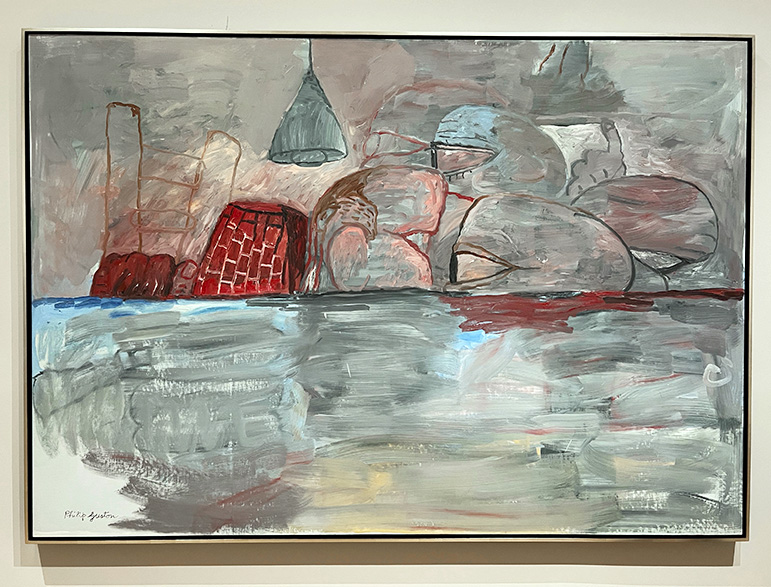 Philip Guston, "Yellow Light", 1975, oil on canvas, 68 x 97 in. (172 x 246 cm),
Priv. Coll. (Installation photo by author)
A Freedom to Choose
Back to Guston's 1970 Marlborough show for a moment... . Not every one of his fellow abstractionists professed to be shocked and scandalized. Perhaps predictably, it was de Kooning who is quoted to have congratulated the artist, adding: "Why are they all complaining about you making political art, all this talk? You know what your real subject is. It's about freedom, to be free, the artist's first duty". De Kooning's own series of Women of the early 1950's was sandwiched between periods of "pure" abstraction and actually was celebrated by the avant-garde critics. 20 years later, with Abstraction's avant -garde status slowly eroded by such uncouth return to figuration as Pop Art, etc., it was probably the wrong time to stray. But that is only a part of the story.
Guston's avowed purpose of switching to figuration, was to reengage with the tumultuous and now even rebellious (late 1960's) world around him, to find a path to be relevant again. Or so it felt during his artistic youth in the 1930's, being a part of the Movement for a better world, against oppression and racism and slide towards fascism -- an art of protest and propaganda. It utilized the pictorial language of an artistically revolutionary period, early Italian Renaissance, seasoned with Michelangelo's sculptural forms and Picasso's return to the grand solidity of figuration after the horrors of World War I. For a while, an artist found a place of purpose even in the pragmatic and uncultured (by Old World standards) American society -- acknowledged as an artist and put to work by the WPA.
What is the role of an artist in a society?.. one could inquire at the mention of this generative period in American Art. And how would a society support a professional artist, allow them to feed themselves (and their family) in exchange for their contribution? That is a much larger subject -- which surely worried a thinking mid-century artist -- but is not a part of the deeper critique for the reviewers nor curators of this retrospective. Permit me then to skirt this huge cultural issue myself, except to suggest that, in my opinion, there is not and has probably never been a place for a professional artist in the American society. There are many freedoms, artistic freedom being only one of them... .
So here we have the artist, in search of a more relevant posture for himself via his art -- while the existing available choices are far from clear. The art of social critique, turning into the propaganda of the 1930's, came to its starkest, most naked conclusion in Nazi Germany at one extreme, and in Stalin's Russia, which had coopted the worldwide Socialist movement, on the other. The so-called Art of Socialist Realism was still being supported by the State in the Soviet Union, and again picked up and promoted by the contemporary regimes under Fidel and Mao as obligatory to its artists, stifling every other path of development. Thus, in most ways, this path for Guston was long closed, and the whole idea of socially relevant figurative art required reinvention. It took the artist several years and a major depression to find his own way and to come to peace with the limited choices he had in this matter.
An Aside: What's in a Signature?
Until the advent of Modernism, one might add, the society expected from the artist fairly conventional things, in exchange for proffering its benefits -- largely to follow the convention by being an illustrator of narratives or a decorator of surfaces. Modernism attempted to substitute its own requirements and, by Guston's time, its own conventions. One holdover from the previous era though, was the expectation of developing a "signature style", practically the proof required to be considered a professional artist. And since Modernism existed to encourage invention and evolution toward something new, radical and heretofore unseen, in each specific instance -- each new personal style was not an easy acquisition, but a revolutionary struggle against the convention and against the odds. In time, the movement produced a new, counter-cultural mythology, and the Abstract Expressionists stepped up to exemplify it. And as part of this heady myth, a never before seen, personal "signature" style is slowly and painfully birthed in a heroic labor of creation... . Whether these, overwhelmingly male painters were usurping for themselves such clearly female roles of progenitors, is for a historian and an informed viewer to decide for themselves. It wouldn't be the first time though; in Greco-Roman mythology the head god's (Zeus/Jupiter) powers encompassed the ability of birthing a goddess (Athena/Minerva) straight out of his own head.
Ahh, the pleasure, the pursuit and the pitfalls of having a signature style!.. of going ever deeper to explore its implications and intricacies... and simultaneously being bound by it, chafing within its confines -- driving a sensitive artist into a personal crisis, which becomes a spur to finding one's way out of it. Guston suffered through just such a major break with the past, not once, but twice, on the way to developing his unique approach to new abstraction and new figuration -- both at the cost of years of depression and inner despair.
I write this as a painter who constantly switches between several distinct modes of abstraction -- all to remain non-repetitive & fresh, to harness the wild excitement of discovering things one has never seen before. Thus, after reading about the torment of switching to a radically different mode of painting that Guston visited upon himself, I sometimes wondered, as a 21st century viewer well might: couldn't the artist keep painting in both styles, or even 3 or 4 different styles at the same time, to preserve and keep the benefits of something so hard-won and so accomplished? or at the very least, to avoid some of this pain?.. Such a question though would be an artifact of the newfound freedoms of our own age. In Guston's time, a choice to paint and exhibit work in more than one style at the same time did not exist in practical terms. Over most of the 2oth century, I can think of only 2 well-known artists allowed this option: Picasso with his cubist and his realistic styles, and much later Gerhard Richter with his vivid abstraction and blurred monochromatic photorealist style. Such option was severely limited for the rest, by the prevailing attitudes of the Art World, which themselves stemmed from the often determinative ways of the Art Market. And it's the Art Market -- the remuneration for one's professional labor -- that brings us back full circle, to the idea of social relevance , of one's place in the society. For to feed oneself and one's family in the era of Modernism the artist had to find a personal style, or if a succession of styles -- one signature style at a time.
By inertia or design, mercantile considerations continue to discourage multistylistic practice to this day. Signature style allows galleries to offer a dependable and recognizable line of products. Signature style is what allows critics and museums to remember who is who -- otherwise they would need to consider each artist's work one painting at a time! and that requires special discernment, and a lot more work. It hasn't been long since a few perceptive critics have begun to encourage an option of multimodal work in the same medium (vs multimedia work). John Yau is an outstanding example; as he recently put it, praising a painter in one of his legendary Hyperallergic (NYC art blog) reviews: "His method alludes to a deep sense of inquiry, enhanced by his resistance to a signature style."
We can only speculate whether Guston would have been better off -- avoid major depressions for one -- had he been given a less restrictive choice. We can only speculate what he would have created given such choices. As it is, his later paintings, at a time when his financial situation became stable and his career worries were behind him, showed a broader variety and considerable experimentation. "It's about freedom, to be free, the artist's first duty".
In Conclusion
This exhibition, enticingly inter-hung between all phases of Guston's career, moves one to appreciate the entirety of his oeuvre in a new light. To my astonished eye, even when composing his more "awkward" paintings with his most "crudely" drawn forms, the artist simply could not help himself -- the beauty of his color shines through! irregardless of purported subject matter... spreading to his forms, saved from the world of mundane objects by the quirkiness of their color, the oddness of outlines & placement… . Hot & cool -- crimsonish reds and pale morning blues. And then the pink!
Guston's now celebrated journey back into figuration utilized many of his color discoveries from his abstract phase and provided the underlying continuity that buoyed that final transformation. As he did once before in his career, when dramatically switching to abstraction, the artist opened another window for himself into the unknown, peeked out, and found much to explore. We are all the richer for it.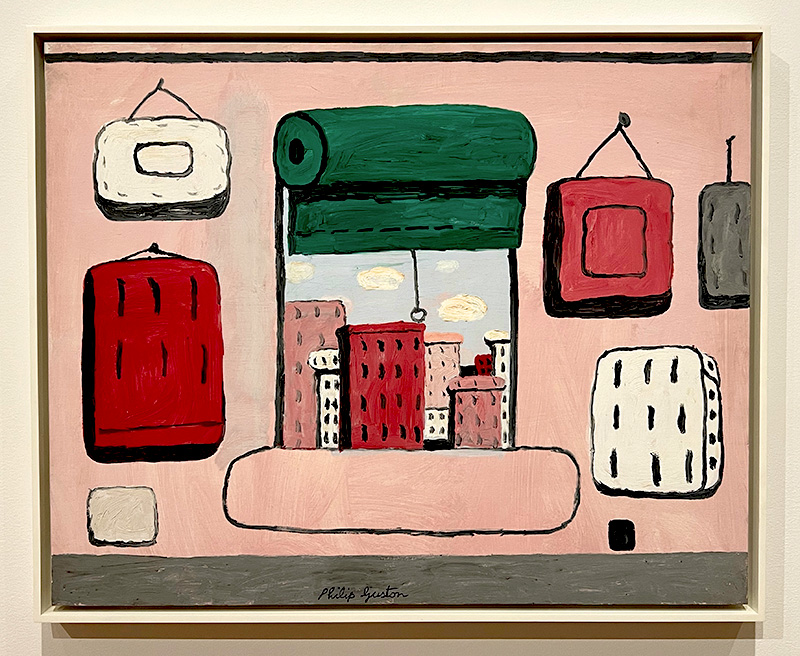 Philip Guston, "Open Window", 1969, oil on panel, 32 x 40 in. (81 x 102 cm), Priv. Coll.
(Installation photo by author)