T

he German/Swiss artist Meret Oppenheim (1913-1985) is a familiar name to readers of Scene4 Magazine*. This fall, starting in October, New York's MOMA (Museum of Modern Art) sets a new milestone in the ever-growing international renown of the artist. The retrospective Meret Oppenheim: My Exhibition closes a circle: in 1936, the museum snatched up the twenty-three- year-old artist's "Object" Рa fur-lined teacup, saucer and spoon. Baptized with ironic double-entendre by André Breton as "Le déjeuner en fourrure" or "Breakfast in fur," the fur-lined teacup was considered the quintessential surrealist art work. It was the first work by a woman ever accepted into the MOMA collections.
Meret Oppenheim had many retrospectives in major European cities, but this one is different. In the eighties, when she assembled her catalogue raisonné, the complete list of her work, she played with the idea of designing the art show that would best represent her oeuvre: "My Exhibition." MOMA chose 180 of the over 200 works of this design.

Oppenheim's European fame has not yet crossed the Atlantic. One can speculate about the reasons: She is a woman. Her work has been regularly misunderstood as part of the passé art movement of Surrealism. Her work doesn't adhere to a recognizable "style." Working in a particular style, she said in a 1983 interview, "would have bored me to death." In short, Oppenheim was too fiercely original to be "branded."
I take this first transatlantic retrospective as an occasion for a quick checkup on the American cultural thermometer: how unknown is Meret Oppenheim?
My first click, of course, was on the encyclopedia of common knowledge, the internet. I clicked on Google / Wikipedia, and oops! --
"Meret (or Méret) Elisabeth Oppenheim (6 October 1913 Р15 November 1985) was a German-born Swiss Surrealist artist and photographer."
Several gaffes at first sight!
Meret is an ur-German name (from a novel by 19th century Swiss author Gottfried Keller) and has nothing to do with French or French accents.
As expected, she is labeled as a "surrealist," a mistake MOMA elegantly corrects by calling her a "visionary artist."
But worse: it's not enough that the artist has worked in painting, sculpture, collage, mixed media and design – she now is also a "photographer." Perhaps the Wiki contributor took the well-known X-ray image of her skull as a selfie?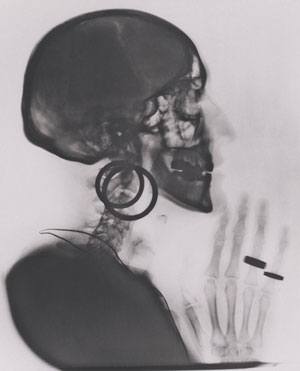 Next I clicked on Google's "People also ask": "Why was Meret Oppenheim important?"
The answer:
"…her work reflected her critical explorations of female sexuality, identity, and exploitation. Oppenheim became known for her assemblages, sculptural works in which she brought everyday, often domestic, items into disturbing and humorous juxtaposition."
Meret Oppenheim would sigh in her grave. Not being defined -- and under -valued – as a woman was essential for her. She was convinced of the androgynous nature of the mind. Art has no gender, was her motto. Her person and work were an avant-garde example of what we call gender-fluid today.
Apart from the nonsense of "exploration," one ought to note the suspicious choice of the word "domestic" in this Google contribution. It's a giveaway of a classic misogynous put-down. Ask yourself: Have you ever seen Marcel Duchamp's urinal (Fountain, 1917) described as a "domestic item"?

When you wonder with another click: "What is a surrealist object?" and you are "feeling lucky" this is what you get:
"The definition of the object is never a scientific or an objective or a conventional meaning. The symbolic value (meaning) is always personal and subjective to the possessor."
Come again? Perhaps the meaning of this surreal definition depends on which computer translation program you try to detect the language of the original.
And so it goes, from one mistake to the next gaffe to another misconception. Under the question, who inspired the fur-lined tea cup, the idea is often ascribed to Picasso, not Oppenheim. But you'll also find the correct story: in 1936, Picasso admired the bracelet Meret was wearing, a cheap metal bracelet she had covered with fur. Picasso, his lover Dora Maar and Meret joked about everything and anything that could be covered in fur. "Like this saucer and that cup," Meret said. Then she asked the waiter to please "bring some more fur" — "Un peu plus de fourrure, gar√ßon!" as the tea in her cup was getting cold.

A remake of this ominous bracelet (and other fashion designs by the artist) can now be bought online. You will soon see more and more American fashionistas wearing Oppenheim's ideas and creations. In time for the show, YouTube offers a film strip of Man Ray and Meret, his model for the iconic nudes with a printing press.

I expect My Exhibition to serve not only as a cultural inspiration but also as a correction of the misguided notions about the artist. MOMA posted a trailer online and introduced the show flawlessly:
"The Museum of Modern Art announces Meret Oppenheim: My Exhibition, the first major transatlantic exhibition—and the first in the United States in over 25 years—to survey this visionary Swiss artist's career. On view October 30, 2022, through March 4, 2023, the exhibition considers the full scope of Oppenheim's lifelong innovation through over 180 works, including paintings, sculptures, objects, collages, and drawings. Over the course of 50 years, Meret Oppenheim (1913–1985) produced an unconventional body of work that was characterized by her fierce originality and wit. At the time of her death in 1985, at age 72, her creations encompassed uncanny object constructions, narrative paintings, and geometric abstractions, as well as jewelry designs, public sculpture commissions , and poetry. The exhibition will explore all of these facets of Oppenheim's career, from early paintings such as Quick, Quick, the Most Beautiful Vowel is Voiding, M.E. by M.O. (1934), to mid-career sculptures such as The Green Spectator (1959), to monumental late works like New Stars (1977–82). Her broad thematic interests ranged from the natural world and mythology to gender and selfhood. 'Nobody will give you freedom,' she stated in 1975, 'You have to take it.'"
1913. Meret Oppenheim - A Profile. 100th Anniversary, Berlin
https://www.scene4.com/archivesqv6/oct-2013/1013/renatestendhal1013.html
1917. Paris Meetings with Remarkable Women
https://www.scene4.com/archivesqv6/2017/oct-2017/1017/renatestendhal1017 .html
2021. A Romance with Frugality
https://www.scene4.com/archivesqv6/2021/dec -2021/1221/renatestendhal1221.html