Just as numerous visual artists made Maine their home, so too, has the state been fertile soil for literary lions – both homegrown and those from away. Contemporary readers, when they conjure up Maine, will think of popular authors like Stephen King or Richard Russo, but my personal favorites hark back to the 19th and 20th century classics.
A tour in search of seven of these begins in Maine's southernmost York County in the tiny town of South Berwick, where Sarah Orne Jewett (1849-1909) lived and wrote for the majority of her career. Best known for The Country of the Pointed Firs and for her poignant short story "A White Heron," her works are renowned for their finely drawn local color, her keen observations of nature, and her sharply delineated characters. A gentle feminist and later in life the companion of Annie Fields in what was then termed a "Boston Marriage,"
Orne Jewett was ahead of her time and only recently been rediscovered for her significant place in American literature. The 18th century Georgian home, where she grew up in the family of a prominent physician, still commands over the town square and is today a museum honoring Sarah Orne Jewett, open weekends June - October.

As one heads north into Maine's largest city, Portland, one encounters poet and author Henry Wadsworth Longfellow (1807-1882) still revered as one of the city's literary lights. The family's imposing brick town house and garden on Congress Street is open to the public under the auspices of the Maine Historical Society, which conducts informative guided house tours June – October. Longfellow was born in Portland and lived there in his youth until he ultimately accepted a professorship at Harvard and moved to Boston. The furnishings and artifacts in the house are largely original, and the knowledgeable docents vividly recreate life in the Longfellow household and conjure up a sense of what early 19 century Portland was like when this majestic home commanded a view of the busy seaport.
Longfellow matriculated at Bowdoin College (1822-1825), just 30 miles north in the town of Brunswick, and after studying languages and literature in Europe, he returned to teach there and live for a short time in an apartment in what is now famed as the Joshua Chamberlain House, directly across from the college.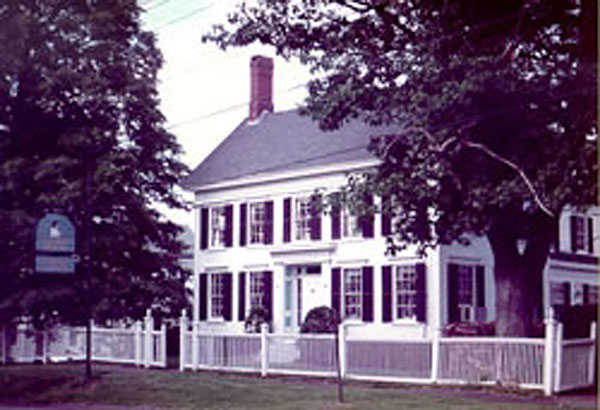 Longfellow was not the only famous literary person to be associated with Bowdoin and Brunswick. Born in Raymond, Maine, Nathaniel Hawthorne's years at Bowdoin paralleled Longfellow's (1821-1825). But perhaps the most famous 19th century literary figure to make Brunswick her home was Harriet Beecher Stowe (1811-1896). "The little woman who wrote the book that started the Civil War," as Abraham Lincoln called her, Stowe moved to Brunswick in 1850 with her husband Calvin Stowe, who was a professor of divinity at Bowdoin College. The Stowes and their seven children lived in an elegant Georgian House on Federal Street, which, today is owned by the college and open to the public for tours and "Tea with Harriet" by appointment in
summers. Ardent Abolitionists, the Stowes used their home as a safe house on the Underground Railroad and sheltered a number of runaway slaves enroute to Canada. In 1851 Stowe was seated in her pew at First Parish Congregational Church when she claimed to have a life-changing epiphany about slavery. Her vision became her most famous novel, Uncle Tom's Cabin, first serialized and then published in book form in 1852. To escape her hectic household, Stowe also availed herself of a room in another house on College and Coffin Streets where she would retire to write. This home is not open to the public, but First Parish Church is, and Stowe's pew #23 is a favorite destination.
Traveling north again from Brunswick, this time up Route 201, the next stop is Gardiner, Maine, the birthplace of Edwin Arlington Robinson (1869-1935). Novelist and poet, three-time winner of the Pulitzer Prize, Robinson made Gardiner famous in his writings under the pseudonym of "Tilbury Town." But his was a love-hate relationship with the place where he spent his "stark and unhappy childhood;" he was scarred by his unrequited love for Emma Shepherd, who married his brother Herman, who, in turn committed suicide. He ultimately moved to New York where he found the literary success he longed for.
The Gardiner Public Library- in itself, a charming stone Gothic Revival building – distributes a well-written brochure that outlines a seven-site walking/driving tour of Gardner, visiting all the places associated with the poet. While none of these – except the library which houses a collection of his papers – is open to the public, the tour does capture a sense of what 19th-20th century Gardiner was like and the influences which shaped Robinson. Perhaps most moving is a visit to the cemetery where Edwin Arlington Robinson is buried in his family's plot, his grave steps from Emma Shepherd Robinson's, interred beside Herman . Walking the idyllic lanes, one hears the mournful chant from his poem, "Luke Havergal" – If you listen she will call./Go to the western gate, Luke Havergal. The western gate is, indeed, a short block from the Robinson homestead, and, apocryphal or not, one cannot help remembering the stories circulated after his death that he was buried with all his letters to Emma Shepherd and hers to him.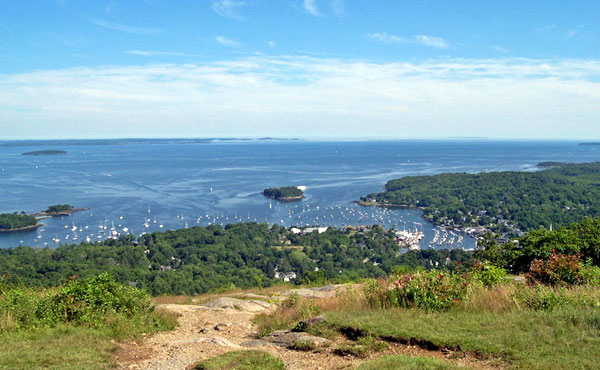 From Gardiner back to the coast and up to the picturesque hamlet of Camden – one of the most beautiful and quintessential of Maine Downeast towns. There poet Edna St. Vincent Millay (1852-1950) made her early home and conceived her literary vocation. After attending Vassar College, she moved to New York and pursued her writing, her feminist and activist agenda, and a bohemian life. Those seeking to walk in Millay's footsteps should use her verse as a guide, culminating in a drive-up Mount Battie to one of the most spectacular views on the entire east coast. "All I could see from where I stood was three long mountains and a wood. I turned and looked another way and saw three islands in a bay" were the words Millay used to describe the view, and these are inscribed on a plaque at the overlook. At time of writing Millay's actual birthplace in nearby Rockland (198-200 Broadway) has launched a campaign to restore the home and open it as a museum.
While these five authors have places easily accessible to tourists, two other favorites, closely associated with Maine, do not have specific sites to visit.
Louise Dickinson Rich (1903-1991) is most closely associated with the western mountains and lake region of Maine, though she later lived in Corea on the Schoodic Peninsula, as well as Cape Cod, Massachusetts. Best known for "We Took to the Woods," (1942) a warm, witty, poetic account of her life in a remote cabin on Umbagog Lake with her husband Ralph in the 1930s. Folksy, yet urbane, hers is a distinctive – and addictive voice. Once you read LDR, you feel as if you know her, and you read her considerable catalog of subsequent books. The Riches' home is in private hands, and the terrain is accessible still only with the aid of a registered Maine guide. To get a sense of her milieu, one can visit Rangely Lake and its environs, though in summer these are very touristy, or drive through rural Oxford County to places like Richardson Pond. LDR's sojourn on the Schoodic Peninsula in Corea is more accessible. A large part of the peninsula is part of Acadia National Park, and there is a breathtaking scenic driving loop, while one can stop in the little fishing village of Corea. But Louise Dickinson Rich remains a bit elusive – just as she and Ralph and their two children took to the woods to escape the outer world, we can find her more in the spirit of the natural world than in any tangible place.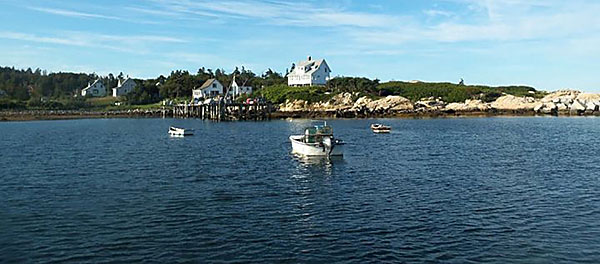 Similarly, Maine author Elisabeth Ogilvie's popular Bennett's Island series depicts life on remote offshore islands in the 1940s and 50s. Ogilvie, herself, lived most of her own life on Gay's Island, off Cushing, Maine, and spent childhood summers on Criehaven, which is the setting for her novels. A ragged island, arguably the farthest inhabited one out to sea, Criehaven is accessed by water taxi, but you can get to its neighboring island, Matinicus by ferry from Rockland. A lobstering community with a population of 72, this rocky, hard -scabble place gives an idea of the remoteness of Ogilvie's settings and the hardy clannishness of her characters.
Today Maine remains a favorite among writers as a retreat, summer or year -round home. There is the natural beauty of the place and the opportunity to find peace and serenity conducive to writing. There is an intellectual climate notably at Maine's universities, especially Bowdoin, Bates, and Colby that attract writers and poets and foster scholarly literary study. And then because Maine is a place which cherishes individualism, the state has proved a nurturing place for many creative, artistic, free spirits. Together with the other arts that have flourished in many – theatre, visual art, and music – Maine continues to be a place that feeds both the senses and the spirit.