William Shakespeare's A Midsummer Night's Dream is a comic play within a play and right up Gertrude Stein's alley. The Steiny Road Poet conjectures that Stein, because she often made reference to Shakespeare in mostly covert ways, might have taken inspiration from this madcap fantasia in her many off-the-wall performance pieces.
The Folger Theatre of Washington DC has increased the level of lunacy (a good word to use since one of the players enacts the role of the moon) in its shortened version of A Midsummer Night's Dream (seen August 10) which ran from July 12 to August 28, 2022, at The National Building Museum. The original play usually runs two and half to three hours, but Victor Malana Maog's colorful adaptation runs 90 minutes without intermission.
Overall, A Midsummer Night's Dream is a series of love stories. Number one concerns the marriage of Theseus—Duke of Athens—and Hippolyta—Queen of the Amazons. The play being worked on by a bumbling group of craftsmen is for the competitive entertainment of the royal couple. The story of their play involves the forbidden love (let's call this number two) between the Babylonian characters Pyramus and Thisby who were first written about by Ovid in his Metamorphoses. Love story number three involves four young Athenians—Hermia, Lysander, Demetrius, and Helena—who get turned around by hormones, a rabid father (Hermia's), and magic dust. Number four showcases the love spat between the jealous Oberon, King of the Fairies, and the wily Titania, Queen of the Fairies, who is holding close a foundling boy. To complicate these relationships, pranks are played by a character named Puck who often works with the fairies to spread their magic dust and create havoc among mortals.
In Maog's adaptation, which is situated in present time, the craftsman Bottom (played by Jacob Ming-Trent) whose head becomes that of a donkey's is courted by Oberon who is under the spell of magic dust. This significant change from the original script where Titania is love dusted and therefore shamed for falling for Bottom (now literally a man looking partially like an ass), becomes a queer love story. Even before Oberon (Rotimi Agbabiaka) is dusted so he will fall for Bottom, he is costumed as a drag queen in a stunning crimson satin strapless gown pulled down his svelte and naked torso to his waist and his feet are shod in high-heeled platform shoes. The costume suggests Oberon wants the boy his queen is protecting more than he wants her.
Less anyone think that the fairy king's costume outshines the queen's, a pause is necessary here. When Titania (Nubia M. Monks) enters Jim Hunter's "Festival Stage" which initially seems like a mirage floating in the National Building Museum's Great Hall with its soaring ceiling and balconies, her entrance makes the audience gasp. Her dress has a train that starts in one of the upper balconies as she stretches across the stage to greet Oberon. Olivera Gajic's costume designs are showstoppers and rightly so for such a magical story and, in particular, this adaptation.
When the play opens, two contemporary songs present as if coming from a disk jockey's mixing board—"I Only Have Eyes for You" and "Dream a Little Dream of Me". Sound Designer and composer Brandon Wolcott does this to limelight the pending union of Theseus and Hippolyta. The action on stage soon erupts as the ragtag players assemble to get their play together. Who will play what part is a big issue and it becomes clear that Bottom wants the main role as Pyramus. The scene is contentious and jazzed and the language is not always Shakespeare's. Right away the audience learns that Bottom clearly has the required talent and Jacob Ming-Trent as Bottom steals the show not only in this scene, but in every scene where he appears. His ability to speak, sing, dance, and move is captivating and memorable. After he loses the head of an ass, he as Bottom through his gestures that describe the donkey's muzzle never lets the audience forget what happened to him.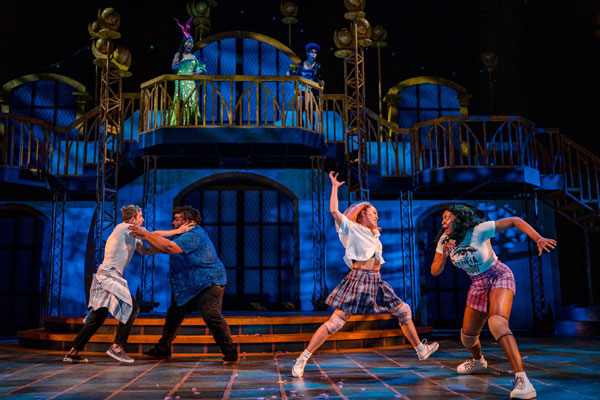 The dancing as choreographed by Alexandra Beller often has the exuberant touches of West African elements especially in the numbers led by Bottom.
Every aspect of this adaption expresses high energy, authenticity, imagination. One hopes this production of A Midsummer Night's Dream will play again and that the Folger Theatre's archival video is better than average.
Photos: B. Diliberto