Every child in Germany or Denmark grows up with the unexpurgated fairy tales of Hans Christian Andersen. Bloody tales in which Cinderella's stepsisters cut off their toes and heels to fit into the dainty slipper; where a horse speaks while its head is nailed to a gate; and where a little mermaid gets her tongue cut off in exchange for human legs, so she can perhaps be loved by a Prince. In Andersen's very lyrical story it's heartbreaking that the little Mermaid can't speak to tell the Prince about herself or her sacrifice, or about having saved him from drowning. What makes the story so compelling that even Walt Disney had to retell it in a cleaned-up, sugar-coated version, is this old-world archetype of a young woman in love. The child-woman who has no voice, just innocence, beauty, grace, and an inexhaustible capacity to suffer for love… in silence. Andersen draws no curtain over her masochism: every graceful step cuts through her like a knife, the author reminds us at every turn. Once she fails to win the Prince's love, she has to kill him if she wants to save her own life. If she wants to regain her fishtail, she has to let his blood run over her pretty legs… We all know how such a story is going to end.
What we don't know is how a mute art like ballet can render this drama of muted love. Hamburg Ballet's long-time director and choreographer John Neumeier has produced an answer in a big blockbuster production of a ballet, created in 2005 for the Royal Danish Ballet as an homage to Hans Christian Andersen. Celebrating the writer's bicentenary, the music for the ballet was commissioned from modern composer Lera Auerbach. It was announced as a "Little Mermaid for adults," a quite unnecessary warning if you read the original tale. All of Andersen's fairy tales were consciously written for both children and adults. But there is a difference in reading a cruel story in a poetic language that veils and uses inference, and being shown the cruelty in merciless detail and with even more brutality than the story already holds.
In Andersen's fairy tale, the mermaid still retains her magical beauty and gracefulness, out-dancing every human woman. Neumeier, however, leaves her with nothing. Her human legs don't work for her; she is a klutz, a crippled waif who sits in a wheelchair on deck of the ocean cruiser where her rival cavorts with the Prince and his merry entourage. The sailors stick her into a sailor-boy's outfit and make fun of her clumsy attempts to join in, but this is only the beginning of her humiliation. It continues at the court and during the Prince's wedding festivities. For the Prince, she is only a child-toy, an oddity like some sort of dwarf or court jester whom he loves to tease and then ignore.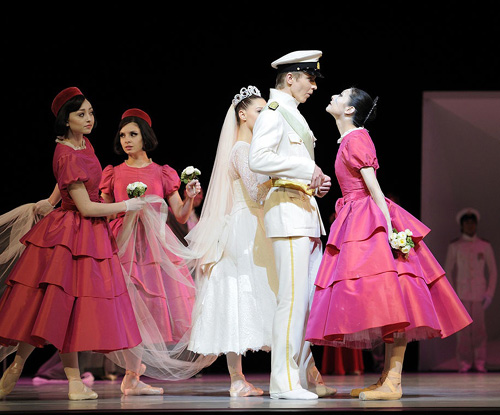 In the course of her calvary à la Neumeier, this Little Mermaid learns nothing. She never manages to walk and dance, she never becomes a possible love interest, and she continues to the end to be an abject beggar for even a glimpse from the callous Prince for whom she has her deadly obsession. "I don't know of another story in literature," Neumeier is quoted as saying, "with such a vision of love." This relentless pleading and clawing is supposed to be love? Why on earth would the Prince choose her, a grotesque, sad, broken puppet?
And why on earth did John Neumeier choose to tell this brutal tale in a ballet that robs its heroine of dance and grace and beauty?