Associate Professor Sannarong Singhaseni is an especially interesting person in the field of art education in Thailand. He is a highly respected person who is loved by his students. It is an honor for me to bring this interview with him about the progress of the art of watercolor paintings with the intention to help spread the work of Thai artists to the international scene. This article is a review of the Art Circle, especially watercolor painting; many artists are unique. In their relationship with of the world watercolor competition Professor Singhaseni was selected as a judge to travel continuously and his experience to help the success of Thai artists is evident.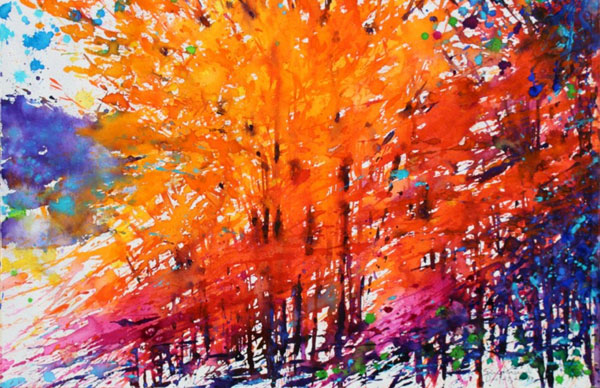 JY . Please tell us about your life and family.
SS. I was born in Bangkok on January 22,1951. I attended Satri Chulnak School, Lan Luang Road, which is a private school for boys and girls. I studied there happily from kindergarten to grade seven (which is the first grade seven in the country that originally only had up to grade 4). Then I moved to secondary school 1-3 at Yothinburana School. It was an all-boys school with a dashing military style, and during that time I got to know College of Fine Arts, from friends and seniors who were studying at a school that only teaches art. It was like a dream school,I came to take the exam to become the 17th generation of College of Fine Arts students. In my parent's house my mother only asked me simply, what are you going to do to earn your living? At that time, I couldn't think about it. I knew only that I wanted to learn to paint. I studied in the 1st -3rd year (1968-1970) with my classmates Vichok Mukdamanee and Sarawut Duangchampa. Now Ajarn Sarawut Duangchampa becomes a National Artist 2017 and Professor Vichok Mukdamanee also a National Artist 2012 who passed away two years ago.
Then I took the entrance examination to study at the Faculty of Painting Sculpture and Graphic Arts Silpakorn University; the 29th class in 1972-1976, is a five-year course. I chose to major in Oil Painting as an art students dream of, and I also chose to study Printmaking because students liked Andy Warhol's silkscreen technique, which was very popular at the time. When we were in the university, we made money by printing t-shirts, selling them, and doing various tasks to raise money to buy colors and canvas from silkscreen techniques.
There are classmates who continue to do art to this day, namely Parinya Tantisuk Sriwan Janehatthakankit and Sompong Adulsaraphan. Now Emeritus Professor Prinya Tantisuk (a National Artist 2018) and the other two are still working in art until today.
After I graduated with a bachelor's degree in the Faculty of Painting (Second Class Honors), I took the entrance exam to be an art teacher at College of Fine Arts in 1979 when Ajarn Sawat Tantisuk (National Artist 1991) was the director of the college. I was assigned to start teaching watercolor for first-year students, which I was very satisfied with because I wanted to instill in the children the correct knowledge-basics of watercolor that I studied at College of Fine Arts and at Silpakorn University.
In 1980, College of fine Arts sent me to take the exam and I received a scholarship: "The Ship for Southeast Asian Youth Programme 1980" I was one of 35 students as representatives of Thailand to traveled and spent two months on board the ship Nippon Maru with 35 youths from ASEAN and Japan from each country. For many of the youth of each country this was their first trip abroad in their lives.
While teaching at College of fine Arts in 1982, Me and Ajarn Vichok Mukdamanee, Ajarn Montien Bunma, Ajarn Somsak Chowtadapong (National Artist 2017), Ajarn Panya Vichinthanasarn (National Artist 2014), Ajarn Sriwan Janehatthakarnkit, and Ajarn Pichit Tangcharoen etc. together with other faculty members and independent artists established a contemporary watercolor group under the name "White Group" (Thailand Contemporary Watercolorists). There were creative contemporary watercolor works that did not adhere to the traditional style of watercolor work. Its goal was to discover new techniques and methods of presentation to Thailand's watercolor circle. The White Group has continuously exhibited contemporary watercolor works both domestically and internationally. There have been watercolor exhibitions for more than 15 years consecutively, from 1982-1997. We joined the Asian Watercolor Confederation, which has members from ASEAN countries. Each country rotates as a host, which included hosting an exhibition "Asian Watercolour Exhibition" twice in Thailand in 1989 and 1995. It was very successful.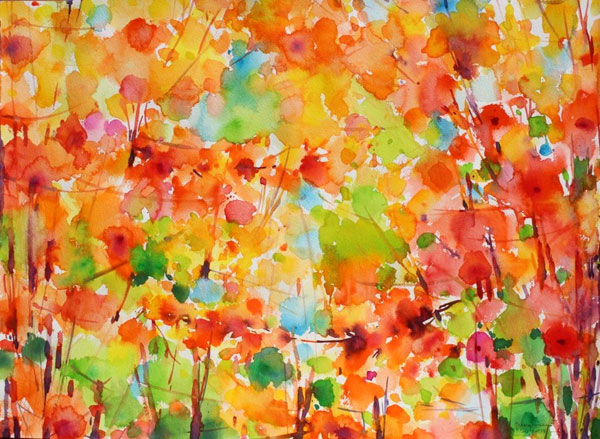 Later, I found time to further study for a master's degree in painting at the Faculty of Painting, Silpakorn University and completed the course in 1986 with an excellent score, presenting a thesis on watercolor techniques. After completing my master's degree, I returned to teach at College of fine Arts. In 1990, I had the opportunity to receive a scholarship from SPAFA (SEAMEO Reginal Center for Archeology and Fine Arts) to train in "Handicrafts and Folkcrafts", Art Center, Denpasar, Bali, Indonesia for up to two months. There I received knowledge and techniques about Balinese folk art that was very useful in creating art. In the year 1991, during which Ajarn Thongchai Rakpatum (National Artist 2010) was the college director. I had the opportunity to help the Ministry of Foreign Affairs organized an exhibition for His Royal Highness Prince Naradhip Bongsprabandh at the United Nations Headquarters in Paris and Geneva for two months which also gave me the opportunity to see the original artwork from real paintings that is not a picture in a textbook for the first time from various museums. Both in Paris and Geneva, it inspired me and I took back the creative energy of those works of art to the fullest.
I taught at College of fine Arts until 1995. Then another major change happened in my life: I transferred to teach at the Department of Fine Arts, Faculty of Architecture King Mongkut's Institute of Technology Ladkrabang (KMITL) with the persuasion of Ajarn Sriwan Janehuttakarnkit who had transferred from the College of fine Arts to teach there previously, with Professor Kiattisak Chanonnart, (National Artist 2006 ) the head of the department at that time, and Professor Decha Warashoon (National Artist 2007), another senior teacher in the department who has always supported me. In 2003, I was given the position of Head of the Department of Fine Arts after Professor Kiattisak Chanonnart, who retired from government service that year.
Throughout my time teaching art at both places, I have taught watercolor and oil painting to undergraduate students, and when a Master's degree program in Visual Arts came up, I had to change to teaching various subjects at the Master's level instead. During a period of 16 years teaching at KMITL I had the opportunity to bring the work of the faculty members in the department to exhibit and exchange exhibitions with foreign institutions many times, allowing them travel to connect with universities and galleries, including seeing work from museums and sharing workshops with many other countries such as Germany, Japan and the USA. In addition, each year we faculty members in the department often gathered to organize trips during the October vacation to visit international exhibitions such as the Venice Biennale, as well as the art museum and art gallery in different cities in Italy,France, German and Japan to increase our knowledge and vision in creating contemporary art. I practiced government service and taught art until the end of retirement in the year 2011. and I was appointed to the position of academic Associate Professor Level-9
Family Life
I am living happily after retirement with a family of three, parents and children, and my wife Khun Pao (Thapthim Singhaseni) who was an early retiree from CIMBTHAI Bank two years before me to take care of Nong Jitt (Samanjit Saengchak) who is a child of Down Syndrome. Nong Jitt is the real sister of Khun Pao who is younger than 16 years old. We have taken care of the younger like a daughter from 2003 until the present. Nong Jitt's real father and mother have passed away. And she was content to choose us as caregivers and call us mom and dad instead.
After retirement, I continued to work in art and teach art continuously being invited as a guest lecturer at the master's level at the Department of Fine Arts, School of Architecture, Art and Design, King Mongkut's Institute of Technology Ladkrabang and a guest lecturer teaching at the master's and bachelor's degree levels at the Faculty of Fine Arts, Bunditpatanasilpa Institute, Salaya. In addition, I am also an external expert to take the master's thesis examination for the Faculty of Painting Sculpture and Graphic Arts, Silpakorn University, Sanam Chan Palace Campus. I joined the judging committee of the National Youth and Juvenile Art Exhibition and as a guest speaker to lecture on art or participate in watercolor training sessions on different agendas.
I work on watercolor painting almost every day. Some acrylic painting, and some oil painting as time and opportunity permit. In fact, after retirement, there should be more time to paint, but with the burden of teaching and taking care of the family, which is very important, the time must be allocated appropriately.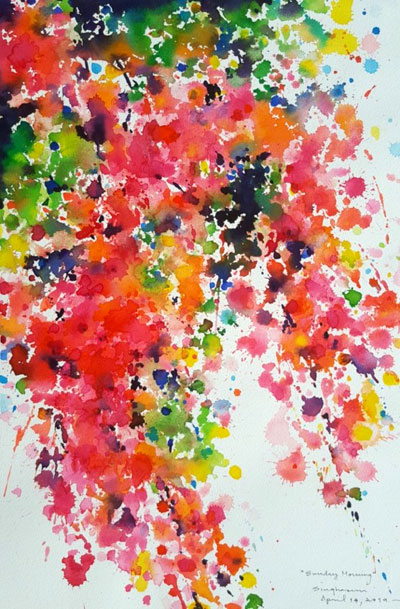 Watercolor painting or artistic work is the main work in my life. It is the release of emotions and thoughts to be immersed in the work. Each and every day, I always think that the next one must fix the "bugs" and make it better than the old one. When getting a new piece of work, it often relies on publishing via social media such as Facebook. I am happy every time I have painted a picture. I researched and tried to find fun techniques to create and use as a teaching medium for my time as a lecturer for the participants of the watercolor training course that the Bunditpatanasilpa Institute opens every year.
Before the outbreak of Covid-19, I usually had the opportunity to travel abroad often, especially to Japan. As my wife, Khun Pao, has a hobby of Japanese sewing (Quilt and Patchwork), making a frequent visit to the annual exhibitions in Tokyo and other cities. I would take this opportunity to see the museums and gallery. Having the opportunity to paint watercolors every time we travel and see work it makes me feel that there is always something new in my mind. The most impressive was probably the trip to stay at a hotel beside Lake Kawaguchiko, in front of Mt.Fuji volcano, where there is nothing to cover your eyes. Waking up to paint Fuji early in the morning late afternoon and evening. The two of us were the happiest days in the world. Brought a lot of beautiful watercolors and drawings back from Mt.Fuji and we plan to go back next year to paint watercolor of Mt.Fuji in Autumn which is the most beautiful season in Japan.
When it comes to hobbies after retirement, besides watercolor painting, another thing that interests me is cooking and baking, but only doing what I want to eat or like. At home, I take care of food for my wife and daughter. The two of them will come up with a menu and tell me in advance what they want to eat tomorrow. Nowadays, thanks to the Internet, YouTube, and Facebook, we can more easily access learning resources than when we were in elementary school, high school or university in the past. Want to cook, make sweets, go to see art in various galleries, both locally and internationally, or want to publish art? It can be done in the blink of an eye. Another thing we both love is watching the Korean television series. It's not only fun but also full of art and moral. There's a lot to gain besides entertainment from these Korean dramas. In the end, just seeing the majestic and beautiful Korean art galleries, designs, and contemporary architectural styles of Korea in the movie brought tears to my eyes. I can only pray that the millionaires in Thailand or the government have taste and dare to invest like this.
JY . Please tell us about teaching, art award-winning watercolor works, techniques, and workshops, both domestically and internationally.
SS. Before going seriously with watercolor, I originally painted with oil paints in a semi-abstract and abstract style, since studying for a bachelor's degree at the Faculty of Painting and first working at College of Fine Arts, but after returning to see contemporary art in France, I began to switch from oil painting techniques to acrylic paints. Worked with acrylic paints along with watercolors all the time, when retired and returned to work at home. Painting on a large easel is starting to be a problem in a small house.
At work, watercolor painting is a technique that is not difficult, does not require a lot of space, and the equipment can be easily moved, making a watercolor painting work that turns from a hobby to a real style during the past 10 years.
The watercolor circle both in Thailand and abroad has become more active. People are more interested in learning or training in watercolors. A new generation of watercolor artists has emerged, all with skills and styles, as well as more interesting unique techniques, including both old and new foreign watercolor artists. Important events sparked the watercolor circle in Thailand our home was very excited in 2014, namely the exhibition. "World Watermedia Exposition,Thailand 2014" at Rajadamnern Contemporary Art Gallery, Bangkok from 11 June – 20 July 2014, organized by the Office of Contemporary Art and Culture. Ministry of Culture with Ajarn Somsak Chowtadapong, myself, and Mr. Sattha Homsawat (LaFe) as a team of curators. The event was very successful, allowing Thai people to get to know watercolor works and meet in person, both Thai and foreign watercolor artists, including organizing a watercolor workshop that was crowded with participants. That is the origin of the growth and development of watercolors in our country continuously until today. I myself had the opportunity to participated in many watercolor exhibitions both in Thailand and abroad.
What I'm proud of is that in 2020 I received "Best Watercolor Artist" Jury Award Tbilisi Watercolor Festival 2020, Tbilisi, Georgia. from Georgia. And after that I won many other awards such as in 2022 – Top 80 Paintings Award "Spring" Malaysia International Online Juried Art Competition 2022. Still-Life & Floral Category, and in 2021 - Top 80 Paintings Award "Autumn" Malaysia International Online Juried Art Competition 2021. Landscape Category. As for the award in my country, the highest award in my life would be in "Silpa Bhirasri Creativity Grants 2007 (A Program to Honor Thai Artists of Distinction 7th Grant Series) exhibited at the Silpakorn University Art Gallery. For an important international workshop, it was an honor to be able to show watercolor paintings and demonstration on behalf of Thai artists in the international watercolor exhibition Fabriano in Acquarello 2018 in Fabriano, Italy.
At present, I am also a guest lecturer who teaches and trains in watercolors for attendees of the general public every year in the summer semester organized by Bunditpatanasilpa Institute. I am trying to find ways and techniques for creating watercolor works that are always evolving, such as the use of watercolor with pen drawing (Watercolor and Pen, some textbooks call it Pen and Wash), and technique: watercolor and Chinese Ink, adapted from traditional Chinese calligraphy to contemporary watercolor in my unique style, to be disseminated for broad benefits by publishing in online media such as Facebook or writing in academic articles and for use in teaching and learning for those who are interested further.
JY . How is the world watercolor circle that has submitted work to the contest important and has changed and developed the work?
SS . At present, the watercolor society in this country has developed and changed according to more popular trends. The most obvious was the year 2014: an exhibition in Thailand, "World Watermedia Exposition, Thailand 2014" at Rajadamnern Contemporary Art Gallery Bangkok. Organized by The Office of Contemporary Art and Culture Ministry of Culture invited watercolor artists from abroad including John Salminen (USA), Joe Francis Dowden (England), Igor Sava (Italy), Liu Yi (China), Konstantin Sterkhov (Russia), Yuko Nagayama (Japan). There were more than 290 works to view. It was an event that sparked people in the watercolor society. We were aroused to see the original watercolor works from professional watercolor artists both in Thailand and abroad at the international level. Meet and talk with real artists who attended the event, seeing demonstrations and a variety of presentation techniques. After that, there was a change in the watercolor circle in the country that drove more activities, including the establishment of watercolor groups and membership in international watercolor associations with global networks: such as International Watercolor Society (IWS) Thailand, IWS Secret Art Garden at Korat, Hua Hin Artists Village of Thawee Kesa Ngam etc.
Organizing exhibitions and workshops at various galleries and venues, submitting entries for contests and participating in annual domestic and international exhibitions held by each country in Asia and Europe in an increasing rotation.There are now more Thai watercolor artists who have won international awards and have been selected to participate in more international exhibitions such as LaFe (Satha Homsawat), Aood Ampawa (Banyat Puangthong).
This causes competition and develops one's own craftsmanship to an international standard even more, including the use of good quality materials, paper, paint, and brushes, making the work valuable both in art and commercial as well. In the year 2018, I had the opportunity to be selected to be a representative of Thai artists (Community Representative) to attend exhibitions and demonstrations of watercolors abroad at Fabriano in Acquarello 2018. It demonstrated that Thai watercolor artists are not inferior to other national artists. The watercolor of Asia and abroad, we still remember each other who are on a Master level, such as Ong Kim Seng (Singapore), Jayson Yeoh (Malaysia) etc., every time we met.
LaFe was also one of the earliest pioneers to showcase his work and Thai watercolor artists around the world. Has received many awards and is well known in the eyes of people in the international watercolor world. LaFe, in particular, had the craftsmanship and creativity to paint a single rose full size on an A1 sheet (56 x 76 cm) beautifully within 1 hour at the demonstration, which became a signature for which everyone in the circle is well known. LaFe is now invited to participate in exhibitions or invited to be judge of many international watercolor contests. It is an honor for Thailand to have representatives of Thai watercolor artists judging work at an international level that is accepted by the watercolor society. For others, becoming an international judge is not an easy task and requires skill and work to be recognized by the International Watercolor Association as well.
After the outbreak of Covid-19 at the end of 2019, the international watercolor competitions and exhibitions that used to submit actual works must be modified to be submitted as artwork files. and displayed in the form of an online exhibition, instead, which has both good and bad results We will only pay the application fee for submitting the work online, but we do not have to pay for the actual submission. As for receiving the award, it is up to the host to agree on who will pay the expenses. Artists who receive the award usually have to pay the cost of sending the award back. For the certificate, in the past, it was actually sent back comes with the returned job, but today's online job fairs can download the certificate online now. If you want to sell, specify the price when filling out the online application. If selling, the host will usually ask for a 30% processing fee. It is expected that after the outbreak has subsided, the event and the watercolor contest in the form of submitting the actual work will be displayed. A number of countries are now starting to resume online and submitting their actual works, such as IWS INDIA Plein Air Festival and Competition in New Delhi 2023, Step by Step International Foundation Contemporary Watercolor Art, Poland, International Watercolor Society Art Contest, including the websites, YouTube, and Facebook of each artist, which is easily accessible and very useful. In terms of trading and selling watercolor works in Thailand, depending on many factors, such as the price increase. Satisfaction of the artist the owner of the work with the buyer who agreed directly is important.
Maybe starting at a hundred to a hundred thousand dollars, gallery consignment prices have to be increased by 30-50%, and charitable auction prices are often higher than the ceiling set by the artist or auctioneer. As for the sale of the work abroad, when sending the work to the show, the artist will inform the price that he has set and add another percentage specified by the organizer. But it is also a good sign for that watercolor works can be sold for hundreds of thousands of dollars. It's nice to have a new generation of collectors who appreciate the work and support the new generation of artists to be encouraged to continue their creations.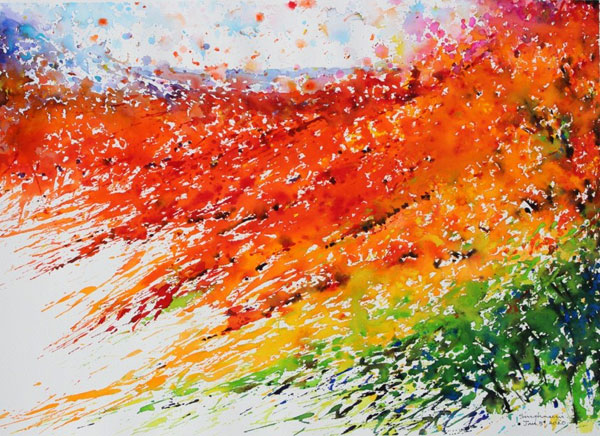 In the end, watercolor for me at the beginning of school has the characteristic that it is thin and transparent. Do not use white or black mixed because it will make the color cloudy and dirty, so I always like to paint a thin, clean, clear color. But over time as one gets older, more experience, more work, and more open thinking. My current watercolor work has so many bright and vivid, sometimes intense colors that I use black Chinese ink to blend with watercolors to make my work look different from the past. Looking more discreet, the important thing is that there is something more interesting to follow.
Sannarong Singhaseni
Born - 1951.
Education
1977 - B.F.A., Painting (2ndHons.), Silpakorn University, Bangkok.
1986 - M.F.A., Painting, Silpakorn University, Bangkok.
1990 - Cert. Handicrafts and Folkcrafts at Art Center, Bali, Indonesia.
Previous - Associate Professor, Department of Fine Arts,
Faculty of Architecture, King Mongkut's Institute
of Technology Lad Krabang, Bangkok.
Retired - 2011
Present - Guest Instructor
Department of Fine Arts, School of Architecture,
Art and Design, King Mongkut's Institute of
Technology, Ladkrabang, Bangkok, 10520.
Faculty of Fine Arts, Banditpattanasilpa Institute,
Salaya, Nakornpathom. 73170.
Awards/Honors
2022 - Top 80 Paintings Award "Spring" Malaysia
International Online Juried Art Competition
Still-Life & Floral Category.
2021 - Top 80 Paintings Award "Autumn" Malaysia
International Online Juried Art Competition
Landscape Category.
JIWI Japan International Watercolor Exhibition, Nigata, Japan Autumn 2021.
"Top 100 Artists" Celebrate the 100th Anniversary of the Founding of the
Communist Party of China.
"Top 80 Paintings Award "Spring" S Malaysia, International Online Juried Art Competition, Still-Life and Floral Category.
JIWI Japan International Watercolor Exhibition, Nigata, Japan Summer 2021.
2020 - "Best Watercolor Artist" Jury Award Tbilisi Watercolor Festival 2020, Tbilisi, Georgia.
"Top 80 Paintings Award Malaysia International, Online Juried Art Competition, Floral Category.
"International Watercolor Society (IWS) Thailand, Watercolor Master Artist 2020 Award", by International Watercolor Society Globe Network.
2018 - Thailand representative artist demonstration in Fabriano in Acquarello 2018, Fabriano, Italy.
2007 - Silpa Bhirasri Creativity Grants 2007. (A Program to Honor Thai Artists of Distinction 7th Grant Series).
1990 - SPAFA Scholarship for "Handicrafts and Folkcrafts", Art Center, Bali, Indonesia.
1985 - Scholarship for M.F.A. Degree, Silpakorn University.
1980 - Scholarship for "The Ship for Southeast Asian Youth, Programme 1980".
1972-1976 - Scholarship from Thai Farmers Bank.
Solo Exhibitions
2015 - "Sannarong's Watercolour" at Kinokuniya, Siam Paragon and Isetan ,World Trade Center, Bangkok.
2011 - "The Story of Colours" at Jamjuree Art Gallery, Bangkok.
2002 -"Me and My Colours 1995-2002" at The Gallery of
the Faculty of Painting Sculpture and Graphic Arts, Silpakorn University.
1994 - "From Past…to Present" The National Gallery, Bangkok.
The Art Corner, Bangkok Playhouse, Bangkok.