Great opera with impassioned music and subject matter not only engages its audience but meets them where they live now. So it was with Carlisle Floyd's 1955 opera Susannah written in reaction to McCarthyism and as produced in the Barns at Wolf Trap Foundation for the Arts (Vienna, Virginia) by Wolf Trap Opera under the baton of Stephanie Rhodes Russell and direction of Dan Wallace Miller. This company premiere included three performances. The reviewer enjoyed the August 14, 2022, performance.
Floyd based his libretto on the Apocryphal tale Susannah and the Elders which can be found in the Catholic version of the Book of Daniel. Set in rural Tennessee, Floyd's story deals with church-going men who malign an innocent girl to cover their lust after they spy on her as she bathes in a stream on property owned by her brother and herself. The men feel self-righteous because they have been sent to find a creek where the visiting preacher Olin Blitch can baptize the town's congregants.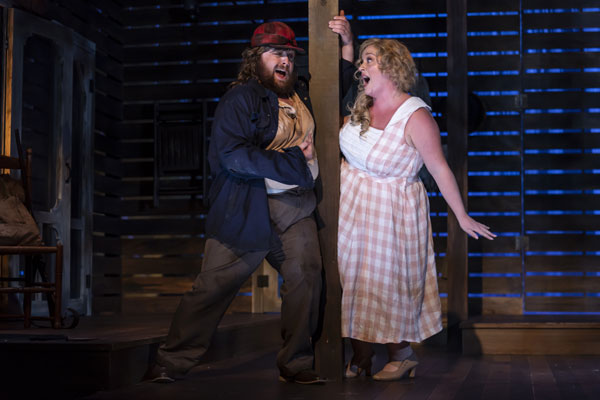 In Act I we meet Susannah Polk as sung by soprano Ann Toomey at a town dance where all the men, including the visiting preacher, take turns dancing with her (the prettiest girl in town), much to the disapproval of the married women. Later she jokes with her friend Little Bat (bass Joseph Leppek) about the Reverend Olin Blitch (Bass-baritone Christian Pursell), who stepped on her feet.
The next evening, she is turned away from a church supper. For comfort, she begs her older brother Sam Polk (tenor Robert Stahley), who has raised her after their parents died, to sing the comic Jaybird Song like their father would do for her at bedtime. Sam's willingness to sing it demonstrates his love for his sister. In the duet "It's about the way people is made," Sam consoles Susannah as she puzzles about the cold treatment she experiences from the town's elders. Toomey and Stahley deliver Floyd's most poignant music of this opera with moving tenderness. Later that evening, she gets a visit from Little Bat who tells her that the town elders saw her naked as she bathed and now demand that she repent for her sins. Little Bat, who is mentally challenged, also confesses that he has been forced to say that Susannah had seduced him. Outraged, she orders Little Bat to leave.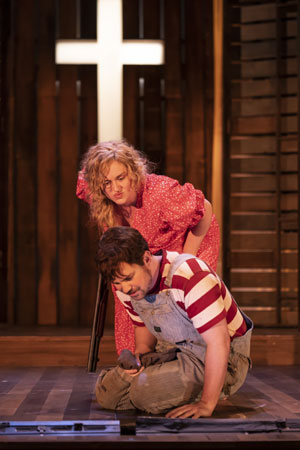 As Act II opens, Susannah begs Sam not to leave her alone. He says he must go and attend to his traps, and she asks him to return swiftly and not to drink. He urges her to go to town to the preacher's meeting and stand up for herself. Pursell as Blitch gives an energetic sermon where many come forward to confess and he especially urges Susannah to confess her sins. With effort, she pushes him away and returns home. However, Blitch follows her and when he can't persuade her to bend to his spiritual will, he declares he is a lonely man. He forces himself on her and she gives in, too exhausted to fight him off. He is surprised to learn she is a virgin and innocent as she had claimed. He tells the townspeople she is innocent of sin, but they refuse to hear it.
The next day while Blitch is baptizing the confessed sinners, Sam returns and learns what happened to Susannah. He asks her why she let him molest her. She answers she is "tired o' livin'/ In a world where the truth has to fight/ So hard to git itself believed," Sam grabs his shotgun and runs to the creek where he shoots Blitch dead. Little Bat appears to tell Susannah to run. The angry townspeople descend on Susannah looking for Sam, but she greets them with her rifle, and they leave. Then she mockingly invites Little Bat to make love to her but sends him on his way with a slap.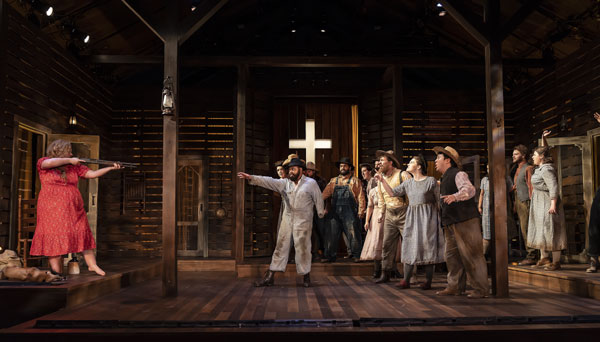 The music for Act II ratcheted up many levels in sound and intensity. The cast ably performed at this emotionally charged pitch, with standout performances by Toomey, Stahley, and Purcell.
The 38-piece orchestra of strings, woodwinds, horns, percussion, and harp was hidden from view on stage behind the stationary set. Built of dark wood, the set had a variety of doors and windows. It worked for most of the scenes except when the elders discover Susannah bathing nude, and they peer into a door as if they are seeing the creek inside the Polk house.
Floyd's Susannah presents as a cautionary tale in today's troubled and troubling times where lies, hypocrisy, and misogyny dominate our headlines and threaten the American dream for equality, justice, and the pursuit of happiness.