"The secret of a great fortune without apparent cause is soon forgotten, if the crime is committed in a respectable way." This is an English translation from 1900 of a line from Balzac's Pere Goriot. Mario Puzo simplified the quote to use as the epigraph for The Godfather: "Behind every great fortune there is a crime." Either version of the quote can be considered the basic concept behind any number of television series from the last quarter-century, from The Sopranos to Breaking Bad to Yellowstone.
Ozark, the program created by Bill Dubuque and Mark Williams, just ended a four-season run on Netflix. It stars Jason Bateman and Laura Linney as Marty and Wendy Byrde, a Chicago financial adviser and his ex-politico wife. Marty and Wendy are alienated from each other, and their teenage children Charlotte (Sofia Hublitz) and Jonah (Skylar Gaertner) are alienated from them. One late night Marty gets a panicked call from his business partner Bruce Liddell (Josh Randall) and goes to meet him. With Bruce is the last person in the world Marty wants to see: Camino "Del" Del Rio (Esai Morales), enforcer for a Mexican drug cartel. Marty and Bruce have been laundering money for the cartel for ten years, and Bruce—without Marty's knowledge—has skimmed $8 million. Del refuses to believe that Marty did not know. After shooting Bruce and several others and dissolving their bodies in acid, Del and his goons are preparing to do the same to Marty. Marty—in the first of countless acts of split—second thinking—remembers a brochure Bruce gave him about the Lake of the Ozarks. He claims he can go to the Ozarks, buy up local businesses and launder enough money to recoup the cartel's losses.
From this point Ozark is a compendium of desperate behavior, Machiavellian calculation, and deadly violence. From Bruce's acid bath to the final two killings—one of a particularly beloved character—the body count in Ozark approximates that of Game of Thrones.
Some writers have compared the Byrdes to an invasive species, and it is difficult to refute that comparison as Marty and Wendy arrive in Missouri, devour every failing business they can find, open a riverboat casino, and insinuate themselves into the state's political power structure. Everything and everyone they touch, they blight, even as they lunge at each other's throats. Whereas Marty is concerned with maneuvering however he can to keep the cartel from killing him and his family, Wendy sets her sights higher, toward establishing a charitable foundation (funded mostly with graft and drug money) and becoming a political power broker. Each insists his or her way is the only way to keep the family safe. That family—namely Charlotte and Jonah—reacts badly to Wendy and Marty's machinations. Charlotte seeks emancipation from her parents, whereas Jonah becomes obsessed with drones and guns.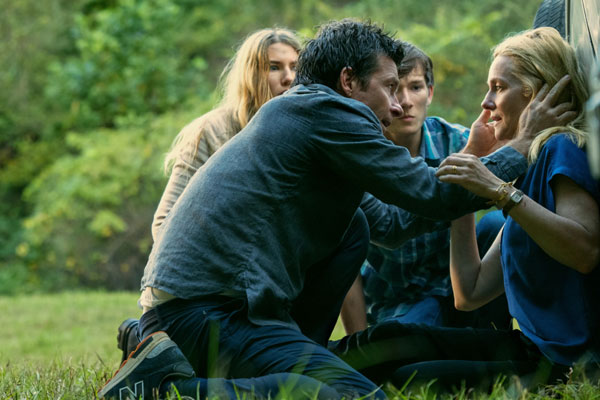 Ozark is so thick with incident that its plot is impossible to cover in an average -sized review. However, the show is a prime example of Fitzgerald's dictum that "action is character." Oh my, those characters. To write about them as they deserve, I would have a review as long as the Oxford English Dictionary. I can only divide them into the hateful and the lovable. Leading off the former list are Marty and Wendy, although Bateman and Linney ensure they have many moments when our hearts ache for them. There are the cartel leaders: Omar Navarro (Felix Solis), his sister Camila Elizondro (Veronica Falcon), her particularly vicious son Javi (Alfonso Herrera), and cold-eyed lawyer Helen Pierce (Janet McTeer). There is pharmaceutical executive Clare Shaw (Katrina Lenk), who is willing to commit any infamy to save her company and herself. There are the Langmore brothers—Cade (Trevor Long), Russ (Marc Menchaca), and Boyd (Christopher James Baker)—who want to kill Marty and steal his loot. There is arrogant, out-of-control FBI agent Roy Petty (Jason Butler Harner). There is Nathan Davis (Richard Thomas), Wendy's sanctimonious drunk of a father, who helps us understand how Wendy got the way she is. Worst of all—and that's saying something—are Jacob and Darlene Snell (Peter Mullan, Lisa Emery), a down-home couple who have imaginative ways of distributing the heroin they make on their farm, and of ridding themselves of their enemies.
The lovable characters tend to be unfortunate. They lead off with Buddy Dieker (Harris Yulin), the crusty old eccentric who sells the Byrdes his house and ends up being their salvation at a crucial time in the story. Rachel Garrison (Jordana Spiro), owner of a rundown resort, becomes a victim of the war between Marty and Petty. Preacher Mason Young (Michael Mosley), who wants his own church, suffers an even worse fate in the war between the Byrdes and the
Snells. Wyatt Langmore (Charlie Tahan) wants only to escape his family's criminal life, attend the University of Missouri, and become a writer. (Guess how that turns out.) The two most poignant are Ben Davis, Wendy's bipolar kid brother, and Ruth Langmore, Wyatt's tough-talking, tough-acting cousin. Ben and Ruth find momentary happiness together, but their happiness, shall we say, does not fit the cartel's plans.
As Ben and Ruth, Tom Palphrey and Julia Garner give the two most striking performances in the show. Ben cannot control his emotions or his mouth, and that paints a bullseye on his back. Palphrey makes Ben's pain, and his fate, unbearably sad. Garner, who appears in virtually every episode, is extraordinary; she makes Ruth the show's signature character, even more than Marty or Wendy. A wicked combination of intelligence, passion, and rage, Ruth is as violent and calculating as any of the other characters, yet she has an inner core of love and loyalty that makes us forgive her almost anything. Ruth is a modern-day version of the roles Bette Davis played in her early career, and it is not hyperbolic to compare Garner with Davis.
The writers and directors of Ozark (Bateman and Linney are among the latter) use the actors superbly, crafting episodes that combine palm-sweating suspense with a mordant view of the American elite. The final episode is too abrupt—there were enough story lines to keep the show going at least another season—but appropriately bleak. Several plot threads are left dangling, but isn't that like life? The end of Ozark gives the audience no sense of closure or catharsis; it only presents the winners and losers. The winners will bequeath their wealth, amorality, and corruption to future generations. The losers will not have future generations.
The end of Ozark provides a convenient transition to Billions, the series created by Brian Koppelman, David Levien, and Andrew Ross Sorkin, which has aired six seasons (and counting) on Showtime. Chuck Rhoades (Paul Giamatti) and his family are a reasonable facsimile of what the Byrdes will be two or three generations from now. Bobby Axelrod (Damian Lewis), Michael Prince (Corey Stoll) and their families and associates bear some resemblance to the Byrdes of today, give or take a few dirty deals. These are people who kill with insider trading, hostile takeovers, and indictments, not bullets.
The action of Billions is more cerebral than that of Ozark, but it's every bit as wild. You're clued in by the show's very first scene, in which Chuck is naked and bound to a table, getting the full treatment from a dominatrix. In the last scene of that episode, we discover the dominatrix is his psychiatrist wife Wendy (Maggie Siff).
Chuck, a child of wealth, is the U.S. district attorney for the Southern District of New York and boasts of his 81 convictions for financial crimes. This creates a potential conflict of interest, because Wendy is house therapist for an enormous trading firm, Axe Capital, of which Bobby Axelrod is CEO. Bobby, a self-made tycoon from the working class, trusts Wendy to boost his employees' morale, whip them into shape, and keep them from becoming too rebellious.
At the beginning of Billions, Bobby is beloved by New Yorkers because of his generosity toward the families of 9/11 victims (he was the sole survivor in his office). But beneath his beneficent exterior beats the heart of a shark. His grief over his lost associates did not prevent him from making deals that amounted to his profiting from their deaths. He lives to avenge himself on anyone who has ever offended him in any way. "What good is fuck-you money," he says, "if you never say, 'Fuck you?'" Bobby's wife Lara (Malin Akerman), another child of the working class, is her husband's enthusiastic enforcer. (Wait till you see what she does to an author who tries to blow the whistle on Bobby.)
Chuck would love to take him down but is waiting for the opportune moment. "A good matador doesn't try to kill a fresh bull," he says. "You wait until he's been stuck a few times." Wendy, a woman of divided loyalties, is skeptical of her husband's motives for pursuing Bobby. When Chuck tells her that he serves the public good, she replies, "No, you serve the good of Chuck Rhoades. Maybe sometimes they intersect."
Like Ozark, Billions is an epic of dirty deals, albeit with far less literal bloodletting. We see schemes advance and implode, revenge plots succeed and fail, friends become enemies and vice versa. Always at the forefront is the psychology of the dealmakers. It is clear from the beginning that Bobby and Chuck are both riverboat gamblers. Playing to win, at all costs, is their overriding concern, Often the audience is more sympathetic to Bobby than Chuck, despite Chuck being on the right side of the law. Wendy is right; Chuck mostly uses the law as a weapon to silence his opponents and advance his political ambitions. There is an edge of mutual class resentment between Bobby and Chuck, and our natural sympathy in that instance is for Bobby.
Chuck had a sterling example growing up: Charles Rhoades Sr. (Jeffrey
DeMunn), a grand old man of Wall Street who never met an SEC regulation or moral scruple he couldn't gleefully flout. The father-son relationship is complicated. We see that Chuck's crusade against financial chicanery is a continuing rebellion against his father and everything he stands for, yet Charlie and Chuck are close, and Chuck listens carefully to his father's advice on how to proceed against his enemies. They share a common enemy in Bobby, whom Charlie can't forgive for forcing his mistress off the board of directors of a snack cake manufacturer.
The plots and conspiracies of Billions continue in this way throughout progressive seasons; at one point Chuck, Wendy and Bobby even sit down together to devise a plan to save themselves from ruin. The recurring figures they encounter, for good or ill, are played by an impressive Who's Who of character actors, including John Malkovich, Clancy Brown, Rob Morrow, Samantha Mathis, Nina Arianda, Jerry O'Connell, David Strathairn, Eric Bogosian, Campbell Scott, Anthony Edwards, and the aforementioned Harris Yulin and Richard Thomas.
The most important supporting characters include Bryan Connerty (Toby Leonard Moore) and Kate Sacker (Condola Rashad), assistants to Chuck who later turn against him for vastly different reasons; Michael "Wags" Wagner (David Costabile), rakish chief operating officer of Axe Capital who also functions as Bobby's id; warring Axe Capital traders Mafee (Dan Soder) and "Dollar Bill" Stearn (Kelly AuCoin); Ira Schirmer (Ben Shenkman), Chuck's confidante and old law school classmate; Daevisha "Dave" Mahar (Sakina Jaffrey), New York attorney general who helps Chuck out of a jam; Scooter Dunbar (Daniel Breaker), Michael Prince's right-hand man; and Ari Spyros (Stephen Kunken), SEC official turned Axe Capital functionary, who has a comically inflated sense of his own importance. The most intriguing is Taylor Mason (Asia Kate Dillon), unsmiling, non-binary financial whiz who serves as a gadfly to Bobby both in and out of Axe Capital.
It is no fair to tell you how Billions makes the transition from Bobby to Prince in Season 5 as Chuck's chief antagonist. What it is fair to tell you is that the tone of the series changes perceptibly in Season 6. I miss the electricity of Lewis' performance, but Stoll brings his own sinister gravitas to the show. Whereas Bobby, even at his most charitable, is nakedly out for himself, Prince cultivates the image of a well-funded saint who only desire is to save the world. Chuck comes to perceive that Prince is more dangerous than Bobby ever was. Although Billions is a show in which you can never say never, there seems little chance Chuck and Prince will ever sit down together to discuss strategies for their mutual benefit.
Viewers will have to wait until early 2023 to see Season 7 of Billion sand the latest battles between Chuck and Prince. The saga of Ozark ended with the final gunshot and fade to black in Episode 44. Showtime and Netflix subscribers can easily find all the extant episodes of both shows. Those who come to Ozark and Billions as neophytes will find two of the most addictive series ever, even if—given the current financial and political state of America—they cut uncomfortably close to the bone. The current morass may be larger than usual, but it is not different in kind from what the world has always seen. Balzac, in his tomb at Pere Lachaise, must be smiling ruefully to himself.