This lush colorful exhibition at the Philadelphia Museum of Art until January 29, 2023, is magnified by how well it is curated. Introductory text lets the visitor know that while Matisse (1869-1954) was an established star of the art world, he was struggling with artist block as he came into 1930. Invited to serve on an artistic award jury in Pittsburgh, he stopped first in Philadelphia to see Albert Barnes who had been collecting works by Matisse since 1912 when Barnes purchased two Matisse paintings from Gertrude Stein and her brother Leo. According to Stein in her 1912 word-portrait of Matisse, he was struggling then as well to define his art, but she also noted that Matisse knew that he was "a great one."

In that September 1930 meeting, Barnes commissioned Matisse to create a mural for the main hall of the Barnes Foundation then located in Merion, a suburb of Philadelphia. The Matisse in the 1930s exhibition shows us a video of Matisse and his dog going up and down a moveable staircase as he worked on La Danse, the large mural that would take him several attempts to perfect. The mural, which he developed with paper cutouts, was completed by 1933.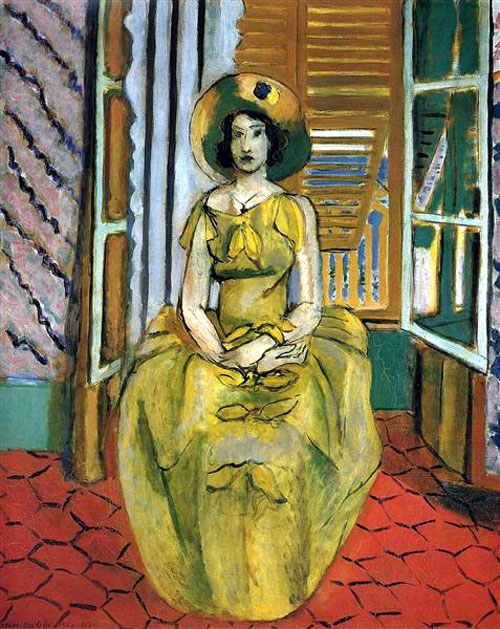 During this decade, Matisse developed new approaches (styles and methods) to his architecturally large and canvas-sized artwork. However, the curators also show us an example of a painting he struggled with in The Yellow Dress (1929-1931). The curators tell us "Pentimenti, or visible corrections, show us that he expanded the taffeta dress, and he decided not to show the chair, resulting in a striking effect of weightlessness."
The exhibition is presented chronologically in these sections: "Interiors and Odalisques" (from the Nice, France period 1917-1930), Barnes mural and illustrated books of poetry (including the poetry of Stéphane
Mallarmé), "Artist and Model" (includes Large Reclining Nude—from Baltimore Museum of Art), "A Mural in Motion" (Matisse's collaboration with Ballets Russes de Monte-Carlo on Red and Black ballet—video), and drawings done while he convalesced from abdominal cancer surgery.
There are numerous artworks worthy of attention in this exhibition and not popularly known. The advantage of having this show open at the Philadelphia Museum of Art is that one could continue the pleasure of seeing works by Matisse, including La Danse, at the new location of the Barnes Foundation which is within short walking distance if planned carefully. Reservations are required in both museums.
Matisse in the 1930s was curated by Matthew Affron, Muriel and Philip Berman Curator of Modern Art at the Philadelphia Museum of Art; Cécile Debray, president of the Musée Naitonal Picasso-Paris; and Claudine Grammont, director of the Musée Matisse Nice. The exhibition will be mounted next at the Musée de l'Orangerie in Paris from Feb. 27 through May 29, 2023, and concluded at the Musée Matisse Nice from June 23 through Sep. 24, 2023.