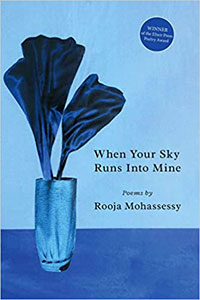 After my review last month, I had planned to take some time off from book reviewing and attempt some personal writing. But then two powerful new collections came to my attention, so I must ask for my readers' indulgence for two more months of poetry books.
Currently under review is When Your Sky Runs Into Mine, the remarkable debut of Iranian-American poet Rooja Mohassessy. Mohassessy was forced to flee Iran at the age of twelve to escape the oppressive clerical regime. She had already lived through the revolution that brought the mullahs to power and through the horrific Iran-Iraq war. First in Italy, now, after a peripatetic existence in various parts of the world, she resides in California.
Though she writes in English, many of her poems are enhanced by words and phrases in Farsi, reflecting the immensely long tradition of Persian poetry. The great Persian poets Hafez and Rumi make appearances. And presiding over all is the poet's uncle, the great Iranian artist Bahman Mohassess, the tutelary spirit and one of the dedicatees (the others being her maternal grandmother and the women of Iran—"its true warriors") of the collection.
The book begins with the literal fall of the Shah. "The television is louder." The child is watching "grownups bang into one another…and tug at a rope tied to his neck./Eventually he will stagger off the pedestal into grass." ("Iran Politics in First Grade") It ends with a tribute to the poet's great -grandmother. "Today I celebrate my only bangle/my one-hand applause/the gold leaf on my family tree/my hand-hammered heritage//Here, it whispered, rub some kohl/under your eyes before you step out,/then let me hear you/pronounce your name." ("My One Bangle")
In between comes the growing repression by the Islamic fundamentalist government, the horrors of the war with Iraq, the pain of departure and exile, and the attempt to live between two cultures, two worlds.
The tightening control by the government is first seen in "Hijab in Third Grade" as the speaker is fitted with the required new uniform for schoolgirls: "In the mirror buttoned up the midline/to the schoolgirl's throat is midnight/falling darkly to her ankles, shunning/her shins." In "Death Was Like a Desire," "The advent of the gauze cape and black turban/signaled the growing list of God's mandates."
A harrowing series of poems documents the effects of the Iran-Iraq War, first on the poet's family and then the country at large. "War tricked us into thinking it wouldn't stay/while draining from its corner seat/my father's middleclass pockets…." ("War") The horror of chemical warfare is depicted in "They Were Blind and Mad, Some of Them Were Laughing, There Was Nobody to Lead the Blind People": "Chemical warfare is child friendly/smelling of sweet apples,/geraniums…. O mothers!/Come take back your mangled sons/from the fields. They have lost/their way to you."
The book is not only a chronicle of privation and terror, however. The poet recalls her entranced reading of the Koran in "Intoxicated by Verses": "How scholarly she is at ten/squatting cross-legged, hunched over/the book of spells she spreads daily on her knees." A flicker of hope for friendly or at least cordial co-existence is noted in "Mrs. Fahramand and Mrs. Henderson Share Drinks on the Eve of War," in which an American woman, with one of the Gulf Wars looming, visits a (presumably) Iraqi woman's California home for lunch, cocktails, and conversation. Though slightly awkward in the beginning, the speaker soon "realize[s]'s it's mere temporary mercy,/yet it saves us." Following a long afternoon of eating and drinking, Mrs. Farahmand reflects "look how well we managed/against such heavy odds and shed no blood."
This collection is so rich and varied that one could fill pages with excerpts and quotations and still not account for the power and beauty of the poems. Instead, I'll close with one final passage in which the poet bids goodbye to her uncle, the great artist who died in Italian exile. "You poured her like pearls into my lap as though/she were yours to bequeath—this country that now/shrugged you off as you made ready to die, frightened/the night would come where you would need/ask of her to raise your head for a sip of water." ("Beloved")
Learn more about the poet and order When Your Sky Runs Into Mine. here: https://www.roojamohassessy.com/
Rooja was kind enough to answer a few questions I posed to her.
Thank you for agreeing to speak to us.
Please share a little bit about your journey to the U.S.
I have been in and out of the U.S. for years. One of my earliest memories is experiencing Chinese food in New York.
Could you tell us about your uncle, the artist, Bahman Mohassess , who was such a great influence on you and you work?
My uncle does not need an introduction. He is a well-known and celebrated figure in the art world. My relationship with him was complex and beautiful. I have tried to convey some sense of that in my book.
How did you come to write your poems in English?
As you know, much of the world is multilingual. As a child, I attended a bilingual school run by Italian nuns who taught in English. I speak five languages but I write in English.
What poets have influenced or sustained you in your work?
The typical authors of the Western canon taught at schools and universities in the 80's and 90's are by default my influence, though perhaps the modernists have left the strongest impression. I am moved by different poets for different reasons. I admire the work of Ishion Hutchinson, Yusef Komunyakaa, Kwame Dawes, for instance. These are poets I trust and draw inspiration from.
And finally, what are you working on now and can we expect another book soon?
I am working on poems all the time though recently book promotion and touring have been occupying some time. I don't have a particular project. I write about whatever I am moved by, something in the garden, on the
news, a memory. Though at the moment I have been writing in response to the unrest in Iran.
For more extensive interviews with Rooja:
https://theadroitjournal.org/2023/02/21/a-conversation-with-rooja -mohassessy/
https://rhinopoetry.org/reviews/when-your-sky-runs-into-mine-by-rooja -mohassessy
https://bit.ly/458uAxm