Three well-regarded films from the past year share the trope of putting their protagonists in dire peril from the beginning. In one of them, Oliver Hermanus' Living, it is the most familiar, inescapable peril of all: Rodney Williams (Bill Nighy), a 1950s senior bureaucrat in the London County Council, has terminal cancer. His only choices are how much living he can pack into his last few months, and how much good he can leave behind.
With a screenplay by Kazuo Ishiguro based on the Kurosawa classic Ikiru, Living presents a dark, shabby London not fully recovered from the Blitz and postwar austerity. "County Hall," the LCC's headquarters, is the living embodiment of Dickens' Circumlocution Office: petitioners are shunted from bureau to bureau, where flunky after flunky in turn disclaims responsibility. Williams, a cold fish feared by his subordinates, is typical of the council's leadership—until he discovers he is dying.
Williams' final adventures include a night on the town in Brighton with his new acquaintance Sutherland (Tom Burke} and a fumbling attempt to make connection with Margaret Harris (Aimee Lou Wood), a young woman who formerly worked in his office. Williams' son Michael (Barney Fishwick) and daughter-in-law Fiona (Patsy Ferran) think he has lost his mind, and Williams cannot bring himself to tell them of his impending death.
Williams finally seizes on a potential legacy: a group of East End housewives has lobbied County Hall for months, trying to persuade the Council to renovate an ugly, dangerous vacant lot into a playground for their children. Williams becomes their champion, and his efforts become the moral and spiritual crux of the film.
Ishiguro, the Nobel Prize-winning author of The Remains of the Day, was uniquely qualified to transpose Ikiru to an English milieu. Like Stevens, Remains' butler-protagonist, Williams has measured out his life with coffee spoons; he has been a good cog in the British class machine, always repressing his feelings and never speaking out of turn. Mortality frees him to make a gesture, however small, toward acknowledging his own humanity. A letter Williams leaves for his young colleague Wakeling (Alex Sharp), read by Nighy over a poignant final image borrowed directly from Ikiru, sums up Living's message affirming the evanescence and preciousness of life.
Hermanus and cinematographer Jamie D. Ramsay create a visual palette in keeping with Living's theme. From the beginning they establish a motif of circular motion—a traffic roundabout, a grand circular staircase—consonant with Williams' restricted world. Hermanus also is masterful in using music to underscore the film's emotional content. The selections include Dvorak's Serenade for Strings, Vaughan Williams' Fantasia on a Theme by Thomas Tallis, and—most importantly—a Scottish folk song, "The Rowan Tree."
All the acting is excellent, but Bill Nighy as Williams is something else again. Long one of Britain's most accomplished and versatile actors, Nighy has seldom had the opportunity to carry a movie on his own, but in Living he seizes our attention in a performance of the most nuanced, understated poignancy. He is fully the equal of Anthony Hopkins in James Ivory's film of The Remains of the Day, and I can think of no higher praise.
Charlie—the lead character of Darren Aronofsky's The Whale—might or might not be considered the author of his own misfortune. At the beginning, we see Charlie (Brendan Fraser) teaching an online college English class and discussing the students' essays about Moby-Dick. He can see his students, but they can't see him; he has deliberately turned off his webcam, to hide the fact that he weighs six hundred pounds.
Charlie lives alone in a dark apartment, with few visitors except for Liz (Hong Chau), the sister of his late lover Alan. He lives on pizzas and meatball subs, devouring them two at a time, leaving the money for the delivery guy in his mailbox. Charlie left his wife Mary (Samantha Morton) and daughter Ellie (Sadie Sink) eight years before to move in with Alan; Alan's suicide created depths of grief and guilt that he can assuage only by binge eating.
Liz, a nurse, is terrified that Charlie is dying of congestive heart failure and tries to persuade him to go to the hospital, but Charlie insists he doesn't have the funds. Meanwhile, two new visitors disturb his solitude. The first is Thomas (Ty Simpkins), an overweening young missionary who wants to save Charlie's soul. Thomas claims to be from the local New Life church, which Charlie and Liz despise for reasons I won't discuss here. The
second, and by far the more saddening, is Ellie, who wants to see for herself the bastard who deserted her. "I should thank you," she tells Charlie. "You taught me an important thing: people are assholes."
Samuel D. Hunter's screenplay, from his own play, is notably lacking in subtlety, especially compared with Ishiguro's script for Living. If you haven't already guessed that Charlie is Moby-Dick to Ellie's Captain Ahab, I'm very disappointed in you. Aronofsky and Hunter end The Whale with an attempt to leave Charlie in a mystical state of grace; Alejandro G. Inarritu attempted something similar with Michael Keaton's character in Birdman, and it didn't work there either.
Fortunately, The Whale is worth seeing for its acting alone. Beneath the mountains of prosthetic fat, Fraser projects heartrending sorrow and remorse. There has always been an air of innocence about Fraser, and what first appears to be a descent into gluttony is, in his hands, an act of atonement. All the other actors keep pace with him. Hong Chau, who had a great 2022 between The Whale and The Menu, is especially notable as
Liz, whose anger is matched only by her loyalty and compassion.
Meanwhile, Sarah Polley's Women Talking reminds us that there is truly such a thing as a fate worse than death. But it also depicts how oppressed people—in this case, a group of abused women in an isolated religious colony—can take action to save themselves.
Polley based her screenplay on the novel by Miriam Toews, who in turn based her book on the real-life story of the serial rape of women at a Mennonite community in Bolivia. Women Talking takes place in a rural enclave in an unspecified location. The setting appears timeless; the homes and barns are simple, surrounded by fields and livestock, and the women are dressed in long, plain dresses, their hair covered with scarves. Only a passing truck, blaring a message about being counted for the census, informs us that the year is 2010.
Women Talking is narrated by Autje (Kate Hallett), a teenage resident of the community; it would give too much away to name the person she is addressing. For years, she relates, the men have drugged and raped the women at will. "The elders told us it was the work of ghosts, or Satan, or that we were lying to get attention, or that it was an act of wild female imagination," Autje says.
The film begins at a point of crisis: most of the men have been arrested by the local police and charged with rape. They will remain incarcerated only until the men who remain free can post bail for the others. The women realize they have no time to lose. Meeting in a barn, they debate their three possible choices: stay in the community and do nothing, stay and fight, or leave.
The women are all illiterate, because the elders see fit to educate only the boys. They keep track of votes by writing pictograms and X's on a blackboard, and rely on August (Ben Whishaw), the community schoolteacher and the only grown man in the colony they can trust, to take the minutes.
At the beginning, the women are bitterly divided. Scarface Janz (Frances McDormand, also one of the film's producers) is so offended that she leaves the meeting, taking her daughter and granddaughter with her. Salome (Claire Foy), the angriest of the women, argues for staying and flghting; eventually we discover why she is so bellicose. Ona (Rooney
Mara), a pregnant rape victim, suggests the women stay and create new rules to give them equality with the men, but Mariche (Jessie Buckley) and her mother Greta (Sheila McCarthy) insist that the group's theology allows for no reaction except forgiveness. As the women edge toward what for them is the most radical choice—leaving—other questions arise, such as whether they can take their adolescent sons with them. Have they been infected by the same brutality as their fathers?
Incidentally, we learn that Ona and August have deep feelings for each other. We also learn about Melvin (August Winter), a transgender man who became mute after being raped.
Polley emphasizes that these women are marginalized in every conceivable way—even in their own lives. "We didn't talk about our bodies," Autje tells us. "So when something like this happened, there was no language for it. Without language for it, there was a gaping silence. And in that gaping silence was the real horror."
In that revelation lies the paradox of Women Talking. Washington Post columnist Kate Cohen noted that, in context, Women Talking is as unbelievable as Top Gun: Maverick. "In a culture so oppressive that victims were afraid to tell anyone they were attacked, could they be so bold as to plot their response?" Cohen asked. The actual fate of the brutalized women in Bolivia, she said, argues in the negative. Yet Cohen's final message is in her headline: "Women Talking is the escapist film the world really needs."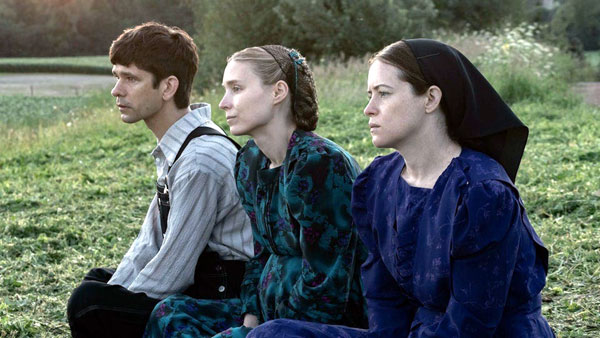 Polley, throwing the gaslighting cruelty of the elders back in their faces, states at the outset that Women Talking is "an act of female imagination." Through dialogue and debate that are always involving and often thrilling, Women Talking charts a path for women, even those in the most extreme circumstances, to defend themselves and chart the course of their own lives. The plainness of the setting works with the extremity of the situation to place the women's arguments in bas-relief. (Cinematographer Luc Montpellier deserves credit for creating a subdued visual palette that at times resembles the paintings of Andrew Wyeth.) The ensemble cast is beyond reproach, but Foy, Mara, Buckley, McCarthy and Judith Ivey have the most compelling scenes.
Women Talking ends on a note of muted but real hope. The story might be idealistic, Polley suggests, but it's energizing, rousingly pertinent idealism. The song emanating from the census truck can be taken as a metaphor for the entire film: "Daydream Believer."