Two of the most beloved Canadians ever—Michael J. Fox and the late Gordon Lightfoot—are the subjects of recent documentaries. Lightfoot was still living when Gordon Lightfoot: If You Could Read My Mind, the documentary by Martha Kehoe and Joan Tosoni, was released on Prime and other platforms. It is a straightforward tale of Lightfoot's life and career, emphasizing the unique Canadian flavor of his music. Unfortunately for Fox, he was not blessed with a straightforward life, and Davis Guggenheim's Still: A Michael J. Fox Movie, on Apple TV+,deals frankly, and at times heartbreakingly, with the early-onset Parkinson's disease that has afflicted Fox for more than half his life.
Lightfoot was 80 when If You Could Read My Mind was made (he died May 1 at 84), and like most people at 80 he had regrets. His biggest, as he states at the beginning of the film, is "(That's What You Get) For Lovin' Me," his first hit. "For Lovin' Me" is a brilliantly written but cringeworthy song about a Lothario dumping his latest girlfriend:
I've got a hundred more like you,
So don't be blue—
I'll have a thousand 'fore I'm through.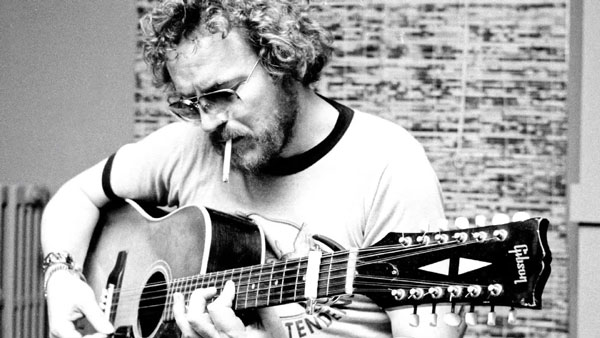 "That was a fine song to write for a guy who was married with a couple of kids!" he says. "I'll never write another song like it as long as I live!" Nevertheless, a lot of people liked "For Lovin' Me"—including Peter, Paul and Mary, Waylon Jennings, Johnny Cash, and Glen Campbell, who all performed it. It was the first of a distinguished portfolio of songs including "Sundown," "Early Morning Rain," "Canadian Railroad Trilogy," "The Wreck of the Edmund Fitzgerald," and, of course, the song referenced in the film's title. Many other singers were drawn to them: a partial list, presented in the film, includes Bob Dylan, Elvis Presley, Barbra Streisand, Liza Minnelli, Judy Collins, Neil Young, Olivia Newton-John, Andy Williams, Anne Murray, and Petula Clark. (One exception was Frank Sinatra, who threw the sheet music to "If You Could Read My Mind" on the floor and shouted, "I CAN'T SING THIS!") But the best versions of the songs were by Lightfoot himself.
If You Could Read My Mind is a deft tour of Lightfoot's career, starting with his days as a boy soprano in his home town of Orillia, Ontario. The portrait of Lightfoot is admiring, but doesn't elide his warts, such as professional jealousy (Joni Mitchell admonished him to stop envying the Beatles' album sales), alcoholism, and a checkered romantic history which he poured into his lyrics. "It was party time," Lightfoot says in the film. "I don't know how I ever made it through." One girlfriend, Cathy Smith, inspired "Sundown" ("She's a hard-lovin' woman, got me feelin' mean"); a few years later, Smith administered the cocaine-and-heroin speedball that killed John Belushi.
Nevertheless, If You Could Read My Mind remains focused on the important part of Lightfoot's life: his music. Squads of his fellow musicians attest to his meticulous craftsmanship. (The camera glides over his handwritten songs, the title pages of which look like calligraphy.) Steve Earle—no mean songwriter himself—points out that Lightfoot knew an unusually large number of guitar chords which in themselves were gateways to songwriting inspiration. With his impressive guitar skills and distinctive, bardic singing voice, Lightfoot not only explored Canadian themes in his songs, but embodied a certain straightforward, rough-hewn esthetic that simply seemed Canadian. As his countryman Burton Cummings says about him in the movie, "He was Canadiana."
If You Could Read My Mind does not discuss Lightfoot's health problems, including an aortic aneurism that nearly killed him in 2002. The octogenarian Lightfoot was craggy and gaunt, gray hair hanging past his shoulders like an Old Testament prophet's. But if he looked ravaged, he radiated calm and geniality, and he sang nearly as well as ever. We see him at the end leaving Toronto's Massey Hall, where he headlined dozens of concerts; guitar case in hand, he walks down the street, away from the camera. That is as graceful a final exit as I can imagine.
Both Lightfoot and Michael J. Fox left Canada for Los Angeles as teenagers; unlike Lightfoot, Fox stayed. Given that his chosen career was acting, it is impossible to imagine that Fox would have achieved international stardom if he had moved back to Vancouver. Between 1985 and 1990, when he was still in his twenties, Fox was the hottest actor in Hollywood, thanks mostly to his sitcom Family Ties and the Back to the Future movies.
Then came that morning in 1990 when he woke up with what felt like a hangover. He felt a moth's wing flutter against his face; his little finger trembled, yet felt disengaged from his hand.
"That trembling was a message from the future," Fox says in Still.
Still contrasts the glory days of Fox's youth with the reality of his present. When he brushes his teeth, his hand shakes so violently that he can barely squeeze the toothpaste onto the brush. He cannot walk down the street without risking a fall; just walking across his living room, he tells us, he fell against the edge of a sofa and broke his cheekbones and eye socket.
As Ethan Hawke was with Paul Newman and Joanne Woodward in The Last Movie Stars, Guggenheim is brilliant at matching scenes from Fox's movies and television programs with the events of his life. Still reminds us just how kinetic an actor Fox was in his youth; while I want to avoid hyperbole, Still reminds us that Fox's skills as a comic actor approached those of the great silent comedians. He ran like Keaton, he skated like Chaplin, he projected the same can-do spirit as Harold Lloyd. Fox was always a can-do kind of guy, a quality that, according to the film, he got from his family. When at 16 Michael announced he wanted to become a professional actor, his father Bill not only gave his permission, he drove Michael to Los Angeles. Fox remembers that Bill told him, "If you're going to be a lumberjack, you've got to go to the goddamn forest."
After the requisite period of starvation, stardom happened for Fox, and happened very fast. There are some funny anecdotes from that period: NBC programming chief Brandon Tartikoff was at first opposed to casting Fox in Family Ties, saying, "That's not a guy we're going to see on a lunchbox." Two years later, Fox sent Tartikoff an autographed Michael J. Fox lunchbox. But with the fame and money came confusion and excess. "Everywhere I looked, I saw my image reflected back at me, and none was a true representation of my real self—whatever that was," he says in Still. Fox dealt with it largely through multiple rounds of whiskey, wine, and his favorite Moosehead beer. (When he confessed his fondness for Moosehead in an interview, the company sent him a truckload.)
And then the Parkinson's came. Guggenheim shows scenes from Bright Lights, Big City of Fox wandering down darkened halls, underlining his feelings of disembodiment and terror. He quit drinking for good in the early 1990s, but that didn't help at first. "As low as alcohol had brought
me, abstinence would bring me lower, because I could no longer escape myself," he says.
Fortunately, Fox came to a time when he no longer needed to escape himself. It is sad for the audience to see this once graceful man working with a personal trainer simply to put one foot in front of the other, yet Fox exhibits no signs of feeling sorry for himself. "I'm not pathetic," he says. "I'm a tough son of a bitch." Along with the toughness comes a self -deprecating sense of humor. He demonstrates this after taking a tumble in front of a nonplussed fan. "Nice to meet you," he says. "You knocked me off my feet."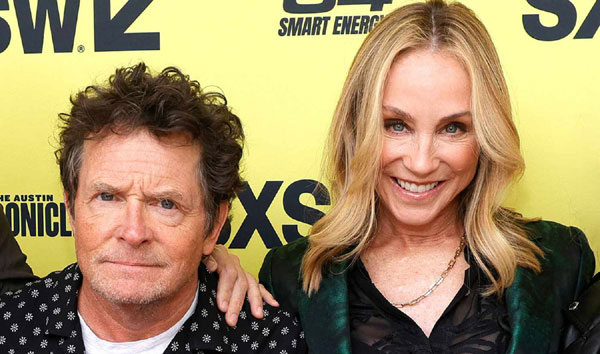 A great part of his consolation has come from his wife, Tracy Pollan—whom he met on Family Ties—and their four grown children. Asked to describe Tracy in one word, Fox ponders for several seconds, and then says, "Clarity."
The portrait of Fox that emerges from Still is of a decent, strong, courageous man and a staunch advocate for fellow victims of Parkinson's. A film clip shows him testifying before Congress with his fellow sufferer, Muhammad Ali. (I would like to see President Biden give Fox a Presidential Medal of Freedom to counterbalance the one President Trump gave the man who mocked Fox's illness, but that's another story.) "I couldn't be present in my life until this thing happened to me," Fox says at the end. Guggenheim's final image of Fox shows him staring into the camera, battered but still handsome, resolute—and still.