Independent Filmmaking: Spirit Lost and Found
Spirit Lost?



he past year has been one of the most exciting years ever for independent film-making. Fahrenheit 9/11 stunned Hollywood by breaking the $100 Million dollar mark – something thought impossible for any documentary. Hotel Rwanda bravely challenged the status quo by bringing the critical global issue of genocide to the big screen in an inspiring and compelling way.
On big screens, small screens and in living rooms across the country independent filmmakers were daring to bring unspoken truths to a huge public – including films like Uncovered and Outfoxed .
Thus it was with great anticipation that I attended the Independent Spirit Awards given by the IFP, the Independent Feature Project (West ). What I found was a gala festival rivaling the Oscars - so much so that, I wondered, has it lost its independent edge?
"The Spirit Awards is a celebration honoring films made by filmmakers who embody independence and who dare to challenge the status quo ," according to the press releases and brochures. "Nominated films are chosen based on their uniqueness of vision, originality and use of provocative subject matter…" Yet neither Fahrenheit 9/11 nor Hotel Rwanda were even nominated! Instead Metallica: Some Kind of Monster won for best documentary, beating out the nominees, Bright Leaves, Chisholm '72, Hiding and Seeking and Tarnation.
Sideways swept Best Picture and Best Director, Best Male Lead, Best Supporting Male, Best Supporting Female, and Best Screenplay.
Both winners were nice pictures – but do heavy-metal music and fine wine tasting really "dare to challenge the status quo?"
No matter what you think of Michael Moore, there is no question that he has made a stunning break-through for independent film makers. No longer can exhibitors and distributors dismiss out-of-hand the possibility that a documentary could be a box office hit.
In all fairness, it should be pointed out that Michael Moore's previous film, Bowling for Columbine did win the Spirit Award in 2003. Why was the more widely acclaimed Fahrenheit 9/11 not nominated by the IFP this year? "It feels like we're in some kind of weird zone here," said Michael Moore's friend, co-producer and composer Jeff Gibbs.
When I first joined the IFP, early in its 20-year history, it was a pioneering organization battling to bring recognition and distribution to struggling cutting-edge film makers.
Today I have to wonder if the Spirit Awards have lost their spirit.
Spirit Found
A truly pioneering Hollywood organization that challenges the status quo is Artists for Amnesty, which, along with the ACLU, sponsors the annual "Celebration of Artistic Freedom" held at Robert DeNiro's Ago restaurant.
This year's fest honored Martin Sheen And Terry George, Writer/Director Of "Hotel Rwanda."
In accepting his award Sheen gave an impassioned talk about the vital need to protect our civil rights and promote equality and dignity.
In my brief talk with him he expressed his strong support for directing some of Hollywood creative talents toward protecting human rights on a global basis by developing such institutions as the International Criminal Court
Adrian Brody, Michael Madsen, and Al Pacino and many other dignitaries came to the fest to support the important work of Amnesty International and the American Civil Liberties Union.
But the person who moved me most was not a celebrity, but real flesh and blood Paul Rusesabagina, hotel manager for the Belgian-owned five star hotel in Kagila, Rwanda, who saved the lives of hundreds of refugees by granting them haven in his hotel. Don Cheadle played Paul in the movie Hotel Rwanda.
"Since 1986 I met many companies that wanted to make a movie about my life. I did not agree to make it with anyone. I was waiting for Terry George," he said upon presenting the Artistic Freedom Award to Terry.
I asked Rusesabagina how much the movie story varied from his real story.
"It was 90% a real story. A real film of what took place. A cook puts in a little spice to help the flavor but that's all. Like my wife and children leaving on the truck. In the movie I don't tell them until too late that I am not going with them."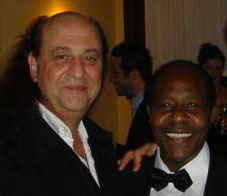 "In reality, I told them the night before: 'Tomorrow you are leaving. But me I'm not leaving with you. Because so far I am the only person who can deal with these refugees in this hotel. And if I leave and they die, I will never be a free man. I'll always be a hostage of my own conscience. All of the horror that we see will one day come to an end. I wouldn't like to stand looking at the ground because I don't want to show my face.' "
"My wife and children were very reluctant to leave me behind but I put them and their bags on the truck. There is real footage of that by the United Nations."
I asked him how he carried on in the midst of some 800,000 people being hacked to death.
"Try to remain a hotel manager within such madness. That was the secret, what kept me above all that was happening. I kept my distance with everybody. Everyone else wore T shirts, but I remained in my suit. So I placed myself above it all."
In the movie you desperately phone many of the high-level people you interacted with when running a luxury hotel. How did they respond?
"What made me bitter and angry was that no one understood my message. I disturbed anyone even in the middle of the night. I called and sent faxes to everyone, even to the White House, but nobody answered. When the genocide was happening nobody wanted to listen. Now the message is out. I wish that Hotel Rwanda will be a wake up call to the international community as a whole. I wouldn't wish to see Hotel Dafur. I went to the White house 10 days ago and told President Bush that the same thing is happening in Dafur that I saw from 1990 to 19494 in Rwanda. He said he's very concerned and committed. We will see what he will do."
I asked Paul how it felt to be at one moment amidst people being hacked to death and now to be amidst all the Hollywood hoopla?
"All I have seen is just strange amazing. Sometimes surprising, some other times makes me wonder am I the same person? If I am, do I have a special mission? What should I be, a priest?"
Lee Strasberg Theatre & Film Institute also co-sponsored the event with the City of West Hollywood, which declared this "Paul Rusesabagina Day."
Artists for Amnesty – www.amnestyusa.org/artistsforamnesty/