hat could be more monstrous than missing" the chance to see Shockheaded Peter?!
Shockheaded Peter
"Behind these very crimson curtains lie" one of the most inspiring, disturbing and delightful shows to come to the New York stage in years.
What happens when you pour Cabaret, Vaudeville, Marionettes, Puppets, a Sideshow, A Paper Doll House, Delightful Music and Twisted Humor into a Shaker? The outcome- Shockheaded Peter!
Featuring 11 original songs written by Martyn Jacques of the musical trioThe Tiger Lillies, Shockheaded Peter is a musical staging of the classic 19th Century children's book Struwwelpeter (Slovenly Peter). Shockheaded Peter illuminates Heinrich Hoffman's cautionary tales of disobedient children with a whimsical combination of music, puppetry, and drama. Young Harriett and her pyrotechnic tendencies, little Conrad and his insatiable thumb-sucking, and of course Shockheaded Peter himself with his nasty hair and nasty hands, along with a handful of other misbehaving youngsters all come to untimely and gleefully gory ends.
The show opens with Clump, Clump, Clump of footsteps behind a crimson curtain on the marionette like stage and the nervous giggling of children in the audience only adds to the mood. Out bursts our rather sinister & delightful host (Julian Bleach), who begins by staring down his viewers and bursts out "I am the greatest actor that has ever existed". More laughter…. Indeed this is not your average show, nor would you want it to be.
The enchanting production design by Julian Crouch and Graeme Gilmour, with costumes by Kevin Pollard and lighting by Jon Linstrum is delicious and captivating. Watching the cast in their tattered costumes and wild makeup is like being whisked away to an old Victorian street theatre, with curtains and doors rapidly opening and closing, one dimensional set pieces sliding on and off and up and down through the cracks in the floor, the stage/set comes to live as though a paper doll house might in a child's dream, or sometimes nightmare.
Co- Creators Phelim McDermott & Julian Bleach directed the show with a touch of Victorian melodrama, which works its magic on the audience. The fast timing and silly jokes keep the youngsters engaged while the more solemn numbers such as "The Struwwlpeter overture" and "Flying Robert" keep the grown-ups fascinated.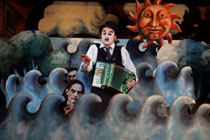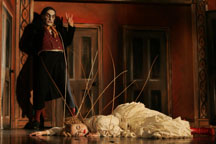 Martyn Jacques (standing), Julian Bleach (in front) Julian Bleach (in background) and Tamzin Griffin (on ground) Anthony Cairns (slightly visible in background) Photo Credit: Joan Marcus
This was a highly collaborative production, and it shows with the majority of the creators (Julian Bleach, Anthony Cairns, Julian Crouch, Graeme Gilmour, Phelim McDermott, Tamzin Griffin, and The Tiger Lillies - Martyn Jacques, Adrian Huge, and Adrian Stout) all still performing in the show (additional creators:Jo Pocock, Michael Morris).
I had the privilege of seeing Luther Creek (Accordion/Vocalist) who will be taking over for Martyn Jacques, (one of the original London Cast Members and Co-Creators). Mr. Creek with his tremendous Falsetto gave an awe inspiring performance. He beautifully acts the haunting songs with emotion and comic character and I would gladly sit for hours listening to his voice.
A particular favorite was the "Hare Song" a clever, albeit dark song about a hunted hare that turns the table on the hunter, which involves the entire cast using puppetry that is reminiscent of Monty Python -esque animation.
The real luminary of the night is Julian Bleach who shines with comedic physicality and poise as the story's brilliant guide through the murky and dark world of Shockheaded Peter.He wears many hats in this production and he does them all remarkably well.
This show has all of the magic ingredients: a cast (Julian Bleach, LutherCreek, Anthony, Cairns, Tamzin Griffin, Graeme Gilmour, Rebekah Wild, Adrian Huge, & Adrian Stout) who blew me away with their multi-talents, Puppetry, Prose, Movement, Singing and even instrumentation. (During one song they all whip out instruments and play with the band), Set, Lighting and Costumes that are rich in tiny detail, every song more inventive than the next and top it all off with timing and delivery that is perfection.
Quoting a line from the show "And as the Lady said, as she covered her Son's third Eye you can cover it up but you can't forget it". This show indeed haunts me in the very best of ways…
(Note also in the cast, but did not perform the evening I saw the performance: Martyn Jaques & Paul Kandel)
Shockheaded Peter
Open ended Run
Little Shubert Theatre
422 West 42nd street (Btw 9th and 10th Aves)
New York, NY
Performance Schedule:
Tuesday, Wednesdays, Fridays 8:00pm
Thursday at 10:00pm (All seats $29)
Saturday at 3:00pm & 8:00PM
Sunday at 2:00pm & 7:00PM
Tickets, priced $36.25 - $67.50, can be purchased by at 212-239-6200.
Special reduced price performances – where every seat in the house costs only $29 – will take place every Thursday at 10:00pm.
A limited number of $21.25 rush tickets are available by lottery for each performance. LOTTERY POLICY: 90 minutes prior to each performance, tickets will be sold by lottery in front of the theatre at $21.25 per ticket. There is a limit of two tickets per person. These tickets are located in the first row of the orchestra and must be paid for in cash. A facility fee of $1.25 is included in the price of all tickets.
For more information www.ShockheadedPeterNYC.com