Part 3: Stretching Boundaries
In the summer of 1968, Producer/Director Nelda K. Balch of the Kalamazoo College theater department, brought together productions of Joan Littlewood's "Oh What A Lovely War", Paul Foster's "Tom Paine", and Vaclav Havel's "The Memorandum"; the Czech playwright's take on political double talk. The selection of plays was a timely choice, done at a time fermenting with disgust over the lives lost in a war that seemed to be going on forever. And a reminder of how powerful theater can be when it is played up front, without disguises, for all its worth.
Ms Balch hired me to direct "Oh What a Lovely War" and "Tom Paine", and she directed "The Memorandum". The cast in all 3 plays was a mix of students, professionals, and community performers. In 1968, as now, history appeared to be repeating itself with endless rationalizations justifying the war, while corpses piled up one after another.
"Oh What A Lovely War" exposed how those in power, on all sides, during the First World War, killed over 16 million people and 21 million wounded, with the combatants rarely gaining more than 50 yards from one battle to the next. Popular war songs and slogans, scathing tongue-in-the-cheek commentary, tellingly obtuse dialogue on the part of those running the war, and sharply ironic romantic songs, turned "Oh What a Lovely War" into a theatrical see saw of stupidity and rationalizations about the "war to end all wars". Performers played multiple roles, including Earl Boen, Ted Kistler, and my brother, Michael Bobkoff in the lead roles, as well as Becky Eschliman, Sarah Kennedy, William Vincent, Dail Wiloughby, Marcia Pigman, Elizabeth Olsen, Rosellen Clark, and memorably Rebecca Bloomquist singing "Keep the Home Fires Burning", while stepping gingerly over the corpses surrounding her. The final moment with dead soldiers covered with ticker tape lined up singing the title song "Oh What A Lovely War was a telling twist of fate.
An offstage incident during the run of "Oh What A Lovely War" sticks in my memory. An American colonel appeared at the box office in full military dress . After he was refused a ticket by a student in the box office, I went out to talk to the Colonel, a Vietnam War veteran, and apologized for the student's rudeness. I offered the Colonel a ticket. It was a normal courtesy and he accepted. After the play was over I was intrigued by what he might have to say, and asked him if he would like to go backstage and talk to the performers. The performers were surprised at his appearance. For the most part, they treated him with courtesy and curiosity. Although some asked him sharply pointed questions, while others simply refused to talk to him. My opinion about the war did not change, nor did his. Afterwards the Colonel and I parted company, wishing each other well. Although we remained on opposite sides of the Vietnam War issues, the Colonel was not a "killer" by instinct, and it was a lesson on the power of shared concerns through open discourse.
MacBird
Barbara Garson's satirical take off on Lyndon Johnson and the Vietnam War was highly publicized throughout the USA. I had the opportunity to stage the play in two places: the University of Wisconsin and Houston, Texas. Dan Larner, then a PhD candidate at the University of Wisconsin, portrayed MacBird with wit and trenchant irony. Dan made his first appearance through a back stage door, stepping out of a real snow storm that followed him on stage, like the ghost of Christmas Past. In Houston, Bill Bailey, who is now a recognized professional actor and published novelist living in England, portrayed MacBird with robust energy, a lively Texas twang, and keen mimetic skill. In both productions the uproar surrounding the production at times felt like it had no bounds.
In Madison, Wisconsin police surrounded the Agricultural Hall where students had taken over the hall to stage the play. I assured the Dean that there would be no damage done to the hall, and when the play was over, we would clean it up, and put everything back in place. We did just that. The police backed off, and we walked outside to a peaceful reception and applause. In Houston we received threats, but the cast held firm and nothing came of it. Probably because the theater was surrounded by volunteers with beefy arms crossed, ready to take on all comers.
The Visit
In 1994-95 I was a guest director at the Konservatuvari (the Turkish Institute for Music and the Performing Arts) at Anadolu University in Eskisehir, about 135 miles west of Ankara, the capital of Turkey. The theatre students, age ranging from 18 to 31, were among the most passionate and talented performers I have ever worked with. Many have since gone on to pursue careers professionally throughout Turkey.
At that time the state theatre was everywhere in Turkey, even in conservative towns and cities, where the offering is either traditional Turkish legends, or romantic dramas full of robust rhetoric. I was impressed with a production in Ankara of Murathan Murgan's "Mahmud ile Yezida". A Romeo and Juliet story of warring families who can't get enough of hating each other, until their beloved children agree to mutually shared suicide. A suicide that is essentially a protest against the hate and terror around them. The young couple starve themselves to death under a sacred tree in protest over the perpetual anger and revenge between their warring families. No one is allowed to cross the invisible circle that surrounds the couple under the tree. Not even the families who desperately want to save them. When the young couple take their lives, the tree astonishingly and poignantly blooms with flowers.
At theKonservatuvari we prepared, over a two month period of rehearsals, a production of Frederick Durrenmatt's "The Visit". Assistant director, Erhan Tuna, helped me translate the play from English to Turkish, and the casting of the play was a joy.
Two performers, Aysel Yilmaz and Suheyla Elbas, alternatively portrayed the lead role of Clara Zachanassian, a millionaires who comes back to the town of Gullen to take revenge on Alfred Ill, the mayor of Gullen, the man who impregnated her, and had her thrown out of town as a prostitute. Aysel Yilmax had a commanding prescience, a powerful voice, and a sure sense of style. Suhelya Elbas, withdrawn, volatile, delighted in coruscating wit. Double casting led to considerable spontaneity and rapid-fire adjustments by the cast. Added spice to the believability of the production.
Clara, loaded with money, offers the town's people a million dollar "endowment" to kill Alfred Ill, played by Arif Yavuz, whose intelligent eyes and hawk-like face, shifted into fear under the duress that finally killed him. The play is a keystone drama on how the power of money turns an entire town into a killing machine. What gives "The Visit" its punch is the suggestion that finding a sacrificial lamb to pay the price for greed can happen anywhere: for all the wrong reasons posing as the right one.
We used costumes and makeup borrowed from the Turkish National Theater to help create a ritualistic approach to the killing of Gullen's Mayor. Clara's two eunuchs, following her wherever she went, was played with considerable humor and energy by performer Ilkay Akdali, who shaped the characters into grotesque finger puppets, one on each hand, commenting on the action and generating comic relief. Wearing white face, a large bow tie, and a striped green pitch man's jacket, disguised like a puppet himself, he lifted the play into the surreal realm. In short, The Visit crossed theatrical boundaries with heightened realism, dance, and expressionistic visual effects with ease. For me it was, and remains, an unforgettable experience.
The Glass Menagerie
"Unicorns –aren't they extinct in the modern world?"
–The Gentleman Caller
In all of Tennessee Williams' plays there is a hungry concern for approval and acceptance, and a powerful blend of the human capacity for tenderness and cruelty, often simultaneously. He was genuinely shocked at the exasperating cruelty in human nature, both in small, everyday affairs and in larger global events. He was most offended by the imperviousness and false sophistication towards cruelty practiced by so many of us who should know better – including himself. Let the truth be told: we are often what we would rather not be, and we are not what who we think we are.
"The Glass Menagerie" dramatizes these concerns with brilliant vision and profound poetic impact. In Taos, New Mexico, I had the opportunity to stage this national treasure of a play with a cast of professionals, mixed with community performers (Tres Ripley, Kevin Wesley and Jeanne Kresser). When we heard during rehearsals that Williams had died, we dedicated the production to his memory. A highlighted musician above the stage (Raymond Blanchet) wearing a white suit, like Tennessee Williams, played a mellow, underscoring synthesizer as if it was emanating from the bar next door. A photograph of Tom's missing father (a photo of Tennessee Williams) glowed above the stage in the playwright's memory. Its effect was to set the tone of the play as a dream, a longing for things past, and a tribute to Williams. Our production was built on those moving, funny and troubling epiphanies that often open our eyes to the world of feeling. Until the Gentleman Caller (Richard Wiard) stepped on one of Laura's glass figurines and shattered the illusion.
Other Places, Other Rooms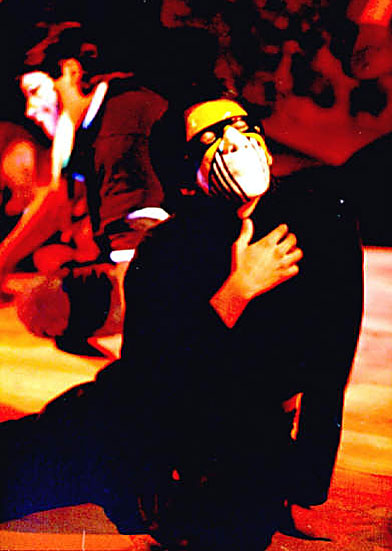 At the Institute of American Indian Arts in Santa Fe, New Mexico, I worked with students from a variety of tribes throughout the North American continent. On my first day of teaching I told them that I know little of their heritage, except what I had picked up through my travels, reading, and from indigenous friends. They in turn, rightfully so, asked me about my own cultural background. I told them I was of Jewish heritage, born in Brooklyn, New York, and grew up in Houston, Texas. I then introduced them to a selection of Jewish comedy routines from Sid Caesar to Mel Brook's 2000 year old man. It won them over and we went on from there, learning from each other.
The climax of my two years teaching at the IAIA (as it was popularly known) grew out of my writing a play for the students titled "Wild Water Running". An Antigone-like story about a young indigenous woman (Annissa Dressler) searching for the remains of her mother, after discovering toxic waste clothing items from the nuclear facility at Los Alamos, buried on pueblo land. She confronts her uncle (Jesse Padilla), a contractor, to find out how her mother died and where she was buried. Hoping to put the painful memory of her mother's disappearance to rest. I asked Daystar (Rosalie Jones), the choreographer of Contemporary Dance-Drama of Indian America, to help stage the play with appropriate ritual, dance and music. The result of our work together was a production of "Wild Water Running" at the Santa Fe Performing Arts facility. Selections from it were taped at the Pecos National Monument, outside of Santa Fe, and were programmed on local TV.
"Something is On the Way Out, Something Else is Being Born"
This phrase by Vaclev Havel, the Czech playwright and future President of the Czech Republic, succinctly captured the atmosphere at the American University in Blagovgrad, where I was hired to develop theater, taking up where American director Vivian Mason had left off. We staged a variety of theatre events, including scenes from American and European plays, folk lore, and a mixed media, catch-all production based on Vaclev Havel's essay titled above. Later, when Daystar arrived as a Distinguished Guest Lecturer, the two of us toured Bulgaria, producing an original dance theater work at a former Bulgarian National Theater site in Sliven, with Bulgarian choreographer Katia Ivanoa Teneva, and later at the Varna International Theater festival near the Romanian border.
A delightful incident occurred when two young Bulgarian choreographers convinced us to go up a mountain to Biala, to help develop an original dance theater work based on deer legends, at the local theater. We took the dare. Arriving at the top of the mountain, we were hospitably received with a full throated greeting at a local café; an operatic aria sung by a woman with a voice that echoed in the mountains, as if she was the sister of Pavarotti. With the help of the two Bulgarian choreographers, Daystar managed to put together an original production with local youth, attracting a large audience, including people from Sofia, the capital of Bulgaria, and members of the Peace Corps. A fitting tribute to the hospitable nature of Bulgarians, all done on a dare, a wink and a how-do-you-do.
Brave New World Recycled
My stage adaptation of Aldous Huxley's novel "Brave New World" was performed at New Mexico Highlands University in Las Vegas, New Mexico (1999). The novel was reshaped into a reflective control binge fitting the times; or, as one critic called it, "a projection into the next millennium". Corporative "controllers" taking up where previous powers had failed, used every means at their disposal, including the use of "happy" pills, to control office workers to do their job. At the end of their lives, the workers remains were planted in a garden to enrich the soil, while others took their place behind their desks. Seduction of the young and impressionable, and the reinvention of reality, was the core action of the play.
During a projected fantasy scene, surrounded by overblown images, the lead female character Lenina (Emily Withall), and John "The Savage" (Angelo Jarimillo), a Native American rebel she talked into taking happy pills, a troop of thought police suddenly entered backstage and confiscated the tape. New Mexico Highlands University had unexpectedly became a place where fear and trembling was the mood of the time. Although there was genuine concern regarding the episode, I was tired of shell games being played behind my back. When the production was over, I left to go back to Santa Fe. I bought a bag of pinion nuts from a nice guy hawking it on the road, and tossed the shells out the window. A fitting conclusion to a difficult situation.
What then is a director's job staging theater events? For me it is to invade the audience with tears and laughter; to go tooth and nail at a script to find out what is means in human terms; and to create an image on stage that goes beyond simple technique into the more interesting notion, that the finer the image, the more human the gesture. After all, what better thing can we do than to create a more likeable and entertaining Frankenstein ? So goes the paradox of the theatre, that with a twist of the tongue, or the raising of a finger, it becomes larger than life; larger and more intimate. If all the world's a stage, than it takes a stage to deliver that world; hopefully with a shared sense of humanity.
Click to read Part 1 of this memoir
Click to read Part 2 of this memoir