Earlier this year I rented the reruns from the television show "In Living Color" because I was curious to see how these Emmy-award winning programs held up now more than ten years since their creation. When the weekly show debuted in the early 1990s, I found it fresh and at times even hilarious, but I was especially entranced by "The Fly Girls". Rosie Perez' hip hop choreography, which they danced with great precision and boundless energy, was a combination of street and club moves, ballet, modern and jazz dance, with a lot of gymnastics thrown in. Each of the dancers (which at one point included the not-yet-famous Jennifer Lopez) wore a different crazy costume – anything from a striped body suit under cut-off shorts and black army boots to full-body lingerie with a pronounced emphasis on the bustier. Everything they did was hot.
The comedy sketches, mainly written by Keenen Ivory Wayans and featuring members of his famously talented family as actors along with young emerging talents including Jim Carrey, David Alan Grier, and Jamie Foxx, remain funny and pertinent to this day. And the dancing seems, in retrospect, to have been far ahead of their time.
My curiosity was again piqued when I recently heard about the San Francisco Hip Hop Dance Fest. Honestly, I didn't know what to expect. Let me start by saying this: I had a blast!
A voice greeted the packed audience over the public address system by encouraging everyone to 'make some noise' and the curtain opened on over a hundred dancers, huddled in a giant half-circle, music blasting over the sound system, warming up together on the huge stage at the Palace of Fine Arts in San Francisco's Marina District. An occasional soloist would emerge from the massive crowd of casually dressed dancers to attempt her or his liveliest moves until another dancer jumped out and took over. Not only did it seem the perfect way to warm up, this ritual also symbolized the overwhelming feeling of community that permeated the entire event. If any of the dancers were nervous, and surely they had to have been, they would have worked it out then and there. The youngest dancers seemed to be around age seven or eight and believe me, they held their own. Responding to the infectious and bombastic support offered by the audience, this improvised opening to the concert gave the dancers a chance to loosen up and gave the audience an enticing preview of what was to come.
Given all of the negative information that circulates about youth culture in America, I was moved to see this multi-racial, multi-age group meld into a celebration, as one of the song's lyrics put it: "for the love of the music". Maybe it's just the circle I travel in, but I often hear rap music derided for its derogatory lyrics and negativity. Without going into a lengthy defense of the many different kinds of music and lyrics that fall into the category of rap or hip hop, I must say that this music brings people together like nothing else. Rooted in African rhythms with sincere nods to jazz and R&B, the music selections chosen by the performers was infectious and inspiring.
Over the span of four nights, in two completely different programs, the San Francisco Hip Hop Dance Fest presented twenty-four unique numbers. The performers ranged from the youth group, ages seven to ten, Jr. Posse, to internationally known and award-winning performers BiTriP from New York via Japan and O-Trip House/Sanrancune from France.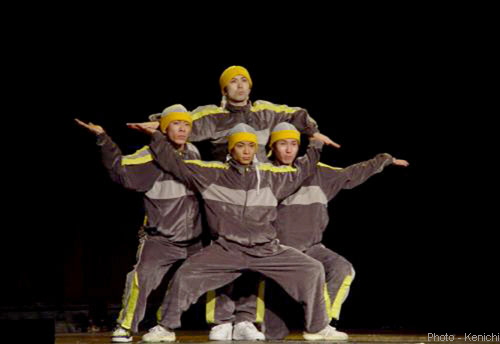 Darnell Carroll, a local hero in San Francisco and the Bay Area, contributed to the choreography for the Jr. Posse's performance with W.H.A.T. (With Heart and Talent), a large San Francisco-based group of about thirty youth, as well as F.B.C. (Funk Beyond Control) of Oakland, California. Carroll has a commanding presence and graceful athleticism as well as a magician's magnetism.
In F.B.C.'s performance of "Willy's World", with a soundtrack that included samples from the "Willy Wonka and the Chocolate Factory" film score, Carroll gave a comic cameo performance in red velvet tails, white gloves, and a white tipped cane. The choreography, which he collaborated on with Mario Ponce, BJ & Marshawn Norris and the entire F.B.C. company, intertwined Fred Astaire-like gestures utilizing canes to great rhythmic advantage with hard-edged urban moves. The staging was particularly impressive. The dancers, mainly high school students, adeptly used every corner of the stage and their precision was clearly the result of many hours of disciplined rehearsal. Their animated performances allowed their individuality to shine through and the choreography contained lots of satisfying surprises.
At one point, Da Bus, a large cardboard edifice in the shape of a school bus, rolled on stage and out poured a dozen junior crumpers. Every time these kids took the stage with their loose joints, their in the pocket rhythm and their unabashed charm, the audience went berserk. Analogous only to the outbursts at a sporting event, these outpourings of affection, encouragement, and appreciation lasted throughout the duration of the dancers' appearance on stage. Inspired by the audience's approbation, the young dancers responded in kind by pulling out their best stuff. Hip hop choreography is similar to 'charts' in jazz music, whether or not the musicians refer to the actual paper documents, they use certain guidelines within which to improvise. These dancers did the same thing. Once they got going, they each added their own interpretation to the choreography with brilliant results.
The Palace of Fine Arts Theatre is a splendid venue for this event because the stage is so large all of the performers can appear together (and the house is big enough to hold their enormous fan base). However, the vast space is a challenge that some choreographers handled better than others. Nonetheless, the group spirit and commitment always shone through and, given that each piece lasted less than about ten minutes, every single presentation was redeemed by the inspired performances of the dancers.
The performances of the more seasoned artists such as Kenichi Ebina and the duo from France Michel "Meech" Onomo and Joseph "Go" N'Guessan represented the subtlety and mastery that comes with a maturing art form. Ebina and his group Bi-Triangle Performance (or BiTriP) base their unique style in hip hop, jazz, modern, and ethnic dance styles, and they incorporate magic, circus and illusion. While clearly coming from 'somewhere else' their mastery of the American movement vernacular makes them full-blooded citizens of hip hop.
Similarly, Onomo and N'guessan of O-Trip from Paris brought depth and maturity to their choreography. Skimming across the floor like Muhammad Ali, they used momentum and the counter-balance of each other's body to explore rhythm, weight and the seamless quality of improvisation called 'flow'. Michel Onomo taught a master class on the stage during which he broke down his movements for about thirty students. Fluent in the vernacular of classical modern jazz, hip hop and African dance, his style easily moves between the three.
Hip hop works well for television as anyone can see who watches MTV and other music videos. The moves are presentational and can become too one dimensional on the stage. The movements are best seen from various angles such as those provided by multiple cameras in music videos and also on the street where the audience can gather 'in the round.' Bringing hip hop to the big stage is a risky venture.
And yet, there was a time, in the not too distant history of the United States, when jazz music was relegated strictly to the nightclub. Now 'the great American art form' is frequently performed on the greatest stages including New York's Lincoln Center and Carnegie Hall and San Francisco's Davies Symphony Hall. Seven years ago, a choreographer and dance teacher named Micaya had the vision to bring hip hop to the stage and she created the San Francisco Hip Hop Dance Fest; meanwhile, hip hop dancers and choreographers blossomed. Given the huge audience turnout and the professionalism demonstrated by the performers, establishing this festival was a great move.