What does it take to get new audience for opera? In the United States, live theater arts are dominated by what is happening in the cinematic world. For example, in the same weekend (Friday, November 10 through Sunday, November 12, 2006) that this writer saw Washington National Opera's offering of Polish film director Mariusz Trelinski's production of Puccini's Madama Butterfly and the University of Maryland's commission of Squonk Opera's College Park: The Opera, Sasha Baron Cohen's outrageously comic film Borat: Cultural Learnings Of America For Make Benefit Glorious Nation Of Kazakhstan, released November 3, 2006, brought in $29 million dollars in box office sales. Although money does not drive the creative impulse of opera, the most complex theater arts genre, or lower-budget performance art, which is what Squonk Opera produces, neither opera nor performance art can survive without substantial financial support and audience filling up the seats in their theaters. Unlike a successful film, successful live theater in the United States rarely turns a profit unless it is a Broadway musical.
BIG OPERA COMPANIES HIRE FILM DIRECTORS
Big opera companies like the Metropolitan Opera and Washington National Opera are increasingly hiring film directors to give the top ten classic operas such as Madama Butterfly a hipper and more current interpretation. Peter Gelb, the new managing director of the Met opened the 2006-2007 season with a recent production of Madama Butterfly under the direction of Academy Award-winning film director Anthony Minghella. Interestingly both opera companies mounted live outdoor telecasts of their productions of Madama Butterfly to generate more interest in opera. Gelb says he wants to end the isolation of the Met and bring the company into mainstream society and contemporary culture. For highbrow audiences who wear tuxedos and designer gowns to opening night opera performances, Gelb's goal to open the opera house doors to everyone might be as shocking to longtime operagoers as the two naked and hairy bodies of Borat and his manager Azamat wrestling after Borat discovers Azamat masturbating over Borat's prized magazine with photos of blond bombshell Pamela Anderson, a star of the popular American television show Baywatch that ran from 1989 to 2001.
BAR BAND EVOLVES WITH MULTI MEDIA ELEMENTS
Starting with Night Of The Living Dead: The Opera, Squonk Opera has been using considerable film projection in their productions. Currently, they are mounting a nationwide tour that features this concept—Your Town: The Opera. The group, which started out as a bar band, uses the term opera to indicate their use of multimedia forms—words, movement, music—but none of the Squonk troupe have trained operatic voices. In fact, no one is a professional actor. Squonk, as an avant-garde theater troupe from Pittsburgh,Pennsylvania, had a successful Off-Broadway run in 1999 with their show Bigsmorgasbordwunderwerk. In 2000, Bigsmorgasbord moved to Broadway and was a flop. Squonk artistic director Jackie Dempsey said Squonk productions appeal to smart adults and six-year-olds, but not to a mass-market audience. In an interview conducted by this writer on November 10, 2006, Dempsey said one of her top goals for Squonk productions was to create community. "Coming to see live performance can be a transformative experience. I want to pull people away from TVs and computers. I want to feel the energy in the audience."
MADAMA BUTTERFLY
Despite all the ways Madama Butterfly has entered popular culture—James Michener's novel Sayonara; David Henry Hwang's landmark play M. Butterfly; and the Broadway musical Miss Saigon—some people may not know the story set in Nagasaki, Japan in the early 1900s. Simply put, Cio-Cio-San (Butterfly), a young Japanese girl from an impoverished but formerly wealthy family, marries Benjamin Franklin Pinkerton, an American navy lieutenant who never intends to honor the marriage contract. After a three-year absence, he returns with his new American wife and discovers he has a son by Cio-Cio-San. Wracked with guilt, he lets others tell Butterfly that he wants to raise his son with his new wife. Cio-Cio-San, who renounced her religion, family and cultural ties to Japan in favor of her love for Pinkerton, agrees to give up the son only if Pinkerton comes to collect the child. She stabs and kills herself as Pinkerton arrives. The story of racial discrimination and obsessive love still resonates with contemporary audiences. Those who like lyric music, love what Puccini has achieved in Madama Butterfly.
The polished and compelling WNO production by Trelinski offers a minimalist set with elements of Kabuki theater. Trelinski has said in an interview with the St. Petersburg Times (June 11, 2006) that he finds the "contemporary aesthetic somewhere between cyber-punk, high-tech and minimalist art." Trelinski's use of image magnifies the emotional wallop, particularly as it relates to religious symbols.
In Act I, Cio-Cio-San's uncle The Bonze menaces her in a god-in-the-machine device lowered from the ceiling. In Act II as Cio-Cio-San (played flawlessly on November 12 by Xiu Wei Sun) waits for the arrival of Pinkerton (played satisfyingly by Arturo Chacón-Cruz) and fills her house with flowers, she comes before an impressive wall of stone gods. In a surreal, possibly cyberpunk, gesture, the gods throw cherry blossoms at Cio-Cio-San's feet. Set designer Boris Kudlicka has multiple people sticking their hands through the wall of gods to subtly rain down the blossoms. While the act does not involve computers, there is a neural, mind-bending frisson achieved. At first one wonders, where the blossoms are coming from and then if the gods are real people just wearing masks. In Act III the stone gods become more distinct and menacing (this time there are only two) but coupled with a neon circle of light that one supposes represents the moon, the effect seems unfortunately like Chinese restaurant kitsch.
Throughout, Trelinski effectively uses mimes dressed as temple guardians to foreshadow, Cio-Cio-San's tragic end. Goro, the matchmaker, (played engagingly by Anthony Lacciura) in white face looks like a comic character out of an old Japanese scroll drawing. Costume, wig and makeup designers Magdalena Teslawska and Pawel Grabarczyk's effectively link Goro to Kabuki theater and only out do themselves with the costume of Pinkerton's American wife. When Kate Pinkerton enters the stage, she doesn't look human. She wears a large-brimmed hat with a veil that is tied at the base of her neck. What she wears on her head mimics her hooped skirt. By image alone, the audience is cued not to like her. When Cio-Cio-San meets Kate, Cio-Cio-San, in a humanizing gesture, pulls down one side of Kate's veil so that she can properly see this woman who will raise her son. Predominately, Trelinski's instincts are good so that even when he ventures into a risky, cutting-edge direction, he stays grounded with tradition.
SQUONK OPERA'S YOUR TOWN: THE OPERA
Squonk Opera's performance art springs from the work of Laurie Anderson, Meredith Monk, and Robert Wilson. Squonk's other creative director Steve O'Hearn (he is the saxophonist who creates the squonk sound) occasionally admits to comparisons between Cirque du Soleil and Blue Man Group. Performance art is typically non-narrative. In lieu of story, the artists offer mood and impressionistic ideas that might be created by a combination of music and sound, movement and dance, projected images, film footage, and puppetry. Squonk Opera's Your Town: The Opera productions seem to be motivated by the company wanting to be both connected to the communities where they are performing and to make opportunities for the troupe to have work in the future.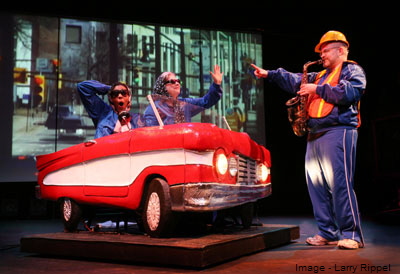 Squonk began the Your Town: The Opera productions in their hometown of Pittsburgh. To make the road show financially feasible, certain elements of the original show are carried over. For example, the opening number The Big BangTheory is a comic introduction to the troupe. The Big Bang isn't about physics, but a majorette parading with a huge drum on which images are projected. Other recurring elements are the umbrella number (another splendid opportunity to project images on the open umbrellas), the fashion show which allows them to introduce their Squonk Opera t-shirts some of which are shot by a small cannon into the audience (what? You wanted one? Your lucky day, more are for sale after the show.) and the big planet that is your town (it arrives from the ceiling over the audience and then is batted around by audience members until it makes it way to the stage). What tailors the production to the particular town are the choreography of the community dance groups that they hire and the filmed interviews Squonk members accrue in their weeks of residency that precede the premiere. Particularly endearing and comic in College Park: The Opera are the interviews that include discussion about the University of Maryland's absurd mascot, which is a terrapin. In creating the tailored Your Town: The Opera, Squonk creators encourage a certain element of improvisational action. Activities that precede the premiere include workshops to test the new tailored elements and talkback sessions, particularly designed for students who need to learn how hard it is to make any theatrical production work. These talkback sessions include a reality check on writing grants and getting financial support.
Although Jackie Dempsey said that College Park: The Opera was not constrained or censored by the University of Maryland, negative elements were not used because the creators want to emphasize a community celebration. In this capacity, College Park: The Opera, which spends time making jokes about the main campus throughway Route 1 and explores integration by interviewing an African American family who insisted on and got better schools for their son at a time when black families in other communities were denied such opportunities, is fit entertainment for the entire family. On the other hand, some of the individual numbers, particularly the last one "Planet College Park" with a lead in that has a Squonk member crying because the show is almost over, seem juvenile. What worked well were scenes where projections appeared whether they were still or moving images. In one unusual set of projections, closed eyes were projected on small flat disks. Subsequently the eyes opened unexpectedly.
The music of College Park: The Opera is potpourri of folk—sometimes sounding like Cajun with its insistent ompah rhythm, undistinguished Philip Glass repetitions, and overly loud rock. What makes Squonk's College Park: The Opera worth seeing is how all the elements flow together and relate to the human condition. In this way, Squonk earns the appellation opera, albeit opera for the people. Next stops for Squonk are Chester, Pennsylvania, and Albany, New York. Will any of those audience members show up with a t-shirt that reads College Park: The Opera? Stay tuned.
HEY, TAKE MY PICTURE
So at either end of intellectual theater arts, live theater groups are struggling to bring in new audience and film elements seem to be the operative answer. Maybe there is another option lurking in the film world that will motivate young professionals who can afford opera tickets and that is reality TV. Borat and Squonk Opera's Your Town: The Opera seem to employ some of that narcissistic class of video theater that allows the viewer to participate, if not directly then vicariously, in various types of challenging situations. While primitive people think that photography will steal their souls, Americans seem to want fifteen minutes of fame. Breaking through the fourth wall of theater and allowing the audience to participate seems more and more imperative to the health of live theater. How to do this tastefully is just another piece of the puzzle.
Cover Image - Karin Cooper