Exquisite, whimsical, quirky, spontaneous, insightful, his photography is all of the above. And more. Accidental light leaks become part of the composition; an obtrusive trash-can mimics a magnificent landscape; bold colors float on a black and white background... His preferred equipment? a $10 plastic camera. There is a distinctive impromptu characteristic that makes Ted Orland's photography look almost casual, yet he takes his work seriously enough to have written two books about the nature of the artmaking process. Like his writings, his photographs are rich in dialog, with titles often as interesting as the subjects.
Imbued with a benign irony, his photographs carry the engaging power of a story half-told, leaving the viewer to speculate about what is really there.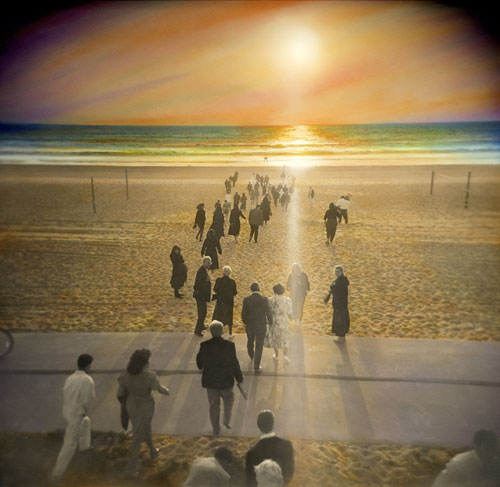 On the technical side, however, Orland is a no-nonsense pragmatist. He has consistently embraced the advancing technology of photography, moving from B&W darkroom-based printing to the present-day digital output over the course of a career that now spans four decades.
Taken together, his collection of images reveals the "incongruities of an uncertain world" and serves as a gentle satire of our modern condition, highlighting the unexpected intrusion of the artificial upon the natural, the secular upon the sacred...
"Lead an interesting life and you will make interesting art" is Orland's overall theory. His photography, with its intriguing mix of format, technique and content, is evidently an integral part of that life. Instead of creating large series' of work concentrating on a particular subject, Orland simply hangs his camera around his neck and sets out across the countryside, recording his encounters with wildly varying scenes of wonder and curiosity along the way.
Today, Ted Orland lives in Santa Cruz, California, where he pursues parallel careers in teaching, writing and photography. His photographic career began in the 1970s, when he worked as Ansel Adams assistant and instructor at Adams' Annual Summer Yosemite Workshops. He later held academic positions at Stanford University and at the University of Oregon; currently he teaches Digital Photography at Cabrillo College, and leads photography workshops across the country. Ted is co-author (with David Bayles) of the classic artists' survival guide, Art & Fear, and author of its recent companion volume, The View From The Studio Door. A large selection of Ted's early photographs and writings appear in his monograph, Scenes of Wonder & Curiosity, and his original prints have been widely exhibited and are included in over thirty major museum collections.
The retrospective is at Terra Galleria Artworks,
2525 Michigan Avenue T-1B, in Santa Monica, California (310)-453-5104.
Gallery hours: Tues-Sat 12-7pm.
The opening artist reception is on January 10, 2009, 5 to 9pm at the gallery.
Images -©Ted Orland - All Rights Reserved