Jakraphan Chaijit, the Lanna painter, is very fond of elephants and creates artistic works inspired by them. Elephants are symbols of the northern Thai traditional lifestyle, especially in Chiang Mai city. They help the local villagers drag heavy lumber from the forest. These logs are mostly hard wood such as teak and rosewood near the borders of Myanmar (Burma), Laos and Cambodia. The wood industry in Thailand in the past was a major joint venture of England and Holland.
Elephants are working animals and blend well with the Thai lifestyle. They are also quite clever and precious to the Thai people and they a have long life-span. In addition, the bond between an elephant and a keeper (mahout) is strong and almost magical. It often lasts a lifetime for both.
In ancient Thai history during war time, the king always rode on the back of a war-elephant and fought bravely with his soldiers. This is one of the reasons why rare white elephants are honored by Thai people as the symbolic animal of Thailand. At one time, the Thai flag was red with the image of an elephant in the middle. Today, elephants are the subject of major efforts in preservation because their number is rapidly declining. In many areas throughout Thailand, there are several elephant breeding and training camps and animal hospitals that specialize in treating these revered creatures.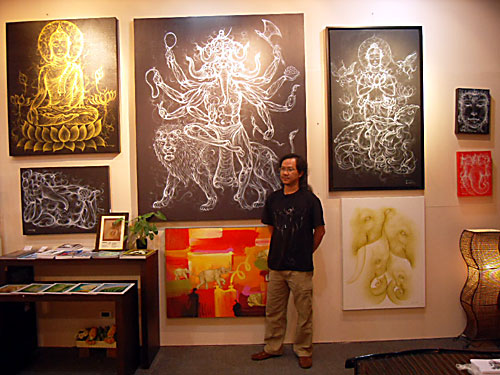 "I would like to present my thought of the human mind and the universe which are related in the way that they move together, through my art pieces. My intention shows the success of the harmony in moving, which will bring peace to earth. My works are based on the Arts and Elephants and my liberal thoughts. I do believe that my works will spell out more or less my thoughts in taking elephants as the symbol of mind in the artistic way. The coordinated movement of all things will bring about peace and harmony in well being on earth."
(Jakraphan Chaijit: Elephant in my mind 2005)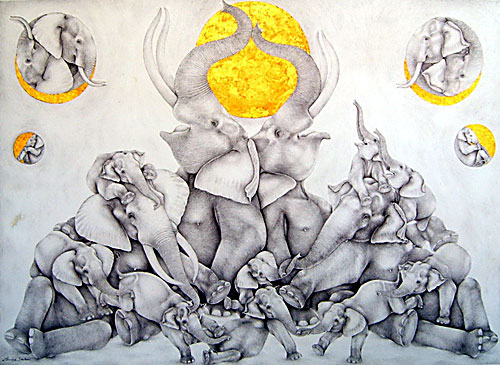 Maesa elephant camp in Chiang Mai province is devoted to art and elephants. It also encourages elephants to draw and promotes this event to foreign countries. Jakraphan is one of the local artists who uses images of elephants to explain a state of mind, emotions and other phenomena in his art works. Furthermore, he also clearly incorporates the Buddhist belief regarding the role model of mind and creation. Interestingly, he even attempts to capture an elephant's emotions in his work.
Many years ago, the Maesa elephant camp trained elephants to draw pictures for use in promoting Thai tourism. Some artists including Jakraphan became fascinated with this and joined the annual event to create new inspirations—elephants and people drawing pictures together.
Jaroon Chaijit, his father, is a famous wood and stone carver in Thailand. He also worked with Misiem Yipintsoi, a heralded Indonesian artist who stayed in Thailand. She was awarded the recognition as an "excellent artist in painting and sculpting" in 1951.
" 'Elephant' is in my work for more than 20 years. For me, it is not an animal, but it is the spirit, the soul, that I try to carry out something deep inside to the world outside. In this exhibition, it is within a ten year period of time, 2000-2010, that I deal with the development of the Northern intellect and technique in wood carving into painting as you see in the present day.
I hope that this exhibition can make people understand elephant, love elephant, take care of the elephant and I hope that it can be the inspiration of people of the new generation to think, to learn how to think, for raising the mind to end the misunderstanding between people, for making the world more peaceful, more beautiful."
(From "Jakraphan Chaijit 2000-2010...me and elephant effect")
Solo Exhibitions
2010: Jakraphan Chaijit 2000-2010...Me and Elephant Effect
2009: The Elephant Effect
2008: The Elephant Effect
2005: Elephant in my mind
Arts Exhibitions
- Art Exhibition "Hom Poi Silpa" at Community Arts Center, Lumpang
- H.M. The Queen Birth Day at Seacon Square, Bangkok
- Jinkot Art Exhibition at Bangkok Gallery, Bangkok
- Chaijit Family Art Exhibition, Dusit Laguna Resort, Phuket
- Contemporary Art Exhibition (15 Artists), The Emerald Hotel, Bangkok
- Art Exhibition "Si Sun Sa Ra Pratimakum" at the River City Hotel, Bangkok
- Art Exhibition at Silpa Sip Prapha, The River City, Bangkok
- Art Exhibition "Chang Tam Art Group 1&2" at Mercury Building, Bangkok and Chiangrai
- Art Exhibition "Tarm Heed Toey Hoy 1&2" Chiangmai University Arts Center, Chiangmai
- Elephant Art Exhibition, The Imperial Maeping Hotel, Chiangmai
- Art on Earth Exhibition, Chiangmai University Arts Center, Chiangmai
- Art Exhibition "Sueb Sarn Lanna Slip", The Siam Heritage, Bangkok
- Art Exhibition "Hoi Sen Hom Si", Gallerie Panisa, Chiangmai
- Art Exhibition "Hom Poi Salah Muang", Baan Mai Kum, Chiangmai
- Art Exhibition "San Sin Tin Lanna" at Life Style Interiors II Art And Furniture Gallery, Chiangmai
- Art Exhibition "Way of Maeloa river " at 9Gallery, Chiangrai
- Art Exhibition "333 Elephant art " at Amarin Plasa, Bangkok.
- 2006: Art Exhibition "Season Change", PCC Art Center, Nonthaburi
- 2007: Art Exhibition "Life of Lanna", River City Shopping Complex, Bangkok
- Art Exhibition "Wonders of Lanna", Happy Gallery, Takiab Road, Hua Hin